Modular Construction for Architects, Engineers & Design Professionals
As public and private organizations continue to turn toward modular buildings for the many benefits they provide, architects and engineers are being increasingly called upon to design buildings that will be built using prefabricated or modular construction. As the world's largest trade association for the modular construction industry, MBI has a wide range of resources available to educate architects and engineers who want to learn more about designing modular buildings.
Interested in designing modular buildings? Join the Modular Building Institute today to get connected with modular architects and designers from around the world, plus gain access to MBI's full range of valuable member benefits, including event discounts, marketing and project promotion, awards, and thought leadership opportunities.
Don't Miss Out on the Latest Resources from MBI!
MBI's weekly e-newsletter, MBI Updates, includes new modular construction articles and interviews, case studies, educational opportunities, industry events, resources, and more.
Stay connected and stay informed with MBI Updates.
Design Guide for Modular Construction
In 2019, MBI worked with the American Institute of Architects to help develop a new guideline called "Modular and Off-Site Construction Guide." This Guide serves as a primer on the modular approach for architects and includes:
Value and opportunities of modular design
Pitfalls designers should be wary of
Case studies that exemplify successes and obstacles
Featuring interviews and input from architects and modular building experts around the country, this AIA resource is an outstanding primer for architects and design professionals interested in designing for modular construction.
The Architect's Role in the Modular Building Process
While the architect's role in a construction project is critical to its overall success, the process for modular building design is different than that of traditional building projects. The decision to utilize modular construction should be made prior to design and should factor in the following considerations:
Three-dimensional modules have widths that are typically nominal eight, 10, 12, 14, and 16 feet, with 12 and 14 feet being the most common. Framing dimensions are typically two inches less than nominal size.
Module lengths are up to seventy feet, usually in two feet increments.
Module heights vary from approximately eleven feet, six inches to thirteen feet, not including the height of the unit's transport trailer or frame.
Wood-frame construction is the most common type of construction; however, manufacturers also build with steel and concrete and can meet the requirements for Type-I, -II, and -III construction
Multi-story modular buildings can be built up to the maximum stories allowed by code. While most modular buildings are one- to four-stories, a growing number of projects have exceeded 10-stories in recent years, including a 32-story project in New York.
Restroom areas should be designed so that a module "marriage line" does not split the space.
Multiple roof-framing styles are available. Some can be completed in the factory, and some may require the installation of trusses on-site.
Modular buildings can be configured using modules of various lengths and widths.
Design elements need to be decided earlier in the process (paint color, for example) as the off-site construction process begins and is completed more quickly.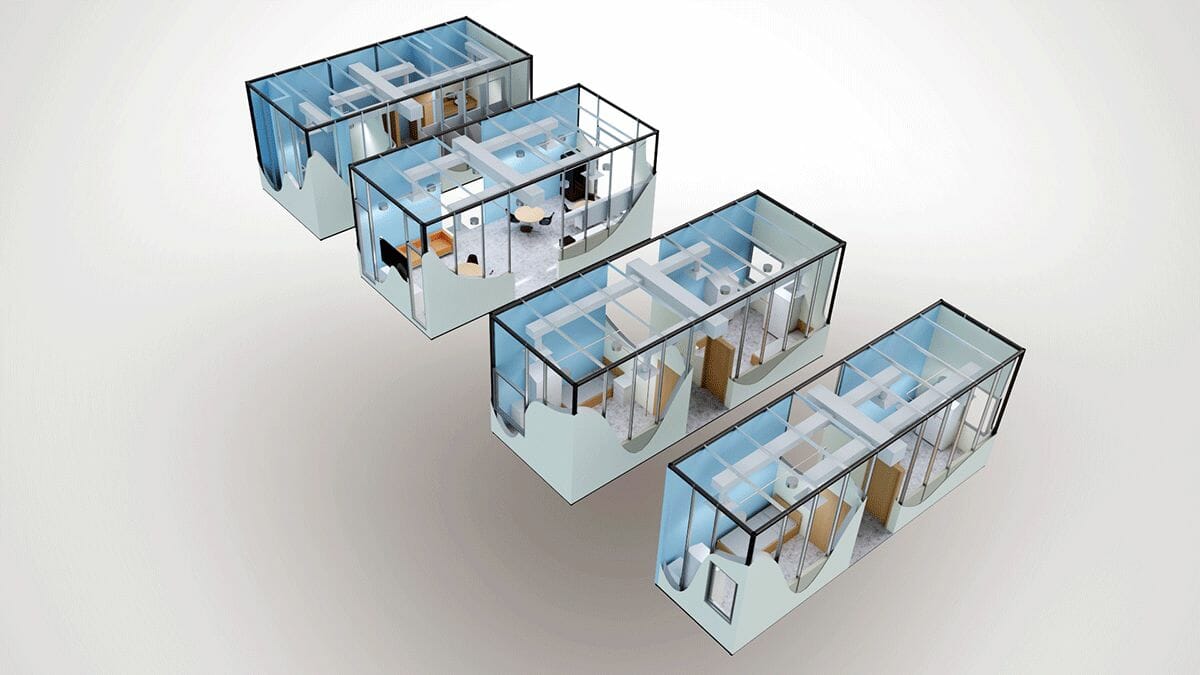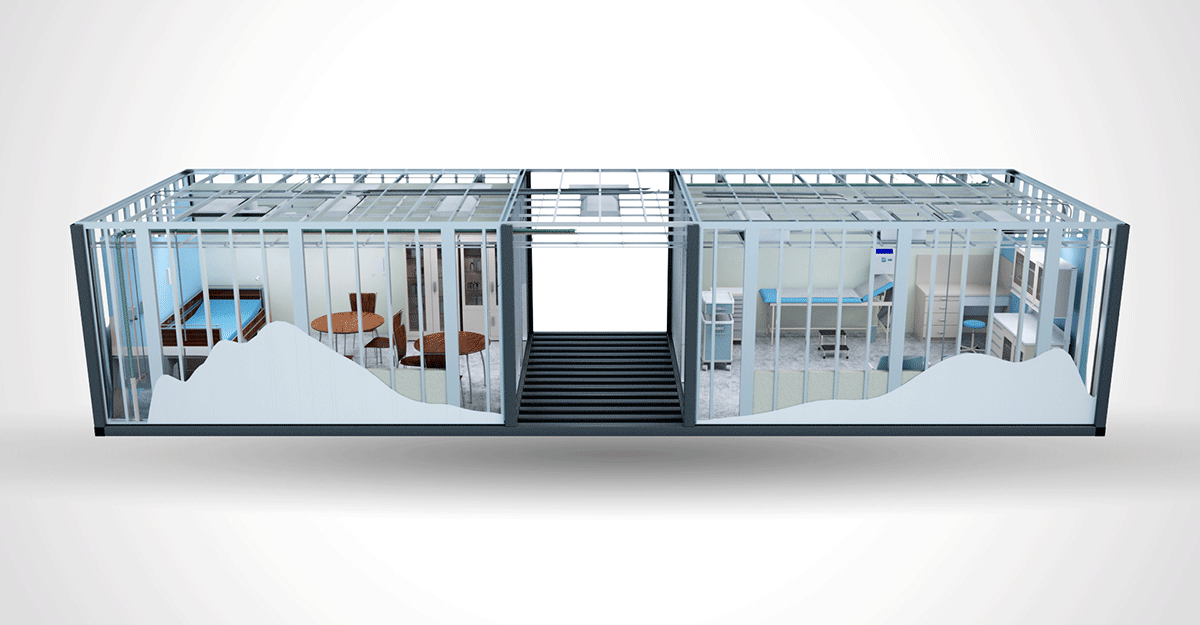 Design for modular buildings, like these examples from MBI member ModularDesign+, can range from highly intricate to very simple, depending on the needs of the project. Whatever the design, it must be finalized prior to the start of manufacturing.
Modular Architects in Their Own Words
MBI's Inside Modular podcast explores the entire process of modular construction through interviews with industry experts.
Inside Moxy Oakland: The Bay Area's Newest Multi-Level Modular Hotel w/ Lowney Architecture
Ken Lowney, president and CEO of Lowney Architecture, discusses the design and construction of Oakland's newest hotel, Moxy Oakland Downtown. This award-winning project is the first modular development for Moxy Hotels. Ken talks about the hotel itself, some of the challenges his team faced during the building's construction, and how he was able to leverage its modular design to create a unique rooftop lounge.
Ken also discusses his team's long history with modular construction and shares his advice for young architects looking to get started with modular building design.
Designing One of the Nation's Largest Modular Multifamily Housing Structures w/ Cuningham
Dave Stahl, associate AIA and principal at Cuningham, joins MBI's Inside Modular podcast to discuss the design of Pentagon Village Apartments, a 244,000-sqft rental community in Minnesota which is on track to become one of the largest volumetric modular multifamily developments in the country. Dave talks about how his designs evolved from the project's inception, how the building's modular construction influenced the façade, and his team's goals for the project in general.
Dave also gives advice to designers entering the industry and looks ahead to the possible modular design trends of the next few years..
Best Practices for Modular Building Designers
Once the scope of the project is understood, architect Eric Parnell says it is important to understand any and all codes and/or ordinances that need to be followed.
"Local codes and ordinances are another area to research and pre-plan to comply or work with local authorities to ensure a smooth project. Local codes and ordinances can vary wildly by different jurisdictions and can include setback restrictions, location of occupancy restrictions, exterior finish requirements, and even an outright ban on modular construction (as discussed earlier). To avoid endless delays and issues, a meeting with local authorities to discuss the plans and to show that a custom modular does not resemble a 'traditional portable building' can ensure the process can move forward before being offered to a client."
Eric Parnell, architect and founder, ArchBoutant LLC
Once it is time for to begin construction, architect Nick Gomez underscores the need for a finalized design.
"It is essential to establish a design freeze using a modular construction approach because of the factory production schedule and process. Design changes late in the process can be costly and require permit drawings modification and impact factory shop drawings. Unlike traditional construction processes, up-front decision-making and design freezes are critical for the modular construction processes, leaving little time in the schedule for alterations."
Nick Gomez, Principal, Director of Modular Design & Construction, AO
During the construction phase, architect Kendra Halliwell recommends spending time at the factory to ensure compliance and to see the process firsthand.
"The Architect/Engineers of Record and contractor/installers on site are ultimately responsible for closeout and affidavits. Our General Contractor maintained oversight of the boxes in the factory during construction, with observation from the representative of the state review board. The mechanical contractors also visited the factory, so they were aware of exactly what was coming to the site. Additionally, visiting the factory allowed the team to see the benefits of modular construction firsthand: construction jobs are created in a safe, controlled work environment, with less waste and no exposure to weather."
Kendra Halliwell, AIA, LEED-H AP, Associate Principal, Practice + Design Team Leader, ICON Architecture
Recommended Articles & Resources for Modular Architects
Forta PRO, a modular building manufacturer in Latvia, recently partnered with Marriott to create a modular hotel room based on their current design, Moxy. The two connected in Copenhagen in 2019, when Marriott expressed an interest in creating a mock-up to show investors the quality available through modular construction techniques. The stand-alone room is currently located in Frankfurt and is available for investors to visit.
Learn More with the Modular Building Institute
With a plethora of industry events, webinars, online resources, and a quickly growing international membership that represents architects, designers, and every other specialty within the commercial modular construction industry, the Modular Building Institute is the world's leading association of modular construction professionals. Join MBI today to take advantage of all our member benefits and take your modular design career to the next level.