Designing for a Sustainable—and Modular—Future
Stuart Cameron is the Managing Director and MMC Lead at SCMS Associates
Stuart Cameron's desire to become an MEP engineer started in 2009 after serving a four-year advanced apprenticeship program for mechanical engineering services and acquiring his NVQ Level 3 certification. From there, he obtained his Foundation and Building Services Engineering with Honors degrees, and spent the next decade working on national and oversea projects within the building services industry. Then, in 2017, tired of the corporate silo business model, SCMS Associates was founded by Stuart and former colleague Mario Staiano.
In 2022, SCMS Associates merged with Hive Consultants, another practice founded in 2017, to create The Hive Group. The Hive Group's mission is to significantly enhance its business offering globally, with a focus on sustainable development and modular construction.
Today, the Group provides design and engineering services ranging from a feasibility study to a full BIM Level 2 working model, including their invaluable environmental and sustainability expertise. The overarching goal of SCMS Associates is to provide practical, workable, economically, and technically viable solutions for the most complex projects and stringent compliance criteria.
Modular Construction in the UK
Unlike the US, where modular and off-site construction are still gaining traction and expanding, modular construction hit its stride in the UK during the post-war 1940s. Left with widespread damage to its cities and infrastructure following World War II, off-site construction quickly became the solution to the UK's housing shortage, constructing 1.2 million new homes within six years of the war's end. As a result, the modular construction industry has since been an integral part of the UK building codes, energy efficiency requirements, and carbon emission standards.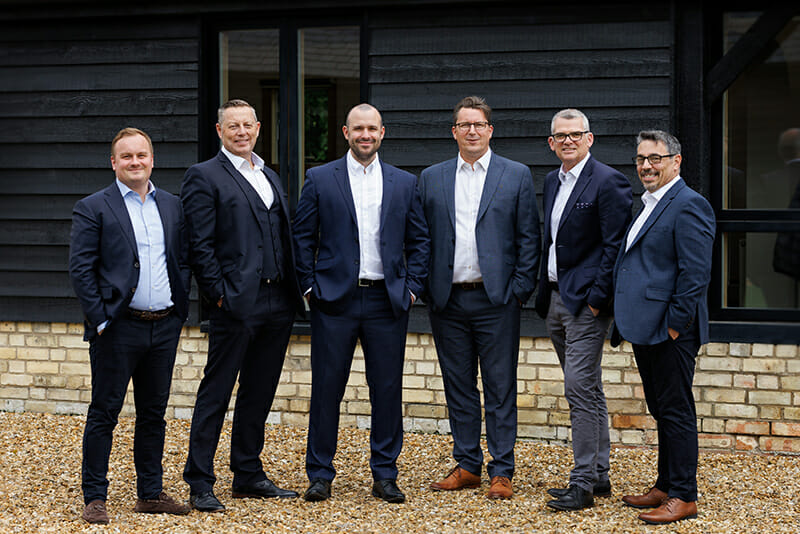 Stuart Cameron and the new team at The Hive Group. The Hive Group's mission is to significantly enhance its business offering globally, with a focus on sustainable development and modular construction.
According to Stuart, "Modular construction has an incredible history in the UK will continue to expand and evolve as it provides a low-cost solution for several societal issues affecting many countries around the globe, such as homelessness, natural disaster recovery, and the growing global housing shortage."
Stuart explained that another key difference between the US and UK markets: sustainability components and requirements. Each state in the US determines and enforces its building code and energy-efficiency standards. Once the local building department reviews and approves the plans, construction can begin.
However, projects built in London (traditional or modular) face a more complicated process. In addition to meeting the standard building codes, building plans have to pass muster on the following criteria.
Though these standards are strict by many standards, they've never been unusual to SCMS: they're part of the DNA of SCMS. "Sustainability is—and has been—a core principle of the SCMS business model primarily because it's the right thing to do," says Stuart. "Plus, UK buildings that don't meet the testing requirements may have to pay for the needed repairs or improvements, plus hefty annual fines (carbon tax) for non-compliance issues."Currently, the built environment generates nearly 50% of annual global CO2 emissions1. Of those total emissions, building operations are responsible for 27% annually, while building materials and construction (typically referred to as embodied carbon) are responsible for an additional 20% annually.
Looking Towards the Future
When asked what designers and engineers should focus on moving forward, Stuart stated that "Most engineering firms should continue working to reduce the stigma connected to modular and off-site construction in the US. These projects must meet the same local building codes and energy efficiency requirements as traditional construction methods."
Stuart continued that, "London is the current ground-zero for modular and off-site construction since virtually all building specialties, including residential, commercial, industrial, education, healthcare, and even warehouses, utilize modular construction techniques. Engineering and design firms with BIM expertise can deliver more customer-centric and regulatory-compliant designs and options for their clients."
And while SCMS has always incorporated the latest technologies such as BIM design and sustainability, they were one of the first UK MEP engineering and design firm to achieve BS EN ISO 19650-2:2018 accreditation with the BSI group.
As a result, London does provide a crystal ball perspective of what modular contractors around the globe can expect concerning client expectations and the ever-changing building standards, energy-efficiency codes, and now emission standards, too.
When asked about projects in the pipeline, Stuart explained that the SCMS team is currently working on a wide variety of global projects and locations.
300-unit complex in Vancouver, Canada
990-unit development in Los Alamos, New Mexico
350-unit residential project in Cardiff, Wales
540-unit mixed-use project in London, England
To further compliment the group offices across Canada, Stuart and the Hive Group plan to set up a permanent US office before the end of 2022 to handle potential projects slated for San Francisco, New York City, and Canada.
Learn more about SCMS and the Hive Groups' services and projects by visiting their website at https://www.hive-group.com
SCMS Associates has completed various modular commercial and residential projects across the UK and overseas, here are just a couple of examples.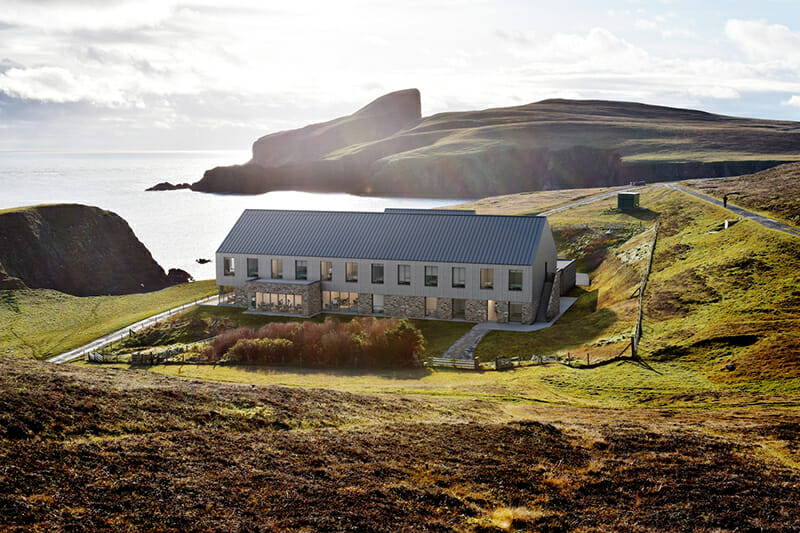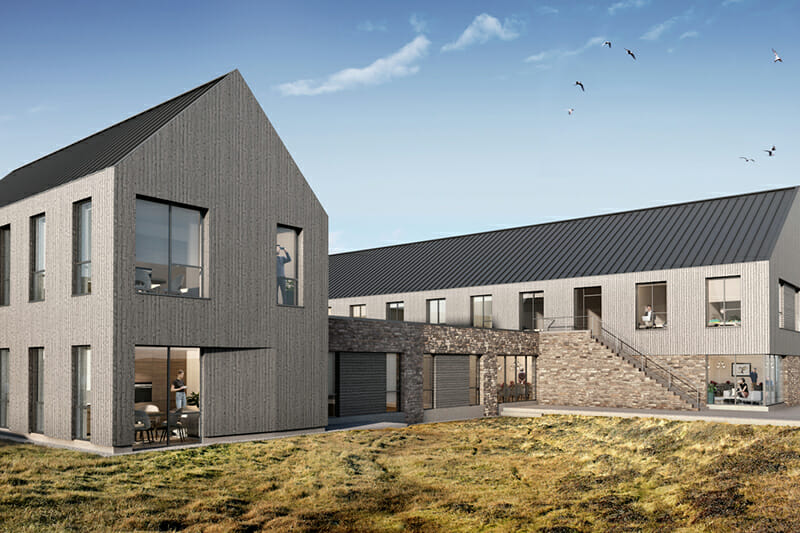 Fair Isle Bird Observatory Hotel
Located 24miles from the Shetland mainland, Fair Isle is a hotspot for ornithologists as it is a breeding ground for seabirds and a key stopping point for migratory birds. Unfortunately, a fire on March 10, 2019, destroyed the existing hotel.
The hotel rebuild project provided some unique challenges as SCMS Associates had to consider the project location, climate, and the fact that the island relies on 3 wind turbines and a battery storage center to supply electricity for 55 full-time residents.
All electric air source heat pumps (ASHPs) provide heating and hot water to guest accommodations and warden's quarters
Mechanical ventilation heat recovery (MVHR) units provide tempered fresh air to each guest room, front-of-house areas, and warden's quarters
Air handling units and ventilation plant for the front-of-house and kitchen areas
Fire alarm services
Power distribution system featuring LED lighting throughout the project.
Off-site construction was the only viable solution, and the SCMS team designed the MEP sub-assemblies to minimize the on-site connection schedule and project timeline. The units will be assembled in Sheffield and should be on site around mid-October.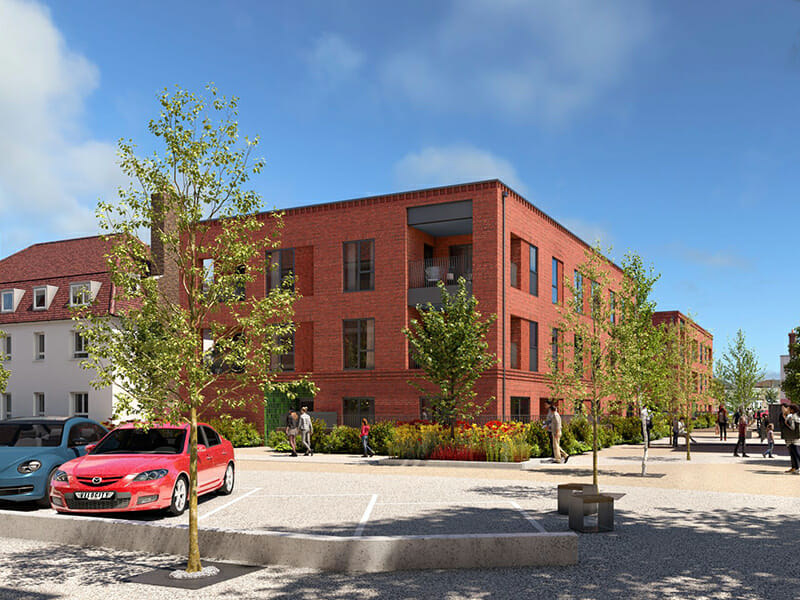 Greenwich Builds
(Royal Borough of Greenwich)
One of the most significant (2,000 units) modular affordable housing projects undertaken in the UK meeting both RIBA (Royal Institute of British Architects) Stage 1-7 MEP and sustainability services. SCMS Associates incorporated the following elements to meet the demanding project standards:
High-efficiency air source heat pumps (ASHPs)
Mechanical ventilation with heat recovery (MVHR)
LED lighting for interior and exterior locations
Photovoltaic panels (PV)
Dual aspect windows
BREEAM Excellent
About the Author: Curtis Dennis is a freelance writer specializing in the construction industry.
More from Modular Advantage
The city of Malmö in southern Sweden is set to welcome a new student housing project Unity Malmö, comprised of 5 building blocks, 450 micro-living apartments, where Forta PRO delivered 269 modules, total of 9,671.9 m2.