Is Modular + Scattered Sites a Solution to the Affordable Housing Crisis?
Dean Dovolis started DJR Architecture in the mid-1980s and has since been involved in many community-oriented and affordable-housing developments.
Dean Dovolis of DJR Architecture is turning the worlds of modular construction and affordable housing on their heads. Instead of stacking modules to create one building, he's using them to build 16 buildings on 16 different sites, all on the same production run. And he's partnering with a public agency to do it.
Dovolis is working with the Minneapolis Public Housing Agency on a scattered sites project. The project consists of 84 residential units across 16 sites throughout the city. The units will be constructed as four-plexes and six-plexes that are between two and three stories tall.
Humble Beginnings
Dovolis began his career as an architect in 1986 when he opened his firm. As most businesses struggled in the recession of 2008, he drove up to North Dakota to seek work, since the oil companies were successfully working in the area. He approached multiple city leaders to see if they needed help and received a resounding response: help us provide more housing. Their cities were booming due the oil companies, but they had nowhere to house workers and there were limited workers available to build housing.
Dovolis did his research and discovered offsite construction and modular housing. He found companies willing to build the modules and made a proposal to the cities. As a result, he helped build the communities in Stanley, Tioga, New Town, and Williston, North Dakota using modular construction.
His experience with these projects led him to change the way he designs projects. He equates it to trying to design an iPhone. "You don't piece it together as you go. You figure all your engineering up front. That was the one thing I discovered - that you detail it fully, think through the interiors, finishes, so forth. I had to change my thinking to be more complete and comprehensive."
A New Path
This change hasn't affected his ability to design beautiful buildings. "It didn't change my ability to be creative, as long as I respected the basic geometry of volumetric construction."
Other benefits of modular, according to Dovolis, are the lack of change orders during construction and the compressed schedule. "Your owner-architect-contractor meetings are much simpler because it's all been thought through from the beginning and you're not picking up details as you go, like a normal construction process."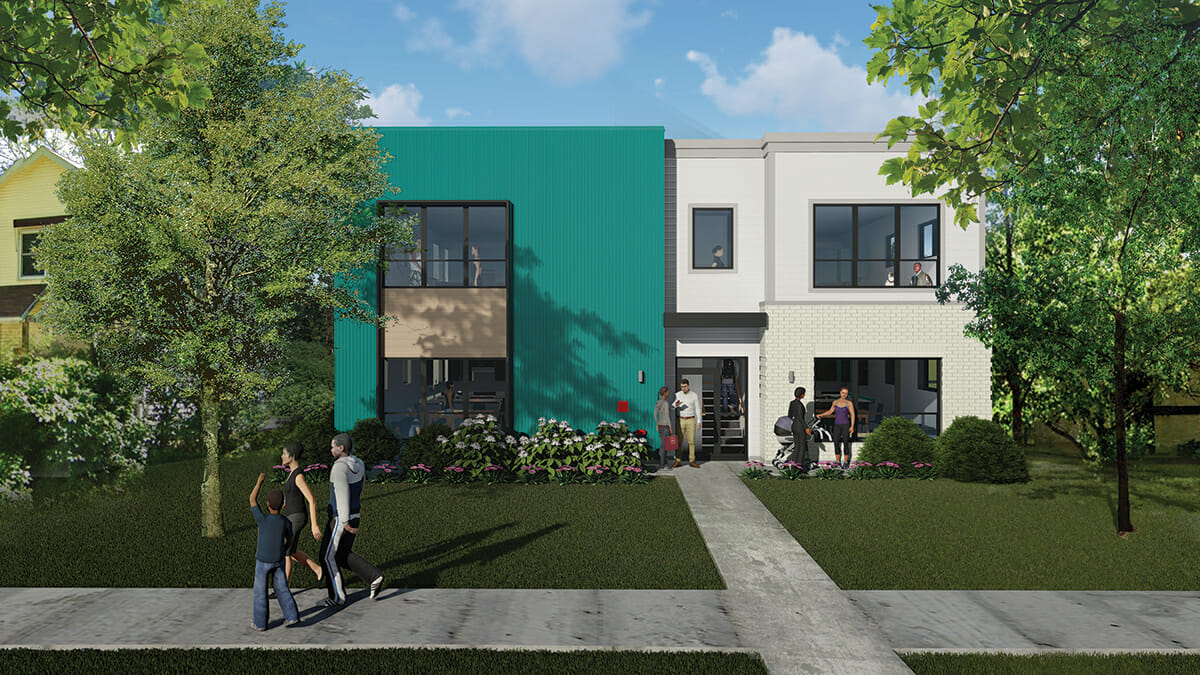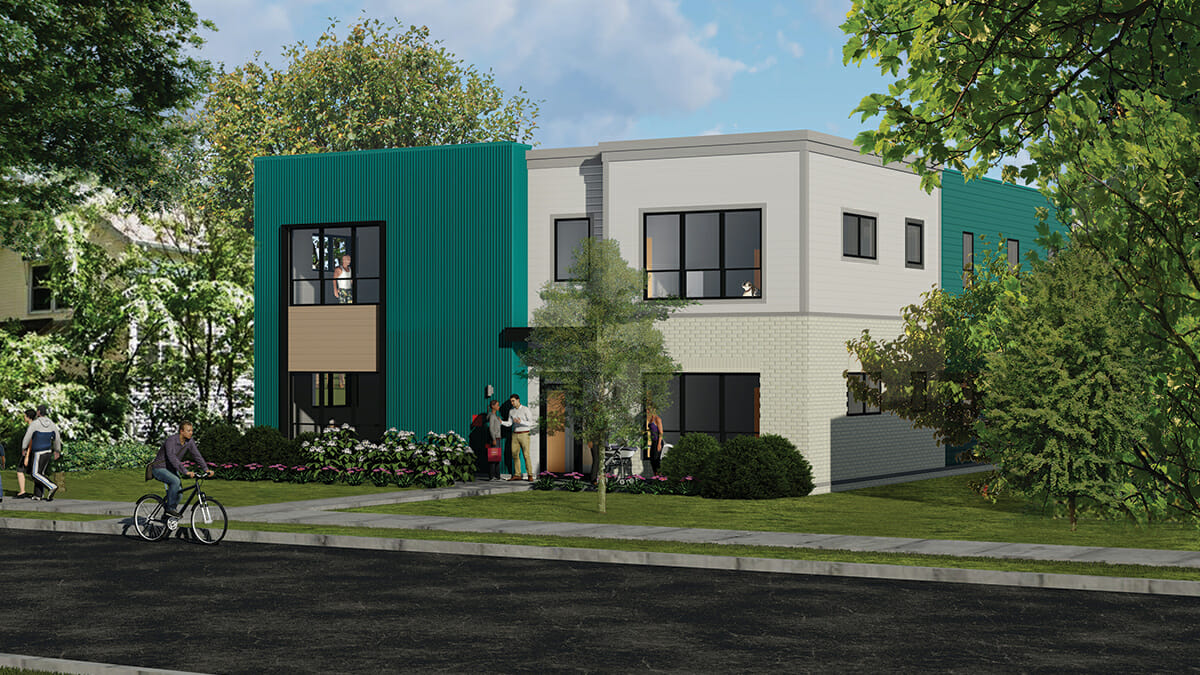 One variation (for an interior lot) of the homes Dovolis has designed for the Minneapolis neighborhood he's helping develop.
He has designed many affordable housing projects in Minneapolis since then. He founded his company in the East Phillips neighborhood, which was a very poor area in the city. As the only design firm in the area, he became a resource for the community. Throughout his career he has worked to make construction more affordable through various techniques, including panelization, adjusting the scale of development, modular construction, and using SIP panels. "The trick with affordable housing is you have to make it affordable from the get-go. So, the more you can standardize production, produce it to scale, and simplify it, the more you can manage the cost."
DJR has worked with several public entities over the years, including the Greater Minnesota Housing Corporation, East Phillips Housing Institute, Minneapolis Public Housing Agency, and the St. Paul Public Housing Agency. Dovolis particularly credits the Minneapolis Public Housing Agency with being willing to try a new delivery method to further reduce costs and timeframes. "The government tends to be more conservative in general. With public dollars, there is high visibility. They don't like taking risks. The fact that the Minneapolis Public Housing Agency was willing to look at modular housing was a huge leap of faith, and they are the only ones in the country to date that has stood up and said we're going to do this."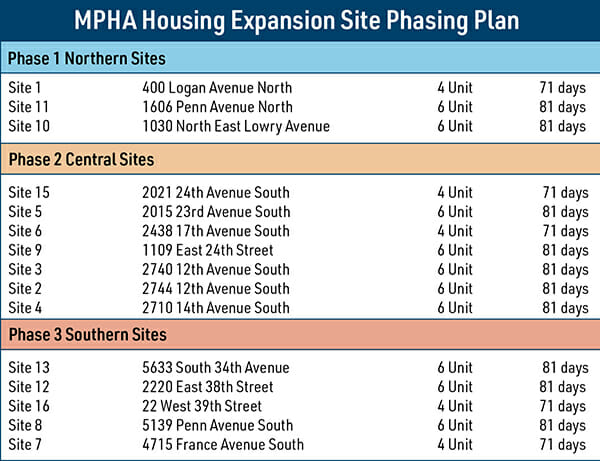 By utilizing modular construction, Dovolis and his team were able to design houses that fit into their respective neighborhoods while keeping construction costs to a minimum.
Current Project
The units for his current project are all coming from the same factory and will be manufactured in the same production run. Each unit has a central module that is the same, and the wings vary by the bedroom count and exterior finishes. The site work and prep has been awarded to three different contractors to allow for more diversity. Residents will be out of their homes for nine months, instead of a year and a half for standard construction.
The nature of the project has not reduced the artistic nature of the buildings, as all 16 sites have been designed with different exterior finishes to match the neighborhood they're in. "We're able to keep each site's uniqueness based on the characteristics of the neighborhood, yet have consistency of quality, design, and layout. As long as you have a run in the factory that's long enough to create the affordability of scale, you can start looking at projects differently. It opens up ideas for using townhouses and single-family subdivisions in two or three locations."
By showcasing this project he's hopeful that other designers and municipal organizations will see the advantages of developing at multiple sites at the same time. The project is "demonstrating the versatility of how modular could work in multiple locations, which is a big mindset change from the traditional delivery of a project, which has been restricted to large aggregate multi-family projects or hotels up to now. We're opening up a whole new set of possibilities with this."
Challenges
Dovolis noted a couple of challenges that are affecting affordable housing as a whole. The first was the recent spike in development fees imposed by municipalities on new construction. "They are pushing more of what used to be historically a city responsibility onto the private developer. That cost gets embedded in the cost of creating the housing and destroys the affordability. And that's a big underlying issue."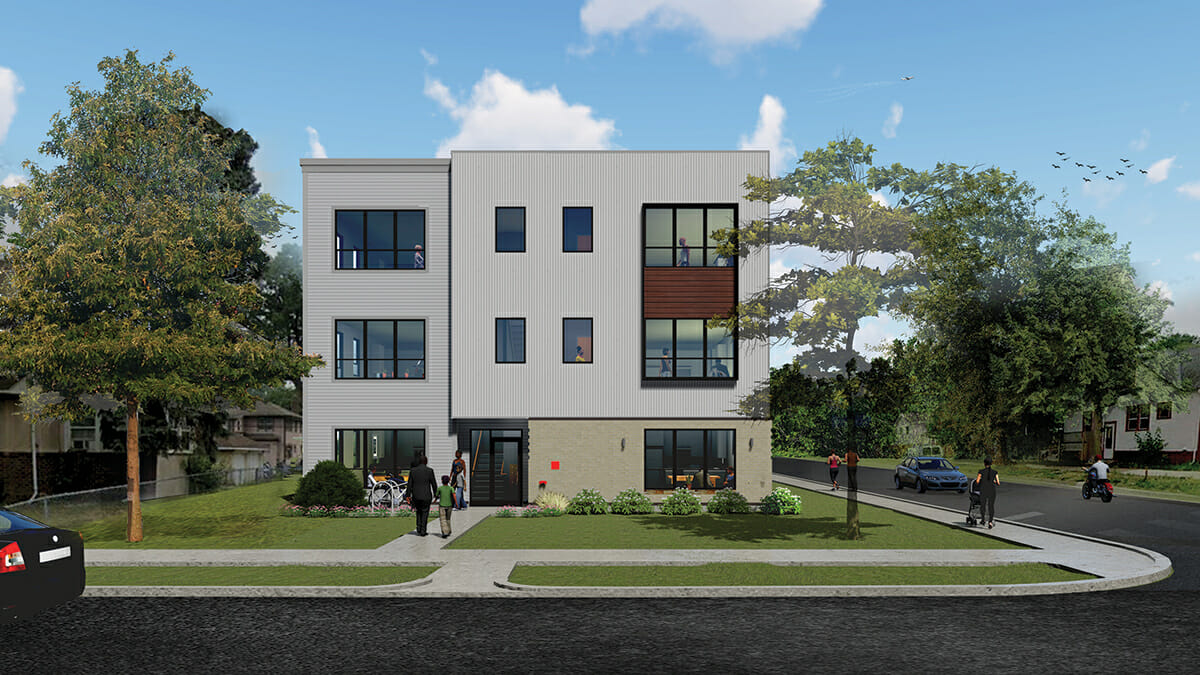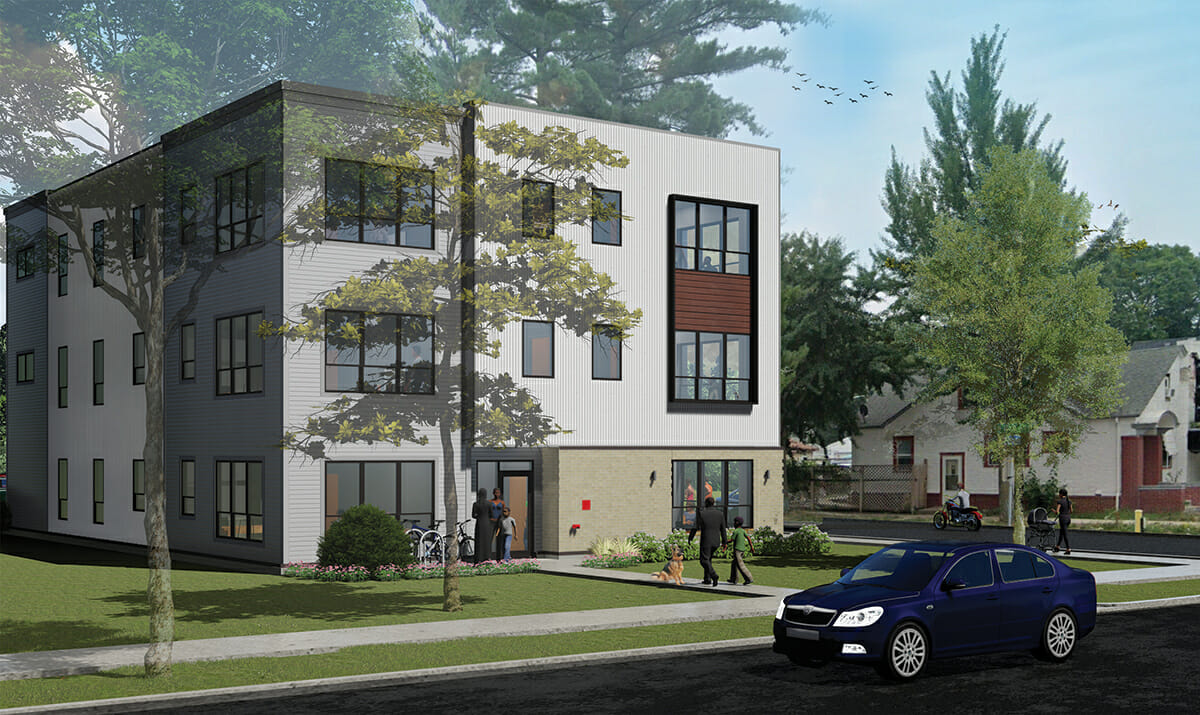 Another variation (for a corner lot) of the Minneapolis homes Dovolis has designed.
Another challenge is parking requirements. With covered parking spaces costing $20,000 to $30,000 each, and outdoor parking taking up precious land that then can't be developed otherwise, it can greatly affect the cost of development.
"I think the construction industry is doing their part, between modular construction and other alternatives. But there has to be an effort from the municipalities and the government that matches our efforts to create affordability. These roadblocks have to be removed. If they are, then modular manufactured housing, SIPs, and all these various innovative construction methods really start having a big impact on creating affordable housing and creating the opportunity to make this work."
Showcasing Success
At World of Modular Dovolis will be presenting on the current scattered sites project. He hopes attendees see the versatility of modular construction, even in what may be considered nontraditional projects. "It has a flexibility that can evolve to different sites, different locations, and different areas and still work very well." He also wants to stress the stability of the industry and how it can be used in government projects and can survive the scrutiny of a public process.
About the Author: Dawn Killough is a freelance construction writer with over 25 years of experience working with construction companies, subcontractors and general contractors. Her published work can be found at dkilloughwriter.com.
More from Modular Advantage
The city of Malmö in southern Sweden is set to welcome a new student housing project Unity Malmö, comprised of 5 building blocks, 450 micro-living apartments, where Forta PRO delivered 269 modules, total of 9,671.9 m2.