Modular Construction Industry Reports & Analysis
The Modular Building Institute gathers and distributes statistical information about the size and growth of the commercial modular construction industry. These reports have become the leading source of information on the industry and are used worldwide by investment firms, banks, the media, researchers, consultants, and students.
Contents include General Industry Descriptions, Floors Shipped, Gross Sales, Sales by Market Segment, Dealer Gross Revenue, Lease Fleet Composition, Sale of Used Units, Industry Manufacturing Data, Industry Estimates, and Visuals of Contemporary Modular Buildings. Written in a concise fact-filled manner, these surveys are full of interesting and helpful information.
2022 Annual Industry Reports
The Modular Building Institute's 2022 Annual Reports are now available and are FREE for members! Get the latest information and data showing modular industry trends, growth instigators, and best practices for permanent modular construction and relocatable buildings in North America.
Not a member of the Modular Building Institute? That's okay! Our industry-leading reports are ONLY $500 and contain the BEST modular construction data available.
Don't miss out—this data isn't available anywhere else!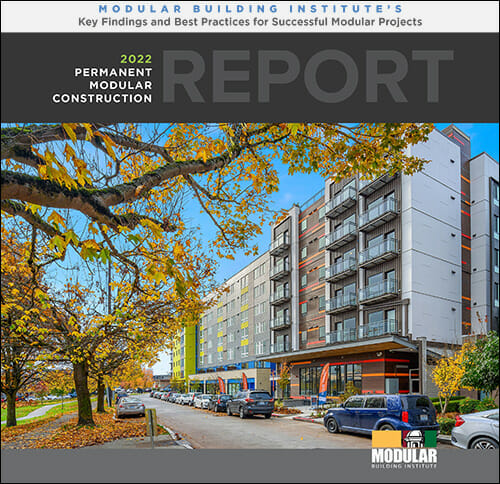 PERMANENT MODULAR CONSTRUCTION
This report looks at current drivers and trends of the commercial modular construction industry and provides a regional analysis of the North American market. Financial trends and forecasts, as well as revenue and market share data, are also included.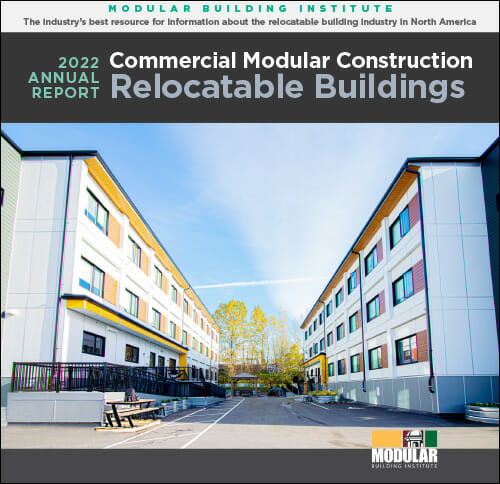 RELOCATABLE BUILDINGS
MBI obtained revenue and fleet data from companies across North America engaged in the sale and lease of relocatable buildings. This report represents a majority of all companies in the market in terms of number of companies, revenue, and units owned.
2021 & 2020 Industry Reports—NOW FREE
Looking for additional data? MBI's 2021 and 2020 annual reports are now FREE for everyone.
Permanent Modular Construction Reports
Permanent Modular Construction (PMC) is an innovative, sustainable construction delivery method utilizing offsite, lean manufacturing techniques to prefabricate single or multi-story whole building solutions in deliverable module sections. PMC modules can be integrated into site built projects or stand alone as a turn-key solution and can be delivered with MEP, fixtures and interior finishes in less time -- with less waste, and higher quality control compared to projects utilizing only site-built construction. Recent research has come out supporting the fact that modular construction is an efficient construction process and poised to help the construction industry grow.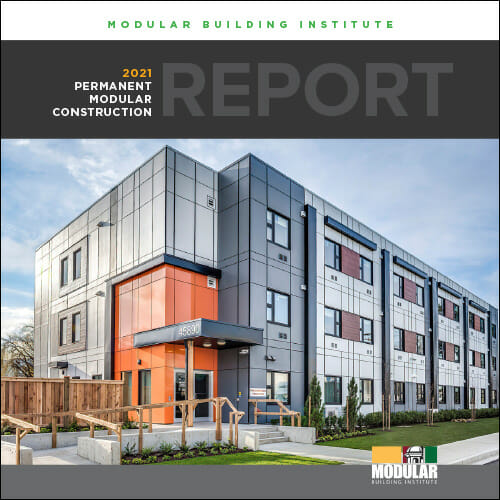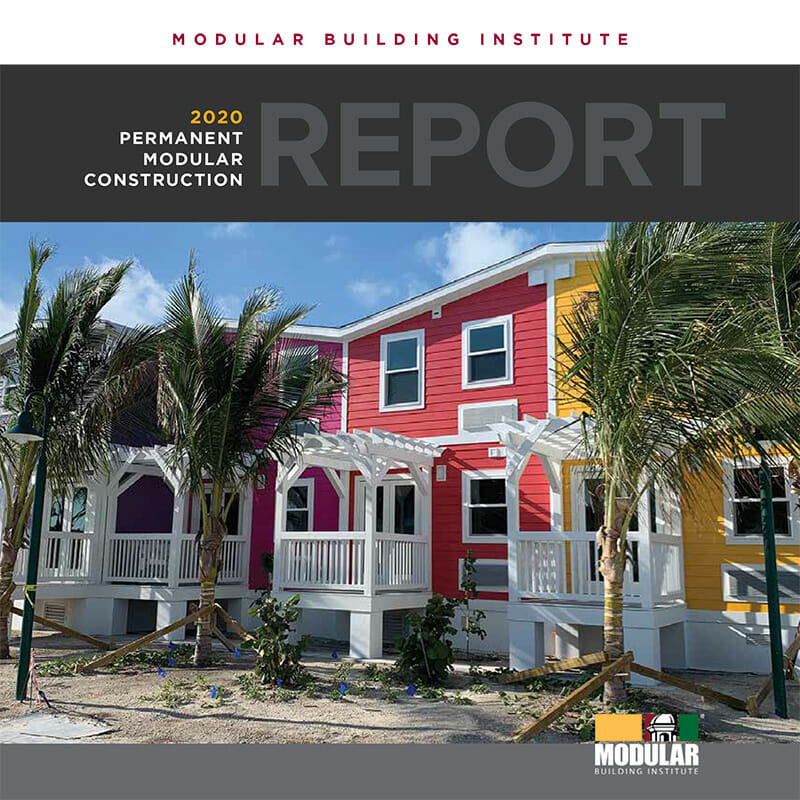 Relocatable Buildings Reports
A Relocatable Building (RB) is a partially or completely assembled building that complies with applicable codes or state regulations and is constructed in a building manufacturing facility using a modular construction process. Relocatable buildings are designed to be reused or repurposed multiple times and transported to different building sites. They are utilized for schools, construction site offices, medical clinics, sales centers, and in any application where a relocatable building can meet a temporary space need. These buildings offer fast delivery, ease of relocation, low-cost reconfiguration, accelerated depreciation schedules and enormous flexibility. Relocatable buildings are not permanently affixed to real estate but are installed in accordance with manufacturer's installation guidelines and local code requirements. These buildings are essential in cases where speed, temporary space, and the ability to relocate are necessary.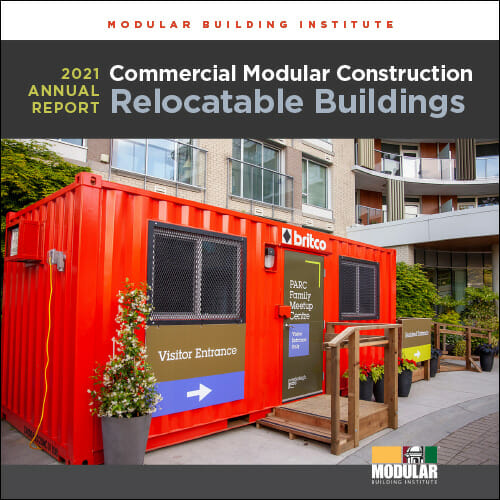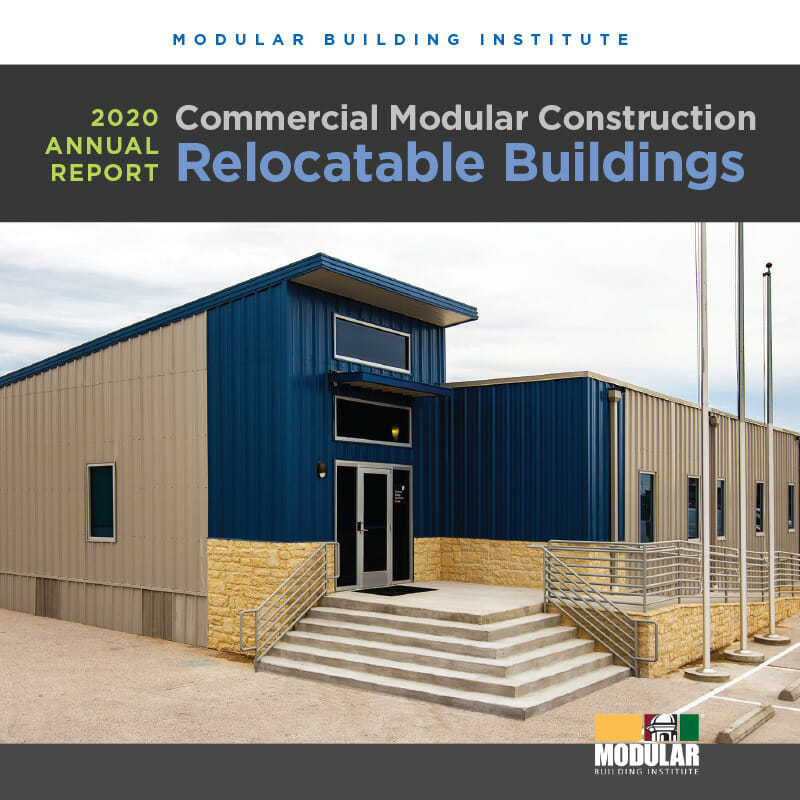 Canadian Commercial Modular Construction Reports
In 2019, MBI represented 60 companies based in Canada, including 26 manufacturers of modular structures. MBI estimated that there are about a total of 45 modular manufacturers in Canada fabricating for a variety of markets including residential, multi-family, commercial, educational, and industrial sectors. There were also an estimated 15 or so smaller fabrication warehouses doing renovations and modifications for various markets. This report details in the entire modular industry—permanent modular construction and relocatable buildings—in Canada.