Modular Building Project Database
Comprised of modular building projects recently submitted by MBI members around the world, this map—representing only a small sampling of the industry's total output—shows the incredible breadth and diversity of commercial modular buildings.
From high-rise residential towers to sprawling workforce communities to relocatable mobile offices, commercial modular construction projects contribute to every facet of the world's building and infrastructure industries.
Explore the interactive map below using your mouse to zoom in on specific locations, or narrow your search by choosing a building category from the menu on the left side of the map. You can also locate projects by company name using the search field.
Submit Your Modular Project
Help MBI educate developers, architects, and others while showcasing your company's best projects! Enter your company's modular building project into MBI's database today. For non MBI member projects to appear on the map, those projects must also be submitted into MBI's Awards of Distinction contest.
Data from project entries allows MBI to create the most accurate research and reports possible. And as MBI's interactive project database grows, it will be invaluable to the growth of the commercial modular construction industry.
MBI's Awards of Distinction
The Modular Building Institute's Awards of Distinction represent some of the highest honors awarded in the modular construction industry. Modular building companies self-nominate, while winners are chosen by an independent panel of industry experts and presented at World of Modular, MBI's annual convention and tradeshow.
In addition to prestige, the benefits of winning extend throughout the year. Images of winning and runner-up projects are used in MBI's international marketing efforts—including its popular bi-monthly magazine and highly-ranked website—and, most prominently, MBI's industry-leading annual reports.
Enter your modular building project today for your chance to earn your well-deserved industry recognition and contribute to MBI's growing collection of modular building case studies.
Explore More Modular Building Case Studies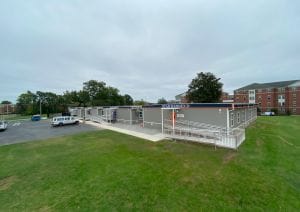 Modular Genius, Inc. designed and built three temporary modular dormitory complexes featuring 134 dorm rooms, totaling 49,632 sq. ft. All three modular dorms feature a shared laundry room, kitchen and lounge area, showers, and restrooms for residents.