Update from MBI Executive Director Tom Hardiman
Hello Industry Friends,
As we continue to watch the horrors of Russian aggression towards the people of Ukraine, we are diligently working to position the modular and offsite construction industry as a partial solution to the refugee housing crisis.
As the number of people fleeing increases daily, local governments in neighboring countries are becoming overwhelmed. This crisis will require a global response from our industry. Conservative estimates suggest well over 100 million square feet of space is needed now to house refugees.
MBI has historically been involved in coordinating the industry response after numerous disasters and emergencies. Most recently, MBI coordinated a global effort to provide information and resources to front line workers during the COVID pandemic.
Generally, we see three phases of support and assistance as a common thread with all emergencies: immediate (food, clothing, shelter, medical); intermediate housing needs (6 months – 2 years) and finally, long term rebuilding efforts. With the Ukrainian refugee crisis, we are working to assist with immediate and intermediate housing needs now.
To be clear, we do not have a contract for housing in hand at this time. Rather, MBI will continue to serve as a clearinghouse for information and resources for those NGOs and agencies seeking more information.
We are encouraging our members to pursue multiple paths to assist including contacting NGOs directly and sharing your information with MBI so we can create an industry resources page.
Take care and stay safe.
About MBI's European Council
The Modular Building Institute's European Council serves as an advisory board on matters of importance to MBI members doing business in Europe. In addition to helping grow MBI's European membership, the Council was established to:
Provide additional leadership opportunities within MBI for members in Europe.

Serve as an advisory board to MBI to ensure we are understanding our members' needs.

Serve as a forum for best practices and networking activities to be delivered more effectively by MBI.
"The European Council started with the simple gathering of European oriented members at MBI's World of Modular a couple of years ago. With the great support from Tom Hardiman, Dave Sikora, and the rest of the team at MBI, we've been able to grow it by setting its path to someday become the united voice of the European modular industry within MBI.
Our greatest achievements have been the two summits we organized for modular industry starting in Munich, Germany in 2018 and then Krakow, Poland in 2019. We had 70 participants at the latter and had to turn late entries down due to lack of space. Unfortunately, we had to cancel our planned 2020 summit in Lecce, Italy due to COVID-19, but are looking forward to welcoming everyone to our next event. It will surely be another great step forward in uniting modular efforts worldwide."
—Bostjan Jevsek, European Council co-chair
European events
The Modular Building Institute sponsors and hosts events, meetings, and summits in Europe in order to facilitate networking and grow awareness of the commercial modular construction industry.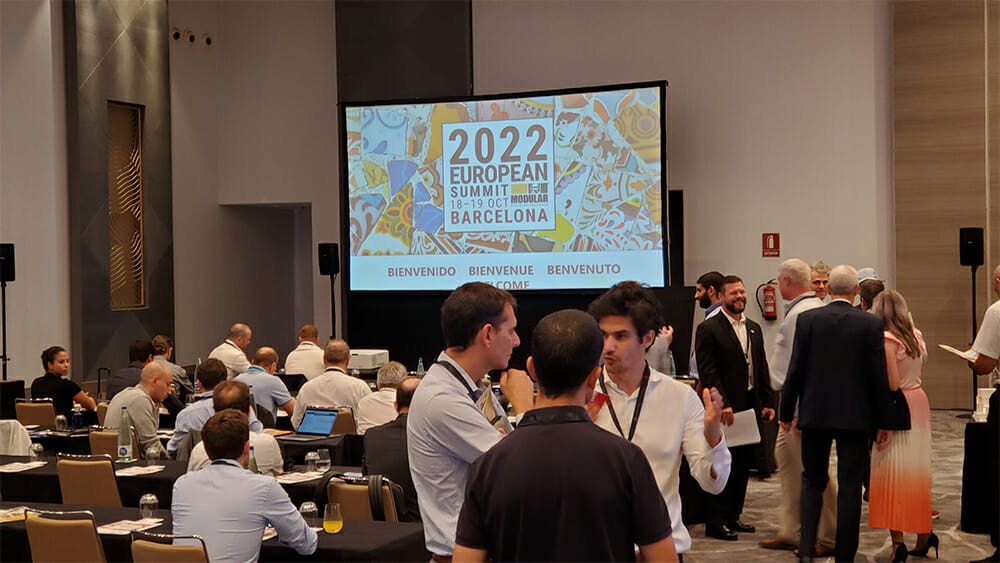 Inside the Industry's Response to Ukraine w/ Ewelina Wozniak-Szpakiewicz, CEO of DMDmodular
MBI's executive director Tom Hardiman talks with Ewelina Wozniak-Szpakiewicz, CEO of Poland-based DMDmodular and co-chair of MBI's European Council, about the state of the industry's response to the humanitarian crisis in Ukraine.
Casa inHAUS in Masnou
Located on an uneven plot with beautiful views of the Mediterranean Sea, this custom-made 2-storey house features large glass panels that establish a harmonious dialogue with the environment and blur the boundaries between interior and exterior.
Learn more about this award-winning 200 square-meter modular home built in Casas InHAUS.
European Modular Industry Snapshot
MBI represents 25 European companies and obtained revenue data from eleven manufacturers. Based on this data, the average manufacturer revenue in 2020 was $9,355,909, virtually even with 2019.
As reported, revenue was generated from the following markets:
Multifamily = 48.6%
Institutional & Assembly (workforce housing, construction, correctional) = 16.8%
Bathroom pods = 10.5%
Office and Administrative = 6.9%
Retail = 5%
Education = 4.5%
Healthcare = 2.7%
Other/Not classified = 4.9%
Seven manufacturers provided factory production data with an average of 29,303 square meters (or 96,138 sq. ft.) produced in 2020. These factories had an average of 112 workers.
MBI obtained data on 13 projects across a variety of markets and European countries completed over the past three years. The projects were 1,204 square meters on average and comprised of 16 modules. The projects took an average of 148 days to complete from approval to occupancy. The modular cost made up an average of 42 percent of the total cost per project.
Compared to U.S. market data, European projects can be smaller on average and more heavily concentrated in fewer markets. For example, bathroom pod production is much more prevalent in Europe than in the United States.
However, for the multifamily market, the average module size is larger in Europe, approximately 75 square meters (or 807 sq. ft.) for the projects reviewed compared to 677 sq. ft. per module in the U.S.