G-Pod Americas Designs Modular Buildings for the Future
Andrew Seelye is president of G-Pod Americas.
G-Pod Americas is pushing the boundaries of how we think about modular construction and bringing a new product to the market that accounts for the future. With their premier relocatable building, Dwell, and their latest development platform, Nexus, G-Pod Americas offers luxury living paired with rapid low-impact development.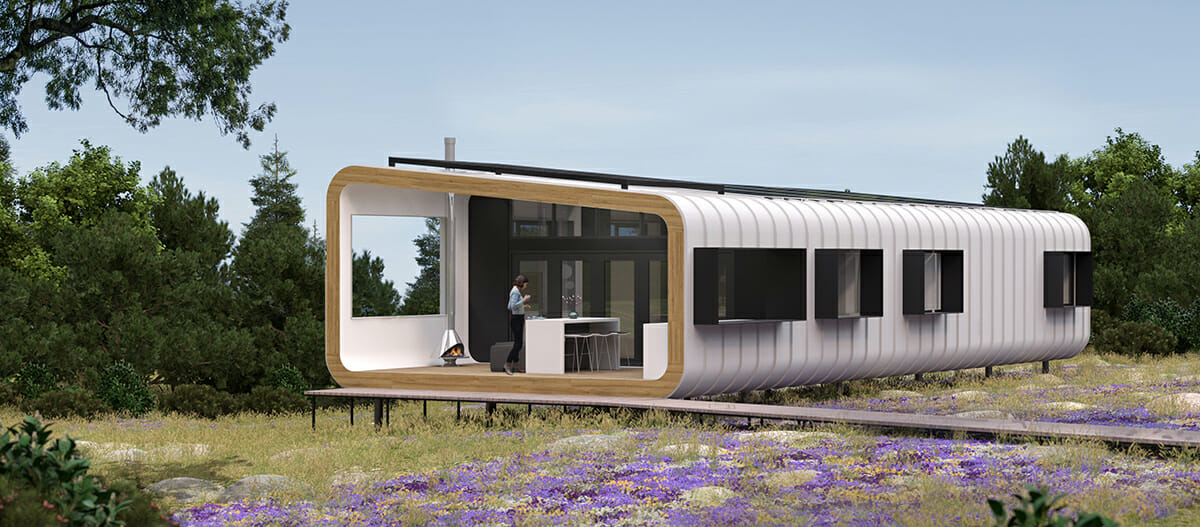 G-Pod Americas was formed by Andrew Seelye in 2016 and he spearheads the regional and product development team supporting G-Pod International, based out of Australia and founded by Dan Sparks of Sparks Architecture. The 'G' stands for 'Global' with G-Pod Americas covering global project markets in North America, Central America, South America, and the Caribbean, while working steadily towards getting their design and construction solutions into other parts of the global market.
Early Challenges
When G-Pod international was founded, the goal was to get to market with Dwell, a centrally manufactured shippable 100% prefab modular solution, globally. In 2019, the company reversed that to decentralize manufacturing and localize and proliferate its design solutions. Many of G-Pod Americas' challenges grew from this, but their story is a simple equation of capital, capabilities, and conditions.
"We are small, so our knock-on effect internal project delays are plentiful, passed on by the vendors we depend on, including for both materials and labor schedules," says Seelye. For customer projects, they expect more typical challenges – the first project always being harder and the second usually easier. "We still need to prove our design approach in many global regional markets. That's a big challenge, but it's also the most exciting one," says Seelye.
A Different Kind of Dwelling
While their premier product, Dwell, looks like a container, it is a radical, unique design made from structural steel using container dimensions
and lashing connections for transport purposes only. It appears to look like a modified container, but it is not a container at all. Dwells have been installed across the world in Australia, Hong Kong, California, Texas, and Bermuda. G-Pod Americas is currently working on rolling out a new version of
Dwell that is made local to most markets soon.
As the design of Dwell evolves, so has the company. Since G-Pod Americas launched, its scope has changed inverting its approach from mostly Centralized to largely Devolved Design. With the company's evolution also comes the development of a new line of modules called Nexus.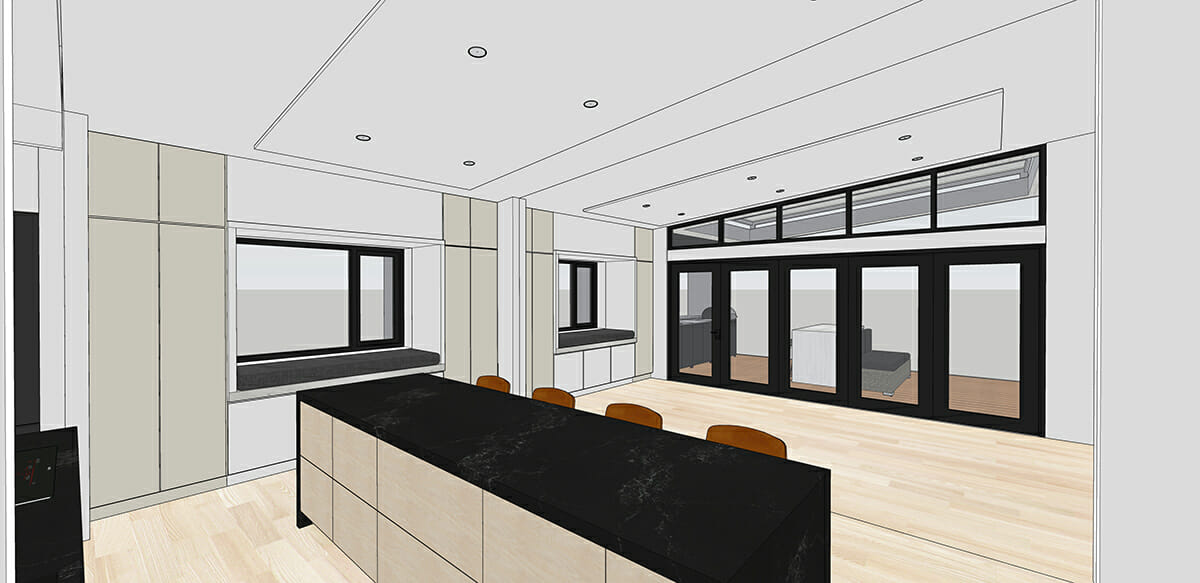 Nexus: A Next-Level Getaway
"Our goal with the Nexus development platform was to imagine a smaller scale (less than 50,000 square-feet) development platform that serves any size organizations of developers, builders, operators, and DIY folks by providing all the benefits of offsite prefab modular, panelized/hybrid, or kit of parts to anyone who wants to work in a modern way, get a result that is far better than they could deliver on their own and is very exciting to showcase. The look is the hook, but the contents and substance of our designs delight people for the long term," explains Seelye.
While Dwell is a complete module design and has all systems and elements that pack into and ship to your site in one module, Nexus is a complete scaling solution design built out of various assemblies to get the scale and function needed for a project. Both Dwell and Nexus address the variability of local resources, and both try to adapt themselves to provide much more excitement, satisfaction, and verified substance than other designs, even where local resources are lacking.
G-Pod Americas' design process is fully digital, they are not a manufacturer. How far into the delivery phase the digital process chain remains unbroken depends on the local market and the manufacturing partner, among other things. Their goal is to preserve the digital design and deliver it to operations after commissioning, with the understanding that sometimes reversion to analog along the way must happen and they can still deliver our full services, adjusted for the reality.
Build and assembly approaches for Nexus vary from project to project, but G-Pod Americas can deliver each solution as a kit of parts, panelized, and one day soon, they will be able to deliver full prefab volumetric modular. "At this time, G-Pod Americas is still too young to start with volumetric and so much is changing its hard to allocate the heaps of capital for a factory right now. First, we need to keep growing and decide when our industry will collectively arrive at the future," says Seelye. Stacking is incorporated into the design capability of Nexus, but it would be specific to a project, its local conditions, and planning approval requirements. So far, G-Pod Americas has only worked on a four-story design, but Seelye believes that should be far from the limit where they need to maximize density.
The research and development for Nexus are ongoing. "Its structural materials can vary exponentially. G-Pod Americas has worked on designs for concrete, structural steel, cold-formed steel, composite, engineered wood, and mass timber. With small non-structural adaptations they can look very different," says Seelye.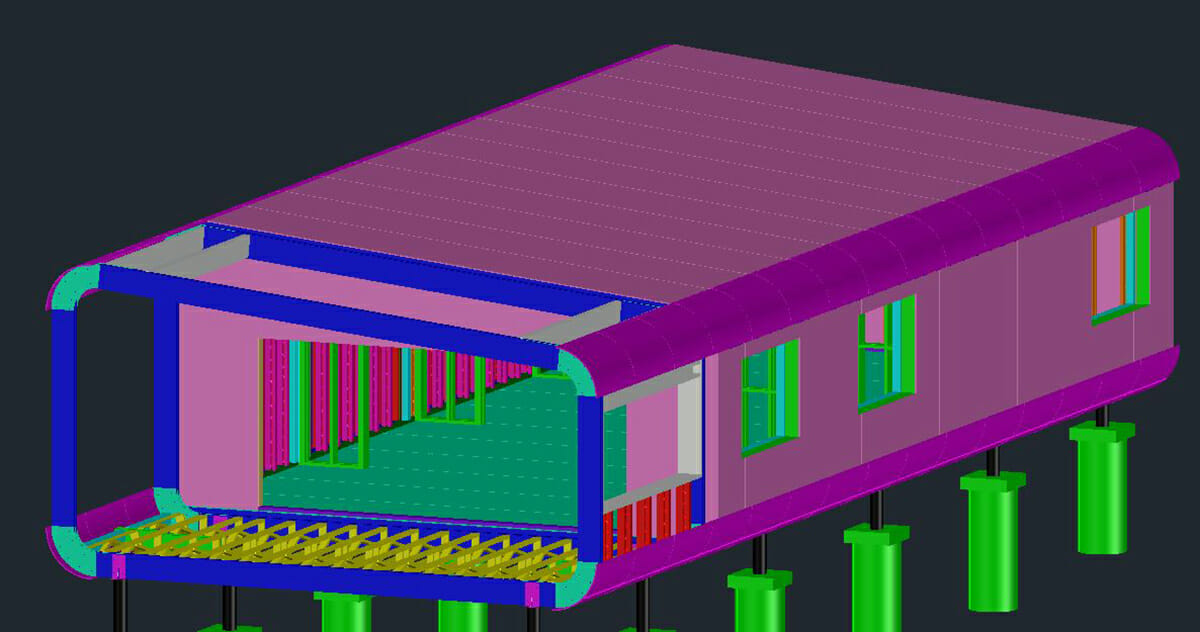 A Luxurious Off-Grid Villa in Texas
Currently, G-Pod Americas is working on an off-grid villa near San Antonio, Texas. The project came about because the material suppliers and materials were available for a collaborative project, and it offered the sharpest view into how G-Pod Americas could put their designs to work with the local climate and site. Beyond that, they took it as an opportunity to consider how they might use the local supply chain and local construction technology to cover the widest swath of the research and development landscape as they work out how some of the markets will need them to sync up with their local conditions and materials.
Because they create a visual design first and fit that into their existing structural design based on local details, the possible variables are many. But for this 60'X24' villa, they decided on a faux modular design – creating a site-built mocked-up as a volumetric modular build. They opted primarily for engineered wood. 12 six-inch steel legs are cast into bedrock on a gentle slope, so the building seems to float, and the impression visitors get is amplified. On top of the 12 steel posts are stainless steel saddles holding LVL beams and between the LVL beams are open web trusses. On top of the trusses and floor, beams is an Advantech subfloor. The walls are a double thermally broken T-stud wall, making the wall assembly around 14 inches thick. The 14-inch dimension carries over into the radius corners so that the roof and belly are both the same type of assembly with open web trusses between the LVL beams.
The interior layout remains flexible without a requirement for internal walls or columns unless a project is a larger scale volume, so the design can easily adapt to the needs and wants of the end user. When completed, it will feature a gypsum air barrier, and between the T-stud will be a variety of different types of blown-in cavity insulation. The open web trusses and T-stud walls make it easy to run cables and pipes. All mechanical systems will also be located inside the air barrier. The outside weather-resistant air barrier is a 5/8-inch ZIP Sheathing.
The plumbing is centralized to reduce cost and waste while achieving the highest water service value. The water is heated with a Sanden CO2 refrigerant heat pump. Low voltage DC controls are used for the lighting and data infrastructure, lowering the electrical installation and materials cost while improving building performance. A Minotair Passive House ERV is providing the fresh air and in-line dehumidification, and a Mitsubishi recovery ducted mini split is helping out when the building needs to heat up or cool down quickly.
The deck module is a moment frame made by adding vertical LVL columns and stainless-steel flinch plates so that there isn't a need for shear walls. However, there is some dimensional lumber framing in the shear walls and the 10X16 aperture for the deck module canopy. The Nexus utilizes triple pane Weather Shield Windows and Doors, including a 14-foot five-panel bi-fold.
Distinctive Design Executed with Off-Grid Construction
The first feature people notice when they see a Nexus unit is its distinctive sloped design. Nexus designs can have a lot of variable parameters including roof type and slope. For the off-grid villa project in Texas, they opted for a shed roof design so they could orient it on the site East to West for optimal solar photovoltaic array orientation. The North wall is 13 feet tall, and the South is 11 feet tall. It provided an aesthetically pleasing gentle 6% slope and a 1,200 square-foot interior volume.
The roof will be a standing seam, 24 GA steel roof, delivered with pre-bent panels and assembled by a local metal roofing team. It will feature solar photovoltaics that complete the original solar generation put in place at the beginning of the project for the off-grid installation. The build of a Nexus can be completely powered by sunshine, including on-site metal fabrication. This means you can assemble a Nexus where there is no electricity.
In fact, one of G-Pod Americas' areas of expertise is off-grid projects and the means to support construction where power and water are not yet connected or access to utilities is unavailable. Their designs for these projects support the need for early phase buildings, power generation, and storage and water collection for onsite use.
A Variety of Unique Design Options
Many unique options are available to Nexus platform users - especially for developers who get more value as they roll out more product volume on larger products, and hospitality operators looking to provide memorable getaways.
"Our flagship vertical is hospitality and our designs fit readily into that business sector - hotels, resorts, short- and long-term rentals, relocatable resorts, island nation product that substantially improves how things are built in fragile ecosystems and where there are many climate risks. ADUs, small tower developments, urban infill, and wilderness accommodations are all also easy fits for our Nexus platform," explains Seelye.
Some options support local design criteria like cladding, windows, and the primary application for the design of houses and common areas. The Nexus framework also offers operational values, digital design, manufacturing, and lifestyles for commercial clients to name a few.
"Hopefully our expected service life targets will make the case for digital design and carrying that value into extending the service life and lowering operational costs, keeping the property connected to communications, secure access, and much more. We include more measurements than most solution providers. That means more value can be expected from our measurement and verification process. Air infiltration tests, thermal imaging, sensor arrays, moisture management, air quality management, smart glass, full commercial data collection and management, and even more," says Seelye.
Looking Further into the Future
So, what does the future look like for this forward-thinking company taking the modular building industry by storm? Seelye's answer? - "We are focused now on preparing to finalize and deliver several different projects, using the Nexus platform in places like Vancouver, Colorado, California, Texas, Montana, and hopefully other states too. Custom homes, rental properties, and hopefully a special project for a very exciting and well-known client. Our Central and South Americas markets are a focus for us now, but as a secondary priority until our potential customers there are ready to move forward. Then, we will be scaling up the design team to support the new projects and markets."
Seelye hopes that G-Pod Americas can continue to charm the public and the construction industry all over the world with their modern approach to modular construction and eye-catching and recognizable ultra-high-performance buildings backed by carefully measured results.
More from Modular Advantage
The city of Malmö in southern Sweden is set to welcome a new student housing project Unity Malmö, comprised of 5 building blocks, 450 micro-living apartments, where Forta PRO delivered 269 modules, total of 9,671.9 m2.