The Sustainability of Modular Construction
Modular construction is a more environmentally-friendly building method than traditional on-site construction. By utilizing modular techniques and sustainable construction methods, building developers can lower their projects' overall environmental impact through reduced emissions, reduced waste, material reusability, and increased energy efficiency.
Why does this matter?
According to a March 2022 article by McKinsey & Company, the world will see a once-in-a-lifetime wave of capital spending on physical assets between now and 2027. This surge of investment—amounting to roughly $130 trillion —will flood into projects to decarbonize and renew critical infrastructure. Ninety-three percent of CEOs say that sustainability issues are important for the future success of their business, and 54 percent expect sustainability to be embedded within the core business strategies of most companies in the next decade.
The bottom line is this: From a sustainable and strategic perspective, modular construction has the potential to dramatically change not only how we build, but the overall effect these projects will have on our environment.
Download the Report
Adapted from MBI's 2023 Permanent Modular Construction annual report, this research review collects and summarizes academic research from around the world to show how modular construction is more sustainable when compared to traditional, on-site construction.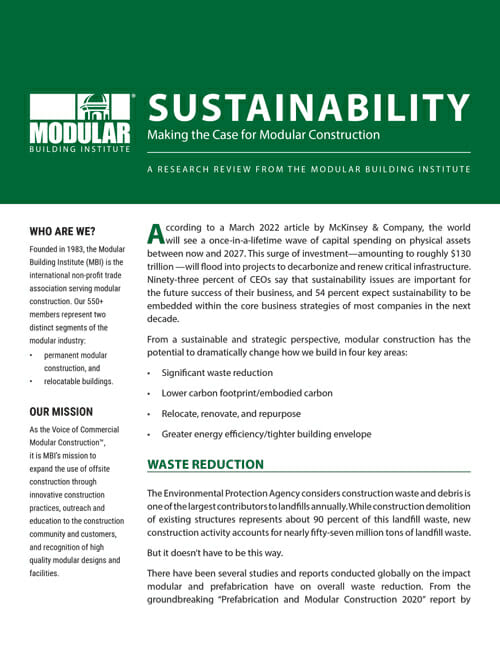 Inside MBI's Sustainability Report
MBI's "Sustainability: Making the Case for Modular Construction" review includes research summaries and case studies that show modular construction methods are more sustainable and environmentally friendly in four key areas:
significant waste reduction,
lower carbon footprint/embodied carbon,
the ability for reusing/repurposing buildings, and
greater energy efficiency.
Here are some highlights from the report:
Impact of Modular Construction on Construction Waste Reduction
MBI produces the industry's leading annual reports detailing permanent modular construction and relocatable buildings, but we need your help! Submit your modular project data today and contribute to the greater knowledge of the modular construction industry.
There have been several studies and reports conducted globally on the impact modular and prefabrication building has on overall waste reduction. From the groundbreaking "Prefabrication and Modular Construction 2020" report by Dodge Data and Analytics, eighty-six percent of architect, contractor, and developer respondents said that utilizing modular construction had a medium, high, or very high impact on reducing waste generated by construction activities and improving green building techniques.
Percentages of all respondents are broken out below.
Source: Dodge Data and Analytics, 2020
Architects/Engineers
Eighty-five percent of surveyed architects and engineers reported that waste reduction was a key benefit of modular construction sustainability.
Percentages reporting a Very High, High, or Medium impact are seen here.
GCs/CMs
Eighty-eight percent of surveyed general contractors and construction managers reported that waste reduction was a key benefit of sustainability in modular construction.
Percentages reporting a Very High, High, or Medium impact are seen here.
Trades
Eighty-five percent of surveyed trade contractors reported that waste reduction was a key benefit of modular construction methods for sustainability.
Percentages reporting a Very High, High, or Medium impact are seen here.
Modular Building Reuse Case Study
Another opportunity that modular construction provides to practice sustainable construction methods is the ability to design for the eventual relocation of an entire building. As modular buildings are constructed in modules, the buildings can be more easily "deconstructed" and reused.
School House Manufacturing Office Building
Company:
Aries Building Systems, LLC
Location:
San Jacinto, California
Building Use:
Office Space
Gross Size of Project:
6672 Square Feet
Days to complete:
70
Aries Building Systems utilized five (5) 12x60 modular units and four (4) 12x64 units that were originally three (3) different buildings, all built by different manufacturers, with three (3) totally and uniquely different floor and roof systems. Taking three (3) buildings, for a total of nine (9) modules, Aries created a single 6,672 sf office space in just 70 days.
The interior of the building consists of tegular acoustic ceiling system to provide further depth and texture to the ceiling plane, commercial grade carpet tiles in all offices, and wood plank flooring in the conference room and common areas. The exterior of the building consists of a stucco roof facia and a stacked stone wainscot, separated by vertical wood siding. Architectural-grade insulated windows and doors were used.
Aries also installed indoor fire suppression and alarm systems to bring the building up to 2019 code and local jurisdictional requirements. On top of complying with 2019 Building codes, this renovation brought the structure up to reach Cal Green and Title 24 energy conservation requirements including high-efficiency Heat Pumps and LED lighting. Light Harvesting was implemented and designed to collect/utilize natural daylight in the interior of the buildings, reducing the need for energy-consuming artificial lighting. The building also utilizes green building techniques like a reflective white membrane roof system.
Download the Complete Sustainability Report
MBI's "Sustainability: Making the Case for Modular Construction" is a succinct, 6-page review of current research showing that modular construction, by its very nature, is a more sustainable, energy-efficient, green, and environmentally-friendly building method.