Unity Malmö – New Student Housing in Southern Sweden
The city of Malmö in southern Sweden is set to welcome a new student housing project Unity Malmö, comprised of 5 building blocks, 450 micro-living
apartments, where Forta PRO delivered 269 modules, total of 9,671.9 m2.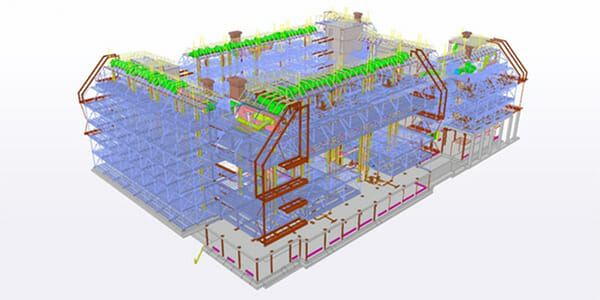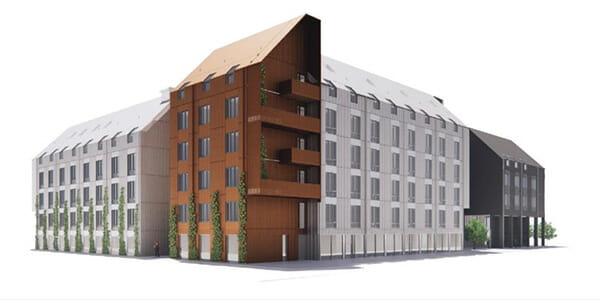 Renderings by Forta PRO of its Unity Malmö modular student housing development.
Forta PRO is a world leading modular construction company, providing advanced state-of-the-art solutions for construction and expansion of apartments, healthcare solutions, hotels, student accommodation, rental apartments and more with minimal disruption to the operations of surrounding facilities.
Unity Malmo project implementation time onsite was from February 1st, 2022 to October 2022, including fully completed installation by August 2022. The building layouts were adapted to modular technology so, as to enable full finishing of the living units in the factory, including preinstalled kitchens along with appliances.
Flexibility of module design and effective collaboration with client allowed to design complex pitched roof modules, preserving living space, which was critical for project design concept and architecture. Technical rooms with inbuilt ventilation aggregates were also produced as modules and installed on the roof-top floor. The project was implemented in collaboration with returning client – general contractor AF Gruppen Sverige and end client UNITY living, which definitely added value to the smooth management and coordination of construction works, moving along the known lines.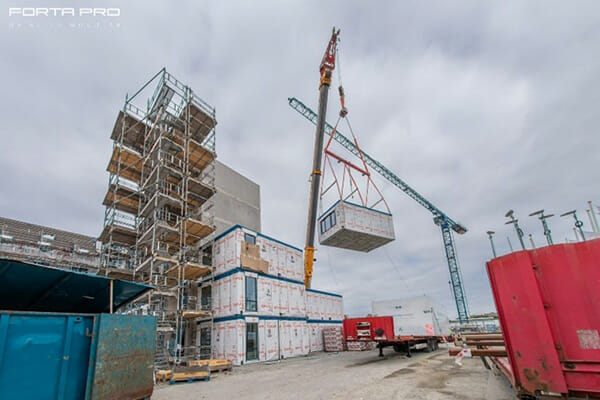 Overview
Project UNITY Malmo is a perfect example that modular building does not limit the creativity of designers and a modular building can be impressive and create a unique appearance of the city. By combining the technology of steel modular structure and wooden elements, Forta PRO has achieved not only the flexibility of the technology, but also reduced the size of the construction site, the environmental impact, and labor costs. Installation of modules was implemented in stages divided by separate housing blocks delivery, comprising in total 7 months.
The use of modular technology is a great example of sustainable urban development without compromising the quality and elegance of the exterior of the building.
Why Modular?
The key reason for choosing prefabricated approach for construction of this building complex was a previous successful experience of the client with Forta PRO and modular construction in particular. The quality assurance system, stringent quality control implemented in the factory controlled environment, speed of delivery and shorter onsite construction time have been the main aspects guiding the choice of prefabricated approach.
Trusted partnership and smooth project management has been a definite reassurance for the client to choose offsite construction. 90-95% of total construction volume for this project has been produced offsite, with only staircases and basement constructed onsite. Steel plate façade with different visual aesthetics was installed onsite, with all the insulation and vapor barriers preinstalled in the modules already.
Quality, Speed and Sustainability
UNITY living and Forta PRO considers the implementation of such projects to be extremely important for the creation of sustainable cities. The implementation of projects is faster, the financing is used more efficiently. Total timeline of the project modular part comprised 17 months, starting from module production till handover, which is a fast-track speed considering the project scale exceeding 9,600 m2 of gross modular building area. Speed of installation amounted to 10-12 modules per day.
The project consists of 5 blocks, installation of each was implemented on average in ~ 2 weeks, followed by onsite seal and conceal works and façade installation. Speed of installation allowed for a limited amount of site works, smaller involvement of subcontractors, hence, reduced number of required construction site equipment, containers and site-related utility costs.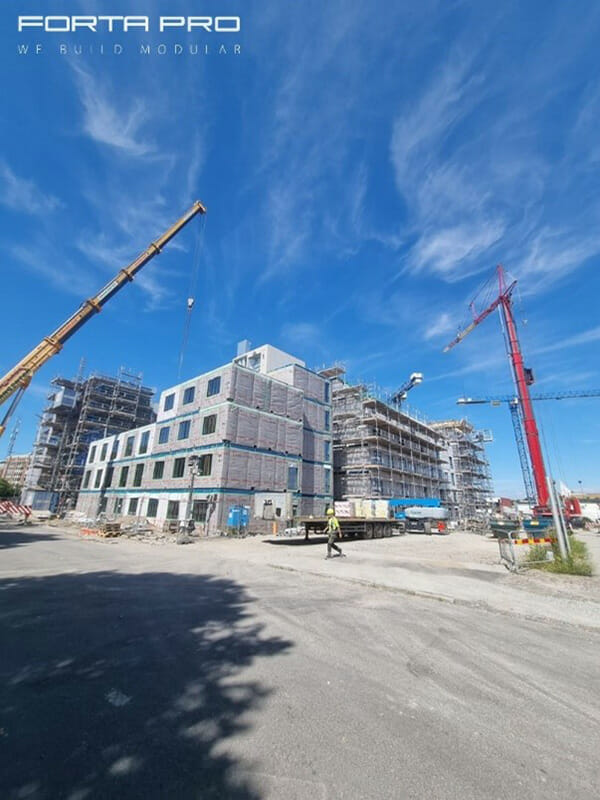 The factory control ensures the consumption and quality of materials. Almost all elements can be recycled in the future. In particular, steel structure with an efficiency of more than 90%. With 90-95% of project construction realized offsite, health and safety risks have been substantially minimized while ensuring tight controls and procedures in the controlled factory environment.
UNITY and Forta PRO had to come with multiple solutions how to make each module separately and as well assembled, connected final product. Carefully chosen and tested suppliers. The new solution was created for the roof element, to make building unique and stylish.
Project Outcome
Building complex has been commissioned on 1st of May 2023, and is being gradually occupied by tenants. The building represents an attractive combination of shared communal spaces - winter garden, balconies, terraces attached to modular part of the building.
UNITY living Head of Properties and Facility Management, Claes Brylle Hallqvist commented: "The use of prefabricated modules for combined 238 rooms hotel and 104 lease apartments at Nobelvägen in Malmö has given Unity several advantages. The interior quality of surfaces like painted walls, tiling in bathrooms and wooden floors exceeds what we normally see in traditional in-situ construction as they are produced in a clean and controlled environment at the factory. And from a sustainability perspective we have reduced the footprint as less materials are used in modular construction plus transport and waste can be reduced to a minimum – both on site during construction as well as in the production of the modules. Based on our previous experience with prefabrication we were able to front load the design process to take the advantage of prefabrication even further, as each room was delivered fully equipped with all cabinets, lamps, curtains, beds, bins etc."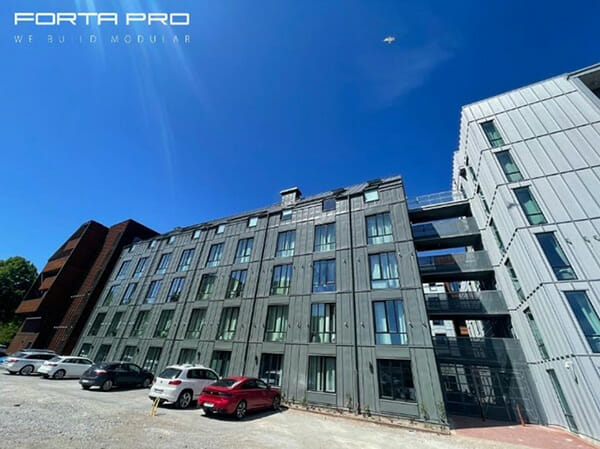 Setting a New Industry Standard!
Aviv Brosilovski, Forta PRO Business Development: "Unity Malmo project was implemented during turbulent times of ongoing Covid and Ukraine war crisis, along with consequential financial risks and cost increases. Despite of that the client and Forta PRO managed to maintain these factors in controlled manner and ensure unhindered project realization. This is a true testimonial to much higher predictability, process and risk management of offsite construction. We are very proud of the completed project results and now being announced as finalist in the International Project of the Year Award!"
More from Modular Advantage
Forta PRO, a modular building manufacturer in Latvia, recently partnered with Marriott to create a modular hotel room based on their current design, Moxy. The two connected in Copenhagen in 2019, when Marriott expressed an interest in creating a mock-up to show investors the quality available through modular construction techniques. The stand-alone room is currently located in Frankfurt and is available for investors to visit.