Hage's Badehotel – Case Study – Denmark
Hage's Badehotel is a new, modern seaside hotel in Denmark providing great accommodation in beautiful & relaxing surroundings. Forta PRO is a world leading modular construction company, providing advanced state-of-the-art solutions for construction and expansion of apartments, healthcare solutions, hotels, student housing, rental apartments and more with minimal disruption to the operations of surrounding facilities.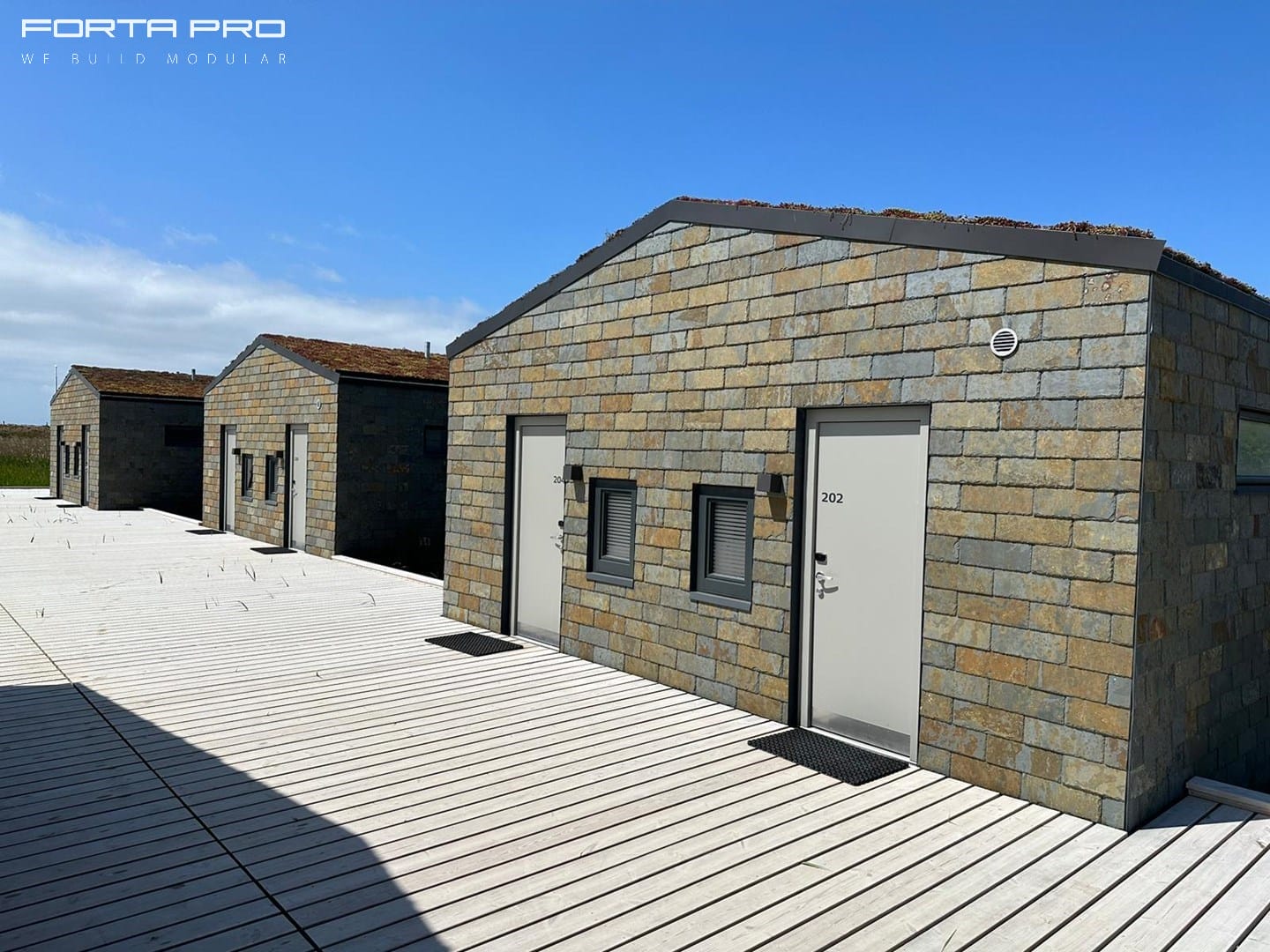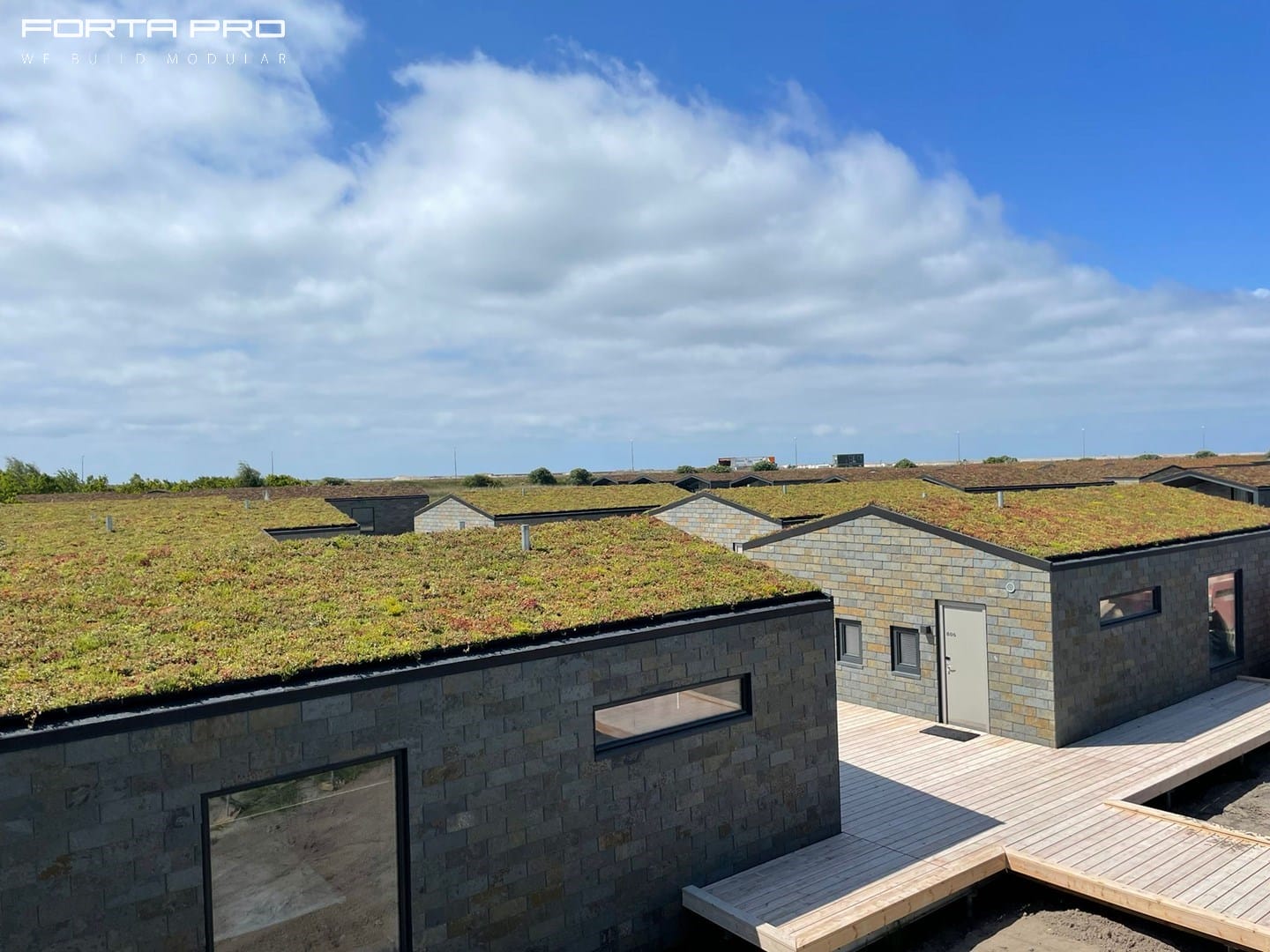 Forta PRO Modular project has been delivered undergoing complete cycle from design to production, delivery, and installation. In total, Forta PRO delivered 72 buildings, 144 modules, with 5,200 m2 of gross modular area. With final onsite completion in June 2023, it provides exceptional long-stay accommodation in a stunning and serene environment. The houses are thoughtfully constructed on pillars to preserve the natural surroundings and sustain the natural ecosystem. Several initiatives have been taken to preserve the area's wildlife and to provide guests a hotel experience in unique surroundings. The property consists of a main building with reception, bar & breakfast restaurant.
Overview
Over the course of project implementation, we have implemented initiatives to protect the area's wildlife and ensure a unique hotel experience for the guests of this long-stay hotel. The total time of onsite module installation was extremely quick allowing to minimize area disruptions and waste. One cabin house consists of two modules with pitched green roof to form either two single rooms or a service apartment. The modules were produced and delivered along with the terrace with the final terrace cladding installed onsite. The furnishings for the modules were installed by the client onsite, while all interior finishes along with sanitary appliances and wooden panelling on walls have been fully completed in the factory.
The visual design of the project should also be noted - Brazilian brick slates blend into the surrounding landscape and were fully preinstalled in the factory.
The modules of Hages Badehotel were delivered with complete internal finishing, including furniture, minimizing the need for on-site construction work to a minimum. Modular choice for this particular swampy area and solution with pile foundations has been essential to preserve the natural environment and reduce disruption.
Modules were delivered from Forta Pro factory located in Ventspils, Latvia which is near to Ventspils Port by vessel to the Danish port of Nakskov, just 30 minutes' drive from construction site.
From Nakskov port to site modules were delivered by trucks. Considering that the modules of Hages Badehotel were delivered with complete internal finishing, including furniture there was little work to be done on site. As soon as modules arrive in Nakskov port installation team was ready to install 12-14 modules per day by mobile crane presenting an impressive progress on site after each delivery. Predictability and installation speed was crucial in this project do to the high water level which was demoted during the construction process.
How Has the Use of Offsite Technology Provided a Major Element in the Delivery of the Final Project?
The client is a returning client of Forta PRO, hence, his confidence in the advantageous aspects of modular technology led to a decision to implement construction of the project in modular technology. High volume of repetitive low-rise cabins allowed Forta PRO to reach high efficiencies in the production facility. The project featured only 4 module types, which allowed to streamline both - project technical design and production. Modular steel structure allowed to use the advantage of light steel weight structure to facilitate installation process and optimize pile foundations. Speed of installation allowed for a limited amount of site works, smaller involvement of subcontractors, hence, reduced number of required construction site equipment, containers, and site-related utility costs.
The project has received an overwhelming response so far, both from the end-users, who start to inhabit the cabins, as well as investors inspired by project concept, visual aesthetics, and functional layout design of the rooms. Currently, the project is being commissioned and is already booked up to 99%, which is a certain indicator of the success of the financial logic and concept behind the project. Another great achievement for the project is received recognition as one of the Top 25 newly launched beach hotel properties worldwide by The Times.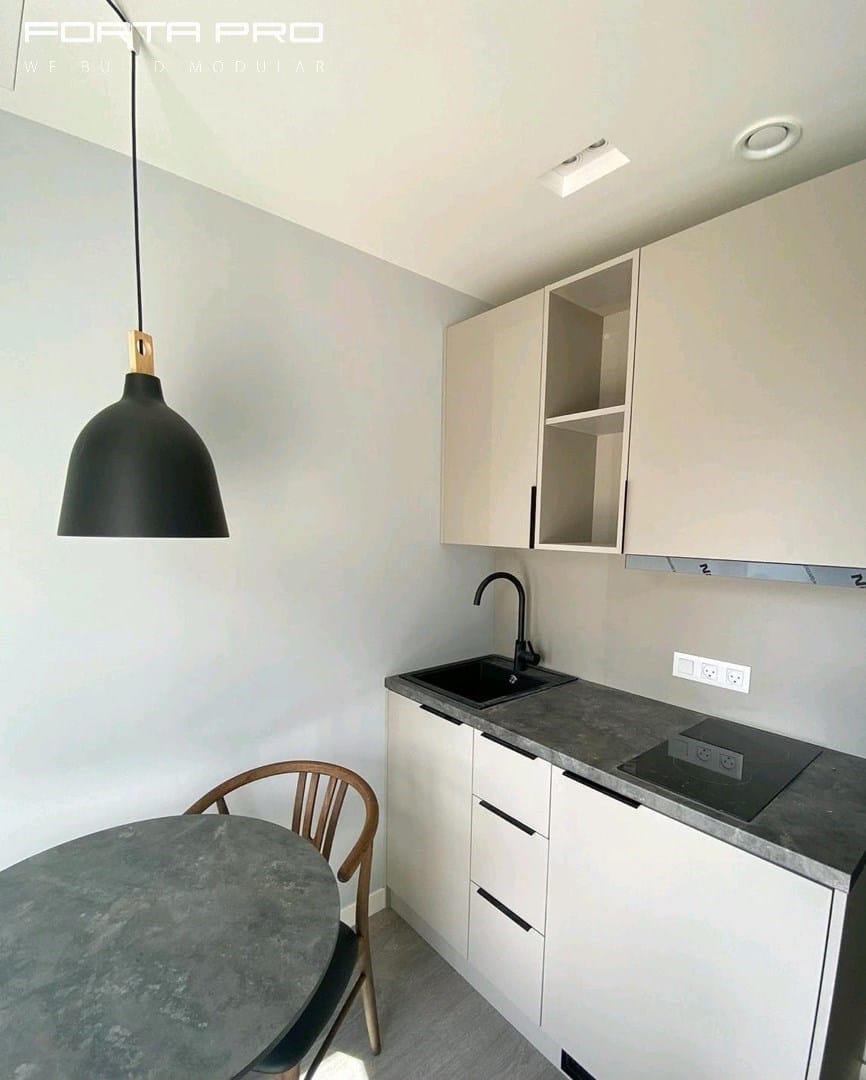 Innovation
Assembly speed - up to 12 module assembly per day.
As most of the work is completed in the factory under controlled conditions, the number of human resources at the site is significantly reduced, including risks related to H&S and quality affected by the weather.
Aviv Brosilovski, Forta PRO Business Development commented: "Utilizing MMC (Modern Methods of Construction) technologies enables construction works to be carried out in hard-to-reach areas or in locations where it is crucial to minimize the impact on the existing environment and reduce construction-related damage. Our usage of nature-friendly materials that fit well into the natural landscape gives the amazing outcome creating the place where we feel really close to nature creating inner peace and a desire to return. We look forward to delivering our next modular project!"
About Forta PRO
Forta PRO manufactures high standard modular units suitable for the construction of hotels, residential buildings, student accommodation, "built to rent" apartments, hospitals, clinics, bathroom PODs and many other applications. Modular construction methods allow for ecologically clean and sustainable buildings while saving energy and time with minimal disruption to the surrounding facilities operation.
Forta PRO can plan, design and build from scratch or expand existing facilities and can support customers with 120,000 m2 per year of module manufacturing in our European factories, quick and efficient.
More from Modular Advantage
With about 100,000 square feet of space on four levels, MODLOGIQ is producing 100% of the hospital's space off-site in their factory. That includes everything from mechanical, electrical, and plumbing to interior finishes and casework to about an 85% level of completion.