From Local to Federal: The Relocatable Sector Can Foresee Regulatory Issues
Daniel Arevalo is the Director of Engineering and Legislative Affairs at Mobile Modular. He also the former co-chair of the MBI Government Affairs Committee.
Daniel Arevalo is the Director of Engineering and Legislative Affairs at Mobile Modular. "I shepherd building plans through the approval process for both our commercial buildings entity and our education buildings entity, at all our locations across the country," he says. "I'm also involved on the engineering side with updating and developing our standard building specifications."
After being in this role at Mobile Modular for a few years, he decided to become more active in MBI. "Getting involved enabled me to get a better national — even international — view of the industry." He became a board member three years ago, and then became a co-chair of the Government Affairs Council. He's now the chair of the Relocatable Buildings Council.
From Reactive to Proactive
Twenty years ago, when Arevalo first started getting involved with government affairs, he says there were some antiquated building codes in California that were updated. The code changes came as a surprise to the company where he worked at the time. The company called the state's Department of Housing and Community Development, which oversees all commercial and residential mobile and modular construction throughout California. "The office said the only time the modular industry got involved was when it was reacting to a change it didn't like." In contrast, "Homebuilding representatives had been involved helping to write the new code. If we'd been paying attention too, we would have known about the proposed changes in advance, and could have been involved with writing the code instead of just complaining afterwards. Back then, the industry was reactive, instead of proactive."
As MBI has grown and matured over the years, this is one of the things that has changed. "MBI now has Jon [Hannah-Spacagna] as the Director for Government Affairs, and the organization has dedicated lobbyists in DC, California, and New York City."
Arevalo explains what these lobbyists do: "Their role is to be proactive, to develop relationships, and talk with state legislators and their staff to learn about pending legislation that may have an impact on the industry. Then we can get involved to help ensure any changes have a positive impact — or at least not a negative one — on the industry."
Examples of Relocatable Buildings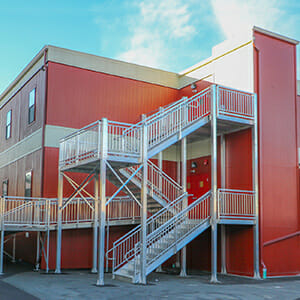 BelovED Community Charter School - Multi-Story (exterior). Built by Aries Building Systems, LLC and Specialized Structures, Inc. Honorable Mention, 2019 Awards of Distinction, Relocatable Modular Education Over 10,000 Sq. Ft.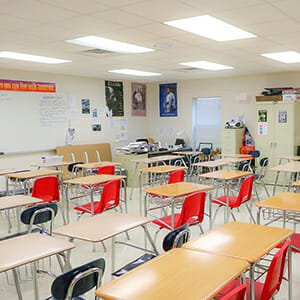 BelovED Community Charter School - Multi-Story (interior).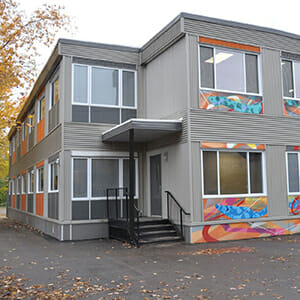 Enfant-du-Monde School for Montreal School Board (exterior). Built by RG Solution. Honorable Mention, 2020 Awards of Distinction, Relocatable Modular Education Under 10,000 Sq. Ft.
Changing Codes
Arevalo mentions that another important way in which MBI is being proactive is by working in partnership with the International Code Council (ICC). "MBI is working with the ICC to create a document that gives guidance for modular inspections and approvals. The goal is to have every jurisdiction across the country adopt those guidelines, so there's consistency everywhere — which makes it a lot easier to set up modular programs."
Currently, Arevalo is working with the Division of the State Architect, which oversees all public school construction in California. He's helping them tailor the guidelines for how to check whether existing buildings meet the current energy code, and how to enforce the code. He says there's an estimated 40- to 50,000 relocatable classrooms on school sites in the state, and nobody wants school districts to have to replace all of them. "Instead, schools need a reasonable path to compliance. Rather than a prescriptive code that says a building must have features x, y, and z, it's better to measure compliance by overall performance," Arevalo explains. "This means that if the HVAC is upgraded, the building can be in compliance, even if the walls are not ideal. Performance averages out over the different building systems. We're trying to have the state understand that the performance method of ensuring compliance is acceptable."
MBI's knowledge of the relevant codes and regulations and the organization's connections with government officials can help when a modular company runs into an issue. Arevalo recalls that last year, one of his company's sales representatives couldn't get a building approved in a Californian city; the city was saying the building wasn't allowed. "I called Jon [Hannah-Spacagna] and asked for his help. Jon called his contact at the State of California Housing and Community Development and explained that they'd be violating state law by not approving the building," Arevalo explains. "That solved the problem, and the building was approved.
The Relocatable Side of the Modular Industry
Arevalo's view is that the relocatable building sector can be a bellwether for the rest of the modular industry. Because relocatable buildings are leased out to numerous sites in different cities and states, companies in this space see a lot of different regulatory issues crop up at the local level — issues that can eventually surface at the state and federal level, affecting more members of the industry. Arevalo's now the Chair of MBI's Relocatable Buildings Council.
"An engaged Relocatable Building Council helps MBI be even more proactive, by keeping our eyes open at the local level — like being scouts for the state and federal level."
The regulatory problems that Arevalo has in mind often involve unpredictable judgements from local code officials. "Too often, whether a relocatable building can be placed on a particular site has been up to a local code official's discretion or interpretation of the building code," he explains. "Being subject to the inconsistent judgements of local officials is risky and it can get to the point where it stops you being able to do business. Having a uniform code that applies consistently from one town to the next is so important."
MBI Seals Program
With a nod to the Good Housekeeping Seal, the MBI Seals Program gives modular companies' clients a way to recognize a certain level of quality. "A seal is affixed to each module indicating that the member company's product has passed a level of quality control and that the company adheres to MBI's code of conduct and ethics. It's a marketing tool members can use."
The funds raised from the MBI Seals program supports MBI's government affairs advocacy efforts. "It means that MBI can have full-time staff dedicated to government affairs and the organization can hire dedicated lobbyists — which benefits the entire modular industry."
This article was first published in the Modular Advantage - July/August 2021 Edition.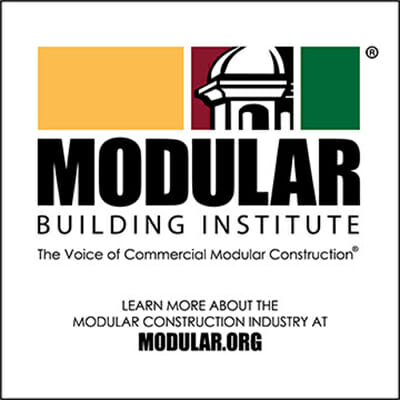 The purchase of MBI industry seals supports MBI in its efforts to remove legislative barriers for the entire industry.
More from Modular Advantage
For this project, Forta PRO delivered 72 buildings, 144 modules, with 5,200 m2 of gross modular area. With final onsite completion in June 2023, it provides exceptional long-stay accommodation in a stunning and serene environment.