Blazer Industries - Pediatric Dental Clinic
The Springfield Kids Dentist Clinic was designed with kids in mind. Unlike many pediatric dental clinics, this building is pleasing and fun to the kids' eyes while not distracting them with costly technology used to ease a child's anxiety with the visit. The goal of the client was to provide top notch affordable care while minimizing additional overhead costs.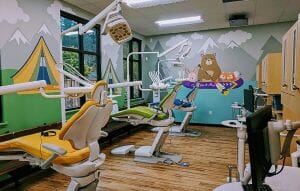 The flow of the clinic obtained by the design, and the work of the interior designer, creates a highly functional clinic without the high cost of unnecessary added features. The simplicity of the design allowed for a smooth and efficient set up on site without compromising the clients vision.
This project was built with a contractor who fully understands how modular works. This allowed for seamless timing between the completion of production in the factory, and the need for the project on site.
We also worked closely with the contractor to delineate the scope of work to maximize the speed, efficiency, and cost savings of modular, while maintaining the flexibility needed to suit the client. The use of modular construction allowed for a reduced project schedule, early occupancy, and quicker return on investment.
This article originally appeared in the Modular Advantage Magazine - First Quarter 2018 released in February 2018.
More from Modular Advantage
Roland Brown never imagined his life
would turn out this way. He retired from a nearly 50-year-long career, starting off as a draftsman in the mobile home industry to becoming the VP of Design and Development at Ramtech Building Systems, Inc., a design/build construction company in Mansfield, Texas with its own modular
manufacturing facility.