Welcoming the Industry's Rising Stars to the World of Modular
David Hutchinson is the leader of Tremco's Deep Energy Retrofit Development and director of its Rising Stars Program.
Born during a leadership discussion in the summer of 2020, Tremco's Rising Stars Program was developed to offer students and young adults interested in construction a wholistic view of the industry. Currently operating in Boston, Brooklyn, and Newark, Rising Stars has seen increasing interest, both from students and new industry partners.
Among those partners, in furtherance of its own mission to educate workers and professionals across the industry about modular construction, is the Modular Building Institute. As part of MBI's continuing involvement with Rising Stars, the association reached out to David Hutchinson, leader of Tremco's Deep Energy Retrofit Development and director of Rising Stars, to see if he could help arrange an educational track at the 2023 World of Modular specifically for students.
With David's assistance, MBI hosted over two dozen high school students from Las Vegas' East Career & Technical Academy. It was certainly a "first" for MBI, and it provided the Rising Stars program its first opportunity to plug interested students directly into the industry's largest event. Immediately following World of Modular, I was able to catch up with David and talk to him about the success of Rising Stars and his experience working with students at the conference.
John McMullen: Tell me about your involvement with East Career & Technical Academy. How did you and Tremco get in touch with them and what was their response about potentially attending World of Modular?
David Hutchison: This was not an existing relationship. Whenever I approach a new location, I want to see school or community center fits the mold of our program. The school directors at East felt like a perfect fit for our program and were immediately responsive to the Rising Stars Program (RSP) mission statement. I reached out in the late evening two months ago and first thing the following morning they responded saying they were eager to participate!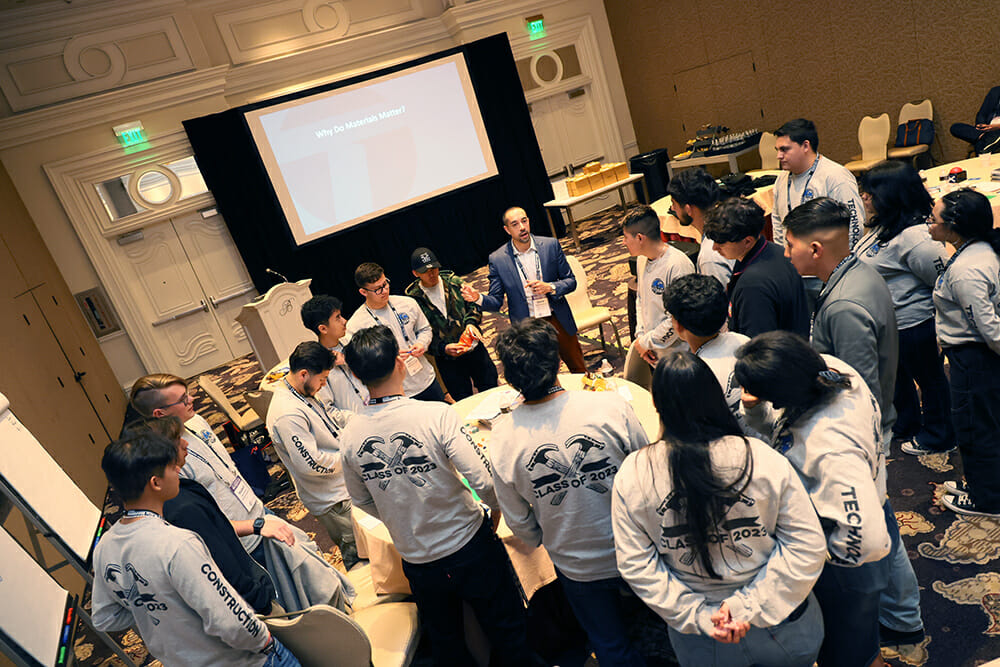 As part of Tremco's Rising Stars program, students from the East Career & Technical Academy attended World of Modular to learn from industry experts and meet representatives of companies from across the modular construction industry. Their instructor, Tremco's David Hutchinson, led the morning-long program on the conference's third day.
JM: What was the goal of the students at World of Modular? What was your goal?
DH: Just like the full World of Modular program, it was designed to be an opportunity for industry exposure. I wanted the students to walk away understanding that there was an entire innovative world in construction they could pursue. This generation is so inquisitive. I wanted them to be able to leave WOM with both educational and emotional takeaways. Also, I wanted them to feel valued as the next generation (which was a continuous theme).
JM: What was the morning like for the students? What was the itinerary?
DH: We had them from 7:45am until 12:30pm on the conference's third day. They came in very energetic and ready to jump in. I had a scavenger hunt organized for them on the trade show floor. It rewarded them for branching out and learning about all the great companies they were present. Sometimes at that age it is viewed as "uncool" to engage, but this group loved the competitive nature and found genuine interest in everything they heard and saw.
JM: Tell me about their reaction to, and experience in, the exhibit hall. Did you get any direct feedback from the students?
DH: It was great! When they ran out of time, I had to actively pull the students out of their conversations. They really were enthusiastic about the different booths and people they were able to meet. Students also collected a lot of business cards, which they were excited about.
JM: What were the speakers able to bring to the students that was new to them?
DH: The speakers did an excellent job in three key areas:
They really did a great job of reaffirming how important the students will be to the future of the industry.
They shared how much opportunity the modular construction world presents for the industry.
The technology shown in many of the presenters' videos was an eye-opener for the students.
JM: Tell me about the activities the students were involved in. We have pictures of them working together in teams with Lego blocks. What were they building? What were they learning?
DH: The scavenger hunter was one of several activities we had planned. The students took part in construction bingo, team Connect Four, and concluded with the Lego Build!
The Lego build was a simple task that I have in all of my programs. They are given limited direction and asked to accomplish a construction build in a tight timeline. They then attempted to build the same structure again, but with identified roles and responsibilities. One of my big goals is to promote the importance of collaboration to a successful project.
JM: What was their overall experience like at World of Modular?
DH: The students walked away feeling connected to the industry and probably a little lucky for the opportunity they were given. These students were specifically selected due to their prowess, so a reward like this trip certainly affirmed why they work hard.
JM: What do you think the students left World of Modular with?
DH: I certainly think some of the students walked away viewing modular building as a viable career opportunity they will pursue. Their eyes were opened and again they felt valued and encouraged.
JM: What's the next step for the Tremco program, both with these students and in general?
DH: The program continues to evolve, and we will establish a hybrid program on the West coast, with the support of new partner in Vegas. The Rising Stars program continues to expand, and will grow beyond our current locations of NYC, Boston, and Newark over the next year. We anticipate launching Bridgeport, Connecticut and Charlotte, North Carolina in Fall '23 and Spring '24. I will continue to develop relationships with groups like MBI to make sure our participants have a wide range of opportunities.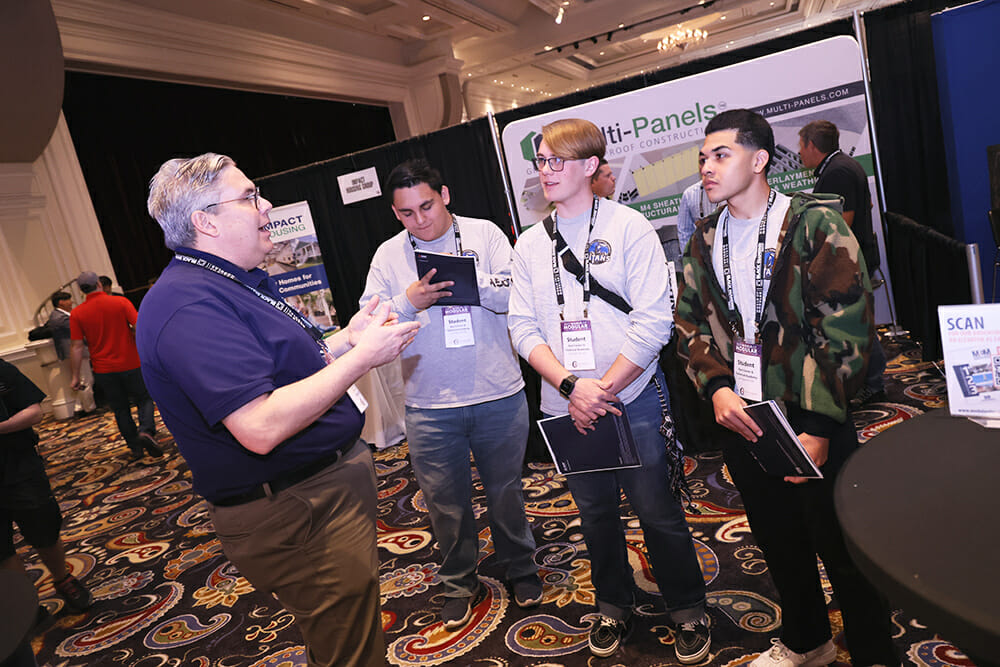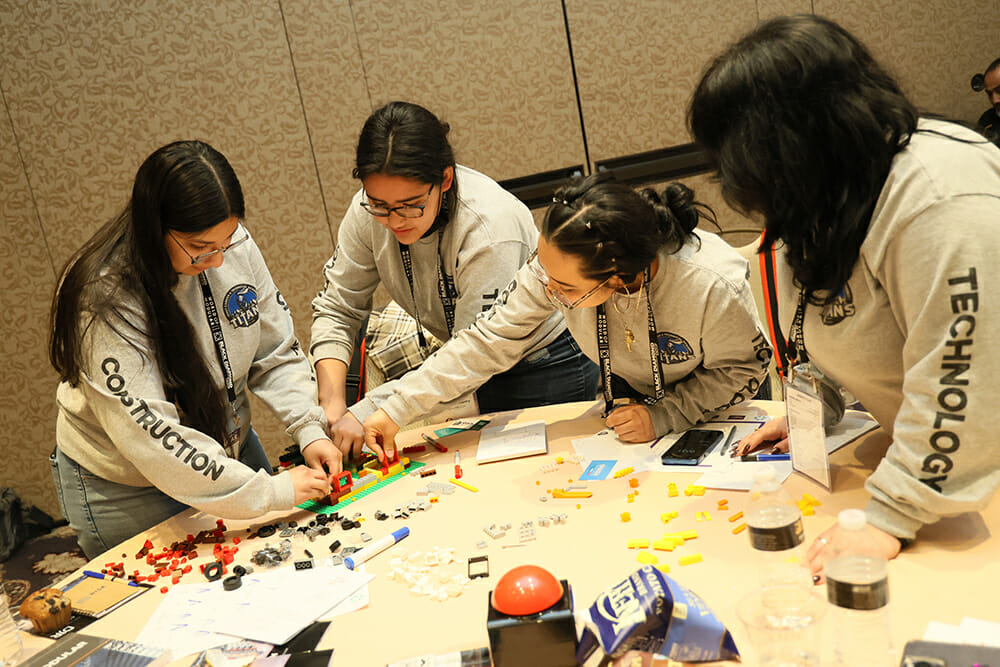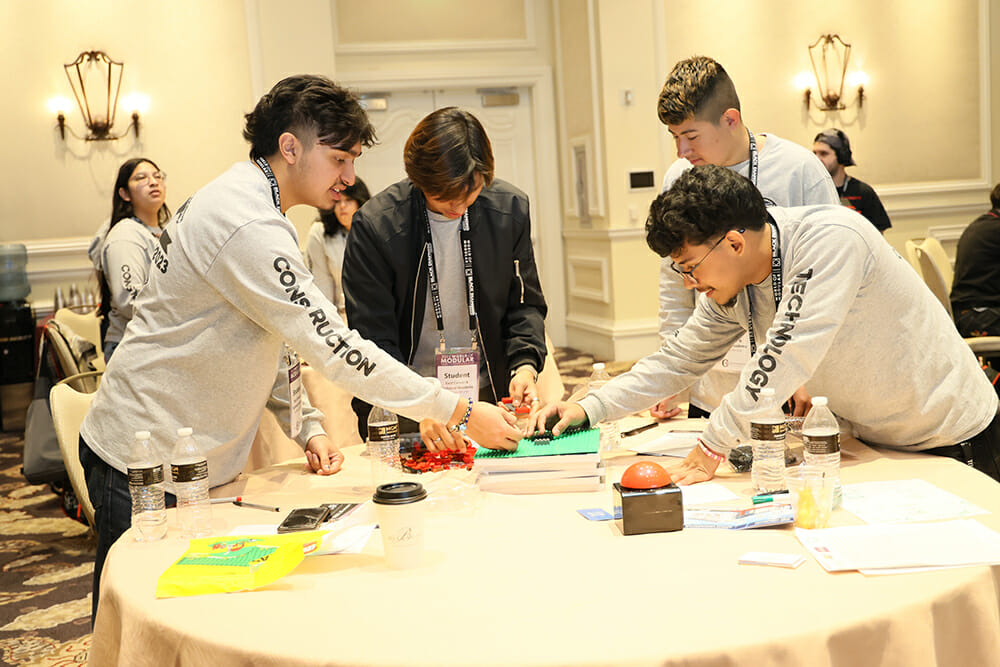 Visiting students worked in teams to complete a model building based on clues found throughout the World of Modular exhibit hall. Students visited booths and talked with exhibitors then worked together to assemble their projects.
JM: In your view, what can MBI and the industry at-large do to keep encouraging education around modular construction?
DH: Step 1- Keep engaging locally. There is no better way to create a relationship surrounding this industry than companies participating in their back yard.
Step 2- Be creative. I consistently say that our industry has done a poor job of understanding how interesting aspects of our industry can be.
Step 3- Focus on the youth. Who is responsible for developing the strategies and making sure it doesn't fall through the cracks?
Author: John McMullen is the marketing director for the Modular Building Institute. You can reach him directly at mcmullen@modular.org or on LinkedIn.
More from Modular Advantage
For this project, Forta PRO delivered 72 buildings, 144 modules, with 5,200 m2 of gross modular area. With final onsite completion in June 2023, it provides exceptional long-stay accommodation in a stunning and serene environment.