This Partnership Strives to 'Take the Hell Out of Healthcare'
John Buongiorno is the Director, Modular Division, at Axis Construction
Jim Gabriel is President & CEO at MODLOGIQ
New York general contractor The Axis Group and Pennsylvania modular manufacturer MODLOGIQ have partnered on many projects over the years. Their unique relationship has led to success using modular construction in an uncommon way: to construct healthcare buildings.
John Buongiorno, Director of the Modular Division at Axis, and Jim Gabriel, President and CEO of MODLOGIQ, have been working together for over 20 years. The partnership's past healthcare successes include a pediatric emergency department that was constructed during the height of the COVID pandemic. Modular construction allowed the team to complete the project nine months ahead of the completion time for standard construction. "Being able to start putting patients through that addition nine months ahead of time certainly benefited the facility, and it also helped the community," said Buongiorno. "This particular hospital sees over 20,000 pediatric emergency department visits a year."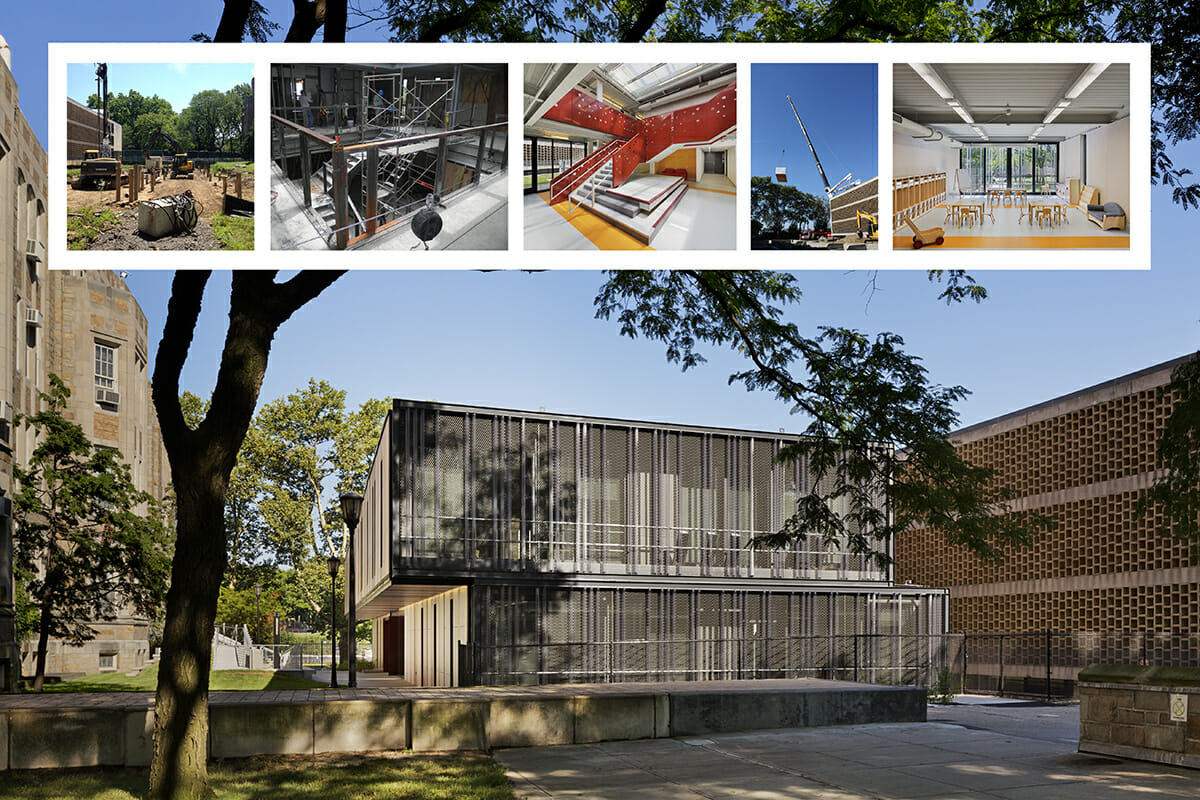 Start to finish on Axis Construction and MODLOGIQ's Lehman Childcare Center at the City University of New York.
A Common Beginning
Buongiorno has been Director of the Modular Division at Axis for 24 years and will become the new vice president of MBI in March. He began working in the industry at a small mobile office company. From there he jumped around to two other national firms before getting the offer at Axis. The company works as a general contractor in the Northeastern US, and he manages all the permanent modular projects. His staff includes two assistants working on estimating and project management, and they recently added an estimator for the department and a new project manager to focus solely on modular.
Gabriel began his modular career at a small firm in Cleveland and was almost immediately drawn to custom modular projects. The company was bought out by GE and he went to work for ModSpace, where he was in charge of the medical division and began designing programs to apply modular construction to healthcare applications. He worked with companies like Siemens, Hitachi, and Toshiba to design applications for diagnostic imaging, dialysis, interventional radiology, and similar applications. In 2018 he was hired by NRB, which was the precursor to MODLOGIQ after its sale in 2019, to provide business development services, and he purchased MODLOGIQ in 2021.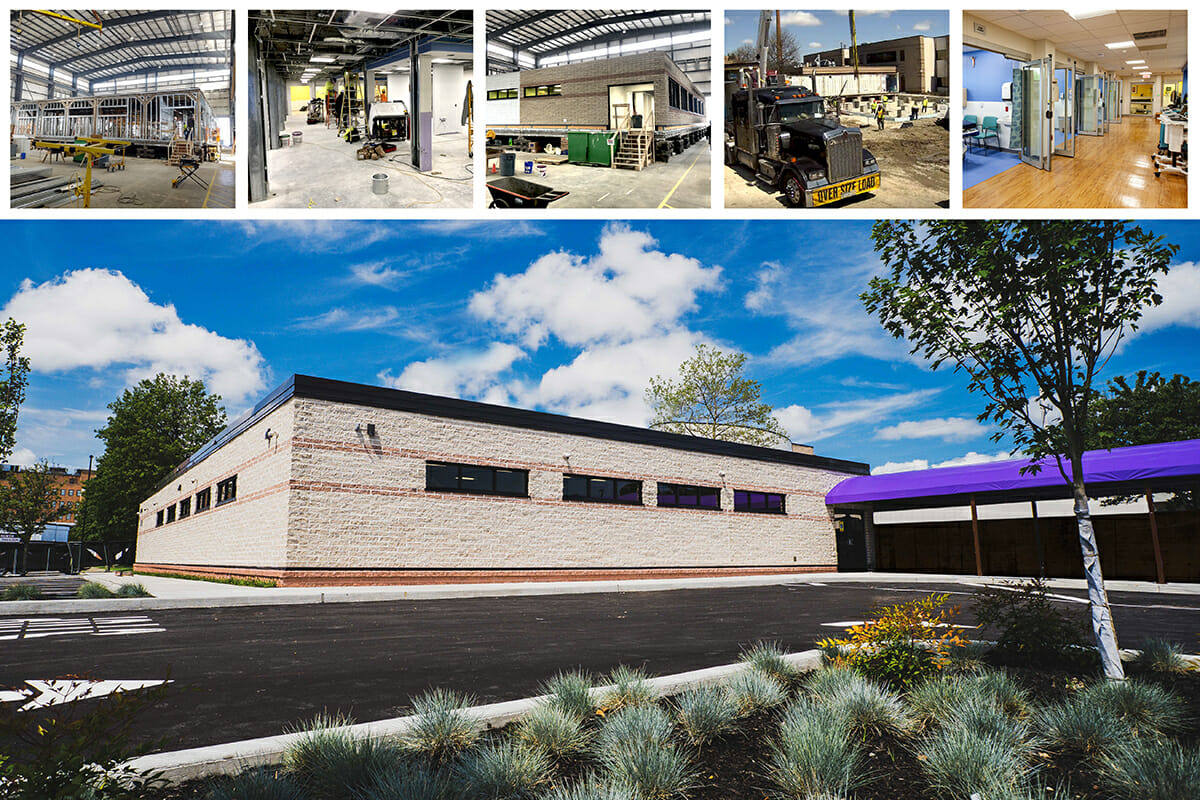 Axis Construction and MODLOGIQ collaborated on the award-winning Good Samaritan Pediatric Emergency Room in 2020.
The partnership began when Buongiorno visited NRB early in his time at Axis to tour the facility, see how they did things and develop a relationship. Axis was asked to assist with a project that NRB was producing for a three story 53,000 square foot school addition. To facilitate the project more effectively, NRB decided to open a plant in Pennsylvania. From there, the two have partnered on many projects and have what Buongiorno called a "strategic alliance."
Both compliment the other on their skills, quality of work, and collaboration. The relationship has grown to a point now where the two collaborate on presentations to market the benefits of modular to the general construction community. Together they work hard to not only win clients over with their current projects, but to attract future work from them as well.
They provide their clients with two main benefits: speed of construction and cost control. For example, Axis had a dormitory project where they pitched modular construction to the client. The client met with MODLOGIQ and decided on the spot to use modular because of the speed with which the project could be completed. Their plan saved the school a year in construction time. The added benefit of knowing and controlling construction costs has also led many clients to choose this method. Gabriel called modular "the greatest cost certain option."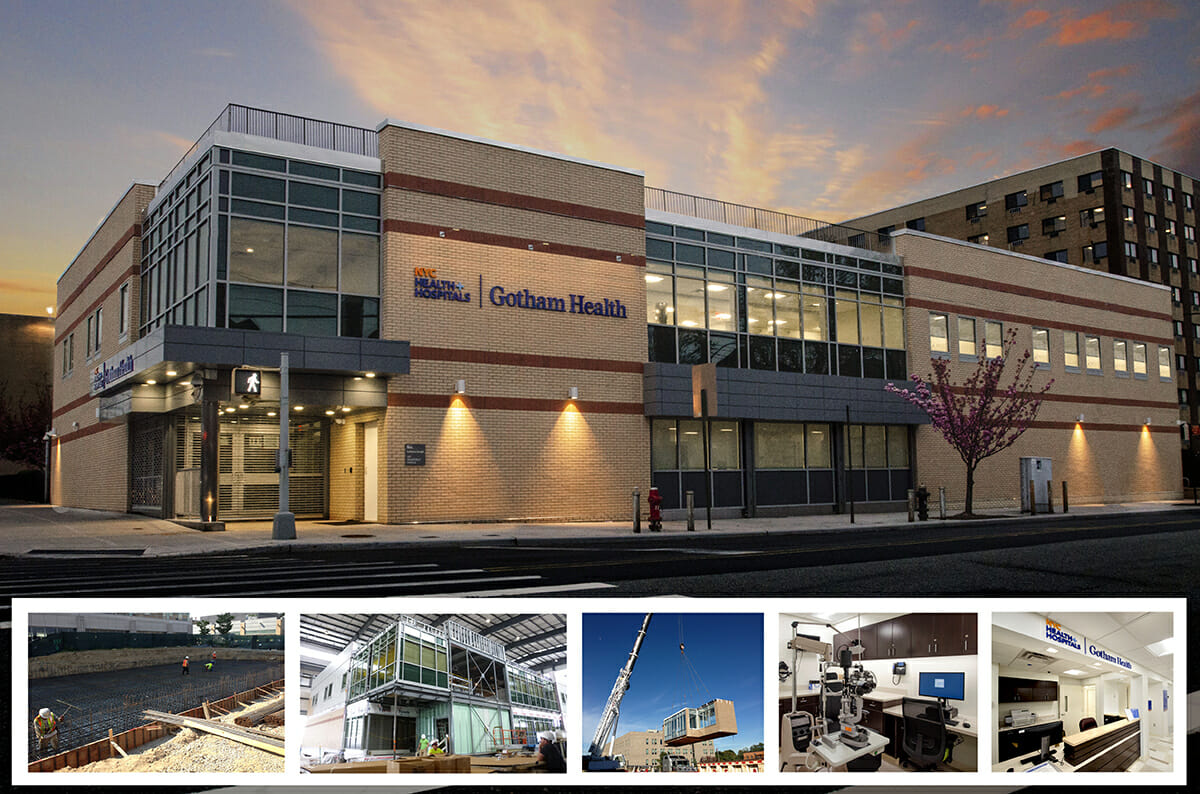 The Vanderbilt Medical Center, built for NYC Health+Hospitals' Gotham Health network, won "Best of Show" at MBI's 2019 Awards of Distinction ceremony. The two-story structure was assembled in just six days.
2023 World of Modular Presentation
The title for their WOM presentation, Take the Hell Out of Healthcare, comes from a book by the same name authored by F. Nicholas Jacobs, a former hospital CEO who is a friend of Gabriel's. The book is about how to improve the quality of care and the healthcare environment. Their presentation will focus on how to simplify the approach, overcome reluctance, and specifics on how to apply modular to this highly specialized application.
We don't want the difficulty of these applications to prevent our industry from becoming a primary source, or at least a professionally recognized source, for the application of modular construction with these types of applications," said Gabriel.
Traditionally modular construction is not often used on healthcare projects. "There is a high degree of interest in modular offsite prefabrication for a variety of applications," said Gabriel. "Multi-family, single family, student housing, and hospitality. These are applications that modular is perfectly suited for. Healthcare is not. Healthcare, bioscience, and laboratory science."
Axis and MODLOGIQ have teamed up on several of these projects, and currently have three under construction. "A lot of people talk about it, show renderings that they have, but not a lot have actually done it. We know how to do it" says Buongiorno. "We know how to work with the layout of the building to make sure that it's code compliant, and also, we can build these buildings out to a very high level of completion, 80% to 90% complete. It isn't tough when you're dealing with folks that have done it."
Their current projects include a 100,000 square foot micro hospital facility that is the largest modular healthcare building in the US, and two emergency room additions.
The pair hope to reach out to healthcare professionals and others involved in the construction process for these projects to show them how modular can be effectively used for these applications.
About the Author: Dawn Killough is a freelance construction writer with over 25 years of experience working with construction companies, subcontractors and general contractors. Her published work can be found at dkilloughwriter.com.
More from Modular Advantage
The city of Malmö in southern Sweden is set to welcome a new student housing project Unity Malmö, comprised of 5 building blocks, 450 micro-living apartments, where Forta PRO delivered 269 modules, total of 9,671.9 m2.