The Quick Response to Hurricane Katrina
Jane Conkin is the owner of Quick Buildings, LLC in Mobile, Alabama. Quick Buildings specializes in custom modular buildings: banks, commercial offices, industrial buildings, scale houses, medical buildings, day cares, schools, retail, and many more. In this article, Jane details her company's efforts in the aftermath of Hurricane Katrina.
Quick Buildings Modular is based in Mobile, Alabama, and its owner, Jane Conkin, is familiar with the havoc hurricanes can wreak. "When there's a disaster, people often need to rent a temporary building," Conkin says. The company now sells only custom modular buildings, such as classrooms, medical clinics, even a museum — but at the time Hurricane Katrina hit in the summer of 2005, the company had a rental fleet of modular buildings.
With top wind speeds greater than 170 miles (275 kilometers) per hour, Hurricane Katrina and its aftermath caused more than 1,800 deaths. It was also the costliest natural disaster in U.S. history, causing nearly $106 billion of damage. The hurricane knocked out the power at Conkin's home and business for two or three weeks. It was hot, but there was no air conditioning. At home, she had a temporary generator that at least kept the refrigerator running.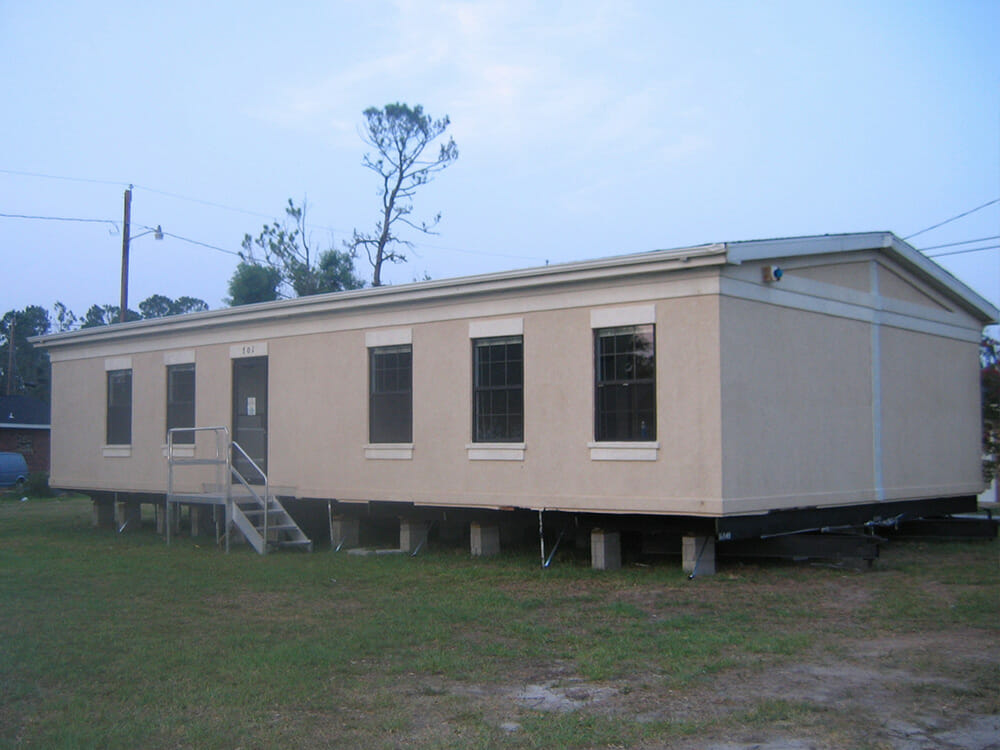 This office building was leased to Quick Buildings by Vanguard Modular after Katrina. It was a temporary building used by the Housing Board in Gulfport, Mississippi.
Working from home
"So I grabbed all the phones from all the buildings we had available, the MBI directory, and books of inventory that companies had sent me and took them all home," Conkin recalls. "When people called me looking for a building, I was able to either supply one myself or call other dealers and ask them if they could ship a building to them."
Her first call was from Blossman Gas in North Carolina — via a Nextel radio. "They'd lost their building and they needed to get tanks of fuel from their facility in Waveland, Mississippi out to people who needed them for cooking." So Conkin made arrangements for a replacement building to be delivered and installed in Waveland so the company could begin operating again. Because the highways were so badly damaged from the storm, "it took my husband and brother nine hours to drive from Mobile, Alabama to Waveland, Mississippi with one of our buildings. It usually takes an hour and a half."
Because so many roads were very badly damaged, before each building was transported, Conkin says, "I had to call state troopers to make sure it was even possible to drive a particular route."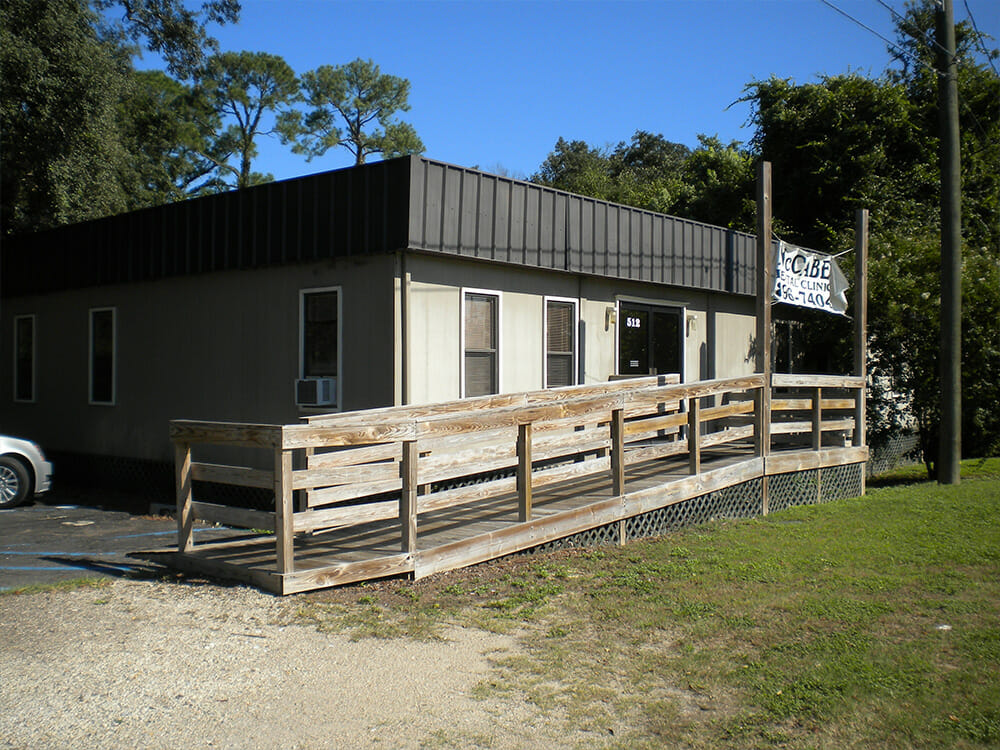 The entire Mississippi Coast had flooded after Katrina and the dentists were in desperate need to lease a temporary clinic. This building was manufactured by AAA,
leased to Quick Buildings by Roger Suggs, who was with Building Systems Services at the time.
The Katrina aftermath
Conkin says that the six months after Hurricane Katrina were very busy. "I talked with many modular companies all over the country to get buildings shipped down to the Gulf Coast so businesses could get their people back to work."
In addition, she also leased buildings to FEMA [Federal Emergency Management Agency]. In an emergency situation, some of the rules may be temporarily waived, which makes it easier to supply buildings. Conkin explains: "Ordinarily, when a modular building is built in the factory, there's a label put on it that says it meets the building codes in that state. So, if a building is built in Alabama and it's going to be located in Alabama, then all it needs is an Alabama label. But if it's going to be rented in Louisiana, for example, it'll need a Louisiana label. When the President declares a federal disaster, we can take a building with a North Carolina label on it and bring it to Alabama. That made things a lot easier than they otherwise would have been. Afterwards, the building has to go back to North Carolina."
Conkin says the biggest challenge during the Katrina disaster was finding enough people at short notice who could install the buildings. "Even though it's a rush to get a building up in a disaster, you've got to install them properly, otherwise you're taking a terrible risk," Conkin says.
Tapping into a network for disaster response
Conkin says that it was crucial to her disaster response that she had a network of relationships with other modular building companies. She was able to tap into that network in order to get buildings shipped from all over the United States to the Gulf Coast where they were needed. "It was the network of relationships I had that enabled me to help out in the way that I did after Katrina."
She says that, these days, such a response would be more difficult. "Modular companies have been consolidating, so there are fewer companies than there used to be. And because the companies are so big, it's hard to have the relationships with people that I used to have."
In the absence of these relationships, Conkin suggests a different way the industry could be better prepared to respond to a disaster in the future. "It would be great if MBI could maintain a directory of available inventory. So if there's a disaster anywhere in the country — it could be a tornado in Kansas or a fire in California or a hurricane in Florida — we could know where there are available units that could be delivered. And it would be great if there was a network of people who could work
on getting those buildings delivered when a disaster strikes."
These days, Conkin herself is better prepared if disaster strikes again. "Because of hurricanes, I now have a whole house generator."
"I talked with many modular companies all over the country to get buildings shipped down to the Gulf Coast so businesses could get their people back to work."
—Jane Conkin, owner of Quick Buildings Modular
About the Author: Zena Ryder is a freelance writer, specializing in writing about construction and for construction companies. You can find her at Zena, Freelance Writer or on LinkedIn.
More from Modular Advantage
For this project, Forta PRO delivered 72 buildings, 144 modules, with 5,200 m2 of gross modular area. With final onsite completion in June 2023, it provides exceptional long-stay accommodation in a stunning and serene environment.