The Modular Construction Industry Around the World
In the United States, modular construction is on the rise. According to the 2020 SmartMarket Report by Dodge Data & Analytics, modular construction currently accounts for less than 4% of the country's housing market. But a quarter of the general contractors and construction managers surveyed predict seeing full volumetric modular construction on half or more of their upcoming projects in the next three years.
Growth in the industry appears to be worldwide phenomenon. As the industry grows in the United States and around the world, we'd like to take this opportunity to celebrate the global modular construction industry.
We talked with representatives of modular companies based in South Africa, China, Mexico, Spain, Australia, Canada, and the United Kingdom. We hope you enjoy learning about their work and the challenges and opportunities they face.
South Africa - Container Conversions
Container Conversions was founded in 1985. They began business by modifying wooden railway carriages into accommodation and storage units. A decade later, the company started converting shipping containers. Their main focus was leasing on-site offices for the construction industry. In 1997, they started manufacturing and leasing what is called a 'park home' in South Africa — a single or double-wide manufactured building. In 2010, they added a 'flat pack' to their lease fleet, which is like a container frame that packs and transports flat.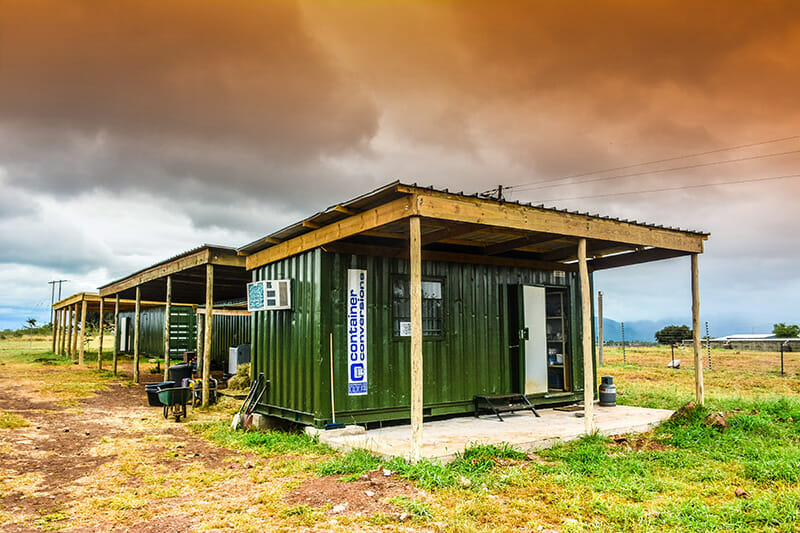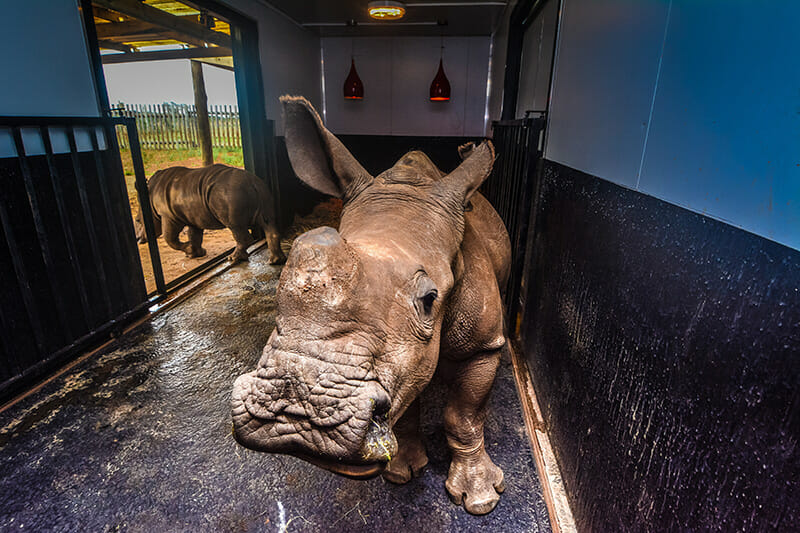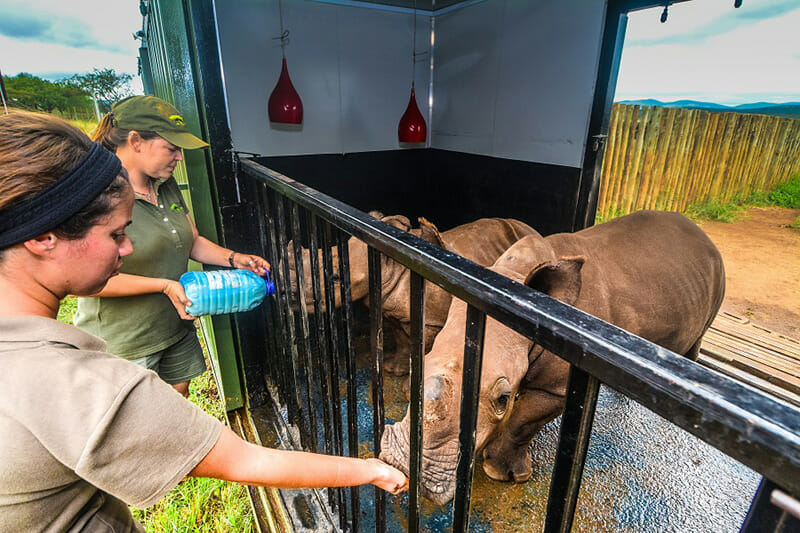 Container Conversions built this rhino orphanage in KwaZulu-Natal, South Africa.
These days, the biggest proportion of Container Conversions' customers are still construction companies. But they've also been doing a wide variety of things like building mini shopping centers from containers, leasing buildings to a construction company that was building a weather station in Antarctica, placing converted containers for an upmarket resort in Seychelles, and building a rhino orphanage in KwaZulu-Natal in South Africa. Their offices are in Durban and Johannesburg, and they have about 170 permanent employees.
Sales Manager, Chris Gunning, says that converted shipping containers started taking off in the country in the late 80s and early 90s, and the trend is still growing. It's not yet common to use them for homes; they're more likely to be used for schools and retail outlets. "At the moment, modular construction is gaining a lot of traction in rural areas for small traders who want to set up a shop to sell things like bread, sweets, and cigarettes," says Gunning. "In these areas, there are no mainstream retail outlets, and these small traders are using modular construction, predominantly shipping containers."
There's also demand for modular school buildings in rural areas. Gunning mentions a government program, the Black Economic Empowerment Initiative. As part of this program many companies complete social responsibility projects — often building schools and preschools. And they're turning to modular construction for that.
"We supply a lot of classrooms to schools in rural areas with no infrastructure," Gunning says. "Typically, the students have been learning outside under a tree, and when they get a real classroom, they love them."
In the wealthier parts of the country, such as Cape Town, modular construction — especially converted shipping containers — have been used for holiday homes. Gunning says that speed is a big part of the appeal for holiday homes, with typical lead times of only 2 to 6 weeks.
"Because the structure is temporary, you don't normally need authorization for it," Gunning explains. "We also have a lot of land disputes in this country. So sometimes people are wary of building something permanent on land that might have a land claim issue in the future." Gunning says the South African government is supportive in the sense that their departments are good customers that recognize the value of modular construction. For example, for the Department of Health, Container Conversions is currently building a 22-bed ward and 60 units for various clinics that need more space due to COVID-19. The area in which the government is not helpful is the building code. "They don't quite understand modular. They try to apply a brick-and-mortar building code, which doesn't work," Gunning says. "Our office in Johannesburg is a two-story, modular containerized building. To get it through the fire department was a pain. I had to do all the research for them, and I gave them the fire ratings on a standard shipping container. They signed off on it once they had that. We get a similar thing from the banks. They won't finance modular because they don't quite understand it."
As in other parts of the world, perceptions can be an obstacle. "In South Africa, a lot of our population have never owned their own home, and there's still a desire for brick-and-mortar," Gunning says. "That perception currently prevents modular going more mainstream. But we need the speed of modular to get enough housing built."
China - Stack Modular
Stack Modular designs and manufactures steel frame modules in China, ships them across the Pacific and then, in partnership with Bird Construction, builds in North America. The company was founded in 2009 and as well as its manufacturing facilities and offices in mainland China, it has offices in Canada and Hong Kong. "About 12 years ago, I moved to China to be with my girlfriend at the time. I'm originally from Alberta, Canada which is the capital of relocatable modular resource housing, and I'm also an engineer and architect," explains Chief Executive Officer, Jim Dunn. "When I was first in China, I didn't speak Mandarin and I didn't have a job. But innovation is bred by desperation! So I started building shipping container units and selling building materials."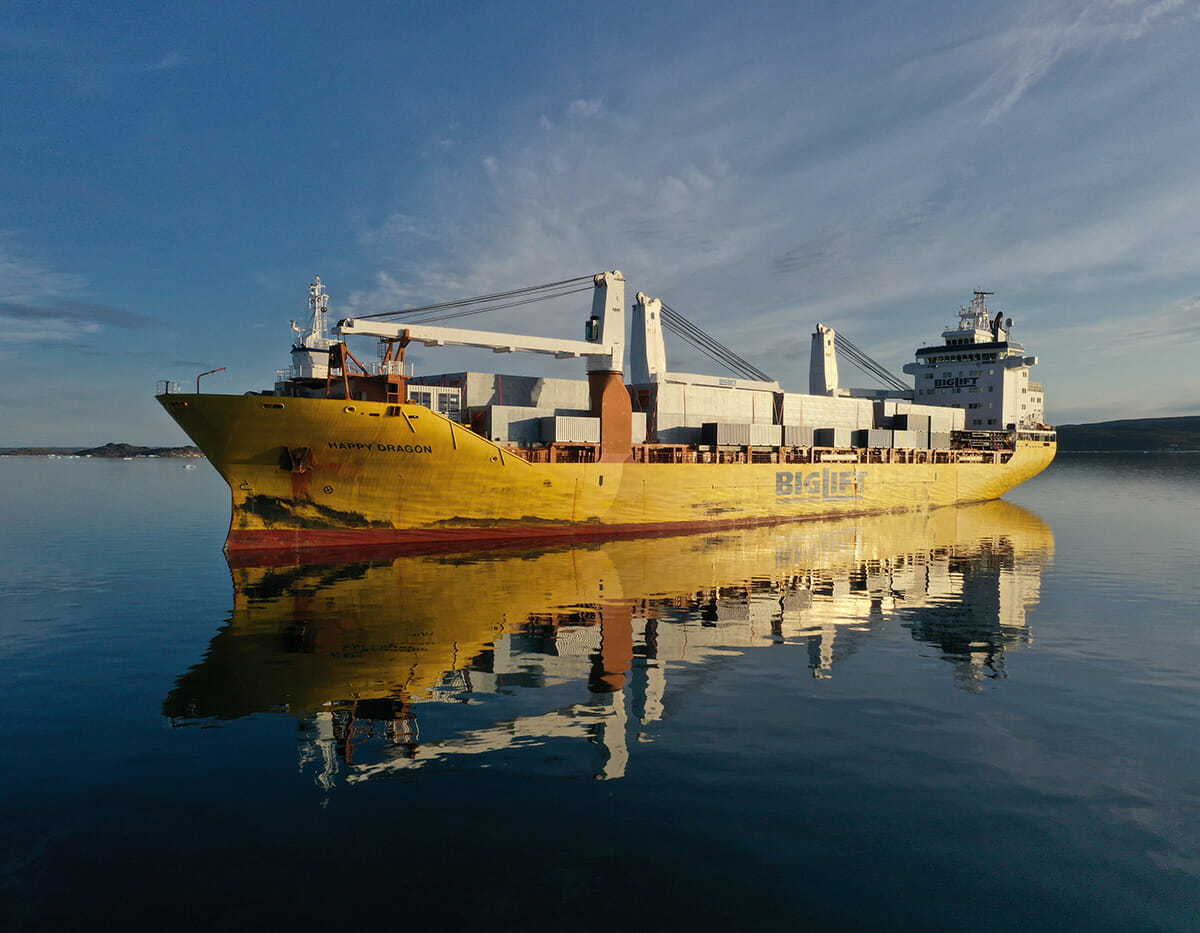 Stack's modules on the water.
It took about a year for Dunn to decide that shipping containers were too limited — "architecturally and with respect to building codes" — for what he wanted to achieve. So the company switched to building its own steel frame modules.
"When you're a young business owner, you've got to be a sponge — soaking everything up. In Canada, I saw companies building wooden boxes for resource housing in Alberta. Companies building with steel in North America were using shipping containers. But I noticed that nobody in Asia was building in either of those ways," Dunn says. "So, when I flew back home to Asia, I'd have my noodle soup and look up and there was the answer the whole time: All through Asia they were building steel modules from scratch." Dunn says that when he first started doing business in China it was difficult "to learn a new language, the geography, the ways of doing business, the legal system, accounting practices, currency" and all the other things that go along with living and doing business in a new country. However, he also says that, "Until today's political turmoil, in the last 12 years I would have had trouble listing any negatives about building steel onshore in China and shipping it across the ocean . Apple, Volkswagen, and hundreds of other companies do it for a reason. It just makes sense."
The political turmoil Dunn refers to is a result of what he calls "political posturing from both Trump and Trudeau". Dunn says, "The average, poorly read, voter is being taught to hate — and I'll use the word hate — China. They see the oppression that's going on, but not the innovation that's happening there. This animosity towards China hurts our business, the global market, and opportunity as a whole."
Dunn says that the Chinese government encourages business, incentivizing exports that bring US dollars into the country. "The country was in complete poverty 35 years ago. By trying to get out of poverty, China became the manufacturing capital of the world," Dunn explains. "As exporting companies grow, they hire more local staff. It's a win-win." It's not only government incentives that make China a good place to do business, though. There's business innovation all around. "I would play hockey, and the execs of H&M China and one of the heads of Ford Motor Company in China would be in the locker room too," Dunn recalls. "The old adage is that you're only as good as the people you surround yourself with. Shanghai in particular is an emerging Think Tank of business innovation. If you're in that hockey locker room, and you're not contributing to the conversation about innovation and global opportunities, you quickly realize you need to be better."
In contrast, Dunn feels that there isn't a lot of innovation in Canada. "Canada is resting on its laurels and has grown into a lull. I don't see a lot of innovation — and of course construction is even less innovative than other industries. Construction sees innovation as risk. I didn't build my business in Canada; I built it in China where the adage of 'innovate or die' is real."
In China, there are many very tall multi-stories modular buildings. Dunn says that even though they may not hire the specific architects or engineers who worked on those buildings, the "innovation and knowledge soaks into the fabric of the community".
Dunn is passionate about doing business in China. "The Chinese are a solid group of people getting to work. I love being a part of it," he says. "I was once asked if I would recommend that my kids give it a go in China. And I absolutely would."
Mexico - Modular MG
Unlike many other countries, Mexico has no shortage of skilled labor for construction. In fact, in recent years, many skilled workers who trained in the USA had to leave the country and return to Mexico. So modular isn't an advantage in Mexico in the sense that it requires less labor. Nevertheless, there are many modular construction start-ups in Mexico. The main competitive advantage there is speed.
"Here, many conventional building contracts are extended at great cost. In several coastal areas of Mexico, a home project that should be completed in 18 months takes 26 months or more," says Miguel Angel Santisteban, Chief Executive Officer of Modular MG. "Modular construction addresses this problem. As in the USA, modular construction can deliver the same project in 6 or 7 months."
Modular MG designs, manufactures, and builds complete buildings from their plant in Toluca, Mexico — about a 60-minute drive from Mexico City. The company was founded this year, a spin-off from Maber Industrial SA de CV, a company founded in 1995. Maber Industrial began by supplying EPC (engineering, procurement, and construction) companies with steel structures for industrial and commercial construction projects. Through Modular MG, Maber Industrial is now developing technologies and manufacturing techniques for prefabricated modules. They're also improving foundations for modular buildings. The modules Modular MG builds are made from steel, polystyrene, and special concrete mixes. They're for homes, stores, commercial buildings, hotels, clinics, schools, and other applications. The modules are built to withstand hurricanes and earthquakes, both of which are common in Mexico. As well as in Mexico, Modular MG's buildings are located in other areas prone to natural disasters, such as Belize, Guatemala, and the Caribbean islands. They're looking to build in other countries too, such as Barbados, Brazil, Chile, and Argentina. In addition, they're planning to sub-license their technology around the world. (Think global franchising, like McDonalds.)
Modular MG specializes in a specific type of foundation, which further increases the speed of projects. Although Santisteban says this type of foundation is fairly common in North America, it isn't in other parts of the world: helical piers.
"Helical piers are very popular in the electrical utility business. The towers that hold up electrical transmission cables use helical pier foundations. It's a technique that we know well from the electrical engineering business, and we brought it into construction," says Santisteban. "Helical piers are ideal for quickly installing modular buildings wherever the soil mechanics allow for it."
This technique means that foundations are faster than poured concrete foundations — many piers can be installed in just hours. They also result in very safe, sturdy foundations. In addition, they're cheaper than other foundations, because they require very little labor (and not much of it skilled). The same typical hydraulic crane arm (e.g. a Hiab arm) that lifts modules from a truck's trailers can drive the piers into the ground with a hydraulic device designed for the task. Each pier has a levelling device on top, which is adjusted so the modules set on top of them are level.
Along with improvements to foundations, the company has developed other innovative products. For example, they've created expandable modules for tiny homes. Each tiny home packs into two shipping containers for transportation around the world. An open top container, covered with canvas, carries an expandable module. A closed container carries all the additional parts needed to finish the home. Once at its destination, the expandable module is lifted out of the open top container, placed on the foundation, and expanded. Local building contractors finish the building using the additional parts from the closed container. [Insert explanatory picture here.]
Another innovative product is for multi-family housing. The company manufactures and erects a steel building frame on a foundation. Then modules are slipped into the steel frame — like drawers into a dresser — and each module is welded to the building's frame. This is much quicker than conventional construction. And, because each sturdy, steel-frame module is attached to the building's steel frame, the whole building is much more resilient to tornadoes, hurricanes, and earthquakes than other types of construction.
Modular MG is an example of the modular industry's flourishing in Mexico. "The Mexican government isn't especially supportive of modular construction, but it's also not against it," says Santisteban. "So long as you have a professional engineer's signature confirming that a structure is safe, they're happy to allow it to be built."
Spain - Casas InHAUS
Rubén and Sergio Navarro are sons of a mason — and they grew up around construction. Eventually, both became architects. After graduating, Sergio began his professional career in an office with his own residential projects. Rubén joined the team at the architecture office of Ramón Esteve Studio (REE). While at REE, Rubén performed a feasibility study for the design and construction of modular aluminum homes. This first study didn't result in a product — but it was the seed that eventually grew into what is now Casas inHAUS.
After a few years, the Navarro brothers joined forces and started their own architecture studio (Area Arquitectura Design). They continued to research modular construction. Eventually, they were able to offer a catalog of pre-designed, fixed-price homes that used a combination of conventional construction and prefabrication. Upfront cost certainty made financing homes in the wake of the 2008 financial crisis more feasible.
The period after the financial crisis was when standardization and prefabrication began to take off in Spain. Nowadays, although most construction in Spain is still traditional, onsite construction, modular and prefab more broadly continues to grow.
Casas inHAUS was founded in 2015, with the adoption of "complete industrialization" and the company started to manufacture homes entirely in offsite facilities. They are the only company in Spain that manufactures modules made with both steel and concrete and delivers a 100% finished house to the site. The company has now completed more than one hundred projects in Spain. And now they're also developing projects in France and the United States for high-end homes of more than 300m2 (3200 sq. ft.). The trend in Spain is towards further industrialization of the construction process. "There's increasing demand for homes as a product with a fixed price, and a turnkey service," says Sergio. "Thanks to this increasing demand, Casas inHAUS has been able to grow exponentially, doubling turnover each year since our founding." As in other countries, the modular industry in Spain has had to confront perception issues. But that is changing. "At this time, Spanish society has a more realistic impression of industrialized architecture," says Rubén. "This is thanks to the work of the architecture and design media, as well as specialized trade fairs in architecture, real estate, and construction that have focused on industrialized construction. Architects are now also receiving more training in modular construction."
Casas inHAUS helps change perceptions by presenting at conferences and trade fairs, maintaining close relationships with Spanish architecture schools, and by sponsoring the international inHAUS LAB Competition "Design Your Modular House". This competition for young professionals and students awards thousands of euros in prizes each year.
Australia - Fleetwood
Founded in 1964, Fleetwood Corporation Limited started by selling RVs and caravans. The company went public on the Australian stock exchange in 1987 and, with the capital raised, acquired a number of businesses that sold caravans and operated caravan parks. They also acquired some manufacturing companies and started manufacturing RVs, caravans, and parts for caravans. Eventually, they moved into modular housing and now operate mainly in the education, corrections, mining, and social housing sectors.
The modular industry in Australia started primarily as a way to house people in remote mining communities in Western Australia. Fleetwood has been heavily involved in this sector.
"The mine workers generally commute on a fortnightly basis from their homes to the remote areas where they work," says Fleetwood Chief Executive Officer, Brad Denison. "Given the huge distances, traditional construction isn't a good solution. So the modular industry was established in cities like Perth and Brisbane where manufacturing occurred before shipping modules out to remote mining areas to house the miners."
One of Denison's favorite projects is located in a remote mining town. He explains that, during the last mining boom, there was an affordable housing crunch and miners with higher than average wages were pushing up demand and prices for residential rental accommodation. This meant that many locals — school teachers and police officers, for example- were finding it difficult to afford to live in the town.
"So the state government and Fleetwood jointly developed a project to address the crisis. Fleetwood partly funded a 320-home subdivision, along with a government contribution," explains Denison. "We manufactured modules with concrete floors and steel frame walls and transported them a distance equivalent to that between Dallas and San Francisco. The whole project took less than 12 months from inception to completion. We solved the affordable housing crisis there, and the village still operates today and continues to achieve its objectives."
The Australian government recognizes the benefits of modular construction in other sectors too. When speed is a key driver on a project, the government is turning to modular more frequently. "For example, major school projects need to be completed, on site, during the school holidays — either a two-week period, or a six-week period," Denison explains. "Those time constraints mean that offsite modular construction is a good choice for education projects."
Along with mining and education, there's good acceptance of modular for social housing and corrections. However, there are still some perception issues in markets where there are yet to be many modular projects delivered. This includes traditional residential subdivisions. Nevertheless, Denison anticipates further growth of modular construction in Australia.
"These days, we're seeing requests to build hospital extensions with modular products, for example. In the past, that would have been done with traditional construction," Denison says. "In many ways, we learn from modular companies overseas and use their successes as a guide for deploying modular solutions in Australia." The Australian modular industry learns from overseas modular companies, but there are crucial differences. In particular, although Australia is geographically about the same size as the 48 contiguous states of the US, its population is less than 26 million. The US population is well over 300 million. Denison notes that in other countries, many modular companies can serve a specific niche market in a particular location.
"There's just not enough scale in any one geographic location or market segment to do that in Australia," Denison says. "To provide enough volume for factories across the country, it's necessary to operate across many sectors — such as corrections, education, mining, and social housing."
"Fleetwood is now the largest modular manufacturing company in Australia, with seven factories in five states," says Denison. Fleetwood makes use of its size. The company has in-house design and architectural teams and, quite often, offers those services to clients for their projects, well ahead of tender stage. "While there's a cost in doing that, the advantage is that once the tender documents come out, we hope they contain our drawings," Denison explains. "Those drawings are optimized for our construction method. Few of our competitors in Australia have the scale to offer that service."
Another example of the type of project that Fleetwood's involved in is similar to land lease communities in the United States. "Someone owns their home as a chattel, but they lease the land it sits on from a village operator. Somewhere between 30 and 60 of these villages were rolled out in Australia during the early 2000s," Denison explains. Fleetwood saw an opportunity. They recognized that to sell homes, operators would benefit from having display homes to show potential customers. "We proposed to fund and build display homes across many of these villages, and that operators pay us for the homes once they sold them to end customers. At one point, we were building 400 homes a year for two major Australian village operators," Denison says.
"We're really passionate about leveraging the strength of the company's balance sheet to penetrate new markets."
Canada - Fort Modular
Bryan and Mark DePedrina, the Principals of Fort Modular, both worked for other modular companies before founding Fort Modular in 2013. The company supplies new, used, and renovated commercial/industrial modular buildings, mobile offices, portable classrooms, steel offices and steel containers for rent or purchase. The company has two branches in British Columbia (BC), Canada, and recently secured an additional 35,000 sq. ft facility in the same province. They feel lucky to have found the space.
"A big challenge is the availability of affordable industrial land space. It may be different in other parts of Canada, but here in BC, finding space to store our inventory and to facilitate the builds is our number one challenge," says Bryan.
Another challenge is the geography of BC. "The prairie provinces [Alberta, Saskatchewan, Manitoba] do a lot more modular than here in BC. Here, the size of what we can deliver is limited — because of the highways, bridges, ferries, and overhead powerlines. The prairies don't have the mountains we have to deal with!" says Mark. "A building that could be delivered on one truck in Alberta is a minimum of two or three loads here in BC."
Despite the challenges, the modular industry in western Canada (specifically in the provinces of BC and Alberta) is growing, although the sectors it supplies has changed over time.
"15 years ago, the oil and gas industry was the main supporter of the modular industry in Canada, particularly in Alberta for workforce accommodation. Before that, it was forestry and mining," Mark explains. "Now, the main purchasing client is probably the provincial governments for social housing."
For Modular isn't involved in supplying social housing and other larger scale projects. But the BC government is one of their repeat customers for other products- in particular, for modular classrooms. "The government is supportive of modular in the sense that they're very willing to buy from us," says Mark. "On the other hand, though, when they're in front of a microphone, they continue to say they're getting rid of portable classrooms. This is a shame because these are not the portables of the 1980s. They are high quality, well built, comfortable buildings with good air quality and so on. The government could support the industry by publicly acknowledging that modular buildings are a perfectly good way to expand the space in public schools."
Despite the BC government failing to help improve the image of modular construction, Bryan and Mark think that perceptions are gradually improving.
"Modular is more mainstream these days. 20 years ago, nobody knew what modular was," Bryan says. "Nowadays, there are tiny homes on TV and people are generally much more aware of modular construction. Over time, perceptions will continue to improve as more modular projects get built."
Confusion between modular construction and mobile homes is part of the reason modular has suffered from image issues, Mark believes: "Modular construction builds to the same standards and codes that traditional onsite construction does. In the past, people got modular confused with the mobile home industry, which built to lower standards. And that contributed to a poor perception of the modular industry."
However, they're confident that perceptions will continue to improve, and acceptance will continue to increase.
"In Canada, we're behind many other countries in acceptance of modular. There are more large-scale projects happening in other countries than there are here. But with harsh winters and hot summers, plus workers' rights, I think we'll keep progressing towards more modular," Bryan says. "These days, people don't always realize how many buildings are built in the factory because, once they're installed and set up, they look like any other building."
In Bryan's view, progress is incremental, starting with developers building towers conventionally — but with modular bathrooms. They see the benefits of doing that, and then on their next build, they might do modular kitchens as well as bathrooms. "Eventually, they'll ask themselves why they don't use modular for the whole thing. I think they're slowly coming around."
Although BC poses various challenges for modular construction, Bryan and Mark are glad to doing business in the province.
"A benefit of doing business in BC is that there is always growth. People are always going to want to live here. There will always be new infrastructure and housing being built. School districts continue to expand," Mark says. "You can travel anywhere in the world and always be happy when you get off the plane in BC."
United Kingdom - Intelligent Offsite
Paul Bonaccorsi started work as a carpenter at age 16. After a few years practicing his craft, he led a team to construct the first modular convenience store for a gas station. Since then, he's worked in many different areas of modular construction — "from shop floor and production to procurement, estimating, sales, and finance".
Capitalizing on his years of experience and knowledge, he founded the modular consulting company, Intelligent Offsite, in 2012. Among other things, the company helps start-ups set-up factories for modular buildings or bathroom pods, and helps modular manufacturers become more productive and efficient. The company has worked in Australia, Canada, Dubai, India, USA, and in various European countries.
Intelligent Offsite's head office is in Glasgow, Scotland. Bonaccorsi says modular building in the UK is well established for both commercial and residential construction. "At the end of World War Two, over 156,000 modular homes were built and some of them are still standing."
In the 80s, many gas station convenience stores were built with modular. In the 90s, modular McDonald's fast food restaurants and modular hotels started to take off. "Today, there are over 1000 modular McDonald's restaurants in the UK," Bonaccorsi says. By the mid-90s, healthcare and education started to use more modular construction, and modular bathroom pods also gained traction. Nowadays, modular bathroom pods are so popular that "around 40,000 bathroom pods are placed in the UK each year." Investment is also a sign of the vibrancy of the industry and Bonaccorsi says that it's healthy:
"In the last 18 months there has been around $400m invested in the modular industry in the UK, including $95m from Goldman Sachs. This is not only for expansion, but also to take more steps towards automation — bringing the industry away from construction and into 21st century manufacturing."
Bonaccorsi says that the UK government has always supported modular. "About 10 years ago, the government realized the advantages of modular and instructed all government departments to consider modular for all their projects. If they didn't go modular, the department had to explain why."
To this day, the government continues to support modular construction. It recently announced a scheme to have the next generation of schools created from a modular kit of parts. "By using a similar technique to carmakers who build a number of different models on the same chassis they will have a set of modules the same size but a different layout. So the school can be designed to suit the local area's needs," Bonaccorsi explains. "The government aims to reduce the construction costs and whole life costs of buildings by a third. And they want to see those same buildings delivered in half the time and with a 50% reduction in carbon emissions from the construction sector."
An inside look at one of Intelligent Offsite's modular bathroom pod factories.
Modular in UK tends to be steel frame (as are the bathroom pods). This means that there's the capability for modular "to be truly high rise here. There are many completed modular high-rise buildings, including one that's 44 stories."
The shortage of skilled labor is an issue often mentioned by modular manufacturers. Like many other countries, the UK shares this problem. "So, about 10 years ago, the UK started moving away from relying on the traditional skilled trades. We're training young people to become multi-disciplined," Bonaccorsi says. He's adamant that the industry as a whole needs to do more to embrace manufacturing. "If we continue to use construction trades for modular, we've just transferred the problem from the field to inside the factory."
There other respects in which Bonaccorsi thinks the modular industry needs to develop to become more like manufacturing than construction.
"Nothing much has changed in modular construction in the last 20 years. Many people think that modular alone is innovation — but it's modular manufacturing that's actually the innovation . In Europe last year we have seen over £500m invested in modular companies. This is to make them leaner and more efficient, to introduce robotics and become more technology-driven. On my last project we used iPads with BIM360 instead of paper drawings on the shop floor," Bonaccorsi says.
"Both Amazon and Google have invested in modular. Before the tech giants of this world take over the modular industry, today's modular companies must make progress and genuinely industrialize."
This article originally appeared in the Modular Advantage Magazine - September/October 2020 issue.
About the Author: Zena Ryder is a freelance writer, specializing in writing about construction and for construction companies. You can find her at Zena, Freelance Writer or on LinkedIn.
More from Modular Advantage
For this project, Forta PRO delivered 72 buildings, 144 modules, with 5,200 m2 of gross modular area. With final onsite completion in June 2023, it provides exceptional long-stay accommodation in a stunning and serene environment.