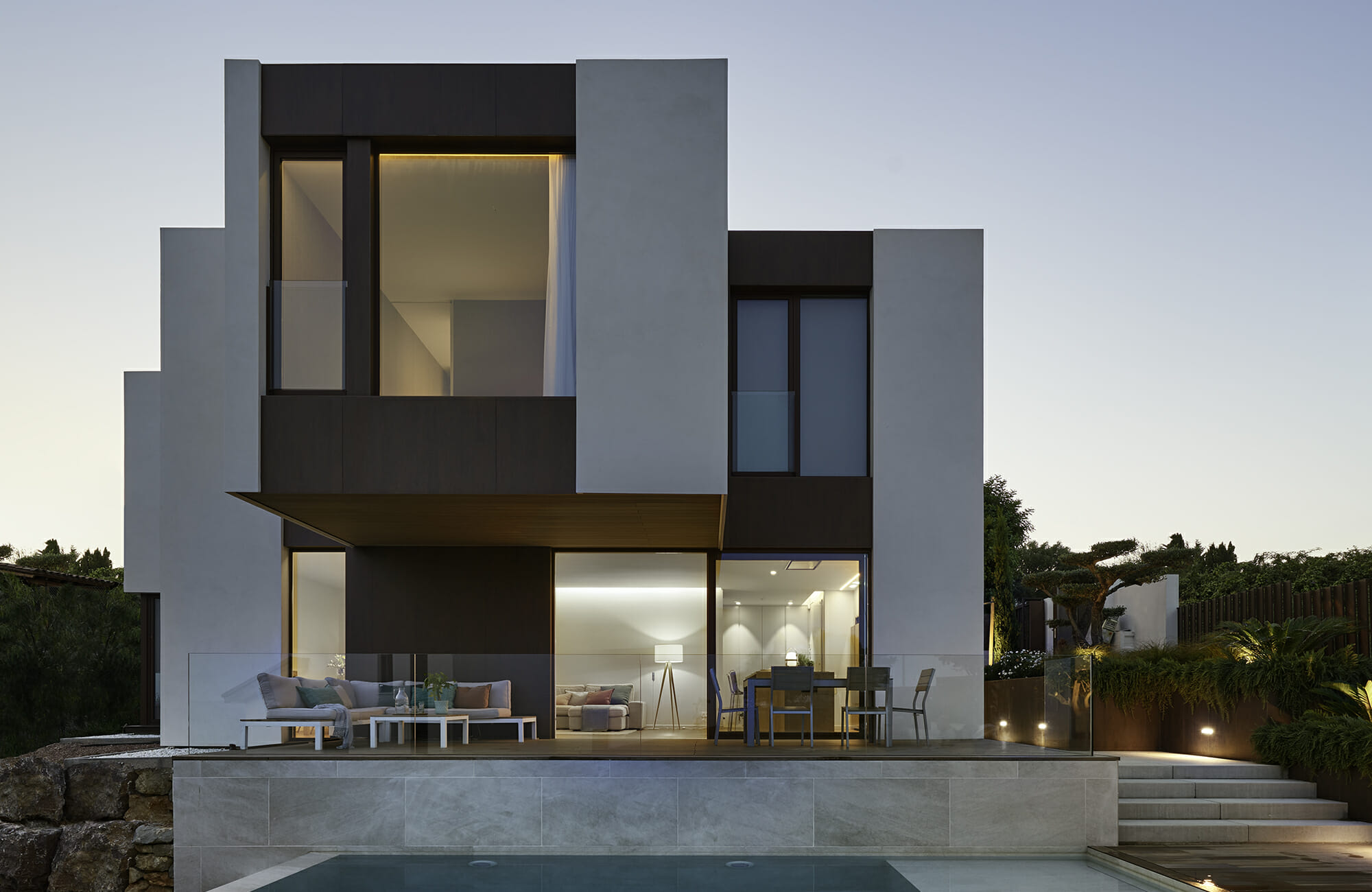 Main Category: Modular Building Design
Company: Casa inHAUS in Masnou
Affiliate: Casas inHAUS SL
Location: Masnou, Barcelona
Building Use: Private Residential
Gross Size of Project: 209 Square Meters
Days to complete: 153
Award Criteria
Architectural Excellence
A design that has been materialized inspired by the modern and timeless style that its owners were looking for. On a plot with a certain unevenness and beautiful views of the Mediterranean Sea, this custom-made 2-storey house is located. The volume of the house closes on its rear façade, which overlooks the public access road, and opens the views of all the rooms towards the sea. The large glass panels allow the spaces to establish a harmonious dialogue with the environment and blur the boundaries between interior and exterior. Just walk through the door entrance to the house, we are greeted by a large patio flooded with natural light. This double height patio filters the light through vertical slats and adds character to the house. The quality of its spaces and the texture of its finishes take you to that special place where you always feel like your refuge. A modern and timeless design it has everything necessary to be the scene of great moments in the lives of its future occupants.
Technical Innovation & Sustainability
Many architects have approached industrialization through the history of contemporary architecture. Nowadays, the technological advances of stronger and lighter materials finally make it possible for industrialized high-end architecture, with full creative freedom, to become a reality. This house in Masnou, designed and manufactured by the Spanish company founded by architects Casas inHAUS, is an example of turnkey solutions, respectful of the environment and with an integral management that guarantees deadlines and closed prices. Homeowners and architects can truly demand a bespoke home with the convenience of modular build practices. Environmentally sustainable thanks to minimizing the waste and the emissions. Casas inHAUS works with the local suppliers and builds houses of A energy rated around the world.
Cost Effectiveness
Casas inHAUS works on modular housing from all aspects of it, from the development of the project until the final delivery of the home, including its manufacture and its own sale. The starting point is its Catalog. 111 models that are customized according to the needs both of the client as their tastes and the conditions of the plot. Quality of details and premium finishes, in addition to the advantages of industrialized construction and turnkey service. The houses are manufactured by a team of specialized operators who work as an assembly line and are implanted in their plots with a logistics that allow the house to be finished in about 4 hours. Everything the manufacturing process and house auctions take about 5 months. A house of more than 200m2 with all the benefits and latest generation equipment to enjoy all comfort ready to move in just in 9 months.
See More Awards of Distinction Winners