Hearst Elementary School Case Study
The Hearst Elementary School is a public school located in Washington, DC. It is focused on providing a rigorous curriculum integrated with exposure to the arts and prides itself on reaching a diverse audience of students. Wilmot Modular was hired to consult and provide what was originally a two-story classroom expansion project. The school district wanted the building to match nearby buildings on the campus, and fit in a steeply graded, small site. There were also budget constraints that had to be managed.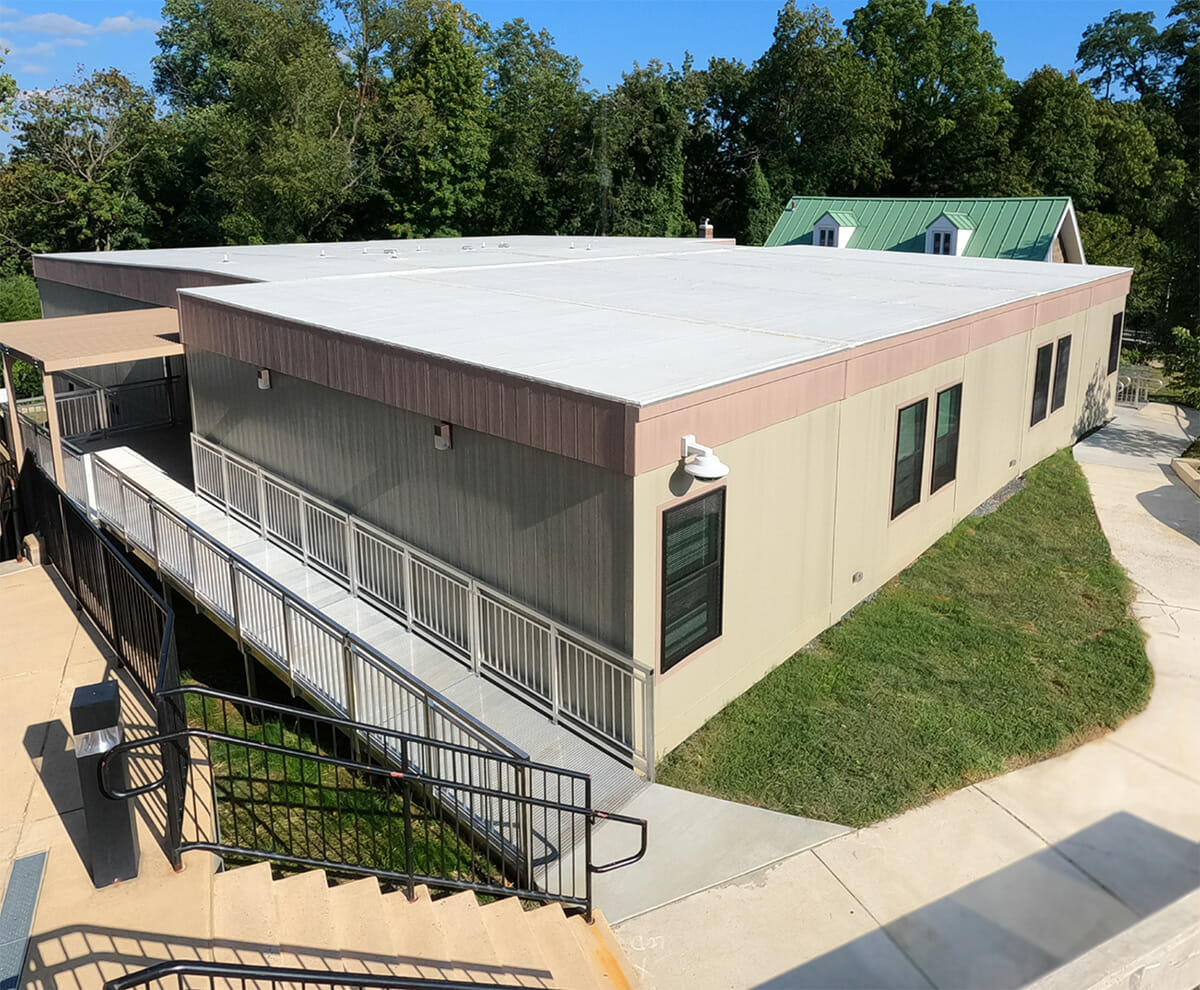 Wilmot worked with the District's design team to design and furnish a one-story modular building that met all the District's needs. The building was completed as a design-build project to save both time and money - reducing approximately 18 months from the original two-story project schedule.
The building includes six 32-person classrooms and restroom facilities. Due to the siting and construction of the building, the requirement for fire sprinklers was waived, saving the District about $100,000. Sprinklers may be required in new structures for a variety of reasons. Because of the new building's proximity to existing structures, a 1HR fire-rated assembly was needed on the left and right elevations and a main corridor. A historic building was within close proximity to the new structure that could not be moved or modified. Its consideration was taken into account and instrumental to meet code requirements.
The modular structure is designed specifically to fit in with the rest of the campus, both in architectural style and technologically. Exterior color and
material selections aesthetically blend with surrounding buildings and interior tech ensures that the classrooms remain connected to the school's infrastructure.
Architecture and Design
Due to site size constraints and the topography of the land, Wilmot revised the District's plan for a two-story building to a one-story modular building,
saving the District approximately $400,000 and about 18 months of construction time. A two-story building would have required too much disturbance to the school's operations, as well as cost significantly more. The resulting modular building was designed to match nearby buildings and fit in with the overall campus. To address the extreme slope of the site (about 12 feet of elevation change sloping down from front to back), the foundations utilized poured concrete footings and formed piers with steel reinforcement to minimize site disturbance. A traditional foundation would have cost the District significantly more in concrete and excavation costs.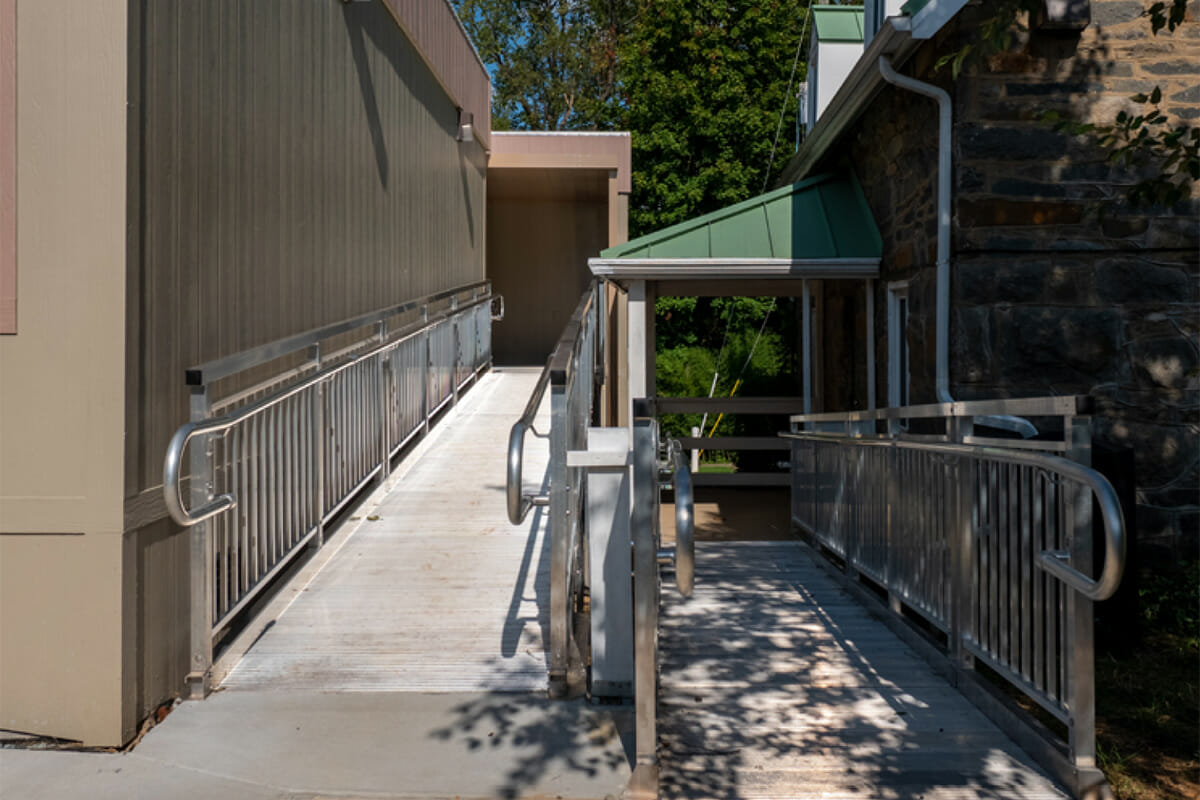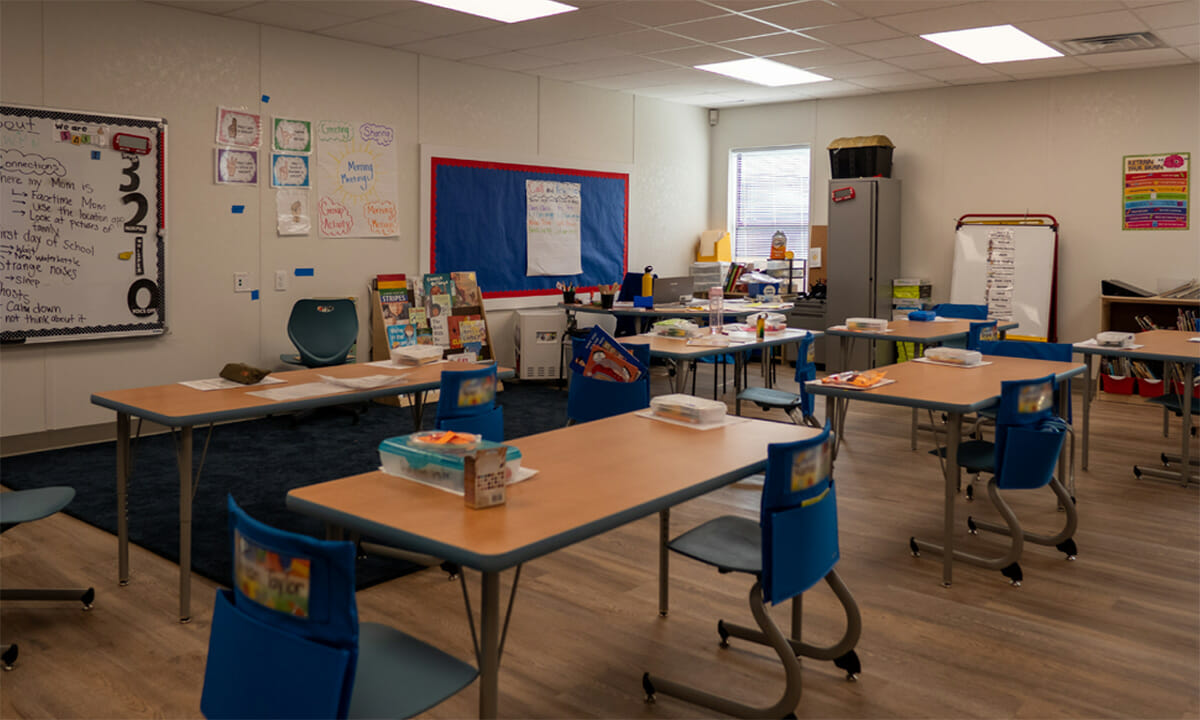 The exterior design included Hardipanel siding, recessed entries, and seamless gutters and downspouts to give the building a permanent look. In addition, metal canopies and ADA ramps were included at both entry points, with a central corridor for efficient access to classrooms and facilities.
The interior finishes included site-installed Corlon flooring, vinyl gypsum wallboard, and acoustical T-grid ceilings with LED lighting. Security cameras and card readers were installed for added security, and integrated with the school's existing systems.
Technical Innovation
The Hearst Elementary classroom building was designed with an exterior envelope that was energy efficient to meet both code and District requirements. Measures included a reflective white membrane roof and low-E tinted windows to help prevent solar heat gain and prevent glare.
The design included state-of-the-art technology, including digital communication, IT, and security/access controls. The building systems were integrated with the main school building and adjacent classrooms, including smart boards, ensuring that teachers had access to the necessary resources and technology for modern learning. The design included high-quality HEPA filtration in the restrooms, in addition to touchless sanitary items as per COVID-19/school guidelines. The lighting system is made up of high-efficiency LED fixtures with adjustable controls, conserving energy and providing natural lighting when possible.

Estimated Savings
Site and stormwater management improvements that weren't required due to building siting - $80,000
Fire rated exterior walls, removing the need for a fire sprinkler system - $100,000
Value engineering two-story plan to one-story - $400,000 + 18 months from schedule
More from Modular Advantage
The city of Malmö in southern Sweden is set to welcome a new student housing project Unity Malmö, comprised of 5 building blocks, 450 micro-living apartments, where Forta PRO delivered 269 modules, total of 9,671.9 m2.