Creating "Smarter" Smart Buildings, Smartly
Jim Baldwin is the co-founder of California start-up Domatic.
A California start-up, Domatic, has taken on the task of making smart buildings "smarter" through its revolutionary electrical distribution and automation system. The low voltage system saves energy, reduces copper wiring, and is safer to install. And with its plug-and-play capabilities, it is already making a wave in the modular construction industry. The company's system has been showcased in multiple high-rise residential projects, including market-rate high-rises and affordable housing projects.
Jim Baldwin, Domatic's co-founder and CEO, started his career working for giants like Apple, Microsoft, and Intel, where his electrical engineering education was used to develop user-friendly consumer technology, including Apple's 'Firewire" desktop interconnect system. An innovator and entrepreneur at heart, he joined forces with co-founder Gladys Wong, a Silicon Valley chip design veteran, a team of innovators to work on different projects with the idea of finding a solid product that they could build and distribute themselves.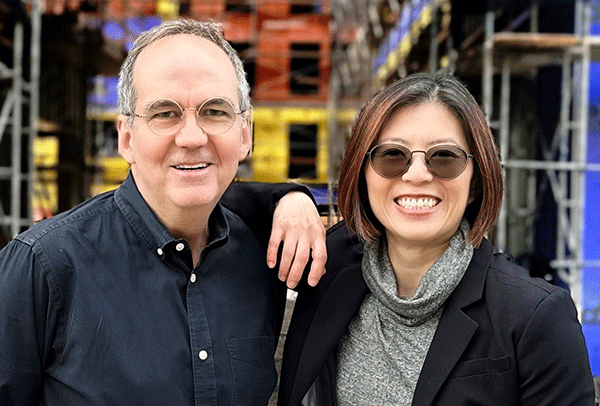 Jim Baldwin and Gladys Wong, co-founders of Domatic.
When a builder approached them looking for a low voltage power distribution system it quickly became clear that this was a big idea and worthy of building it for the broader market. "We knew this was a market that could use some help," says Baldwin. "In their words, not mine, they weren't very technologically savvy, and they needed some new technology. We felt like it was a great opportunity to build a start-up around this idea."
A New Perspective on Smart Buildings
Currently, in most projects smart building technology is an add-on to the existing electrical system. The central hub and all the fixture controls are installed after the electrical system is completed. This adds extra costs, including equipment and labor, to the project budget. Because of this, most projects don't adopt smart building technology. "So, we said, 'What could we do that would create a system that would be palatable to builders and possibly even save them money compared to what they're doing today, and yield a smart building in the process?'"
What they came up with is a low voltage power distribution system that requires less materials and time to install and is safer due to the low voltage power being used. "Instead of pulling Romex to all the fixtures of a building, we just pull a simple 18-gauge wire, two-conductor cable that carries power at low voltage. The electrical code calls this out as Class 2 power, which means it's under 50 volts and under 100 watts. Domatic eliminates the need for switch legs and 3-way runners. And the flexible cabling is easier to pull, which saves lots of time for the installation team."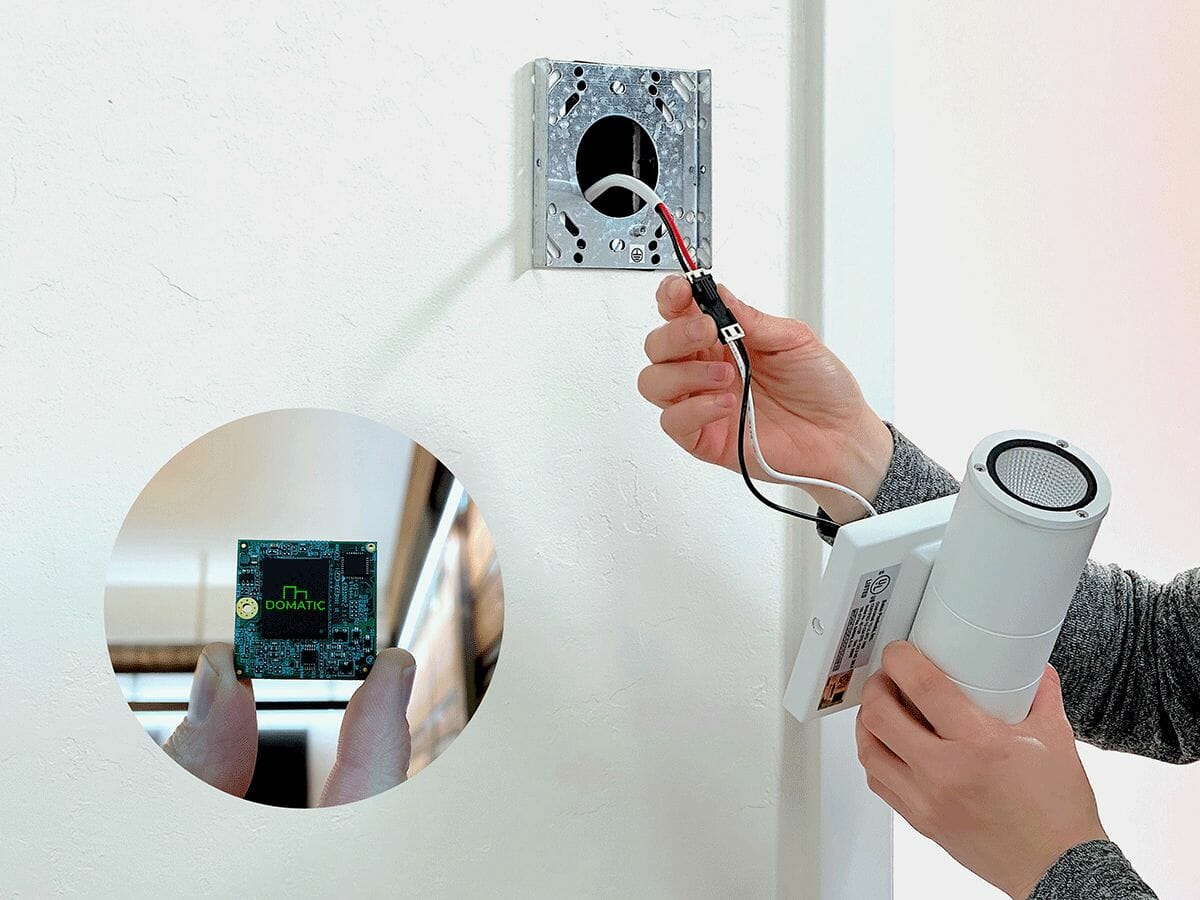 Domatic designs more efficient, and often less expensive, methods to wire buildings.
"Because we are embedding a data network directly into the power distribution, all devices get both power and an IP address, making them all smart. Every fixture in the building, every switch, sensor, fan, window blind, door controller, every component gets an IP address and is managed by a software application that can be updated over time and can respond to events from the outside world instead of being hardwired." Since most lights and fans have power adapters that change the high voltage AC power coming in to lower voltage DC power, these fixtures can easily be adapted to work within our system. The only high voltage wiring is for the power outlets and is required by code.
The system comes with a hub that is able to control power throughout the system and receive communications to improve efficiency. Like other smart building hubs, it can be controlled through a smartphone app or other computer connection but the system does not rely on an internet connection for normal operation, making it extremely resilient to network outages.
One Step at a Time
The value proposition for a Domatic system is very clear and most prospective customers get on board immediately. Baldwin says one of the challenges they sometimes encounter are customers who aren't quite ready for this level of technology. "If you look at Geoffrey Moore's Technology Adoption Curve, every industry has a spectrum ranging from innovators and early adopters to the laggards," says Baldwin. "When you build something new you have to first build it for the innovators because they will become your ambassadors as you grow." The Domatic team is deliberate about turning pushback and challenges into learning opportunities to better understand how to improve their product.
"We think a lot about what components need to be created and about the level of openness the system should have. We are a very open, non-proprietary solution. We're designing everything we're making so that we can license these components out and let anybody build with them. We're trying to build something that can be the basis for a very different way of looking at the problem. We want to be the USB for buildings, if you will. USB made it so we can plug something into a computer, and it recognizes it and knows what to do. We're solving this at the building level. Any fixture you plug into the building, it's automatically identified, and it just works. That's the mission we're on."
The next step is to proceed to design and engineering. Domatic works with the MEP team to ensure seamless integration, often reminding them that the requirements for low voltage systems are much lower than for higher voltages. "It's so simple that we have to tell them not to bother doing a bunch of things they're used to doing." The team begins the process of identifying fixtures, equipment, and other materials required for the system. Changes to the design usually come from the end client or the design team wanting to change the fixtures and ensure they can be used with the low voltage system. Baldwin says they are able to accommodate most fixtures quite easily.
Results
Baldwin says that a typical project that sets out to include automation can expect to be burdened by a 30% premium whereas with Domatic they can expect to save about 20% just on materials and installation. And when compared to other smart buildings, the savings are closer to 45-50%. Much of the savings for a smart building comes from the high cost of commissioning. Projected energy savings for the system is 30%, coming from the reduced energy loss when converting AC power to DC power at each fixture, as well as better management of power based on building usage that comes from having smart controls and sensors.
"We're doing something for everybody involved in the building process. We are generating critical telemetry from the building operations. We're making life better for the builder, a better product for the property manager, and a better experience for the tenant. We're also tackling issues around energy efficiency and housing affordability by making things less expensive and easier to operate. I think those are key aspects of where we're making a difference.
About the Author: Dawn Killough is a freelance construction writer with over 25 years of experience working with construction companies, subcontractors and general contractors. Her published work can be found at dkilloughwriter.com.
More from Modular Advantage
The city of Malmö in southern Sweden is set to welcome a new student housing project Unity Malmö, comprised of 5 building blocks, 450 micro-living apartments, where Forta PRO delivered 269 modules, total of 9,671.9 m2.