Mike Bollero, Sr: A Leader in Modular Construction
Mike Bollero, Sr., is the COO for Reliant Asset Management at Class Leasing.
"Location" is crucial for real estate, as we've all heard. It's also a big factor in careers, as Mike Bollero shows. Thanks to its status as the recreational vehicle and modular building hub of the United States in the 1960s, Elkhart, Indiana, attracted plenty of local talent like Bollero.
Coming out of school in 1972, Bollero started a consulting business servicing the local modular office builders in Elkhart, such as Cliff Industries and Markline. Cliff Industries was launched by his uncle, Otto Miller, in fact. Bollero also benefited from good timing, as the modular construction industry was growing and starting to transition from the standard (for the time) 10x40 portable classrooms into construction camps and other uses for modular buildings.
A Nudge Into the MMOA
While running his business in 1983, Bollero established a business relationship with Bob McGrath of McGrath RentCorp. Incidentally, McGrath mentioned a new organization called the Mobile Modular Office Association and nudged Bollero into joining, which he did.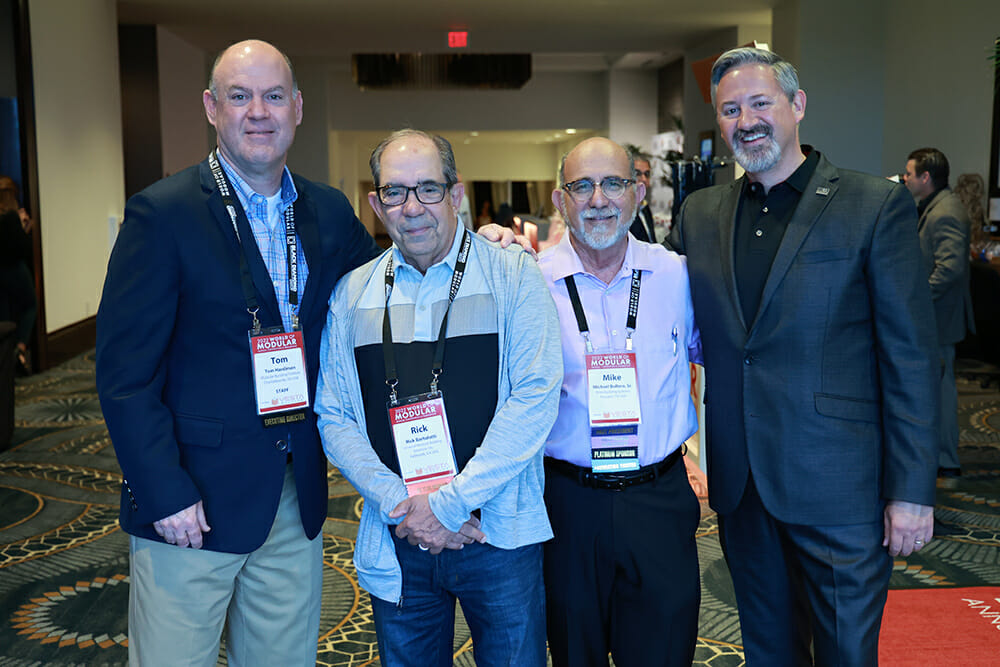 Tom Hardiman, Rick Bartolotti, Mike Bollero, Sr., and Steven Williams pose at the 2022 World of Modular in San Antonio.
Joining the MMOA led to serving the organization during the struggles with the International Code Council (ICC). At that time, the ICC was starting to exercise more control over more facets of the building industry. In particular, the ICC was threatening to refuse to accept already-built modular units as code compliant. Grandfathering" is the commonly used term for that process, and an unfavorable decision would have meant that hundreds of thousands of existing modular units would be essentially worthless. "We were looking at probably 400,000 leased units, and a couple billion dollars worth of assets," Bollero said.
The ICC battle led Bollero into joining the MBI board of directors, and then later into the role of President. As President of MBI, Bollero identified several key business factors that drew his attention. "I really wanted to get our finances stronger than what they were," he noted. "Second, we wanted to decrease the membership or the amount of board members but increase the stature of the board members. We wanted to get the owners and operators back into the board, making decisions for the industry."
Also at that time, MBI established the Awards of Distinction to recognize great work in the industry. The Awards of Distinction were a milestone for any recipient, Bollero noted, and though he's no stranger to taking home some accolades, there was also a bigger theme at work. "In all honesty, our first Awards of Distinction were more awards and recognition for company service, as much as for the actual building that you put in," he said. Bollero also received the Lifetime Achievement Award for service to the industry.
That notion speaks to the overall growth of the industry from the mom-and-pop model to the vertically integrated model. "It was just nice to see that the business had evolved to where as an industry, we were no longer this cottage industry of a bunch of small, self-made businesses but we were actually turning into an industry that was recognized and doing some really neat stuff," he said.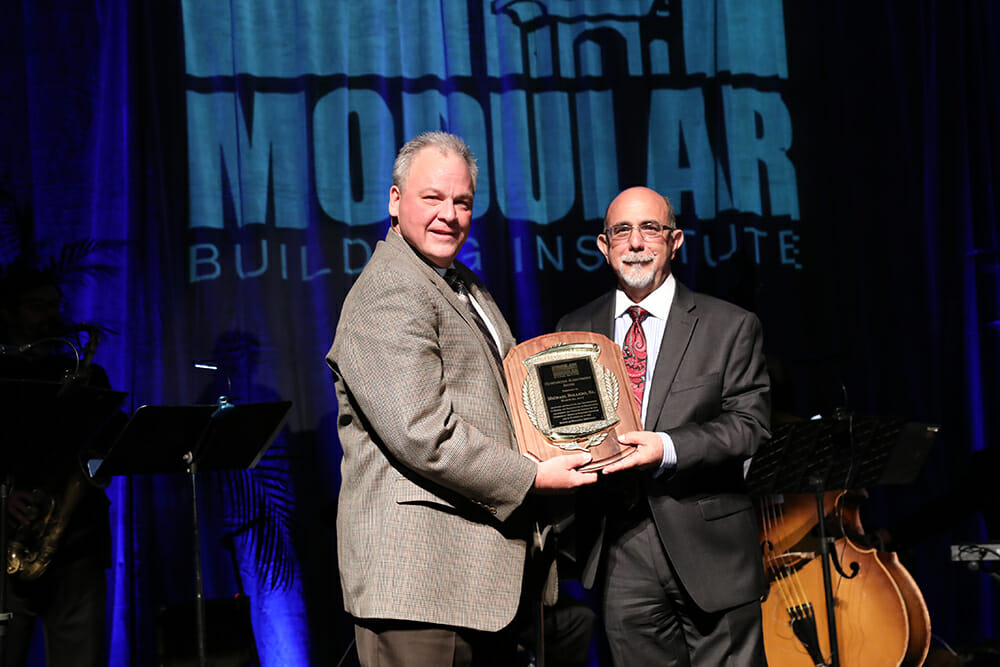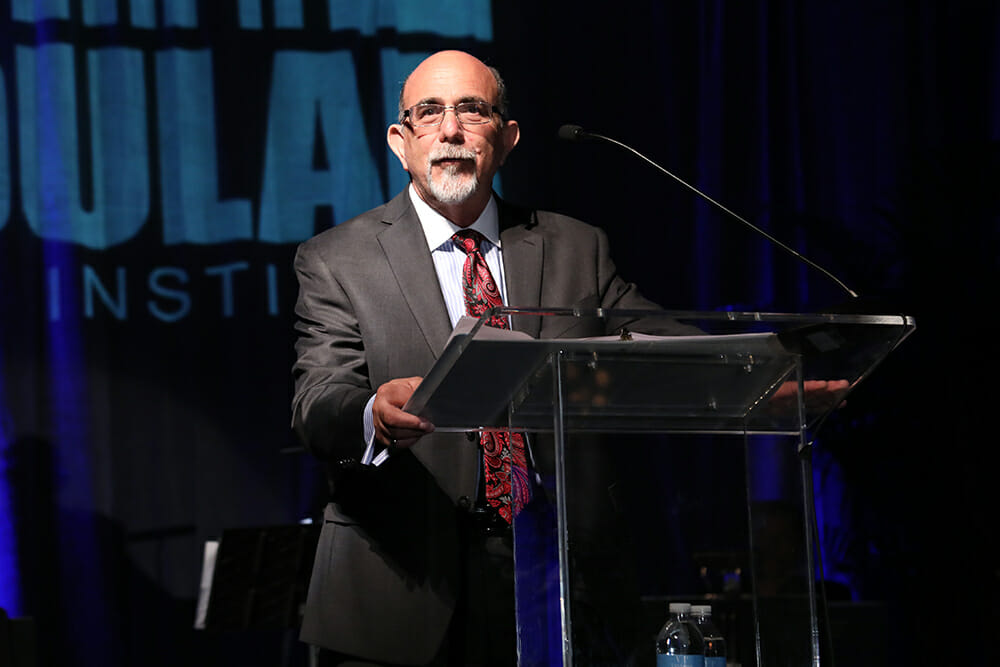 Mike Bollero, Sr., accepts MBI's Outstanding Achievement award at the 2017 World of Modular.
The Industry Grows Up
From his time as a greenhorn in the early 1970s, Bollero has seen the modular construction industry mature through several phases. "When I entered it, people were basically doing construction trailers. What you put on the jobsite, and they were small," he said. From there, though, the industry began to expand into much higher-quality products as well as into producing permanent structures. The businesses themselves also matured from the local "mom and pop" type of business into large, publicly traded companies, as well.
"In the 1990s we started building real buildings, multi-story permanent buildings. And then people started to become vertically integrated, like we are now with Class Leasing, where you manufacture your product and you sell your product. You're not one or the other," he noted.
In addition, the big players have come to dominate the industry, in contrast to past decades when smaller companies found their niches. "Now today, because businesses have grown to where the days of the Ma and Pa dealer are gone, basically it's now big business," Bollero said. "And if you don't have $100–$200 million to get into the leasing business,
The Trend for Modular Construction
Bollero does not forecast radical changes in the modular construction industry in the next three to five years. Continued business maturation will happen, though.
"You're going to continue to see vertical integration increase because of supply chain issues," he said. Vertical integration requires a more robust business model overall, meaning manufacturers will be selling and leasing their output. They will also be more sophisticated in designing their products.
"I think that you're going to see the manufacturers become much more project engineering oriented," he said. "I think you're going to see the bandwidth and the skill set of the industry overall increase as we push into a larger percentage of the total construction dollar mark."
Enjoying the Ride
Since those early days more than 50 years ago, Bollero has seen the modular construction industry grow and mature remarkably. The industry has provided both enduring relationships with colleagues as well as interesting challenges along the way.
"I've enjoyed the whole ride. I mean, I have been blessed to make great friends, and have gone through some really good and really bad experiences," he said. "But through it all there has always been a sense of camaraderie."
Working on interesting projects has been another enjoyable experience for Bollero. "I've always felt like we've tried to be on the cutting edge of trying to take the projects that maybe other people weren't going to take and doing something new and different. It never got boring. And there was always a new challenge. And that was what made it fun."
As for coaching his younger self if he were starting now, Bollero said, "Probably to be a little bit less of a risk taker from a professional standpoint, but other than that, I don't know that I would change much."
About the Author: Steve Hansen is a Colorado-based writer with a focus on the built environment—architecture, construction, renewable energy, and transportation. He can be reached on LinkedIn.
More from Modular Advantage
For this project, Forta PRO delivered 72 buildings, 144 modules, with 5,200 m2 of gross modular area. With final onsite completion in June 2023, it provides exceptional long-stay accommodation in a stunning and serene environment.