A Presidents' Lunch 40 Years in the Making
MBI's 40th annual World of Modular convention provided the perfect opportunity to gather many of the association's past board presidents and reflect on their roles within MBI and in the industry at-large.
At a luncheon hosted by MBI's current executive director Tom Hardiman, CAE, and operations director Steven Williams, CAE, on the final day of the conference,
nearly half of the association's former board presidents were joined by Judy Smith, MBI's former executive director who retired in 2004. There were warm greetings, old stories, and new insights into an industry poised to grow like never before.
Prior to the lunch, I was able to catch up with several past presidents to ask them about their time on MBI's board and the future of the modular construction industry.
What did you take away from your time on MBI's Board of Directors and as MBI Board Chair?
Devin Duvak
Indicom Buildings
It was a great journey. I'm blown away by the knowledge, expertise, and commitment of so many industry leaders. The evolution in our industry in my 8 years serving on the Board was incredible and just continues to get better today. We saw the design professional world begin to embrace modular construction rather than dismiss. In turn, the World of Modular event attendance grew well beyond our expectations. Tom, Steven and the entire MBI staff have absolutely been critical to the growth and evolution of our industry. It was an honor to serve with so many great leaders and working with the MBI staff to advance the modular industry forward.
Mike Wilmot
Wilmot Modular Structures
I think the important thing to take away from it is it trying to leave the industry better than you found it. I know we've made a difference by really reinforcing things that protect the industry like the MBI seal program and this battle that we're having against the expansion of the Davis-Bacon Act. And I think the biggest take-away is that together, we can almost do anything. By ourselves we can only accomplish so much. I really believe it's a there's power in numbers and right now we've got so much power working together as an industry.
Harry Klukas
Black Diamond Group
Through involvement spanning thirty years in the MBI, I have witnessed the progression of both the industry and the association. It has been gratifying and rewarding to be part of this process, on a business and personal basis. MBI members have made significant and generous contributions, financially and with their time, to achieve the objectives of the industry. Companies have benefited and stimulated by interaction with organizations involved in the industry facilitated by the MBI. The apex event of every year if the World of Modular attracting attendees from around the world, providing a great forum for networking and education. My most cherished benefit of the MBI, has been the long-lasting friendships cultivated by my participation on the Board and in MBI events.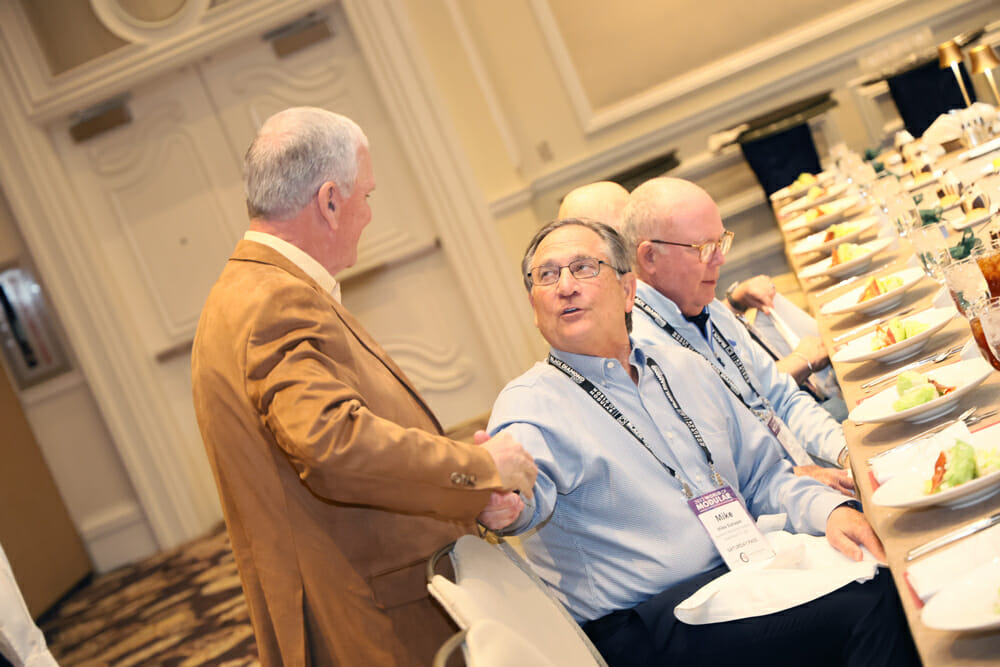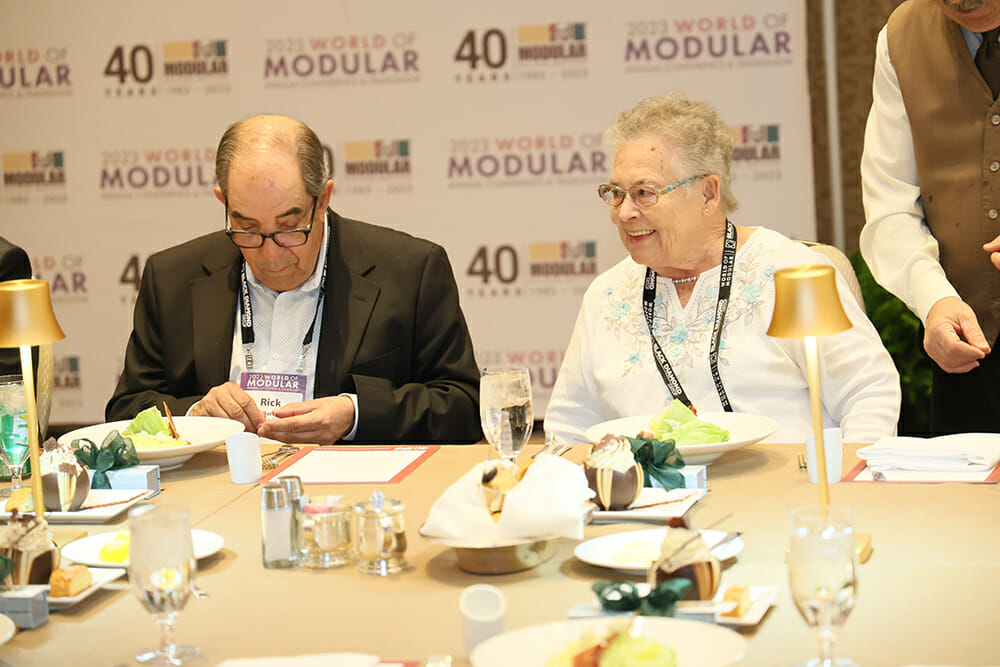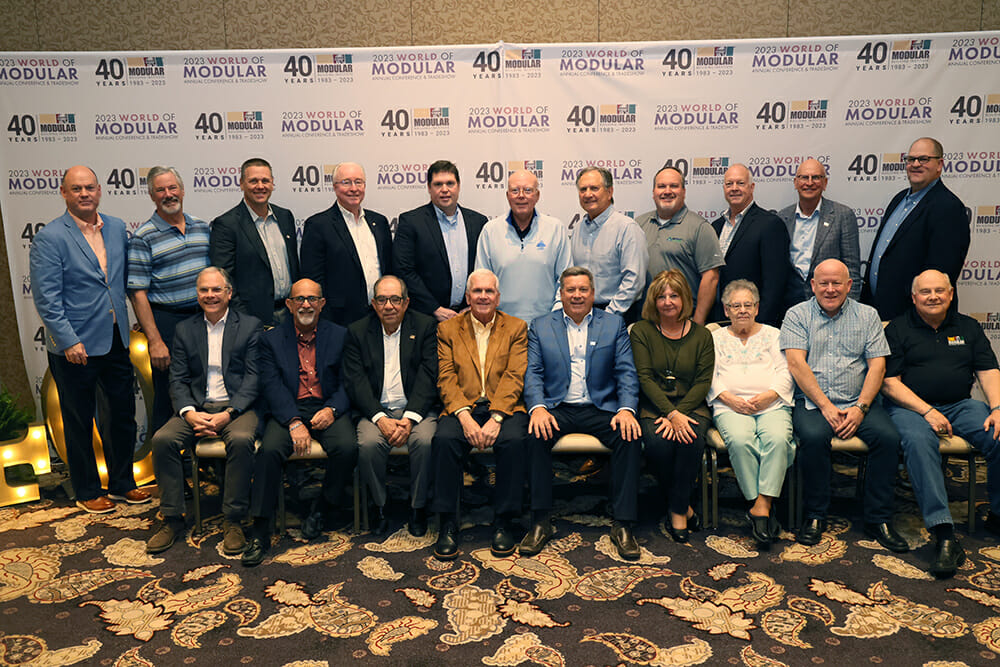 From left to right: (Rear) Tom Hardiman, CAE; Mike Rhodes, Silver Creek Industries; Devin Duvak, Indicom Buildings; Maury Tiernan, Geary Pacific Corporation; Drew Wellborn, Whitley Manufacturing; Linc Moss, Ramtech Building Systems; Mike Slataper, Ramtech Building Systems; Kelly Williams, Impact Housing; John Lieffrig, ModSpace; Harry Klukas, Triumph Modular; Chris Peterson, Satellite Shelters. (Front) Brad Gudeman, Modular Genius; Mike Bollero, Sr., Aries Building Systems; Rick Bartolotti, Universal Modular Building Solutions, Inc.; Mike Mount, Indicom Buildings; Mike Wilmot, Wilmot Modular Structures; Laurie Robert, NRB Modular Solutions; Judy Smith; Mike Ridley, Britco Structures; Roland Brown, Ramtech Building Systems.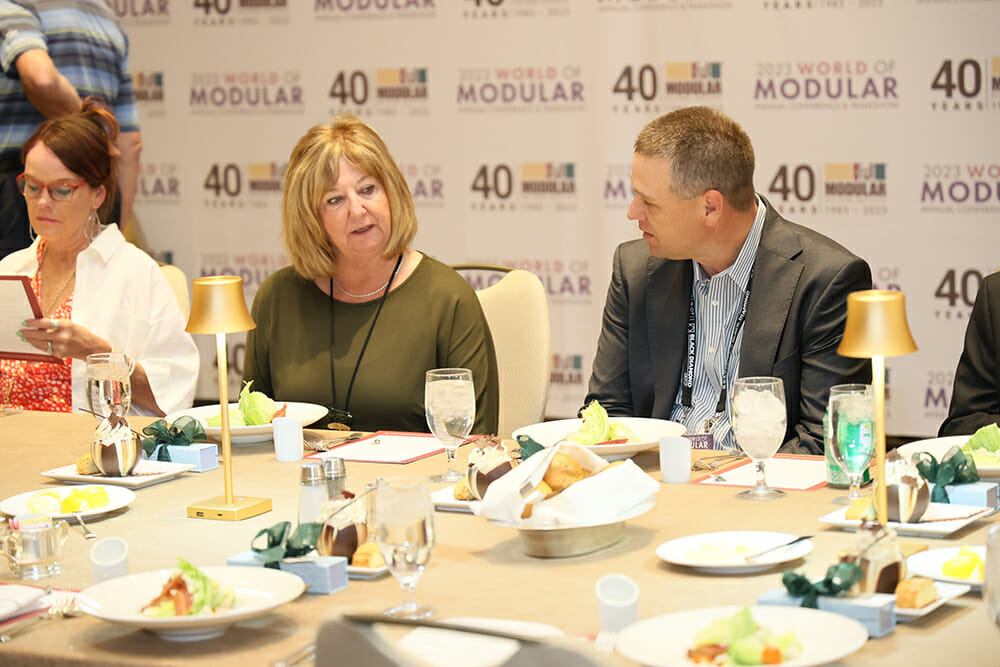 How do you hope MBI evolves to serve the industry over the next 40 years?
Brad Gudeman
Modular Genius
Member growth with companies in financing, materials, design professionals, and services are a key to MBI's membership foundation. This foundation supports all of
us—owner/developers, fleet owners, contractors, and manufacturers—working together as one cohesive industry. The growth potential over the next 40 years will be greater than any of us could ever imagine. The future is now, the future is modular.
Mike Slataper
Ramtech Building Systems
MBI has expanded its membership in a huge way over the last 40 years with the biggest change being the addition of architects and engineers that often work with modular projects. And as the growth in permanent modular buildings continues, we will see an even greater influx of designers. This is truly a win-win deal. It's great for commercial construction, great for designers, and great for manufacturing companies and dealers. Modular Construction will continue to expand, and companies like Ramtech will benefit from its growth.
Chris Peterson
Satellite Shelters
I believe MBI is stronger today than it was when it started. Certainly our membership base has changed and grown dramatically. We were 15,20, 25 people, probably in the second year. And today we're over 500. That tells me that we've expanded and evolved to serve a much broader group of constituents and interested parties. So that would be my hope for the next 40 years: relevance. Stay relevant. And that means we can't stay static. We have to continue to evolve. The industry is going to grow, the components are going to grow. The questions is: Can we continue to stay relevant and evolve with it? I believe we can.
Roland Brown
Ramtech Building Systems
Our industry has gained much from MBI's growing relationship with the International Code Council (ICC). When I started my career in the commercial modular industry forty years ago, offsite construction methods were at best considered a novelty, usually looked upon with a level of distrust by local and state regulatory agencies. Acceptance and respect at the ICC executive level is one of the greatest MBI accomplishments.
Over the next 40 years our industry will be tested at the local, state and federal level. MBI must continue to position itself as the defender of unfair regulation while working with the International Code Council to assure that modular and offsite building techniques are accepted as a build option which is equal or superior to site construction.
Author: John McMullen is the marketing director for the Modular Building Institute. You can reach him directly at mcmullen@modular.org or on LinkedIn.
More from Modular Advantage
The city of Malmö in southern Sweden is set to welcome a new student housing project Unity Malmö, comprised of 5 building blocks, 450 micro-living apartments, where Forta PRO delivered 269 modules, total of 9,671.9 m2.