Is Your Company a "Destination Employer?" These Four Are
Merrick Macomber is the Executive Assistant to the CEO at Autovol.
Alan Rasmussen is the Vice President of Production at Modern Building Systems.
Heather Wallace is the Communications Director at Momentum Innovations Group.
Craig Landri is President at Signature Building Systems.
Do you have a steady stream of job applicants knocking on your door to work with you? If not, you may want to pay attention to an upcoming presentation at the World of Modular on workforce development. It will highlight four companies that are revolutionizing the search for workers and attracting them to the modular construction industry and their companies.
Autovol, Momentum Innovation Group, Signature Building Systems, and Modern Building Systems have been working hard to attract workers, particularly young workers, to their companies through a combination of culture and actively reaching out to students to make them aware of opportunities. They are working to fight the stigmas attached to both the construction industry and modular buildings, in particular. They are offering students more than a job – they are offering them a career and a life purpose.
Autovol
Merrick Macomber, Executive Assistant to the CEO at Autovol, says that their company culture makes them a "destination employer" in their community. Autovol is a modular manufacturer that is revolutionizing the use of robotics in construction, with its headquarters in Nampa, Idaho. Macomber said, "We get a lot of people coming here wanting a job just because they want to be in our culture. They don't even know what they might end up doing. But they want to be involved in what we have here."
One of Macomber's main responsibilities is to generate and maintain the caring culture that the company is known for. She prides herself on getting to know all the employees and learning how the company can support them and their growth. "People want to come to work here because they're not just employees, they are 'solutioneers,'" she said.
"We are doing some really cool stuff with robots and automation and the world is watching us for that," she said. "But I've always said the world needs to also watch us for what we're doing within our doors and within our people." Macomber advises companies looking to adopt this type of culture to set up their mission and values, then learn how to give people a purpose-driven career with a path and plan specifically designed for them.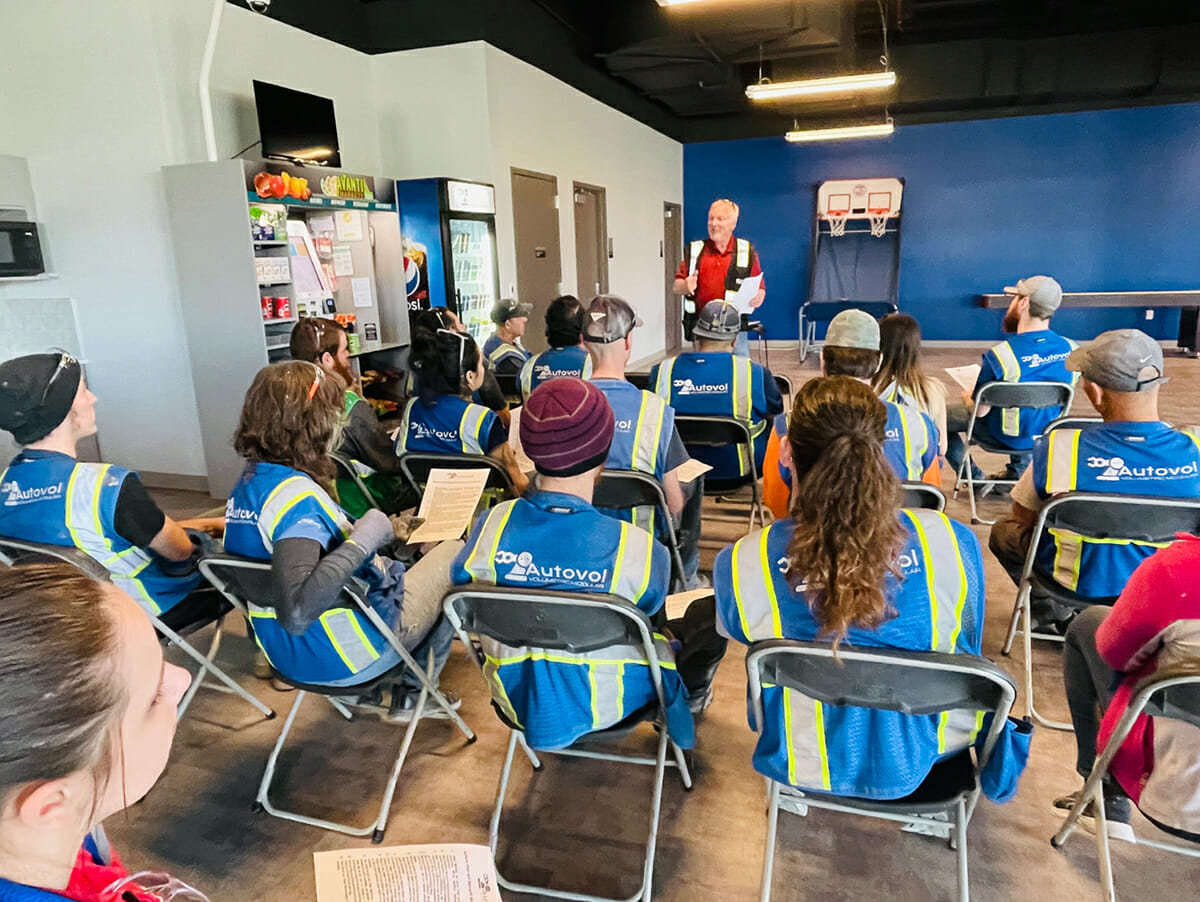 Visiting students at Autovol learn the basics of modular building automation.
In addition to their awesome culture, Autovol has been successful destigmatizing women in construction. 30% of their employees are women, which is significant in a male dominated industry. "Because of the enclosed environment we're in and the training that we provide, we're able to bring more women into the industry."
They've also worked hard to spread the word to students – visiting classrooms starting in 6th grade. They also offer tours of their factory to juniors in high school and have half-day job shadows for seniors.
All of this must be working, because they have a 94% retention rate on their first 100 hires. And they are trying to expand their influence by passing this culture on to other modular factories through their Waypaver organization.
Momentum Innovation Group
Momentum Innovation Group is a New Jersey consulting firm that helps companies develop and adopt innovations to help improve their businesses. They have been focusing their efforts on three projects funded by the Department of Energy. Heather Wallace, Communications Director, enthusiastically explained these projects – offsite construction curriculum for middle and high school students, a platform for connecting students to jobs in the industry, and a way to match resources between schools and other education providers and modular building factories.
The curriculum they are developing for middle and high school students is being implemented in standard classrooms, career technical programs, and vocational programs. "We did a lot of questioning with some schools when we started this on how you would actually be able to implement education programs into schools," says Wallace. "And the answer was, you can't."
They received pushback from not only the education community, but also the construction industry. So they worked hard to develop modules that could be implemented in standard math classes.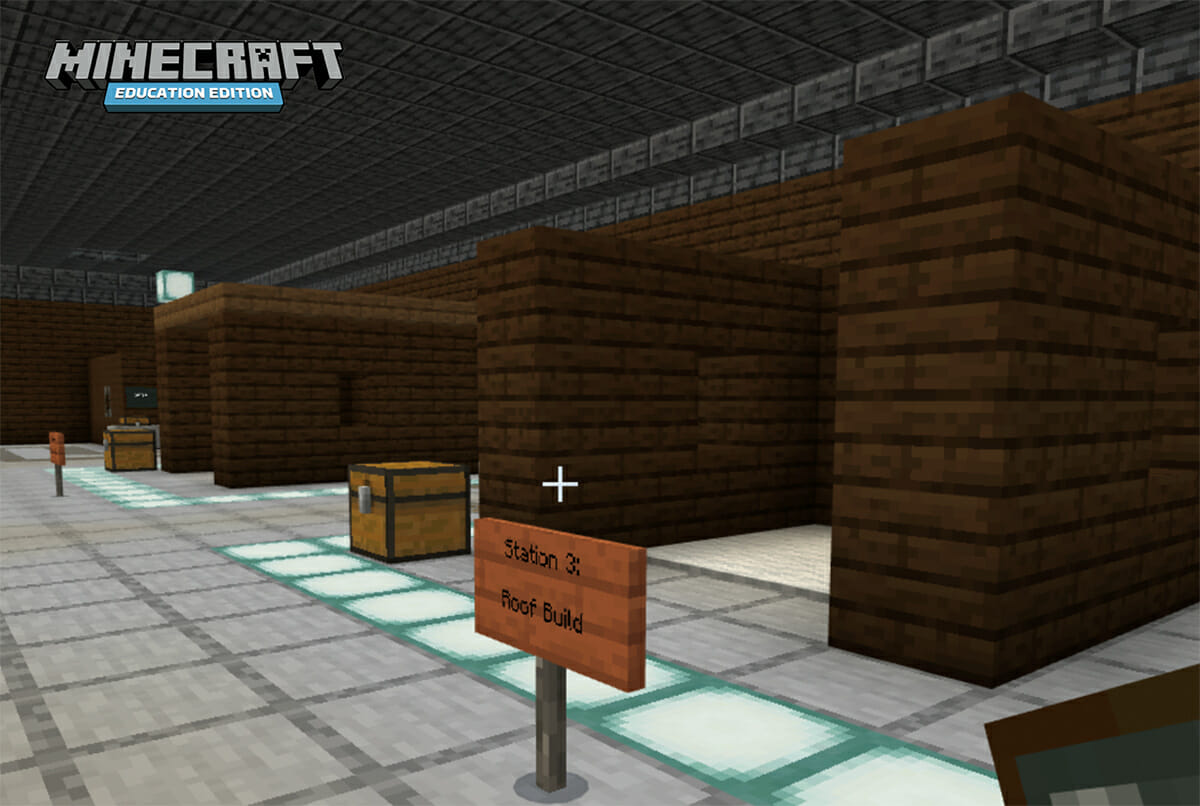 The educational version of Minecraft is being leveraged to help teach modular building fundamentals.
The first module that's been released involves using tape measures to teach middle school students math and fractions. Future modules will include specific information on the benefits of modular construction, social issues surrounding affordable housing, and how it's all relevant to society.
MIG is also working to develop a platform to help students find jobs within the industry. Their hope is that it will be easy for both sides to use. Their third project, which they call the Dating Game, is a platform to connect community needs, education, and resources. They're hoping to begin testing the platform later this year.
Related Listening:
Developing the Next Generation of Modular Industry Workers w/ Modern Building Systems
In this episode of Inside Modular, Alan Rasmussen, VP of Production at Modern Building Systems, talks about the industry's current workforce challenges, what he's doing at Modern to recruit and train the next generation of modular industry workers, and how companies around the country can take advantage of student technical education programs.
Modern Building Systems
Modern Building Systems in Aumsville, Oregon is a building manufacturer that has been partnering with the local school district and their Career Technical Education Center (CTEC). The center has a residential construction curriculum and Modern wanted to take advantage of the program to help with recruiting.
Alan Rasmussen, Vice President of Production, was involved with the program's implementation and the early days of establishing the program but was frustrated because he couldn't hire any of the students to work in his factory because of child labor laws and OSHA requirements. Instead of throwing up his hands in defeat, however, Rasmussen took his problem to the Oregon legislature.
There he learned about the Student Learner Program. It's a federal program that allows companies to hire workers between 16 and 18 years old who are enrolled in a vocational education program. He met with the school district, CTEC, and the Bureau of Labor and Industries to discuss how he could implement it in his business.
"It's been great," Rasmussen says. "It's been a great workforce pipeline for us and it's never ending. There's always another year of students." Modern has taken advantage of the program, offering students the opportunity to work in multiple departments before deciding what they want to do for a career. Now these students are often the most requested workers in the company.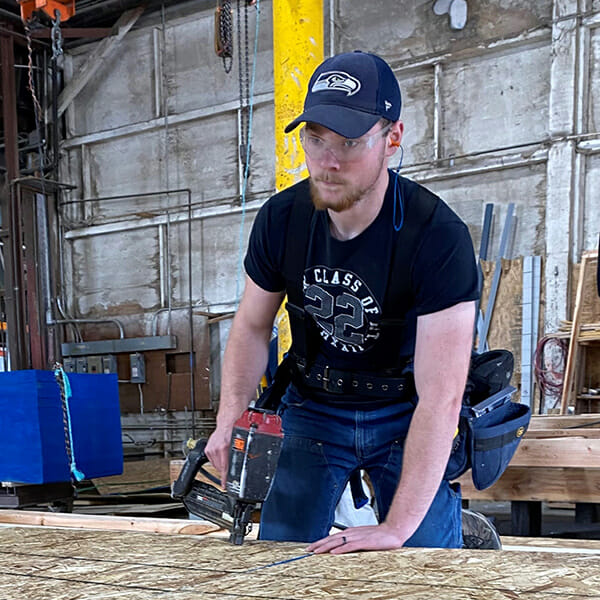 A student learns the ropes at Modern Building Systems.
Signature Building Systems
Signature Building Systems, a modular home manufacturer in Pennsylvania, has also been partnering with local vocational programs to provide a stream of young workers. Craig Landri, President, stresses the importance of investing resources, both money and time, in mentoring and training students. Early on Signature identified the shrinking labor pool as a major threat to their success.
And, similar to the other companies we've looked at, their culture plays a major role in attracting and keeping workers. "The culture really starts
from the top down, and is based on who you're hiring, who you're promoting, and who you're rewarding within your staff. And that gets noticed," Landri said. The culture needs to support mentorship and teamwork, or there could be problems. "You don't want more experienced people to feel
threatened by the younger generation coming in, because if they do, they're not going to spend time teaching them and the students are not going to gain the skill sets that they need to be successful."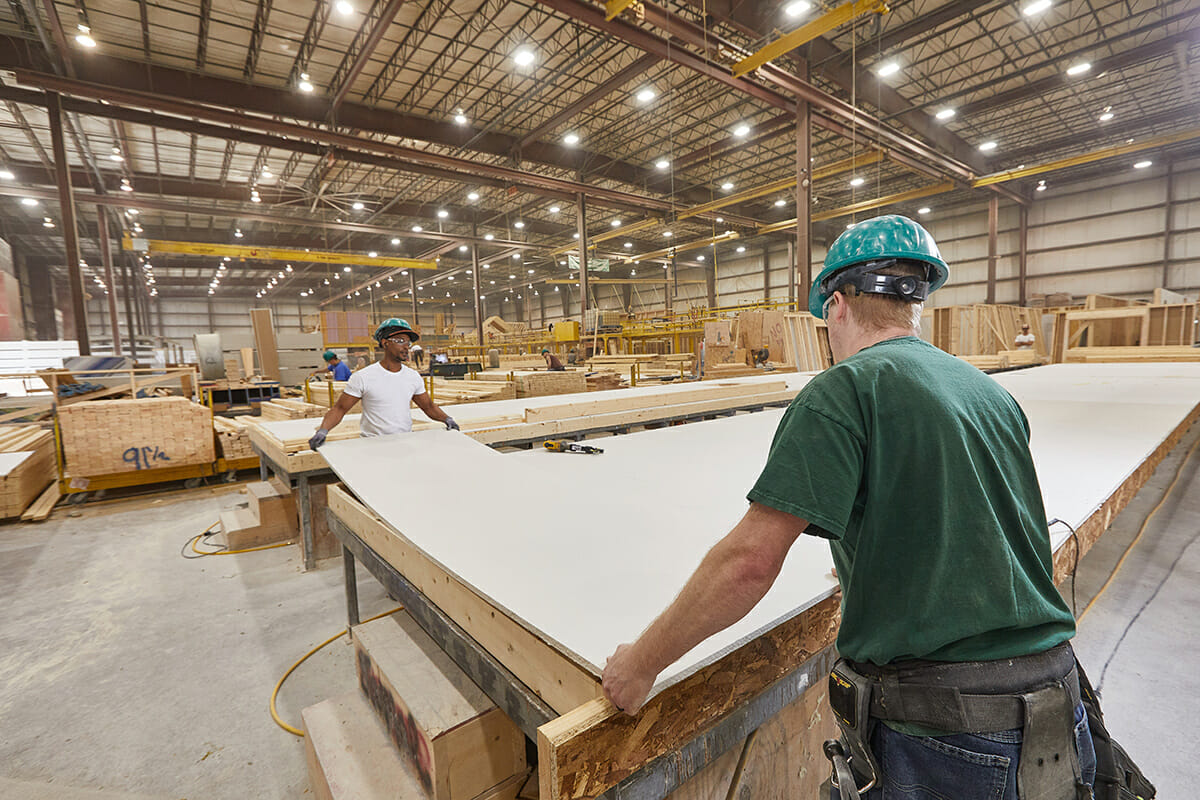 Workers at Signature Building Systems assemble sections of building modules.
The student workers at Signature have embraced the program, with many spending their off days or snow days working in the factory. And the students are getting recognized, as one was recently Employee of the Month. "It's rare for a student to get that just because of the sheer number of hours they're here. But the student impressed the foreman so much that they named them employee of the month."
See More at World of Modular
All four companies will be presenting their success stories at World of Modular in February. Their hope is that others can duplicate their efforts and have similar success. "We're agents of change," Macomber said. "We're trying to drive a whole industry-wide movement and we're trying to create
a lifestyle for people to live and work comfortably in a career that gives them purpose."
About the Author: Dawn Killough is a freelance construction writer with over 25 years of experience working with construction companies, subcontractors and general contractors. Her published work can be found at dkilloughwriter.com.
More from Modular Advantage
The city of Malmö in southern Sweden is set to welcome a new student housing project Unity Malmö, comprised of 5 building blocks, 450 micro-living apartments, where Forta PRO delivered 269 modules, total of 9,671.9 m2.