New Company Modularis Expands Modular's Reach into Brazil's Residential Market
Eight months from ground break to completion of a 75-unit mixed use development is fast, some would even say not possible. But it's the accelerated schedule for a new residential development in Sao Paulo, Brazil, made possible by modular construction. The project is set to break ground in May of 2023 and will be comprised of two concrete floors with commercial spaces and 11 floors of modular apartments and is set to be complete by the end of the year. Brazilian modular construction firm Modularis hopes that the mid-rise project will be a showcase and will bring more publicity for the innovative construction technology's use in residential construction in Brazil.
Modularis is the brainchild of Eric Lesbre, a French engineer who began his career in the oil and gas industry. He developed a large auto parts business in Europe before starting Modularis in 2010. He admits to copying an existing European business that also controlled that was successful in modular construction. Modularis had several successful commercial development projects in Brazil that allowed it to sustain the business. Clients included Toyota, BASF, Dow Chemicals, Scania, and many other big names in the country. The focus was on offices, industrial developments, and other permanent structures, and the demands of his clients led the team to improve their quality and the efficiency of their systems.
Soon they were able to expand their offerings to include retail establishments, specializing in franchises, because of the economies of scale. This is where they further refined their strategies about repetition of design, using the manufacturing process, and dealing with a large volume of work. It was after their success in the retail market that they set their eyes on hospitality, which they define as hotels, rental apartments, holiday residences, senior living, and student living. The key feature in all these projects being the repetition of design.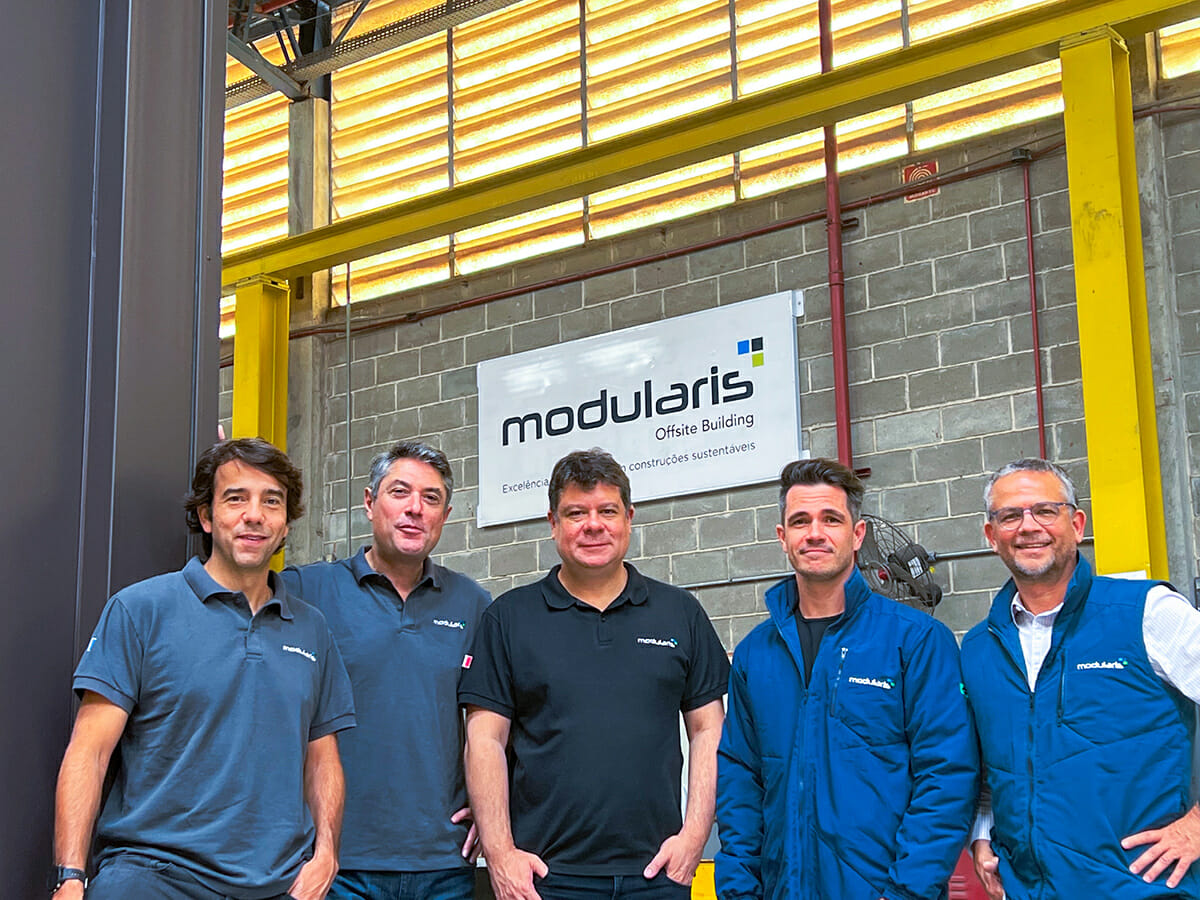 The Modularis Board, from left to right: Marcelo Doria (board member), Eric Lesbre (founder and chairman), Frederico Azevedo (board member), Andre Reche (COO), Paulo Salvador (CEO).
A New Addition to the Team
To meet their new goal, Lesbre's business associate, Frederico Azevedo, came to Modularis in 2020 through a mutual friend. He brings over 20 years of real estate experience, including a long track record as a residential developer in Sao Paulo, and is working to develop the residential/hospitality side of the business. Together they are targeting developers who are building BTR (build to rent) units. "Because those kinds of developments benefit the most from speed," said Azevedo. "The faster we can deliver the building, the better the project returns." They also hope to educate their customers about the improved quality, shorter lead time, assertive costs, and reduced environmental impact.
With this newest project, Modularis will be drawing on their years of lessons learned in the commercial market to increase the complexity of their units and improve their manufacturing efficiency. With their European background, Lesbre says, "we have a lot of industrial background in manufacturing, automation, and process management. And so, we are cross fertilizing our business with this approach." In addition, they will be opening a new manufacturing facility in ITUPEVA, about 60 kilometers (37 miles) north of Sao Paulo. The new facility will provide services for the company's flagship residential project.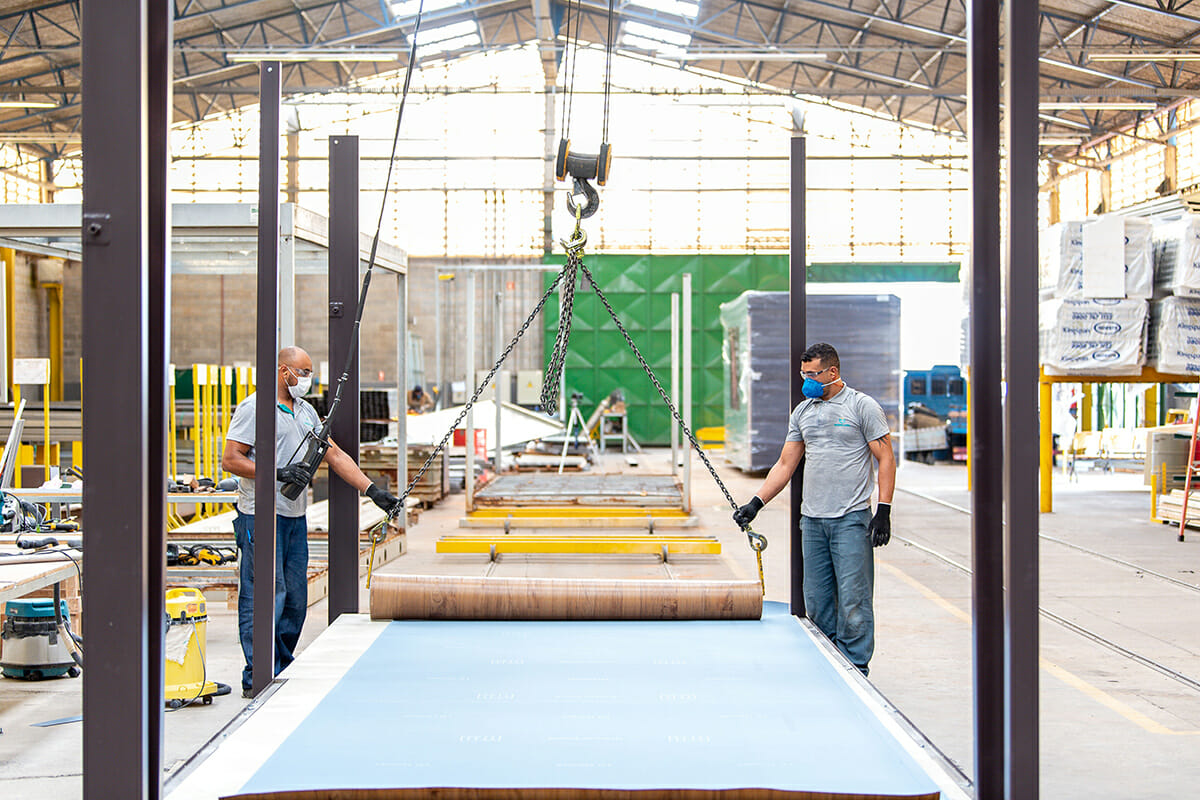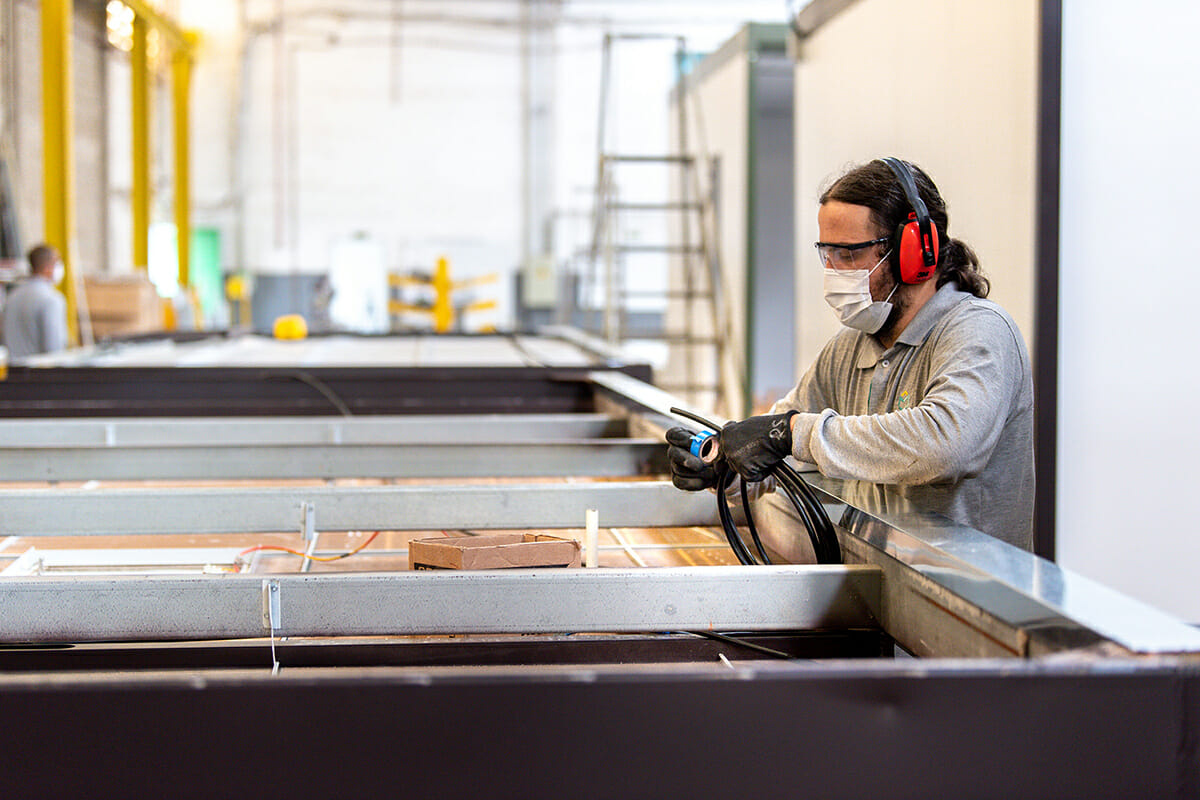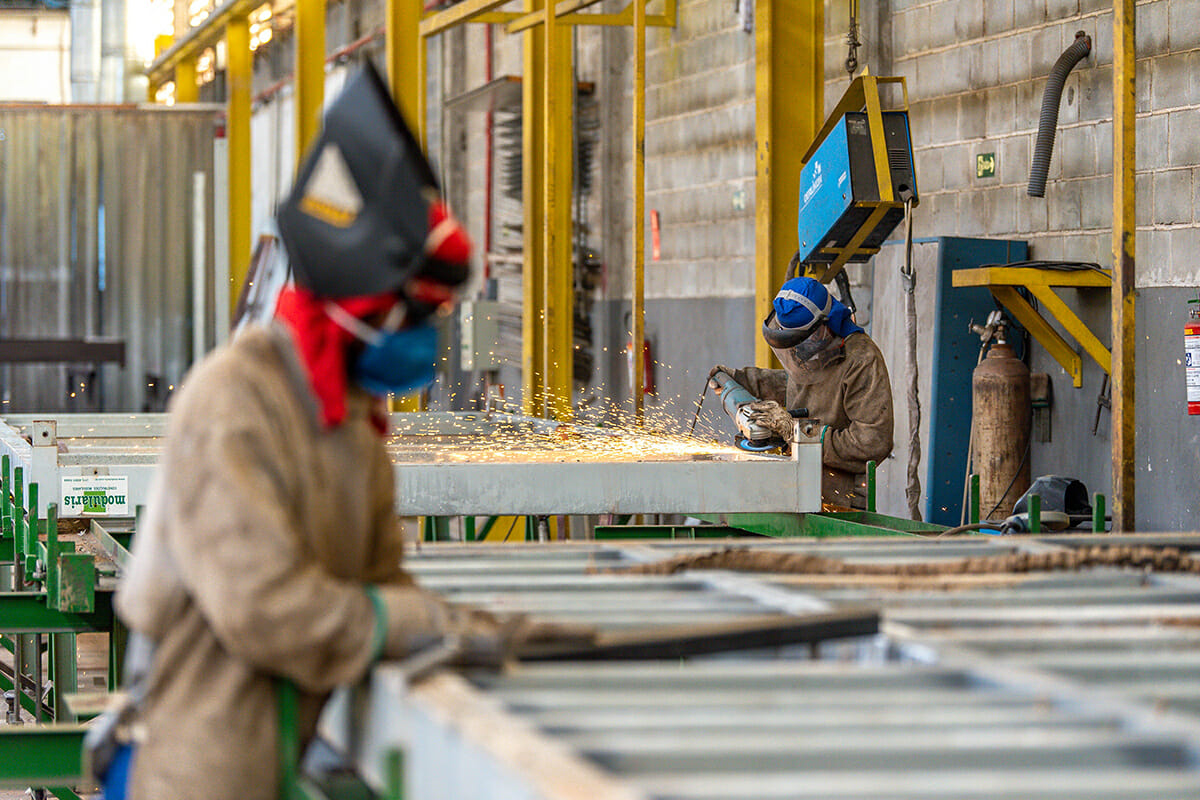 Educating Their Clients
But the road hasn't always been easy. Like many companies in the modular construction industry, they have struggled to change the mindset of their customers. Lesbre calls their efforts "evangelization," bringing the message of the benefits of modular construction to an area that hadn't heard of it before. Luckily, their customers were listening, and their success spoke to others. Lesbre and his team are hoping to do the same for the residential market in Brazil.
The new development, located in a posh neighborhood in Sao Paulo, will have 75 living units, which will come in one of three sizes. Studios will be 23 square meters (247 square feet) and will be comprised of one module. One-bedroom apartments (35 square meters, 377 square feet) and two-bedroom units (48 square meters, 517 square feet) will each be comprised of two modules. The lower commercial floor, elevator shaft, and staircase will be concrete, with all the living units being modular. A digital twin of the building will be completed before the actual construction, allowing Modularis to identify and correct all possible issues before breaking ground.
The logistics of constructing a large modular building in the middle of the heart of a city will be a challenge. In fact, the modules will have to be delivered at night and installed during the day due to traffic restrictions. The new factory will be close by, with easy access to highways, so getting there won't be the difficulty. Even so, the team isn't new to logistical challenges. Brazil is 86% of the size of the US, which means that projects can be spread out. However, their highway system isn't as developed as the one in the US. They've had to haul modules 3,000 kilometers (1,864 miles) into the Amazon Rainforest for a large corporate client over roads that were less than ideal.
Luckily, the modules have been sized and designed to meet the road conditions they'll meet during their trip. The largest modules are 4 meters (13 feet) wide and 13 meters (42 feet) long and weigh about 18 tons. The living unit modules run 3.4 meters (11 feet) wide and 8 meters (26 feet) long and weigh about 12 tons.
Lesbre says that the building codes in Brazil are favorable for modular construction. This has helped improve their selling point, as there aren't the restrictions like many face in the US.
A Helping Hand
The future is looking bright for Modularis, as they recently announced the receipt of a large investment from ArcelorMittal, a worldwide leader in steel manufacturing. The funds will be also used for the new factory, which will ensure steady growth for the foreseeable future. Lesbre sees it as a game changer for them, "giving more credibility to our solution in the market, which is already ready to move forward." In addition, the partnership will bring the steel and modular construction industries together, allowing them to offer unique solutions not provided by other companies.
Both Lesbre and Azevedo look forward to continuing to expand their market, improve their processes, and take advantage of technology to improve their performance.
About the Author: Dawn Killough is a freelance construction writer with over 25 years of experience working with construction companies, subcontractors and general contractors. Her published work can be found at dkilloughwriter.com.
More from Modular Advantage
The city of Malmö in southern Sweden is set to welcome a new student housing project Unity Malmö, comprised of 5 building blocks, 450 micro-living apartments, where Forta PRO delivered 269 modules, total of 9,671.9 m2.