Venture-Backed Housing Development Company, Cloud Apartments, Unveils First of It's Kind Prototype for Next-Generation Apartments
Cloud Apartments' 'Cloud S' Prototype will forever change the modular construction and affordable housing industry — reducing the cost to build housing by 30%
On October 13th, Cloud Apartments held an intimate gathering to unveil the 'Cloud S' prototype, the first of its kind modular apartment that represents the reduction of up to 50% of time spent on construction and 30% in cost savings.
In attendance were industry partners and other technology companies including: Ori Living, Architects Orange, DCI Engineers, Domatic, Ecomedes, Staytion, Nibbi Brothers, Hilti, Synergy Modular, Equity Residential, Factory OS, Autovol, Plant Prefab, JLL, representatives from the office of Congressman DeSaulnier, and Pivot North Capital.
Together, the factories in attendance have the capacity to build as many as 10,000 units per year.
Curtis Wong, Founder and CEO of Cloud Apartments saint "Cloud Apartments is creating a new brand of modular apartments for the modern renter. Cloud's mission is to fundamentally change the economics and efficiencies of housing construction so more people can live in the cloud." He continued, "our plan is to unleash the full potential of these industry-changing savings on time, energy, and costs on new construction. The 'Cloud S' is slated to be manufactured by factories across the country in the same fashion that luxury brands manufacture vehicles. After the manufacturing phase, each 'Cloud S' will be transported to construction sites and stacked with a crane up to 7-stories high. This results in apartment buildings of 100 to 300 units, with each rental unit at a level of quality typically only found in high-end condominiums."
The method of building apartments in factories is part of an emerging trend called modular construction. Modular construction is the construction industry's answer to rising housing costs across the country, where apartments are built in factories, shipped to construction sites, and stacked via crane.
Currently, modular construction is a niche method of construction and has historically been seen as lower quality, with insignificant cost savings. Within this context, 'Cloud S' changes perceptions by significantly driving up the quality of the interiors with embedded technologies for renters living in the unit, but also partnering with leading factories across the country to finetune the manufacturing and stacking process. The result is an apartment that represents a modern standard of living with affordability built into it, based on its construction innovations.
Cloud Apartments currently has 1,000 units set for the San Francisco Bay area across five buildings — and is slated to expand into markets across the U.S. in 2023.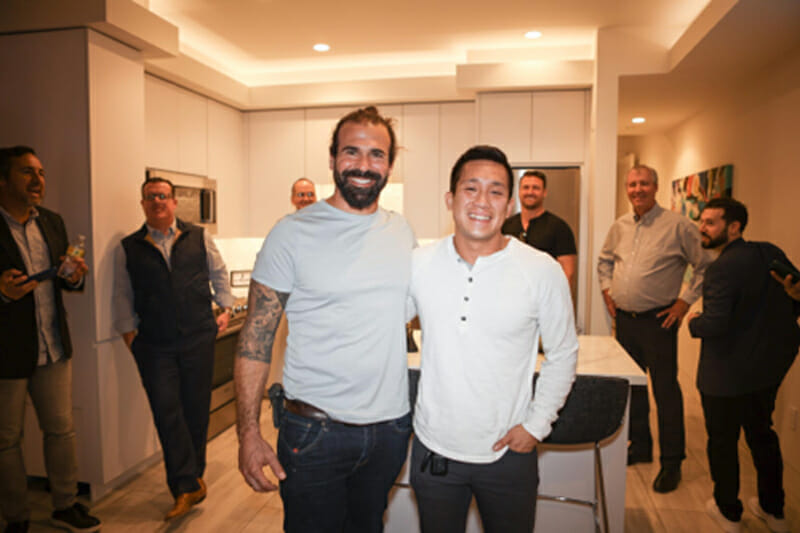 Cloud Apartments' Matt Rapa, Director of Construction and Curtis Wong, Founder and CEO, surrounded by advisors and industry partners in the 'Cloud S' prototype
About Cloud Apartments
Cloud Apartments is an unconventional housing development company creating a new brand of modular apartments for the modern renter. The company is revolutionizing modular housing with a patented snap installment technology that allows units to be built off-site with everything embedded — wires, pipes, ducts, and smart technology — and shipped to the site 95% complete, with no assembly required. This unique plug-and-play approach to construction provides dramatic cost and time savings for developers and renters alike.
Latest Modular Industry Press Releases