Seeing the Potential for Modular Construction in Colombia
Andrés Felipe Becerra Ceballos is the Head of R&D at Constructora Bolívar
Founded in 1983, Constructora Bolivar specializes in the design, construction, project management, and sales of single family and multi-residential homes across the Colombian social strata.
From the company headquarters in Bogotá, Constructora Bolívar has become the largest developer and home builder in Colombia with over 60 active housing projects across the country. The company builds between 20-30,000 units each year. With plans to reach 40,000 units within the next two years, Andrés sees modular construction as a solution to scale production while lowering costs and shortening project timelines.
When asked about the state of the construction industry in Colombia, Andrés Felipe Becerra Ceballos, Constructora Bolivar's Head of R&D, replied, "Like many other countries, Colombia is also experiencing a massive housing shortage right now. Currently, 1.2 million families have no place to call home. And with only 240,000 new housing units available each year, the housing shortage will be an ongoing issue in Colombia for years to come."
Commercial construction demand grew during the pandemic, despite material and labor shortages. And as Andrés explains, "The new homes and neighborhoods need schools, hospitals, and retail outlets. And although we have lower labor costs, commercial projects still rely on cast-in-place concrete or CMU (Concrete Masonry Units / cinder block masonry) to build interior and exterior walls, which are time-consuming compared to other options such as stud framing and drywall, or panelized exteriors. Part of the resistance to more conventional construction techniques is cultural. Concrete is readily available, fares well in our climate, and is viewed as the superior choice for seismic activity concerns."
Unfortunately, modular construction is essentially non-existent in Colombia today. Only a handful of modular homes have been commissioned and built since 2015, mainly for extremely rugged and limited-access locations. Only one modular construction company has existed in Colombia. Founded in 2017, it employed 4 workers, and essentially shut down (revenue drop of 100%) in 2020 due to the pandemic1.
So why does the largest developer from a country with a struggling modular construction industry join the Modular Building Institute?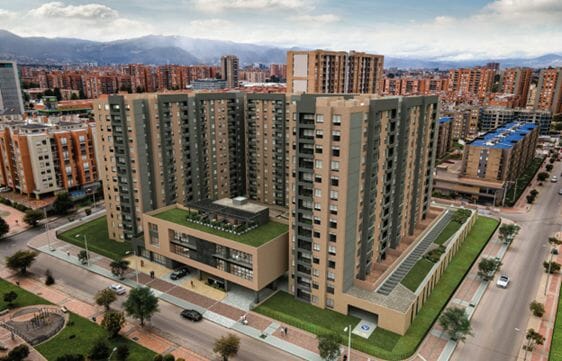 A Revit model from the first tower of Constructora Bolivar's project "Salitre Living." This Bogota,
Colombia-based project will have 1,688 370-sq. ft. units.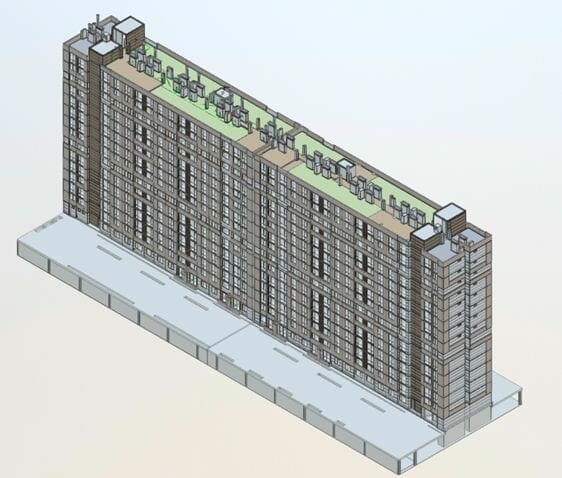 A rendering of Constructora Bolivar's upcoming "Alamo" project in Bogota, Colombia.
Exploring the Possibilities of Modular Construction
As part of his company's due diligence, Andrés attended MBI's 2022 World of Modular conference in San Antonio looking for information to help resolve his company's scalability goal. Four days later he returned home with a crash course in modular construction under his belt and got to work.
As Andrés stated, "It was immediately obvious that modular construction could be the answer to several current construction issues we're dealing with in Colombia today. By implementing modular construction techniques, we can provide a durable quality product, at a lower cost, in a shorter time frame, while minimizing waste, and promoting sustainability."
Andrés also sees the societal benefits of modular construction for Colombia for addressing homelessness, improving natural disaster relief, more localized employment opportunities, and improving building codes, too.
The first step to "mainstreaming" modular construction in Colombia is the learning curve. While tried and tested around the globe, modular is essentially brand new to the entire country. Most homeowners haven't seen it before, and they question everything from the products to the processes being used.
Constructora Bolivar plans to introduce modular construction to the Colombian property owners and developers of multi-family buildings. The belief is that, as they become aware of the lower construction and maintenance costs, and the higher return on investment (ROI), modular construction will establish a foothold. And as the developers continue to get on board, future homeowners and tenants are likely to follow.
When questioned about the timeline for getting past the learning curve, Andrés replied, "I can see it taking 3-5 years to get developers and architects on board. We're already working with a wide variety of entities and programs to promote modular construction and its positive impacts on the local and national levels."
Luckily, when these developers start looking for hard data and real-life examples, Constructora Bolivar has plenty of resources thanks to MBI and neighboring areas of Central and South America where modular construction is well established and flourishing.
Constructora Bolivar expects the modular learning curve for the public to take between 5-7 years. But the company isn't sitting idly by and waiting for things to happen. Instead, it's establishing connections with other modular builders, products, and vendors. The more other companies know, the easier the task of raising public awareness to the benefits of modular construction.
Getting Started
Establishing a modular construction industry will require a sizeable investment in R&D to get the needed infrastructure in place. Constructora Bolivar can't wait to get started.
You can learn more about Constructura Bolívar people, products, and services at their website: https://www.constructorabolivar.com
More from Modular Advantage
The city of Malmö in southern Sweden is set to welcome a new student housing project Unity Malmö, comprised of 5 building blocks, 450 micro-living apartments, where Forta PRO delivered 269 modules, total of 9,671.9 m2.