A Newcomer's Take on the 2022 World of Modular
Over 1,000 people attended on the 2022 World of Modular, from long-time attendees to industry rookies. In this article, we share the experience of one such attendee. The 2022 World of Modular served as her introduction to the modular building industry, and just as we hoped, she felt right at home.
The 2022 World of Modular
2022 marked the 39th annual World of Modular conference. The tradeshow offers a variety of benefits for individuals in the modular construction industry. Each aspect of the convention presented attendees with valuable education on commercial modular construction, networking opportunities, and access to resources and partnerships that promote long-term success in the modular construction industry.
As an industry outsider, I went into the convention with very little knowledge about the modular construction industry. Throughout the day, I got the chance to speak with various tradeshow exhibitors, conference attendees and attend breakout sessions presented by industry professionals.
Ultimately, World of Modular 2022 worked to reunite the modular construction industry after several years of uncertainty due to the pandemic. Below are the key highlights from this year's tradeshow and some of my own impressions.
The Modular Construction Industry's Social Network
The primary reason organizations choose to attend MBI's World of Modular is the networking opportunities available at the event. For nearly 40 years, industry experts worldwide have come together at World of Modular to share ideas and experiences and seek mentorship from industry leaders. While I went into the event knowing that professional networking opportunities were crucial for most professional industries, speaking to individuals at World of Modular drove home just how vital professional connections are in commercial modular construction.
Several people I spoke to agreed the pandemic left many commercial modular construction stakeholders uncertain about the industry's future. This year's conference provided the opportunity to re-establish connections, learn how other construction firms have handled the unique challenges posed by the pandemic, and establish new professional relationships.
Krzysztof Droszcz, the founder and owner of iQ Module, summarized the benefits for many conference attendees perfectly. "World of Modular has been great. We invested a lot into modular expansion in the US two years ago, and that was destroyed by COVID. We couldn't even get here through Europe. Now, it's perfect. The convention is the perfect place to be. We've refreshed a lot of friendships and professional relationships and connected with some new companies as well. We achieved exactly what we came here for, and it's been great."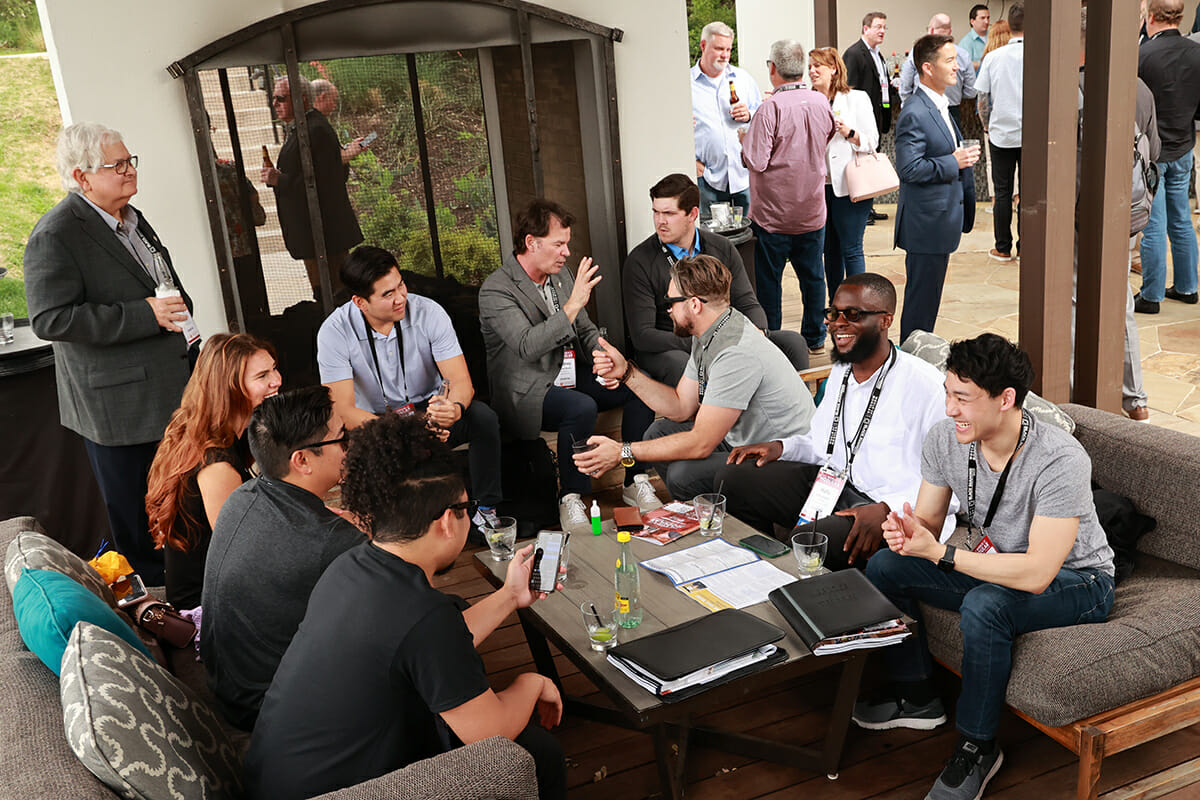 World of Modular attendees laugh and foster relationships at one of the modular industry conference's many networking functions.
World of Modular is the largest convention for the modular construction industry. This year the tradeshow sold out, with over a thousand industry experts and commercial modular construction firms in attendance. Overall, everyone I had the chance to speak with agreed that it's hands down one of the best opportunities for organizations actively involved in modular construction and those looking to invest in the modular construction industry to come together, connect, and learn from each other. Even as an outsider to the industry, I found that when I asked questions about processes, projects, and the general day-to-day operations, the conference attendees were more than happy to speak with me. Ultimately, everyone showed genuine interest in fostering an environment in which both established professionals and newcomers to the industry felt welcome.
Forming Professional Contacts in the Exhibition Hall
The tradeshow exhibition hall offered attendees the opportunity to mingle, network, and form professional industry contacts. Frequently, I overheard attendees saying the exhibition hall was one of the most beneficial aspects of the conference. As Krista Short, Director of Marketing for Falcon Structures, explained, "The exhibition hall was an amazing experience. We could connect with many people that we would not be able to connect with normally. It was a packed hall, well attended. I think anyone exhibiting there got to talk to tons of people who will benefit their business."
This year's conference hosted over 100 different exhibitors in attendance, providing dozens of services to the industry. When speaking with attendees, several agreed that they often connect with their key service providers at the World of Modular convention. Exhibitors like Lesley Reeder, the Vice President of Sales at BT Modular, agreed that the conference was beneficial. "It was an amazing experience. We're first-time exhibitors. There was great communication, lots of traffic, and lots of contacts. We'll 100% be there next year."
Ultimately, the exhibition hall was not something you wanted to miss. Alongside the ability to network with other industry professionals, establish new professional contacts with service providers, and learn more about the modular construction industry, being part of the crowd at the exhibition hall was genuinely a fun experience. Despite being an industry outsider, I found it easy to feel comfortable wandering the hall, speaking with exhibitors, and interacting with the guests. World of Modular created a perfect environment for professional communication, networking in conjunction with taking a step back and enjoying the company of other industry professionals.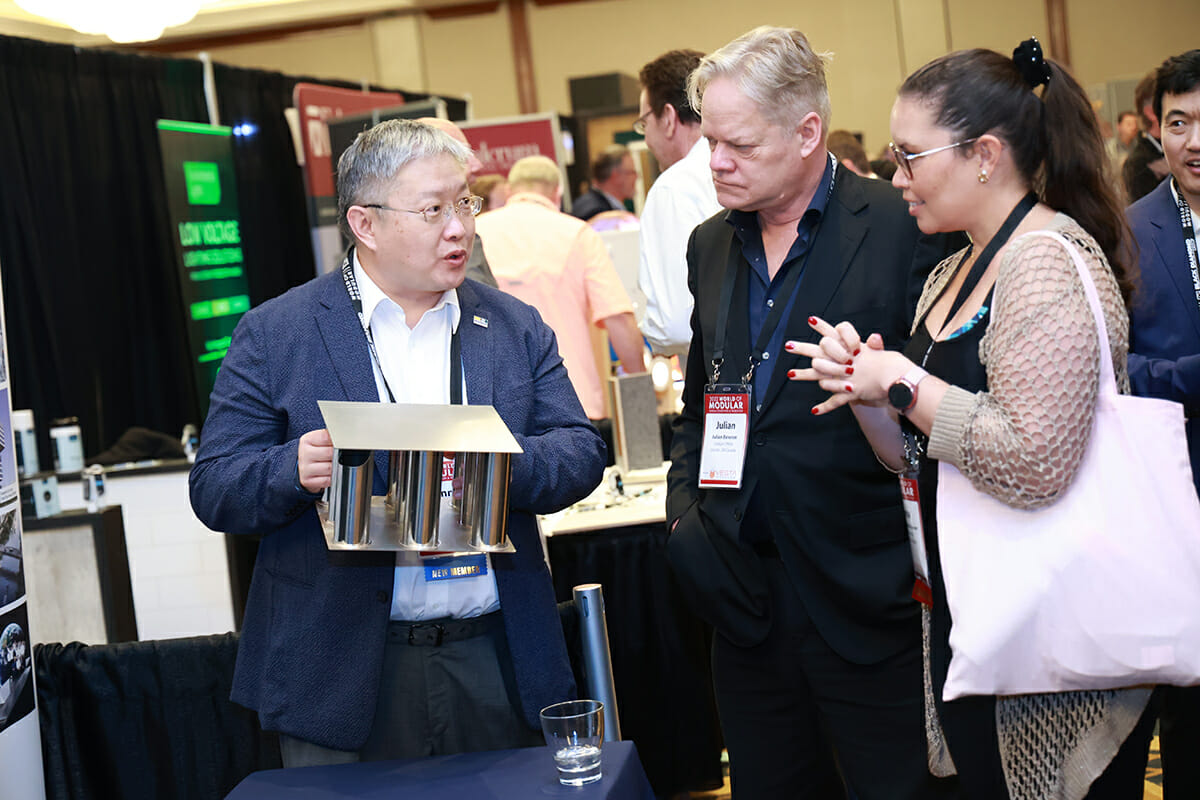 Sunny Wang of BROAD U.S.A. shows off his company's B-CORE stainless steel building material to fellow World of Modular attendees Julian Bowron and Bruna Rafaela Xavier.
Just by listening to those around me talk, it was evident that the exhibition hall allowed guests to relax and socialize. However, I also noticed that many other guests seemed revitalized by the presence of their peers - tables along the edges of the exhibition hall housed groups of individuals enjoying a few drinks while discussing plans, forming partnerships, and reviewing project documents alike. It was one of the best opportunities of the day to consider new business decisions while connecting with those in the industry.
Breakout Sessions and Educational Opportunities
Finally, World of Modular offered attendees the ability to attend expert-led breakout sessions. These sessions served as educational opportunities for individuals across all departments in the modular construction industry. The 2022 convention hosted a wide variety of breakout sessions throughout the week, including several case study presentations, an opportunity to learn about up-and-coming industry standards for modular buildings, and HR-, leadership- and marketing-related sessions.
Whether you attended as a representative of your organization's modular leadership team, HR department, or, like me, as someone without any industry knowledge, you were likely to find a breakout session tailored to your interest. Leaders and experts from across the industry presented valuable information to conference attendees based on pers
Conference attendees walked away with new insights and structures to plan for long-term success in the modular construction industry. Key breakout sessions, such as Tuesday's "Introduction to the ICC/MBI Off-Site Construction Standards," presented by Ryan Colker, Vice President of Innovation at the International Code Council, provided a breakdown of MBI and the International Code Council's new American National Standards for modular construction. The session also answered questions about how local and state municipalities apply these standards in correlation with traditional building codes.
Attendees gather to learn from one of over 50 educational breakout sessions at the 2022 World of Modular.
Other sessions, such as "Does Your Site Suit Modular," led by Ken Lowney, President and CEO of Lowney Architecture, and Scott Bridger, Principal of Proset, Inc., combined real-world experience and expert insight on the importance of choosing the right site for modular construction. Their presentation provided attendees with new and unique perspectives on the advantages of planning for success when taking on a new modular construction project.
Before World of Modular, I had what I would consider "surface-level" knowledge regarding the modular construction industry. However, despite my limited knowledge, I found that each of the breakout sessions I attended - even the more technical ones - were easy to follow and taught me a lot about some of the best practices in commercial modular construction.
Almost everyone I spoke with expressed how beneficial these breakout sessions were for their teams. When asked about the overall value of the breakout sessions during this year's convention, Mike Wilmot, President and Founder of Wilmot Modular and Chair of MBI's Board of Directors, said, "It's been spectacular. We've seen so many industry experts. The industry is changing greatly, and we believe that we're going to be able to do wonderful things. Great, great convention and wonderful people."
Whether you attended World of Modular 2022 as a speaker and a well-known commercial modular construction industry leader or as an outsider interested in investing in the modular construction industry, there was something to be gained from this year's convention. I quickly learned how welcoming and accepting those in the industry are to newcomers and how vital forming personal and professional connections are to helping achieve long-term success. Everyone was eager to learn from each other, and I saw several happy reunions among acquaintances throughout the time there.
After several tough years for the industry, it's clear that this year's tradeshow was more valuable than ever. Industry professionals across the globe took advantage of the event to reconnect, share resources, and create professional connections to help the industry continue thriving in the years to come.
Kasey McElroy is a freelance writer based in San Antonio, TX.
More from Modular Advantage
The city of Malmö in southern Sweden is set to welcome a new student housing project Unity Malmö, comprised of 5 building blocks, 450 micro-living apartments, where Forta PRO delivered 269 modules, total of 9,671.9 m2.