Inside-Out Modular Design-Thinking
Bobby Vance is the Architectural Project Manager at ModularDesign+, which is a wholly-owned subsidiary of CannonDesign, a global architecture and engineering firm.
Based in Texas, ModularDesign+ delivers panelized wall systems, non-structural pods, and structural volumetric modules for a variety of sectors, including hospitality, healthcare, education, and multi-family.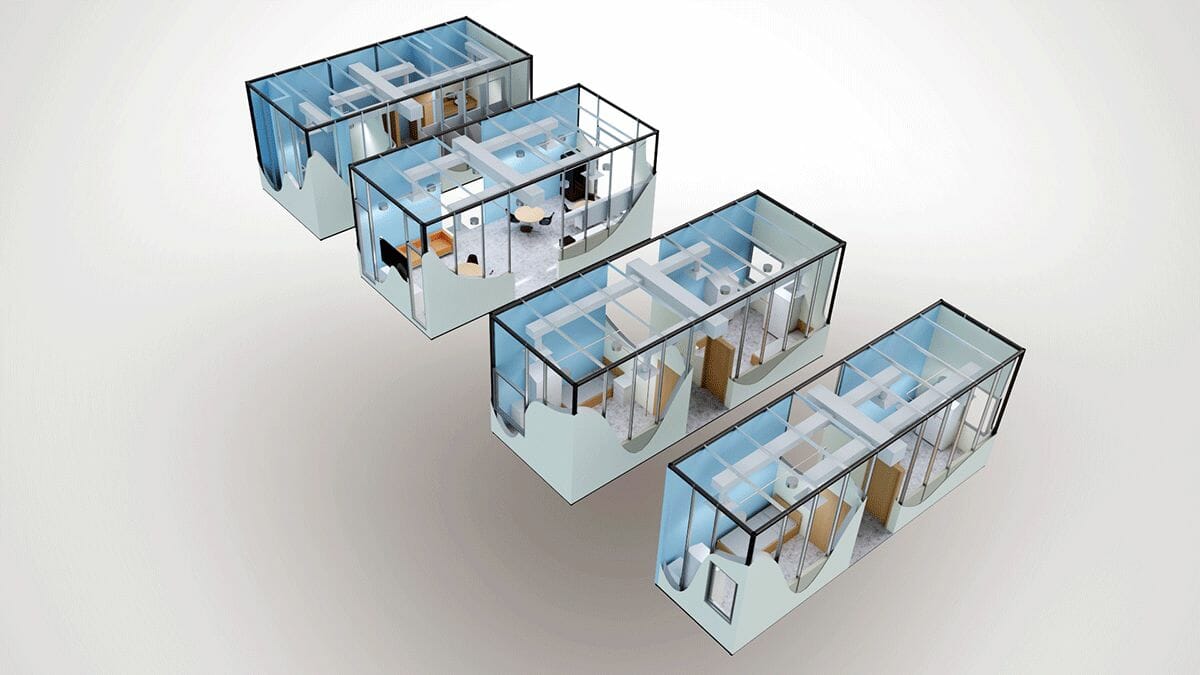 An example of structural volumetric modular solutions for homeless shelters from ModularDesign+.
Buildings as Organisms
Modular design-thinking respects that buildings change over time, Vance says. He illustrates his point with the example of hospital expansions. Suppose a hospital needs a larger emergency department. The current ER can't be shut down while they renovate it, and it can't continue to function while renovations are carried out in the space. So, an entirely new wing might be built. "Then they relocate to the new space, rip everything out of the old space and turn it into an entirely new department. It's slow and wasteful," says Vance.
The traditional architect who designed the hospital didn't think about how it might change in the future. But, in Vance's view, "Architects have a responsibility to think through the whole lifespan of a building and how we can reduce waste."
Vance describes an alternative scenario in which the hospital is made of re-locatable components. If one part of the building is under-used, but the ER needs more space, "You could literally move the components around. Nothing needs to shut down. No new buildings need to be constructed. And waste is reduced."
When there's no under-used hospital space that can be re-located, the building design should make it easy to add on additional components that are manufactured offsite, minimizing disturbance to patients and hospital staff.
The idea of relocatable modules or pods excites Vance about housing too. "What if you could just unplug your entire kitchen and re-sell it? You could get a new replacement kitchen and plug it into the rest of your house. What if you could take parts of your home and move them around like pieces of furniture?"
This design offers double-loaded corridors for efficient clinical planning in healthcare settings.
Repeatable Designs and Standardized Components
As well as incorporating future iterations of each building, modular design-thinking should also incorporate repeatability, which generates efficiencies.
"In traditional architecture, there's this strange notion that every building needs to be unique and site-specific every single time." But an advantage of offsite manufacturing is that it provides the opportunity for repeatable designs. There's often no good reason to design a building completely from scratch and it's inefficient to do so.
Vance says, "A Hilton Hotel in Miami should have the same quality as a Hilton Hotel in Salt Lake City. And the hotels in different locations can have brand recognition through similar room layouts." But repeatable designs doesn't mean uniformity, just as mass-produced cars have options for customers to choose between. "There are small changes we can make to the Hilton Hotel rooms to keep them fresh, but also deliver them efficiently."
We accept that cars are not designed from scratch for each customer. A car design is repeatable, and the components of a Toyota Highlander, for example, are standardized so they can be interchanged — a straight swap between a hitch ball with a 2,000 lbs rating and one with a 6,000 lbs rating, for example. That's how the manufacturer can efficiently customize.
"At the end of the day, there's one chassis for the vehicle and various standard components, but that's enough to enable tweaking the design for each customer," Vance says. "We should have that kind of expectation with our buildings."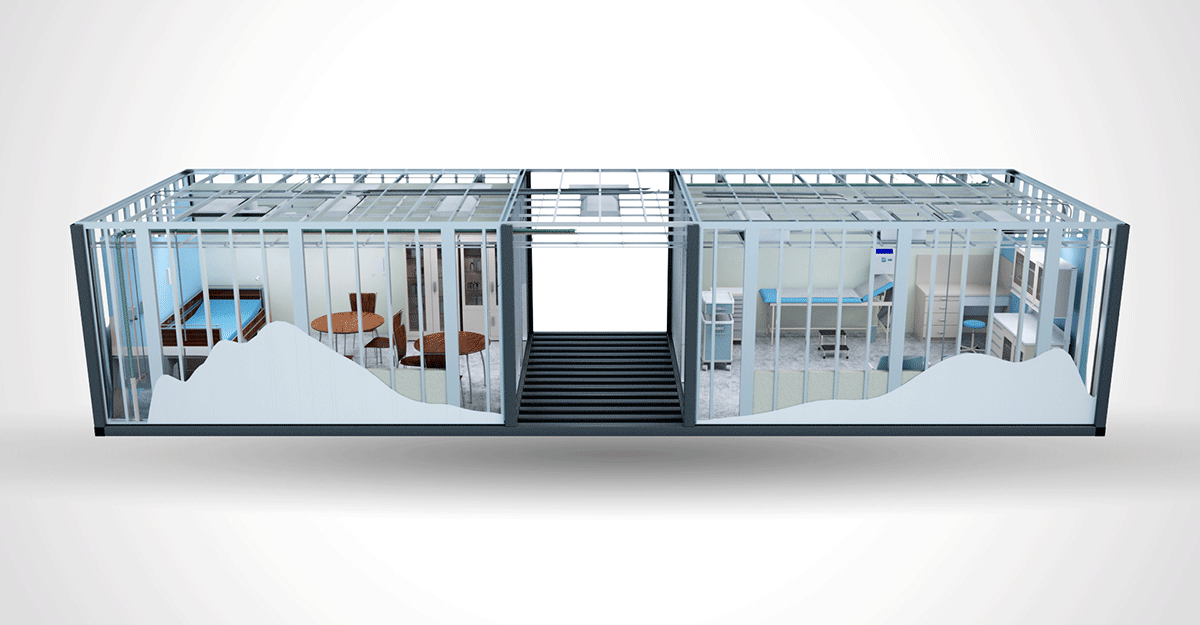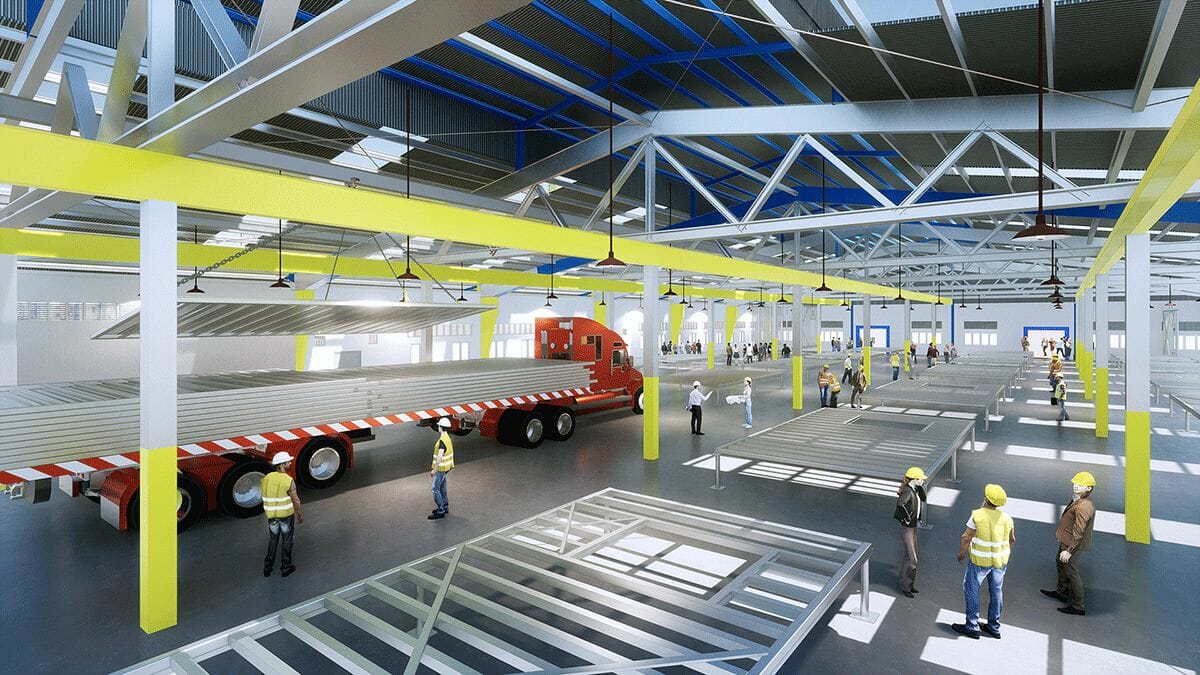 Outside-In vs. Inside-Out Design-Thinking
Vance explains the difference between outside-in and inside-out design-thinking. "Traditional design is an outside-in approach, focusing on the image that can be sold to the client or the community. As a traditional architect, I was selling that exterior vision first, and afterwards working out the components."
Now, Vance takes the exact opposite route. "When I design for modular construction, I take an inside-out approach. I design the inside first and then grow that outwards into the overall building," he explains. "It's seeing through a different lens and focusing on different values. Of course, all stages of design are important, but starting inside, where people will be — designing the rooms, designing the door handles and other components, and how they all come together — is a more human experience than starting with the grand scale of the overall building."
Every single building material is already standardized, Vance notes. Things like drywall and studs come in standard sizes. "Designing from the inside means keeping those standards in mind — instead of ignoring them and having tradespeople 'make it fit' an uninformed design. That alone is going to increase efficiency and reduce waste."
Vance's design studio is "literally attached to our production facility." He frequently observes what the production team is doing, which allows him to adjust his drawings on the fly. "This contrasts with getting to the end of a building project and discovering that some things didn't work, or were really inefficient or wasteful — just because I wasn't engaged with the building process."
World of Modular Presentation
Vance's presentation at the 2022 World of Modular will elaborate on the differences between the inside-out and outside-in approaches and other differences between modular and traditional design-thinking.
Solar Decathlon
Bobby Vance earned his Master's degree in architecture at Virginia Tech, after he'd already been working as an architect for a few years. As part of his degree, he worked on FutureHAUS, a modular house which was the only US entrant in the 2018 International Solar Decathlon Middle East competition, held in Dubai. The project won the competition.
After the team won, they were asked if they could bring the building to Times Square for NYCxDesign Week in 2019. "We'd made it so it could be transported, so of course we could! We set up that house in 72 hours, disassembled it in 36, and it had 100,000 people visit it in two weeks," Vance says.
Because the modular building was transported, set-up, and disassembled more than once, "There was this sense of speed and iteration, even after construction was finished." This experience changed the way Vance thought about design. Before the FutureHAUS project, he'd thought it would take him a couple of years to design a project, and then three years for someone else to build it. A slow process, that ends when construction is complete.
But Vance thinks architects should keep in mind that "buildings evolve over time — we paint, we renovate, we build additions. Buildings aren't static, they're like living organisms." Vance's modular design-thinking involves considering how buildings change over time. Designing for modular includes thinking ahead to renovations and additions across a building's lifetime — not just to the point when construction is completed, as with traditional design.
About the Author: Zena Ryder is a freelance writer, specializing in writing about construction and for construction companies. You can find her at Zena, Freelance Writer or on LinkedIn.
More from Modular Advantage
For this project, Forta PRO delivered 72 buildings, 144 modules, with 5,200 m2 of gross modular area. With final onsite completion in June 2023, it provides exceptional long-stay accommodation in a stunning and serene environment.