Offsight's Value Add to Your Factory
About the Author: Andrew Xue is the chief operating officer at Offsight, a developer of factory project management software for the offsite construction and building components industry.
The offsite and modular construction industry is booming. Over the coming 5 years analysts predict a fundamental shift in the construction industry, resulting in a new $256B annual profit pool up for grabs. This new demand has incentivized the founding of many new factories and the expansion of many currently operating modular businesses. These factories, which are at various stages of production maturity, face an important choice. When is the best time to implement technology and is technology needed to improve and manage quality reporting and operational processes?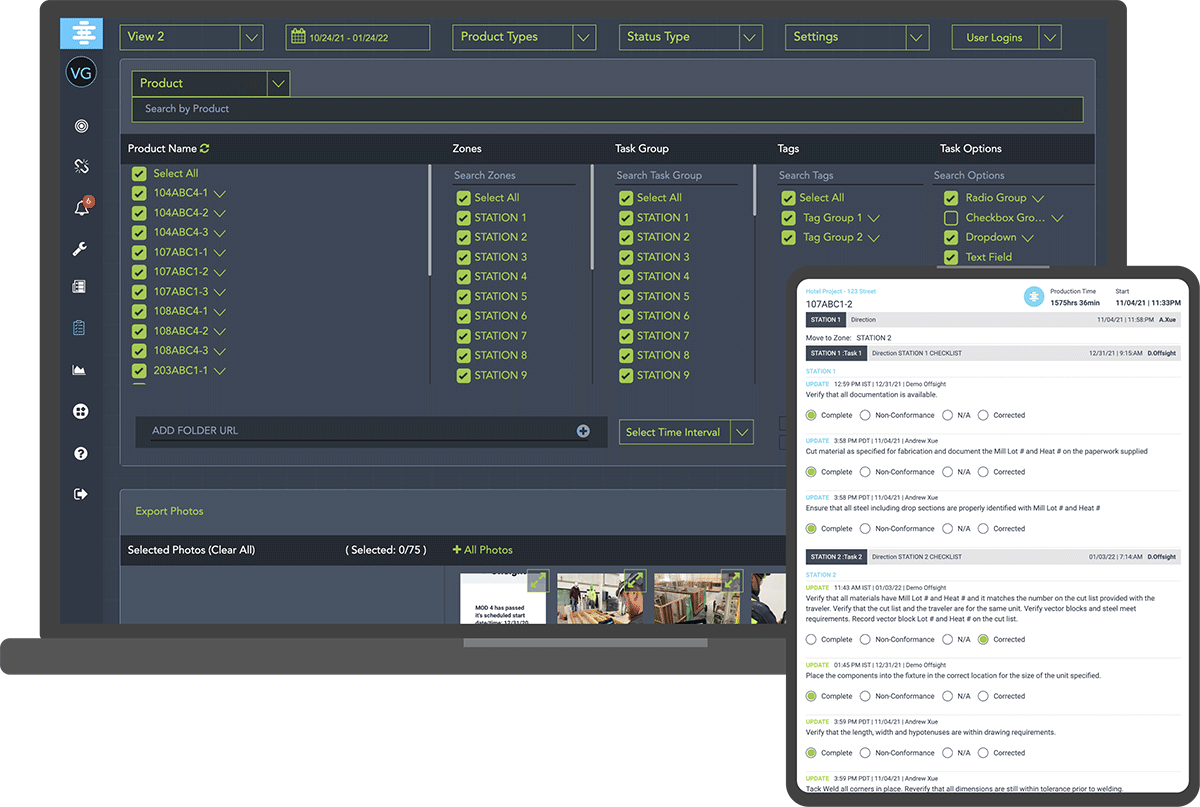 In this article, we outline the value of Offsight's factory project management software across several clients that participated in case studies after implementing Offsight:
Volumetric Building Companies (VBC) is a vertically integrated manufacturing and construction company that uses Offsight's project management software to provide module-level visibility to all critical stakeholders and ensure every offsite project is successful. Offsight provides a multitude of customizable checklists to track production and quality of each module. After module delivery, Offsight digitally stores the entire history of the module and all relevant activity in the History tab. This includes all production interactions such as images taken on the factory floor, checklists completed and production data, which can be leveraged for future offsite projects.
Z Modular, a subsidiary of industry steel giant Zekelman Industries, has implemented Offsight's project management software at their Chandler, AZ and Killeen, TX modular manufacturing facilities to streamline product quality and production progress tracking. Offsight's software helps manufacturers maximize scalability in their process, coordinate with many internal and external project stakeholders and provides a level of flexibility necessary to accommodate a wide variety of commercial modular projects.
See our Online Case Studies
The rapid rise of offsite and modular construction across multifamily, commercial, affordable housing, workforce housing and hospitality projects have shifted work from the traditional construction jobsite to the factory. With this process shift and move to modular, owners and project stakeholders are increasing their expectations around managing production quality and reporting at the factory level. In this case study, we walk through how industry leaders leverage Offsight to track factory quality and manage crucial internal and third-party reporting.
The global modular construction market is booming and expected to exceed $100B by 2025 with steel modular construction expected to be the fastest growing segment over the next 5 years. This bodes well for many steel modular manufacturers, including Offsight's customer Z Modular.
Check us out at the 2022 World of Modular
Implementing Offsight's technology, even at the early stages of your factory's prototyping and design production stage, helps you avoid rising operational costs and position your business as an innovative and thought leading brand for operational and quality excellence from day one. If you're interested in learning more, we encourage you to visit our booth at the 2022 World of Modular Conference. You can check out our product in action or reach out to our team directly at sales@offsight.com to schedule your private demo.
More from Modular Advantage
For this project, Forta PRO delivered 72 buildings, 144 modules, with 5,200 m2 of gross modular area. With final onsite completion in June 2023, it provides exceptional long-stay accommodation in a stunning and serene environment.