In Rough Times, Black Diamond Shines
Trevor Haynes is the co-founder, chairman, and chief executive officer of Black Diamond Group. Black Diamond rents and sells modular space solutions and workforce accommodation solutions to customers in Canada, the United States and Australia. In this article, Trevor discusses his company's history of supplying aid following natural disasters and how disaster response involves more than the 'nuts and bolts' of transporting assets.
Black Diamond was founded in 2003 in Alberta, Canada. Initially, the company focused on leasing and selling space for remote workforce accommodation in the oil and gas sector in that province, and the company grew rapidly. Trevor Haynes is Co-Founder, Chairman and Chief Executive Officer. He says, "In 2005, we made acquisitions in Eastern Canada to build up our non- accommodation related fleet there, and then we moved into the US in 2009. We acquired a business in Australia and started operations there in 2013."
At the same time as expanding the remote workforce accommodation side of the business, Black Diamond also developed the side of their business devoted to selling and renting out modular space for other purposes and in other industries — such as for offices, classrooms, medical facilities, and disaster relief.
The disaster relief reach of the company is extensive. "Black Diamond has the capacity to respond to emergencies anywhere in Canada and Australia, and in the lower 48 states of the US," Haynes says.

When the town of Paradise, California was ravaged by fire in November 2018, thousands of people were displaced from their homes. The masses of destroyed homes required a large-scale cleanup effort, which was fulfilled by more than 1,500 cleanup crew members. As remediation efforts began in 2019, Black Diamond Group, along with Odin Construction, mobilized nearly 300 modules to create temporary living spaces to accommodate cleanup crews.
Preparation and Flexibility
Haynes says that the first disaster recovery projects the company were involved in were "a bit ad hoc" but now, having been involved in disaster recovery for over a decade, their process has evolved. "We've built up an internal knowledge base within our team for how to respond to disasters. We've also developed a network of connections — with companies that provide food or janitorial services; those that deal with construction, transportation, power, and waste; with suppliers; and with government agencies that manage emergency services."
Furthermore, Black Diamond is now more proactive about responding to invitations to tender from agencies that are tasked with managing emergency relief, especially in the US. "We bid and secure those contracts. Then, if something happens in a particular area where we've been pre-selected, we can know in advance which agency will be engaged and that we'll be responding there."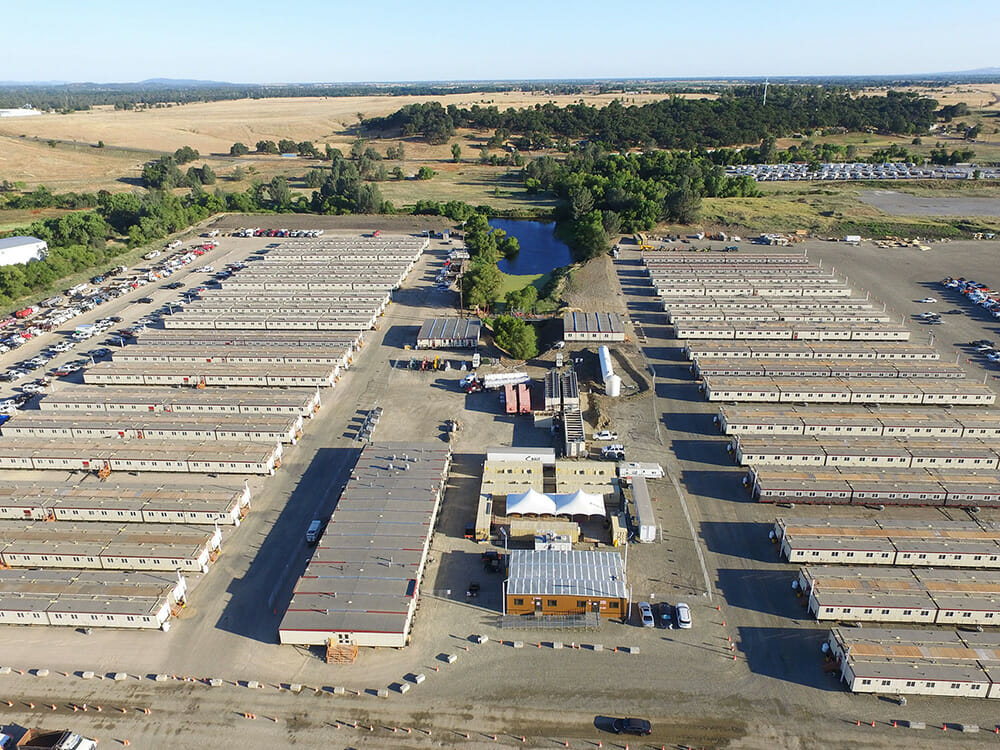 By closely monitoring supply and demand of their products in the markets they serve, the company has a better understanding in advance of what might be needed if and when a disaster strikes in one of those areas. "We also organize in advance the partners we need to engage with in order to provide the full scope of those contracts," Haynes says. "Ten years ago, when a disaster occurred, we might have scrambled to provide the necessary service. But these days, we're much more organized ahead of time."
Haynes says that companies that are successful in responding to emergencies have the capacity to be flexible with their assets and are able to react quickly to assemble what's needed. When a disaster hits, it can often be chaotic, especially in the initial stages. "Even trying to figure out who has the authority to sign a contract can be confusing." So if a company wants to be able to help out with disaster relief, Haynes recommends getting as much information as possible ahead of time. "Understand how emergency management works, whether that's at a county, state, or federal level. If you don't understand how everything fits together, you can make mistakes and end up expending resources and not getting paid for them in return."
Over the years, Black Diamond has helped out with many disasters. To follow are a few examples.
California Wildfire
Paradise, California was devastated by the massive Camp Fire in 2018. 85 people lost their lives in the fire and, in Paradise alone, more than 11,000 homes burned to the ground. To temporarily house the people who were working on the clean-up and remediation of the town, Black Diamond shipped 297 modules from western Canada. They provided 1,496 beds on 20 acres. Each room had a TV, air conditioning, Wi-Fi, and either a private bathroom or a shared Jack-and-Jill bathroom. There were two recreation facilities, a gym, an entertainment room, a large kitchen, and a dining room on site.
"It was a big logistics exercise to organize all the trucks to get across the border and through Montana, Idaho, and Nevada,"
Haynes recalls. He explains that there are differences in the rules for transporting over-dimension loads between Canada and the United States, and between the different states — and these rules can also vary by season and time of day. The building codes between Canada and California also differ. "So it was a complicated project. But because it was an emergency, we were able to work with federal and state emergency management offices to get the expedited approvals or waivers we needed."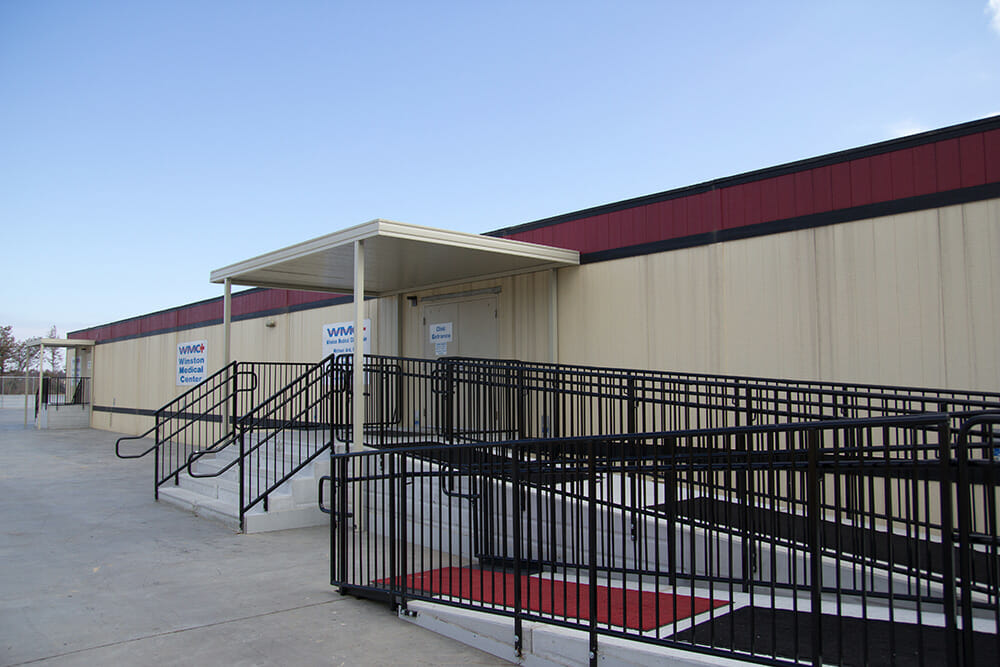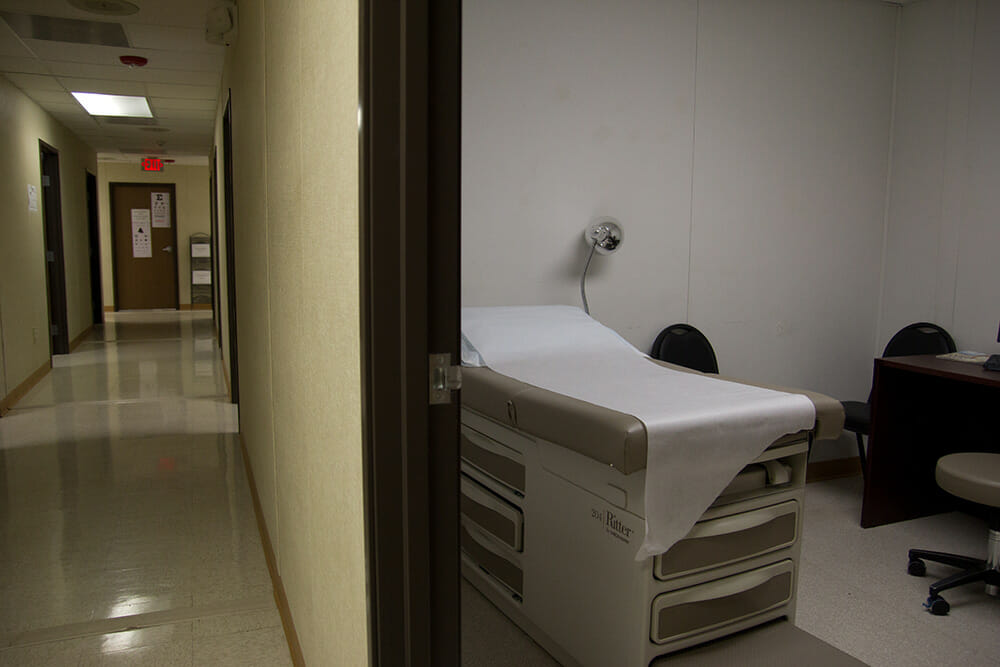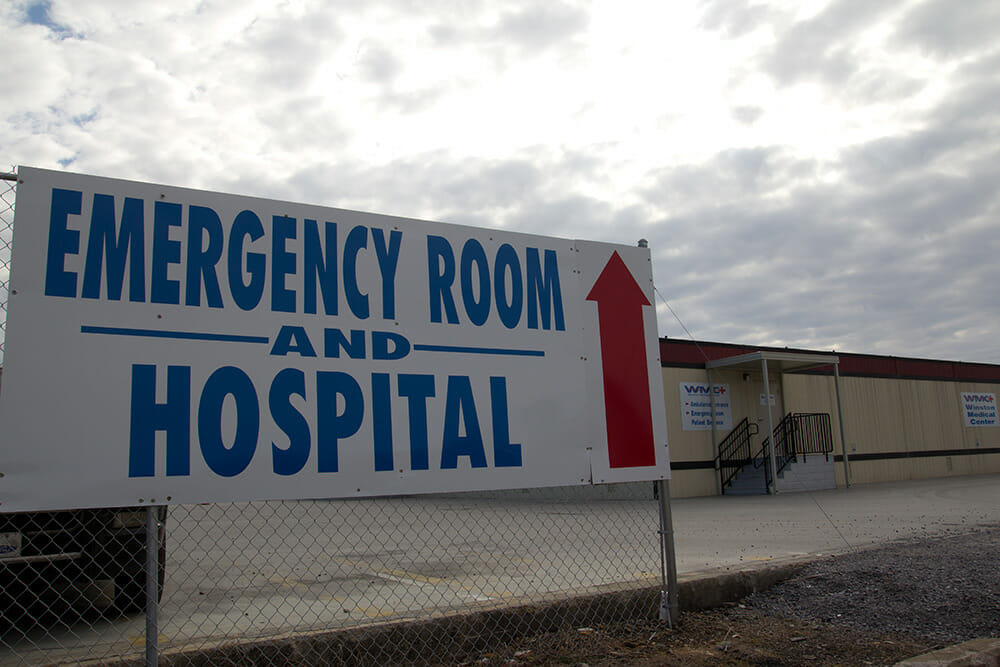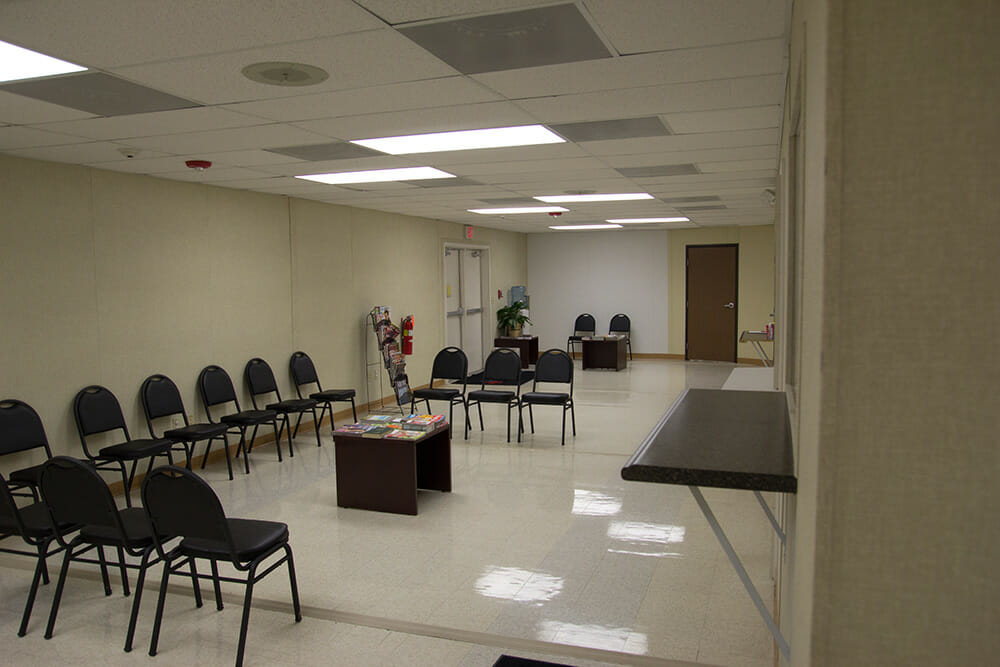 Following an EF-4 tornado struck Louisville, Mississippi, and destroyed Winston Medical Center, Black Diamond-subsidiary BOXX Modular was able to install a fully functional clinic/screening facility including interior build-out and customization, concrete building access systems, fire alarm and associated work in only 9 days.
Mississippi Tornado
"We have some equipment that's ready to be used as clinics or other light medical facilities. In other cases, it just takes a minor retrofit to provide the solution," Haynes says.
Black Diamond has contractual relationships with general contractors who service the US Veterans' Integrated Services Networks. When the older hospitals or palliative care facilities in their networks are being refurbished, Black Diamond provides the organization with temporary facilities they can operate from until the work is completed. "Because of that, we have medical assets in our system relocatable all over the United States. So, when a tornado destroyed a medical facility in Mississippi in 2014, we were able to redeploy one of those buildings to temporarily replace that facility."
Bank Buildings: Responding to Disasters of All Kinds
Even though the company owns about 14,000 buildings, they generally don't keep any of them in reserve in anticipation of disasters that may or may not ever happen. In the long term, an average of between 75% and 85% of that total are deployed at a given time, with the remainder being stored in the company's yards. "But, because we have a number of branches and holding yards in our system, and because of the way our business operates, we tend to have assets available nearby when an event occurs. That's one of the benefits of being a larger company." The speed of their response to emergencies relies on good inventory tracking and knowing where every asset is so it can be mobilized at a moment's notice. It does not rely on keeping buildings in reserve.
There is one exception, though. There's a specific type of building that Black Diamond does keep in reserve, through their MPA Systems subsidiary: bank buildings. These modules meet very strict and specific requirements for the banking industry, including being impervious to break-ins, bulletproof glass, cash safes, and so on. And it's not uncommon for these bank buildings to be deployed.
"Banks in the United States are legally required to be up and running within 72 hours after a disaster," Haynes explains. "So we have contracts with our banking customers to provide them with special modular bank buildings so they can be operational within that 72-hour window." In addition to the customers that have contracts with Black Diamond, other banks also approach them in the aftermath of a disaster, urgently looking for a temporary replacement bank building.
"Recently, we deployed bank buildings in the New Orleans area due to Hurricane Ida. In addition to hurricanes, we've also responded to tornadoes, floods, and fires," Haynes says. Sometimes a disaster is widespread and sometimes it's an isolated event that affects only one branch. But an isolated event is nevertheless a disaster for that bank that now can't operate from that branch. "While their permanent building is being repaired, we can set up a temporary bank in their parking lot, and quickly have them operating again."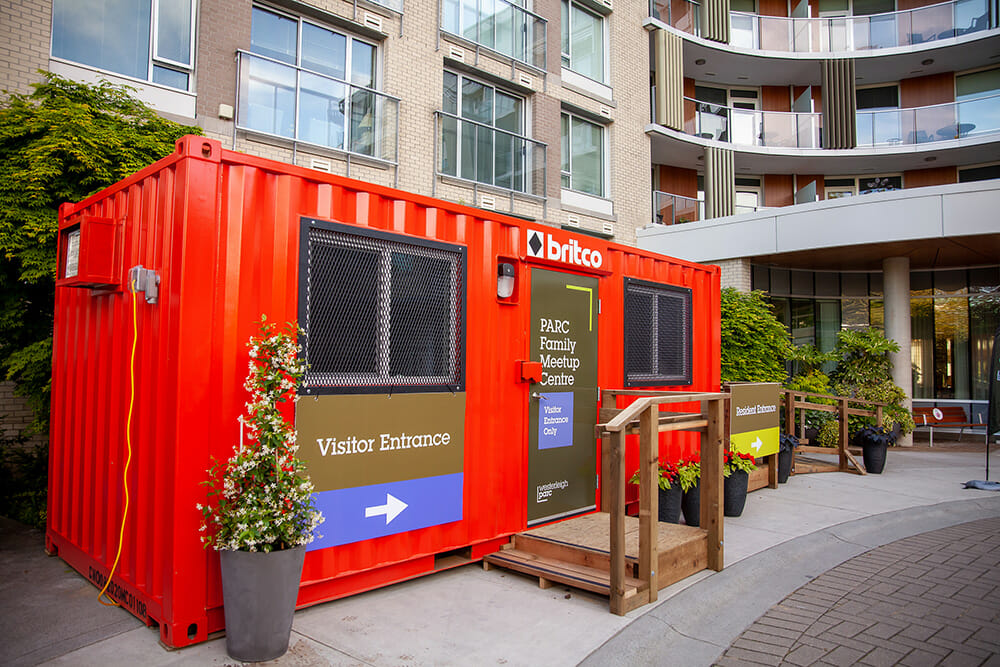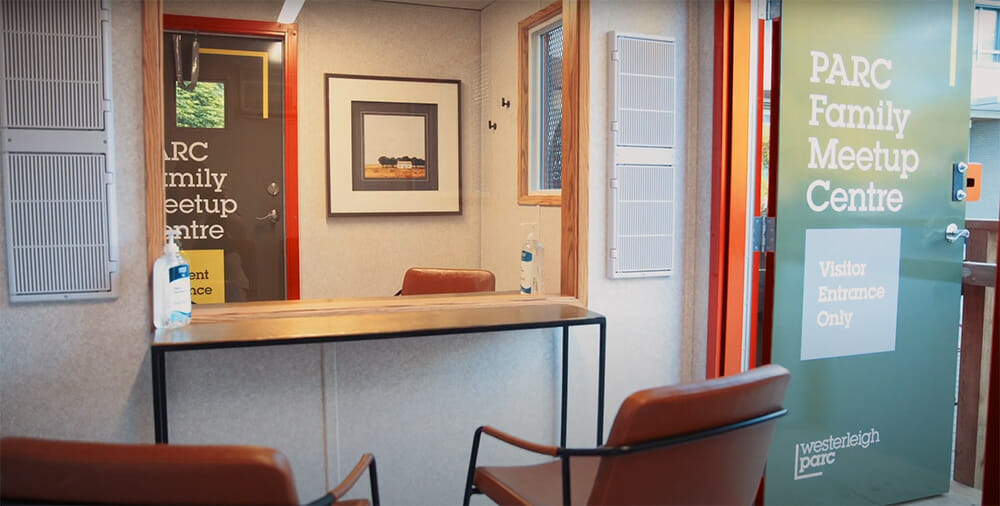 To lessen the risk of spreading COVID-19 between PARC residents and their guests, several precautions had to be implemented in these modular Family Meet-Up Centres. Proper air filtration was required, both within the units and to and from the outdoors, and a barrier was required between residents and guests to establish physical distancing.
COVID-19
During the pandemic, Black Diamond provided temporary spaces — such as offices and lunch rooms — to many different businesses and organizations so they could continue operating while allowing employees to physically distance. They also supplied additional space for penitentiaries, extra dormitory accommodation for college students, and pre-screening space for medical facilities.
"One of the most interesting applications we were involved in during the pandemic was creating spaces where family members could safely visit nursing home residents," Haynes says. Britco, one of Black Diamond's subsidiaries, designed and built these special units for PARC Retirement Living Communities in British Columbia, Canada. Each unit was equipped with HEPA filtration vents, and had separate entrances for residents and visitors. Inside, between the two halves of each unit, was a window so residents and visitors could see each other, and special vents so they could hear each other. These units were completed within 10 days of the contract being signed, and they won an MBI Award of Distinction in 2021.
Afterwards
After a disaster is over, leased buildings are disassembled and moved by trucks to one of Black Diamond's storage yards. "They're staged there until they're needed again — whether that's for a typical industry requirement or in response to another disaster," Haynes says. The company's assets are continually moving around to where they're needed, and then being disassembled, transported, and stored. "The process is the same whether it's the end of a disaster-related project or the end of an ordinary contract, such as offices for a construction project in a remote area that's completed."
Haynes stressed the importance of the team at Black Diamond. He wanted to make clear that there's more to a disaster response than the "nuts and bolts" of transporting assets. "Because of our ordinary, day-to-day work, our team has connections with many different communities, including remote communities," he explains. "So when fire destroyed much of Fort McMurray in northern Alberta in 2016, our team was very engaged with collecting food and clothing and getting it to that community. Our team takes pride in helping."
About the Author: Zena Ryder is a freelance writer, specializing in writing about construction and for construction companies. You can find her at Zena, Freelance Writer or on LinkedIn.
More from Modular Advantage
For this project, Forta PRO delivered 72 buildings, 144 modules, with 5,200 m2 of gross modular area. With final onsite completion in June 2023, it provides exceptional long-stay accommodation in a stunning and serene environment.