Major Projects Propel CMC's Growth and Development in Brazil
Hugo Machado is a superintendent at Brazil's CMC Modular. He works in R&D of innovative products for off-site civil construction, through modular and industrialized construction methods.
Hugo Machado is the General Factory and Engineering Manager at CMC Modular, a steel-frame modular manufacturing company based in Brazil. Traditional construction — which, Machado explains, is brick and mortar in Brazil — is very dominant there. Modular construction is new in the country, especially for housing. However, as in many other countries, "the pandemic, especially the hospital that was built in China, brought lots of attention to modular construction."
Machado says that one of the challenges the modular industry faces in Brazil is that "there are very few suppliers of the materials we need. So we end up adapting a lot of materials from traditional construction. Given the lack of options available, it can be a challenge to provide the kind of finish that clients expect." Logistics are also a challenge. "Our transport regulations don't allow us to transport larger units by road, and the roads aren't always well-maintained," Machado says. "Sometimes, we need to transport tall units on trucks with lower beds. Finding a transportation company with the right kind of equipment can be difficult."
As in many other places, hiring is also challenging — and finding people with expertise in modular construction or building in a factory environment is rare. Typically, CMC hires people with experience in traditional construction and trains them in the factory. "They like the environment and the quality of life it brings them, compared to working on traditional construction sites, one after another," says Machado.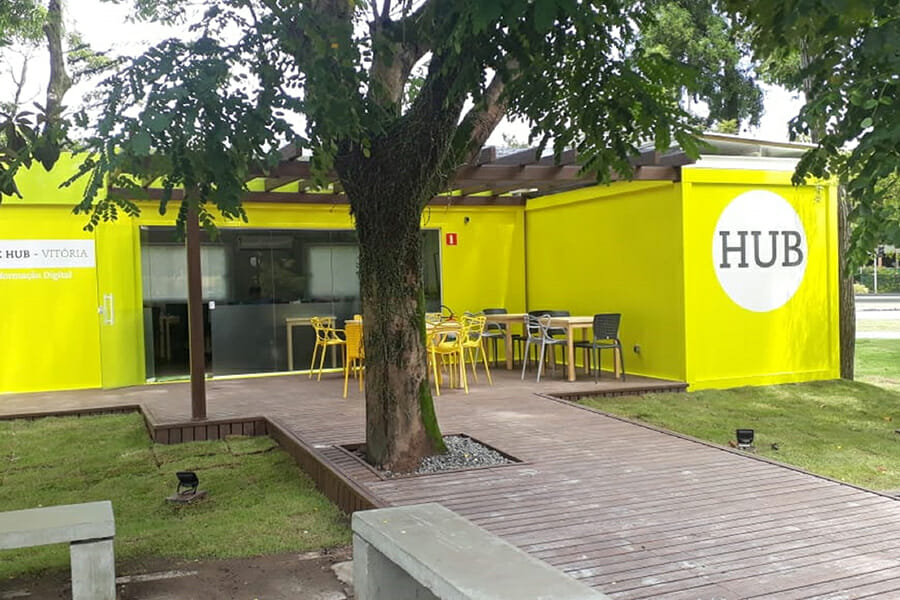 Innovation Hub
This modular structure is situated inside a Brazilian ore mining plant in Brazil. It's purpose is to foster innovation and entrepreneurship in a mining-dependent community. The client wanted a "box" or "container" building but with a less-heavy industrial feel to match existing construction. Four modules were used to create a teamwork atmosphere that blended in with the existing garden. Externally there is a partially covered deck for access to the modules, in addition to serving as a living area, with plastic wood sunroom. On the façades, the modules are completely covered with vinyl adhesive that resembles the company colors.
CMC's Beginnings and Where They're Heading
CMC started by fabricating temporary modules for workers' camps, such as offices, bathrooms, and accommodation. Eventually, clients began inquiring about better-looking buildings. "We then started fabricating commercial kitchens and fast food restaurants. Now, we're also building permanent, high-end housing."
Their next target is mid-rise apartment buildings. "We're aiming for markets that want high volume and repetition in design," Machado says.
Machado explains that clients are initially very skeptical of modular construction. "They think it's just boxes, with no interesting architecture or design." However, once they see the design possibilities, then they become interested. "Once they actually experiment with modular construction, then they are so impressed they don't want to use traditional construction anymore — because modular is fast, high quality, and provides a uniform product."
These days, CMC employs 155 people and its factory in Mirassol is about 22,000 square metres (237,000 square feet). The company's long-term goal is to be able to provide clients with a full turnkey service —including developing the land, building foundations, and delivering move-in ready buildings — even complete with furniture.
Alma Maraú Project
CMC is currently working on a 50-house holiday resort development on one of the most expensive beaches in Brazil, their first big project in the permanent residential market. The hybrid houses have modular sections and also some wood and steel components that are constructed on-site.
"It's very difficult to build in that location because there are few construction workers available, it's on sand, it's in a conservation area, and there's no infrastructure such as water, sewer, and power," Machado explains. "So, although it's quick to build the modules, completing the rest of the project is very slow. The project will launch in 2022."
The level of conservation at the construction site means that "someone supervises the local turtles to keep them safe and undisturbed. And any plants that need to be moved are taken to a nursery to be cared for before being returned to their original location."
Carajás Mine Project
One of the company's largest projects was the Carajás Mine, about 2000 kilometers (1240 miles) from CMC's factory. To access the location in the heart of the Amazon rainforest, the mining company opened roads and railroads.
"The project was really large — 2000 modules — and the client wanted lots of customization: the color of the panels, the size of the windows, specific electrical outlets, and so on," Machado says.
Not only that, but the timing was very tight. "In the first phase we delivered 962 modules in 270 days, with 300 modules delivered in the first month. This was a high volume for us at the time."
Rio Olympics Project
Another short-notice project was for the Rio 2016 Olympics. Production started in April and the modules needed to be on the site by July. CMC produced a total of 1060 modules — offices, accommodations, bathrooms and accessible bathrooms, industrial kitchens, and a dining hall.
"This was also a very customized project that we had to adapt to," Machado says. "For example, the 382 fully-equipped industrial kitchen modules we supplied needed to have three-meter high ceilings. They also needed to have a special electrical system and steel floors, which were different for us. We had to hire and train a lot of people very quickly!"
Current Focus
CMC's newest focus is on building mid-rise apartment buildings. "The buildings have been designed to be eight to twelve storys," Machado says. "Each apartment is about 25 square meters (270 square feet) and they have similar layouts."
Currently, the company is working on testing and getting the necessary approvals for the initial project, which will be the first mid-rise modular building in Brazil. Then they'll be ready to start manufacturing.
The first one built will be co-owned by CMC, along with other investors. Machado is confident the building will help overcome clients' skepticism of modular construction. "Once it's built, then other clients will request similar projects — but they need to see it first."
About the Author: Zena Ryder is a freelance writer, specializing in writing about construction and for construction companies. You can find her at Zena, Freelance Writer or on LinkedIn.
More from Modular Advantage
Roland Brown never imagined his life
would turn out this way. He retired from a nearly 50-year-long career, starting off as a draftsman in the mobile home industry to becoming the VP of Design and Development at Ramtech Building Systems, Inc., a design/build construction company in Mansfield, Texas with its own modular
manufacturing facility.