About the Author: Ewelina Woźniak- Szpakiewicz is the CEO at DMD Modular Ltd. Currently serving also a role of the Vice-Chairman of the MBI's European Council. With a PhD in Technical Sciences, she is part of the Faculty of Architecture at Cracow University of Technology (Poland). Her main focus is attaining sustainability and efficiency both in the ecological and financial aspects of the built-environment. In 2019, Dr. Ewelina Woźniak-Szpakiewicz received an award - the "Person of the year 2019" in the category "Technology Company" by 4 Buildings Awards. Most often as consumers, we make purchasing decisions on best value, along with considering time and convenience. One may purchase batteries at an airport kiosk, not because they have the best price, but because their timely service and convenient service exceeds the price of the product.
Most often as consumers, we make purchasing decisions on best value, along with considering time and convenience. One may purchase batteries at an airport kiosk, not because they have the best price, but because their timely service and convenient service exceeds the price of the product.
Modular buildings have long relied on bringing convenience and timely solutions to the construction market. The value however, is often not appreciated in terms of the cost of the product.
If a hotel can open 6 months sooner, there is 6 months of revenue found and a shorter debt service period during development.
Many business consumers will make this analysis and see the benefit of modular construction.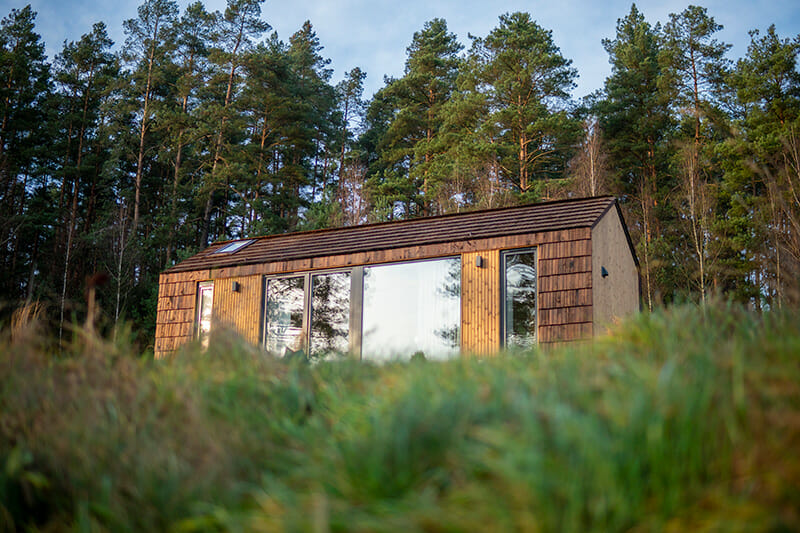 What about design value?
Does one determine the value of a painting based on its physical size or the medium used? We know historically that the value of art is a function of its uniqueness in the market, the quality of the work and the reputation of the artist.
This is the space that DMDmodular occupies with its Smart Houses. While what many would consider a diminutive size, we have established a unique design solution of impeccable quality with the reputation and brand of DMDmodular.
The modular industry is often spoken of in high volume economic solutions to low-income housing or other repetitive market challenges. But there is a consumer niche where design, quality and brand play a role.
A friend once referred to DMD Smart Houses as little jewel boxes. The attraction is not in the size nor the possibility of a discounted price, it is valued on the inspiration and satisfaction it brings to the consumer.
Of course, we bring the values of convenience and time and often couple it with financial solutions not available in normal site construction solutions.
DMD offers these solutions because of the innovative and professional team of designers who take pride in these solutions.
There will always be commodity markets and luxury markets, and while a Smart House is not priced as a luxury, it does provide the consumer with pride in owning a solution that is not "off the rack" quality at "a value that exceeds price."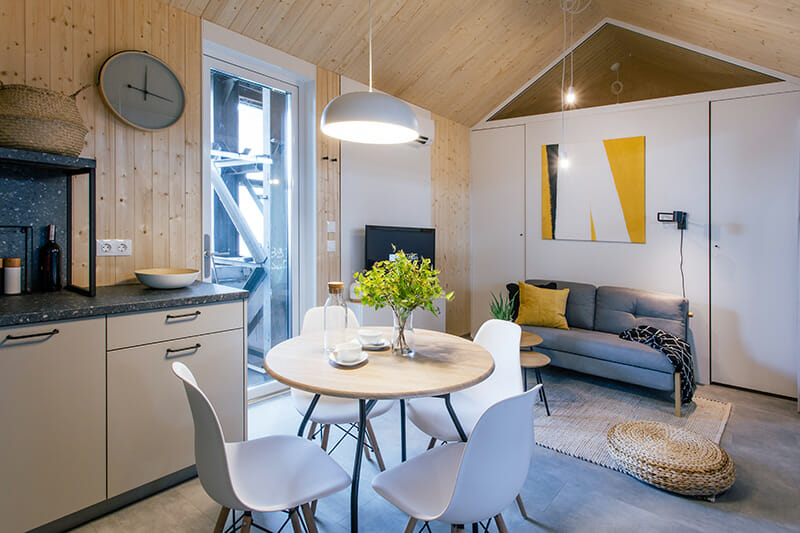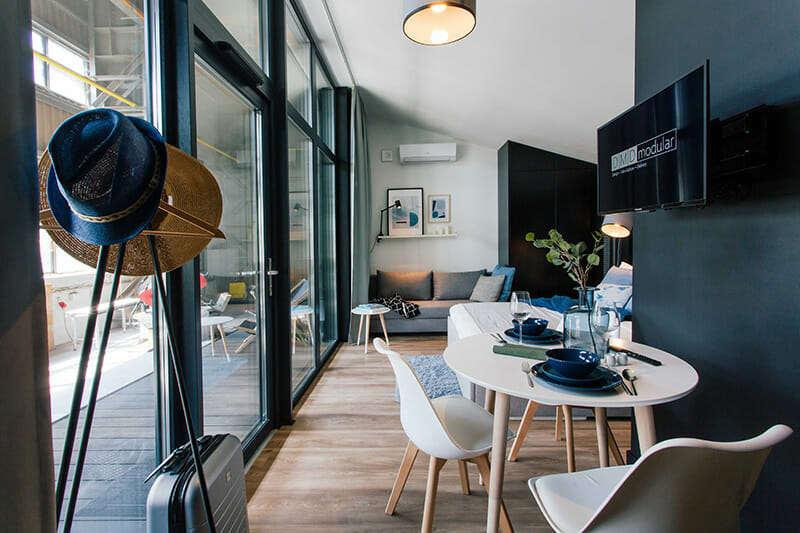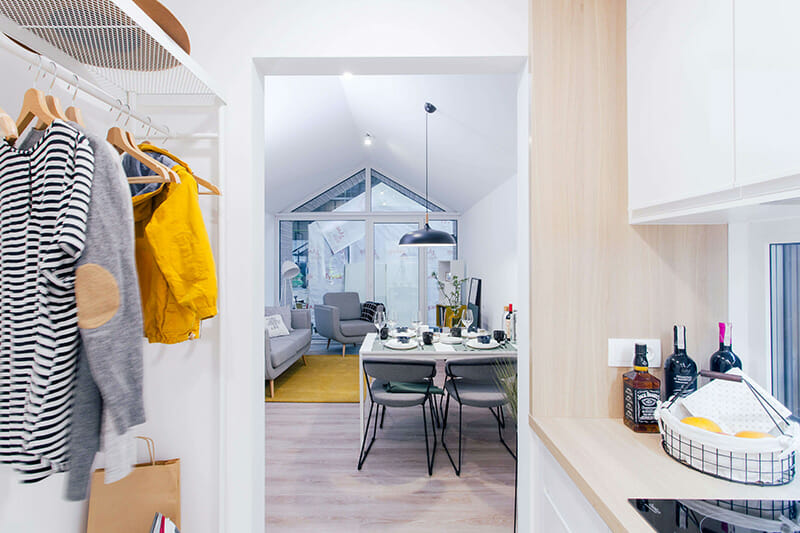 Smart Houses by DMDmodular
Three years ago, DMDmodular started to develop the series of products called "SMART Living" which is a swift, quality solution based on modular technology. The collection is dedicated to clients in the tourism & hotel sector looking for quick solutions for the development, expansion or modernization of resort complexes (holiday parks, amusement parks or resort hotels). Such a solution also allows the client to quickly increase the number of available rooms. Within the DMDmodular portfolio the clients may find products designed as one and two modules, offering space of between 300 sq ft. to 1,290 sq ft. and options of flat, shed or gable roofs. Currently the series includes 15 types of the buildings. The houses are transported to the destination with a fully finished facade, floor, walls, equipped bathroom and kitchen. DMD offers also a set of the furniture and decoration for each singular type of the product.
Pandemic & the luxury of privacy
Privacy becomes a luxury amenity and this need will stay with us for some time. It is estimated that 75% of people this year will choose places for vacation that will provide space and intimacy as well as social distance. It is said that 59% of tourists will travel to places by car, and 61% want to spend time outdoors. This is seen by the operators of recreation and leisure centers, who will invest more than ever in high-quality houses. Distributed hospitality based on individual smart house solutions is growing in strength and is driving modular construction. Most desired locations are those located in nature, close to the forest, lake or in the mountain. Hotel owners can leverage these locations by placing Smart House in the most unique surroundings.
Poland—production heritage & success story
Okay, while I may be biased, the country has become one of the hottest manufacturing environments in Europe. Poland's economy continues to perform strongly. It is set to be among the three fastest-growing economies in the European Union this year. Production and export data reveals Poland is a major producer and supplier to the automotive industry. The Polish window industry has the leading position in the EU as a manufacturer and one of the top countries on the global map. Another economic backbone is the furniture industry, developing extremely fast – fourth position in the world as the exporter, and sixth as the world's largest producer.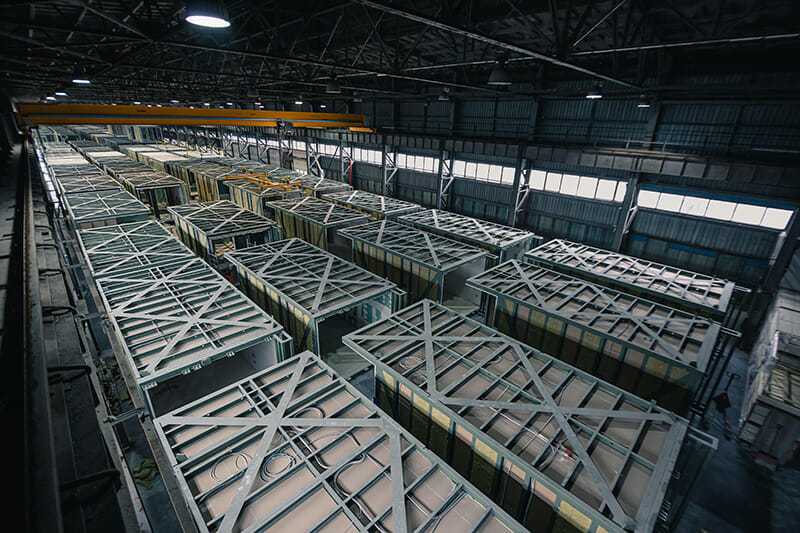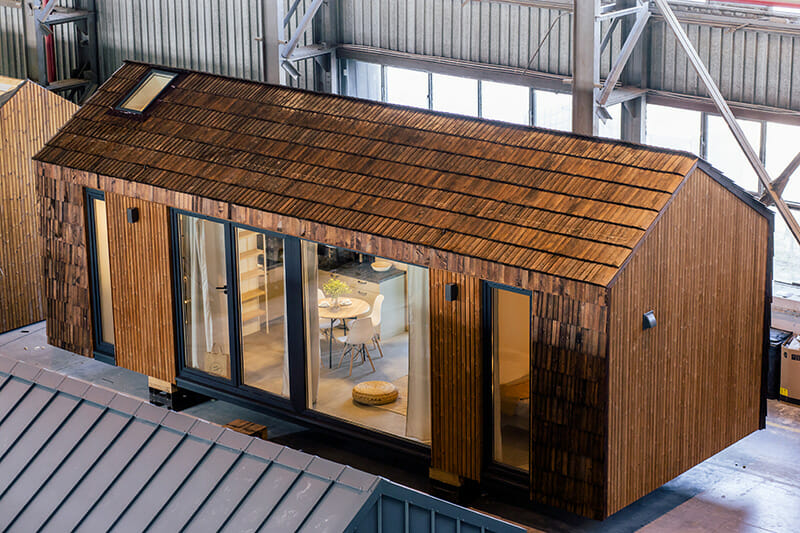 Great manufacturing environment + growing modular market = DMDmodular
There is a connection between our modular business and the furniture industry which utilizes high levels of automation in its production process vital to efficiency and quality control. DMDmodular is lucky that its parent organisation, Black Red White S.A., is one of the largest and most innovative manufacturing furniture companies in Europe – established in 1991, with around 8,000 employees and 17 production plants across Europe. DMD is an ambitious and fast- growing company with a global export approach. The core business is focused on the hospitality, recreation and residential sector, which requires high-quality standards, time reduction, flexibility and innovation. Our aim is to provide volumetric modular solutions where technology, quality and aesthetics integrate together. The company has provided facilities to Europe, the United States and is currently exploring opportunities in other regions. Notable recent accomplishments are a dormitory building in Switzerland, AC Hotel by Marriott in New York as well as a set of the smart houses to a few recreational parks in Netherlands. While continuing the own-product-based production entering new european markets (Iceland and Slovakia), DMDmodular is at the initial stages for two 5-story dormitory buildings in Scotland.
A vibrant Polish economy creates the customers for the hospitality industry
When Henry Ford created one of the first factory production lines, he not only was making cars faster and more affordable, he was making customers. He increased the wages of workers, because they needed good paying jobs to afford a car. The Polish economy not only creates opportunity for the manufacturing sector, it provides customers for the hospitality sector it services. The resorts already own the land, by adding Smart Houses, they are taking advantage of their largest asset, the wonderful environment of lakes and woodlands that attract the customers. This helps create a sustainable and scalable model for all stakeholders.
This article was first published in the Modular Advantage - May/June 2021 Edition.
More from Modular Advantage
For this project, Forta PRO delivered 72 buildings, 144 modules, with 5,200 m2 of gross modular area. With final onsite completion in June 2023, it provides exceptional long-stay accommodation in a stunning and serene environment.