Why Modular? Lessons Learned Through Modular Design
About the Author: Gary Badge is a graduate from the University of Florida. He's been with FK Architecture (A Fugleberg Koch Company) for 17 years and his projects range from hospitality, multi-family, mixed-use, F&B, and renovations. Gary's roles as Managing Member include business development, operations, client relations, project management, and construction administration.
Over the course of several months, we have been on an exploratory journey discovering the many details of a modular construction delivery system. FK Architecture was founded on core principles that emphasize efficiency and economy of scale. Our designs are initiated through the use of an 8"grid which was found to be a rational increment of building construction. Our focus has been to translate that design language into a modular deliverable for our clients. We have found many similarities in what our firm was founded on and how a modular building is designed and assembled.
The Modular Building Institute has assisted our progress by providing a vast network of design professionals, builders and manufacturers who share similar values when it comes to flexibility and variety in building. Our deep dive into modular immediately informed us there are specific reasons why one would consider executing a project with modular construction. Curiously our preconceived understanding of this market was not all that it seemed to be.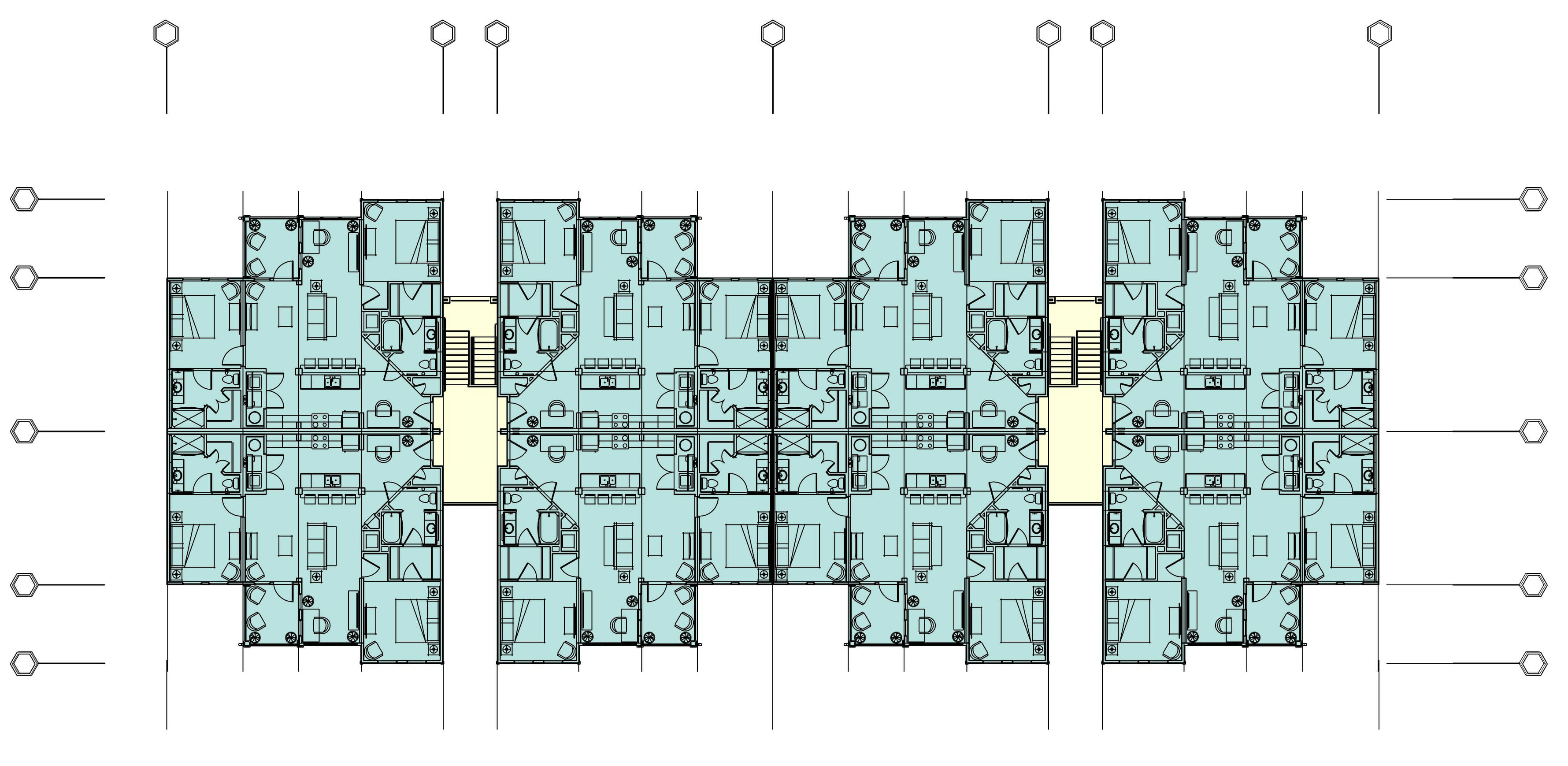 Typical garden-style multifamily on-site building plan before adjustments for off-site fabrication.
FK Architecture is a firm with strong roots in the multi-family market. We have provided tens of thousands of units for our clients since our inception in 1963. We pride ourselves in providing smart design where form follows function. Considering the end user is critical to the success of the project. By creating efficiencies in our design process, we are able to maximize the projects impact without minimizing the quality. Specifically, we consider the use, cost and logistics of every project. Our clients value this approach which speaks to our success. Modular construction also considers what we employ as design sensibilities which are why we are promoting it.
It is evident our environment is changing and the way in which society inhabits it. Therefore we present modular building design and construction as a viable option for our clients. The first questions we are asked 9 out of 10 times, "How much does it cost? Is it cheaper?" Despite the trust and confidence our clients have in us, like any change, the change in the design approach makes them hesitant to engage. It took several meetings over time, but we have discovered the best approach is to first educate your audience and ask each client, "Why modular?"
The multi-family market is ideal for modular construction. The units themselves are often repetitious as well as the vertical and horizontal connections necessary to create the overall building. Early in the design process, we demonstrate how the conventional built unit is translated to a modular design. The transformation is minimal. The units remain inviting and thoughtfully laid out. Once the client sees the low impact to the design, they become interested in what the rest of the process has to offer.
It is at this juncture we revert back to the first question, "Why Modular?" Since cost is at the top of most developers list, it is fair to immediately inform them the modular construction system is not necessarily cheaper. However, the reason a client may want to consider a modular approach is going to market faster. This realization could mean financial gains to a client thus offsetting the first costs of the project.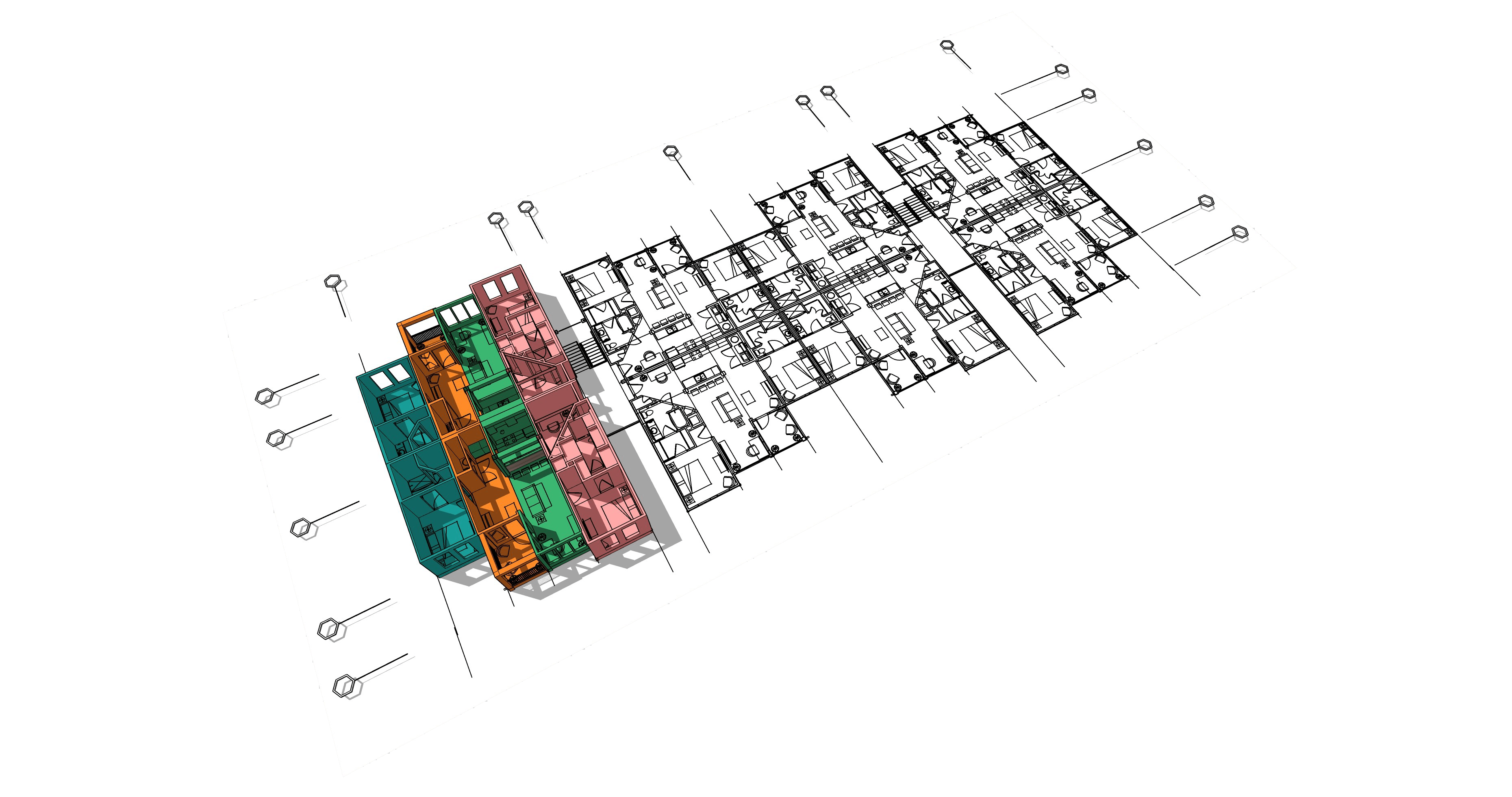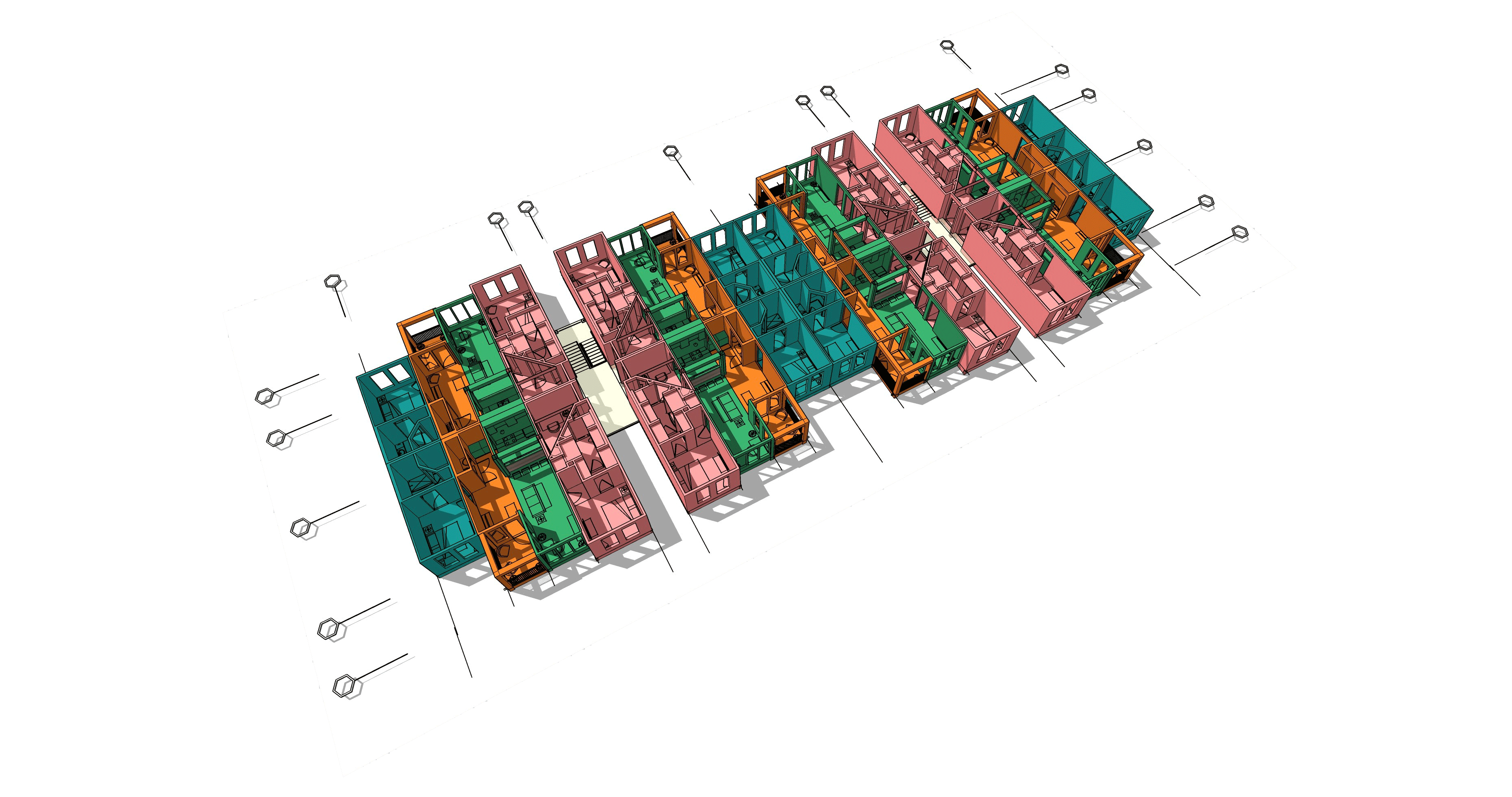 Consider building materials
Many of our clients execute multi-family projects using wood framing. When designing a modular building, walls, floors and ceilings are duplicated. Each unit is designed as a module which stacks onto the unit preceding it. This means the amount of material to construct a 3-story apartment building for instance has doubled in many ways. With escalating costs for wood framing this understanding could kill the idea to continue with the modular design. Therefore knowing what your client values will allow the design to progress further. Although, materials double, the time in which it takes to assemble the unit is reduced. This is one reason the client can go to market faster.
Timing is everything
Modular construction relies heavily on timing. A typical project is designed, documented, permitted and then built. Area development also needs to occur and is often the Achilles heel in the process of building the project. Civil engineering follows a different path which is not always parallel to the development of the design and documentation. Often the site permit must be received prior to issuing the building permit. Depending on the circumstances, this could delay the project weeks, possibly months. A modular project is permitted at the state level. For design professionals and our clients, this is an advantage. Although the design phase timeline remains the same as for a conventionally designed building, the permitting phase does not.
Once the documents are submitted to the state, the review duration is streamlined and permits to start building the modular units in the factory can be issued in as little as weeks. This means, while the civil engineering is tracking through the same typical process as any project would, the modular units can begin construction. They are not regulated the same as a conventional build. Once the site permit is received and site work executed, the modules are ready to be delivered and set in place on site. The project goes vertical and takes shape in a matter of weeks. This accelerates the entire project timeline. We found projects of similar size and scale that took 14 months to build conventionally could take 8 months to complete. Therefore, the project is occupied faster.
Additional advantages
Additional advantages to modular construction include, improved sound attenuation, structural stability, quality control, build time, less environmental impacts in terms of emissions & land disruption, and building efficiency. It is our job to demonstrate how these advantages can overcome the initial challenge of a client considering a modular project to be a cost savings solution. Cost will always be a factor, but understanding the detailed advantages of this methodology is imperative to its success. Furthermore, having the knowledge of what makes the modular deliverable so appealing opens the possibilities of where a project can be realized. Challenging sites with limited space as well as the repurposing of distressed properties all lay way to the modular advantage.
FK Architecture continues to grow this resource in our organization. We feel its merits speak to our traditions and enable us to be a proactive advocate for building better projects. As we continue to educate ourselves, we will push the envelope of what the modular method of building can provide. Presenting the information clearly and concisely and demonstrating the advantages will be key to growing this fascinating industry. It is our mission as design professionals to share knowledge and guide the built environment to more sustainable solutions, eventually overcoming the misconceptions of "Why Modular?"
More from Modular Advantage
Roland Brown never imagined his life
would turn out this way. He retired from a nearly 50-year-long career, starting off as a draftsman in the mobile home industry to becoming the VP of Design and Development at Ramtech Building Systems, Inc., a design/build construction company in Mansfield, Texas with its own modular
manufacturing facility.