Data Driven: A Conversation with Donna Laquidara-Carr About Dodge Data & Analytics' Prefabrication and Modular Construction 2020 SmartMarket Report
Donna Laquidara-Carr is the Industry Insights Research Director for Dodge Data & Analytics. Since 2010, she has been the managing editor of the SmartMarket series of construction industry research reports. She has been the primary writer on many, and she has been the editor of all of them. In addition, Donna was a featured breakout speaker at the 2020 World of Modular tradeshow and convention.
Earlier this year, Dodge Data & Analytics, with the support of the Modular Building Institute, released the findings of a landmark study that provides a comprehensive look of the current state and future expectations for prefabrication and modular construction. The Prefabrication and Modular Construction 2020 SmartMarket Report takes a close look at critical drivers, obstacles and benefits of using these construction methods based on insight from the architects, engineers and contractors already leveraging them.
Just before presenting these findings at MBI's World of Modular, Donna Laquidara-Carr, Industry Insights Research Director for Dodge Data & Analytics, made time for a quick interview. Below is the abridged version of our conversation.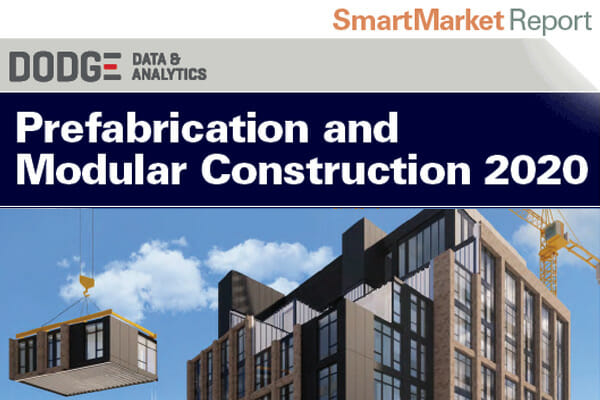 Tell me about your team. Who are the people doing the research and handling the data?
On our team at Dodge there were three of us working on this project. Steve Jones, who is our Senior Director of Industry Insights, was the primary author of this report. He was also very involved in the overall vision of what it should be about. Susan Barnett is our person who handles research. She is our research guru—the one who makes sure none of our questions were biased, and everything makes sense and everything is clear and understandable and unambiguous. And then I'm sort of the jack-of-all-trades in the middle. I help with the initial survey content. I work with the partners to keep them organized. I edit the report. I help with the press release at the end. Essentially, I'm the person on the ground running the day-to-day.
How long did it take you and your team—start to finish—to put together and release the SMR?
Overall, I would say the whole process took about 9 months. The first part is the research and that's actually the longer part. We had to bring several partners together. We had to work on a survey that satisfied everyone's needs and still met the time limit—which is only 10-12 minutes. So that was a rather long and involved process. But we expected it to be.
So how did you go about obtaining the data you used in the SMR?
Dodge has a lot of resources internally to do this kind of research. We used our panel of architects and contractors—and this is unique in the industry: we have about 3,000 contractors and about 5,000 architects who have agreed, "Yes, we will take your surveys." So that allows us to have a very quick turnaround with surveys and get a pretty well-balanced feedback. So we relied on that network for our architect and contractor responses. In addition to that, to get the engineers we went to the larger Dodge database because Dodge has a lot of contacts. And we also had research partners. MBI, for example, was really a critical research partner. MBI made sure we were actually getting modular builders who might not be in our Dodge database and who definitely wouldn't be on our panels.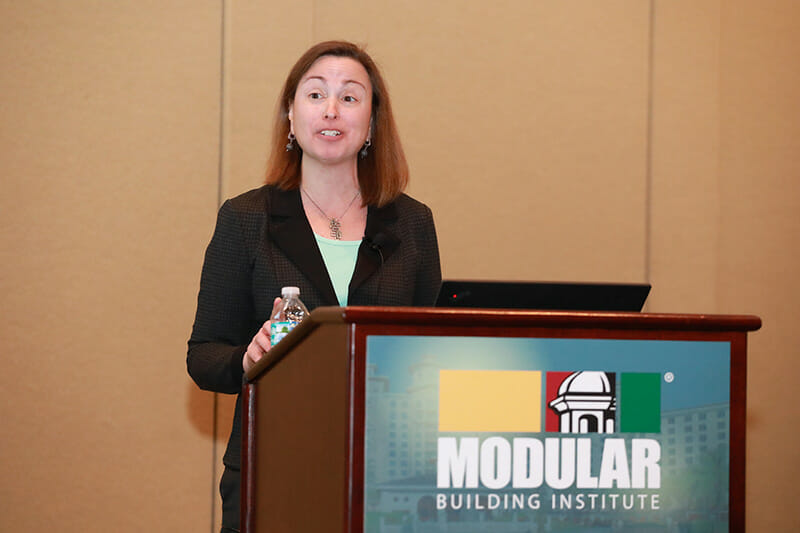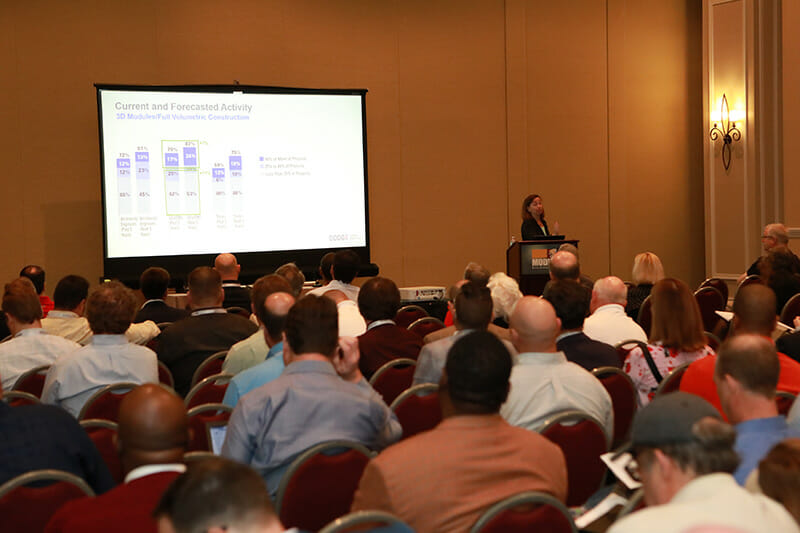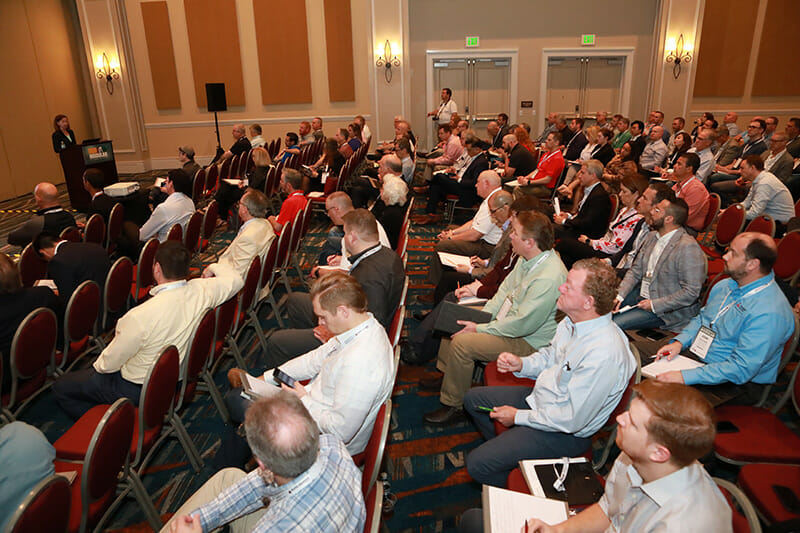 Donna Laquidara-Carr presenting at the 2020 World of Modular.
What resources do you use to collect the data, and how is it analyzed once you have it?
Almost everything in the report is based on an online survey. We have an internal survey program that we use that's rather sophisticated and that's where Susan comes in. She manages that piece of it. We also did in-depth interviews with owners. MBI helped us to find owners who are engaged in modular building. So we talked to several owners as part of a qualitative review, and it really did add additional insights. Especially when you look at the findings, which say the big thing you need in order to get modular going is the owner saying, "Yes." So, we thought that piece was particularly important. And those interviews were done by phone. Just calling up the owners and having a very structured interview.
What made you decide to conduct this research in the first place?
We had done a study on prefabrication and modular construction back in 2011. And for the last couple of years, we realized that now was a really good time to return to it. We had originally hoped to be able to compare our current findings to past findings, but when we looked at the study we'd done in 2011, we had lumped modular and prefab together. Now, I don't know if that made sense in 2011, but it certainly does not make sense now. So, we had to scrap the old one and just start from scratch. But we've known for a while—we do a lot of research on BIM, by the way—that BIM is an important resource for promoting prefabrication and modular and that it can really make those processes a lot easier. We were interested to see if these processes—which have been around for decades—really were getting new attention and new life.
What impact do you hope this data will have on the industry?
It's interesting, because when I think about the impact I'm thinking more about the impact on the industry members at large—prepping them for the idea that this is really going to be something that takes off. So getting them ready for it was really what was primary for me. On the other hand, I think that if you're well-versed in modular, none of the findings are going to be that surprising. But it's very helpful— instead of you just saying to a client or a potential partner "Well, this is how we think productivity has improved"—to have third-party research conducted across the industry that confirms what you say and what you know to be so powerful about this method of construction, that has real value to the industry.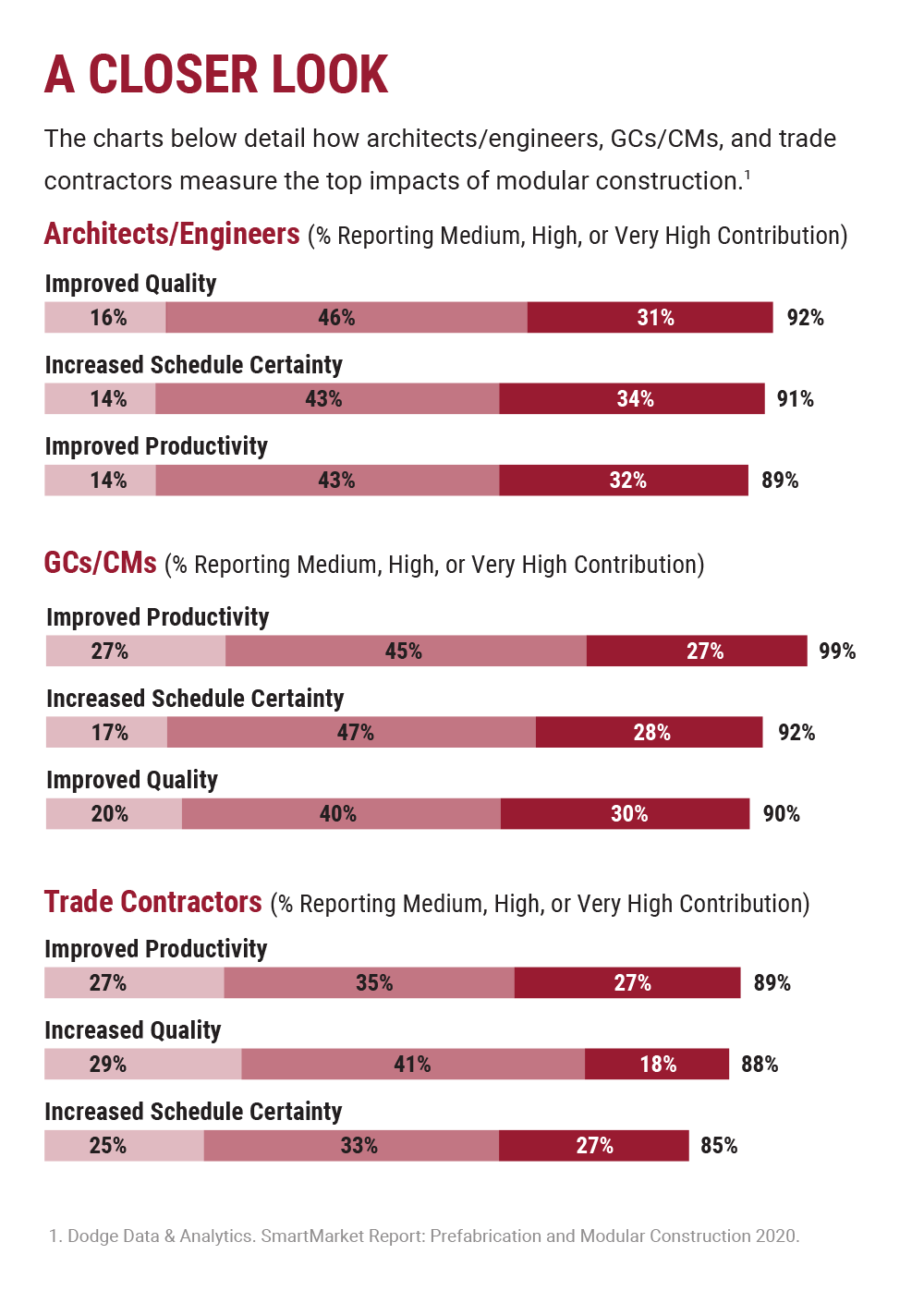 An example of the data presented in the Dodge Data & Analytics' 2020 SmartMarket report.
Did anything surprise you during the process of collecting the data? Anything unexpected?
I think the only thing that I was surprised with in the data—and it's funny how often this keeps happening—is that we know how important early collaboration is to these efforts. So, we just assumed that everyone was going to find design-bid-build a huge hindrance to modular prefabrication projects. In fact, only 20% report that it's an actual hindrance. So, there's obviously more positive comments about more collaborative methods but this notion that you have to have the delivery system to do this successfully, I think the study rather debunks it.
And lastly, what's next on your to-do list? Is there a new report in the works?
There's always a new report in the works! Right now we're trying to launch a heavy civil quarterly. We're just in the process of getting that put together with a series of partners. And that's really going to be exciting. It's going to be a quarterly publication that's going to look at the heavy civil construction world and gauge the health of that industry on a quarter-by-quarter basis. And it's going to cover special "feature" topics every time, too. So, that should be very interesting.
This article originally appeared in the Modular Advantage Magazine - Second Edition 2020 released in May 2020.
More from Modular Advantage
For this project, Forta PRO delivered 72 buildings, 144 modules, with 5,200 m2 of gross modular area. With final onsite completion in June 2023, it provides exceptional long-stay accommodation in a stunning and serene environment.