Modern Building Systems- 8 Classroom Complex
Yelm School District desired a practical and temporary 8,200 square foot classroom solution, all under one roof, to house their growing student population. This structure was designed and contracted with efficiency and reusability in mind. It features six classrooms, two restrooms and two computer laboratories. The classrooms are situated along a corridor that runs the length of the building, simplifying accessibility within the building and allowing for a similar interior feel as the main school. The building's exterior lap siding and roof were also designed to match the surrounding buildings. The design was challenging as the existing terrain was rocky and required an exact footprint fit.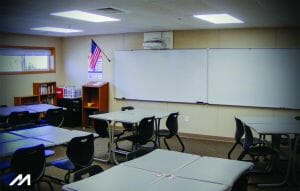 Utilizing modular construction in a temporary swing space scenario allowed the school district to best utilize funds and ensured that the quality classrooms were ready for the beginning of the school year without disturbing classes
The smaller tempered glass windows keep the building material cost low while providing higher insulation, creating more teaching wall space to the interior, and energy savings in the future. Motion light sensors throughout the building further assist with energy control savings.
This article originally appeared in the Modular Advantage Magazine - First Quarter 2018 released in February 2018.
More from Modular Advantage
For this project, Forta PRO delivered 72 buildings, 144 modules, with 5,200 m2 of gross modular area. With final onsite completion in June 2023, it provides exceptional long-stay accommodation in a stunning and serene environment.