Metric Modular's Bella Bella Passive Haus
The project consisted of six, two-story attached townhomes to be used as a desperately needed housing solution for Yale First Nation. Each module was prefabricated at Metric Modular's Agassiz facility and the modules were approximately 32 feet long and 14 feet wide. After bad experiences with previous onsite builders cutting corners and building poor quality homes, we were able to provide six high-quality housing units for the community. The design of the building allowed each tenant to have a private outdoor space, while still maintaining the feeling of community. As a Passive House, the building was specifically placed on site to take advantage of solar gains and area views.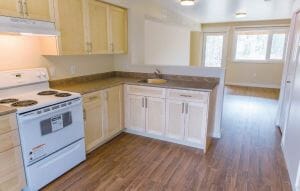 To meet rigid Passive House standards, each module specification included:
Efficient building shape – using a ratio known as the 'Shape Factor' (the ratio of the buildings surface area divided by its volume) the heat loss from a building envelope is minimized.
Superinsulation – incorporation of the correct levels of insulation performance depending on the climate zone.
Advanced windows – using triple glazed units, with two low-e coatings, argon gas fill and insulated frames and spacers.
Airtightness – prevention of air infiltration and protection against moisture damage.
Thermal bridge-free construction – preventing an area of the building which has a significantly higher heat transfer than the surrounding materials, resulting in an overall reduction in thermal insulation of the building. Passive House standards reduce energy costs by up to 80 percent, drastically increase occupant comfort and reduce the GHG emissions of the building by 80 percent during occupancy.
As this was our second Passive House project, we were able to save our customer money through the experience we gained during the previous project. We also utilized the three Certified Passive House Consultants on staff rather than hiring expensive outside consultants. Our experienced design, production and site teams were able to prevent building envelope issues before the modules arrived onsite. We were able to reduce the number of pre-tests and consultants' visits, while still achieving an above average building envelope airtightness test result.
We completed most of the roof construction offsite in order to reduce site work, preinstalling the exterior building envelope (siding), and pre-fabricating porch elements. Previous winter energy bills for the Yale First Nation were in excess of $250 for one month. The energy bill they received after over a month of occupancy was under $20. This on-going savings will make drastic and lasting impact to the economics of this community.
This article originally appeared in the Modular Advantage Magazine - Fourth Quarter 2018 released in November 2018.
More from Modular Advantage
For this project, Forta PRO delivered 72 buildings, 144 modules, with 5,200 m2 of gross modular area. With final onsite completion in June 2023, it provides exceptional long-stay accommodation in a stunning and serene environment.