Ramtech Building Systems - Permanent School Campus
This project provides space for 24 standard classrooms to accommodate up to 528 additional students. The building has five special-use classrooms for the school's art, music, speech, and special education programs. It also includes a cafeteria with a warming kitchen, administrative offices, a library, tutoring center and learning lab, and a 3,000 square foot multipurpose exercise room with athletic flooring and a 14 foot ceiling height. We incorporated a mix of masonry and EFIS that complemented the existing structures and provided a cohesive appearance to the campus. Interior finish selections were largely driven by the educational use and included painted gypsum, resilient and ceramic tile as well as an acoustical drop ceiling.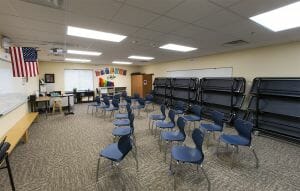 Ramtech developed our Slab-on-Grade PMC System as an efficient means to provide concrete floors while dealing with the highly expansive soils found throughout Texas. Conventional pier and beam PMC installations require a grade-beam or stem-wall foundation supported typically by under-reamed drilled piers. Then a conventional block pier supports a steel modular floor system with a corrugated steel deck and three inches of poured light-weight concrete.
This redundancy of structures (expense of foundation and a modular floor system) adds considerable cost to the project. By utilizing a poured-in-place conventional concrete slab as prescribed by the geotechnical engineer, then placing a floorless module directly atop the slab, three things are achieved at a lesser cost: better floor acoustics due to more mass (quiet floors); a grade level entry is provided at all exterior doors; and there is no crawlspace to ventilate, greatly reducing the possibility of poor indoor air quality.
This article originally appeared in the Modular Advantage Magazine - First Quarter 2018 released in February 2018.