Guerdon Modular Buildings - Retirement Facility
The Canyons Retirement Facility is a continuing healthcare community that offers varying levels of on-campus care, helping adults transition from home to a safe and dignified living environment. The project includes 40 assisted living rooms, 20 memory care rooms, public restrooms, staff areas, laundry facilities, community kitchens, libraries, dining areas, and a detached administrative building. The building's layout has six wings, all connecting to central common gathering spaces; dining, crafts, the library and multi-use areas. Though a modular building, the smart use of space makes it hard to tell, especially while walking down a curved hallway that crosses diagonally through five modules. The abundance of woodwork and fine finishes go a long way to prove that modular construction has come a long way from the negative stigma of cheap manufactured homes.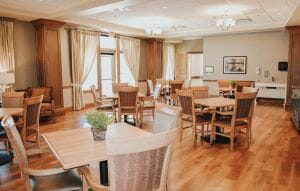 The project broke ground in May 2016, the same time production of the modules began, and opened its doors one year from that date. Multiple modular innovations allowed for the hastened upfront schedule. Factory production and site preparation took place simultaneously. Factory production of the 54 modules (51 for the main building and three for an administrative building) was completed in just 35 days. Eighteen roof sections were built on the foundations (before modules arrived onsite), then craned off the foundations to make way for the modules to be set. The crane performed 90 picks over the 9 day install, with a total of 54 modules installed and 36 roof crane picks.
A lot of developer's turn to modular construction for a cost savings. This project did look for the financial benefits by way of speed to market but the main focus for this project was the required high tolerances and fine quality finishes. Great attention to detail coupled with finishes like marble, custom wood work and cabinetry have a major impact on the end user a critical time in their life. Modular construction provides a way to monitor quality and control it to meet that high bar.
This article originally appeared in the Modular Advantage Magazine - First Quarter 2018 released in February 2018.
More from Modular Advantage
Roland Brown never imagined his life
would turn out this way. He retired from a nearly 50-year-long career, starting off as a draftsman in the mobile home industry to becoming the VP of Design and Development at Ramtech Building Systems, Inc., a design/build construction company in Mansfield, Texas with its own modular
manufacturing facility.