The Jarrett Street Condo Project
The Jarrett Street Condo project from Blazer Industries is a three-story, 12 unit condominium building located in Portland, Oregon. Designed by award winning Portland based architect Brian Cavanaugh, this project has units ranging from 387 to 556 sq ft, and is located along a mass transit line for ease of transport within the city.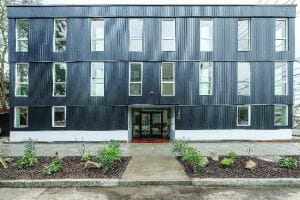 Each unit features large windows to maximize natural daylight in the living spaces. Due to the nature of modular design, each living space has the ceiling framed separate from the next level's floor framing which helps minimize occupant noise vertically. Other specifications included Quartz solid surface kitchen countertops, stainless steel appliances, engineered wood flooring, subway tile, and smooth gypsum wall and ceiling cover. The simple color scheme of the exterior cladding makes this project a welcome addition to the neighborhood. The micro living spaces fill the need comfortably in an area faced with a housing crisis.
More from Modular Advantage
For this project, Forta PRO delivered 72 buildings, 144 modules, with 5,200 m2 of gross modular area. With final onsite completion in June 2023, it provides exceptional long-stay accommodation in a stunning and serene environment.