Modular Construction to the Rescue!
The Inspira Oncology Center in Woodbury, NJ urgently needed to service cancer patients in the surrounding communities. The decision to develop a new type of facility comprised of modular technologies allowed for a faster construction to more quickly deliver medical treatments to those in need. It was determined early in the design process that the patients and their families' health and comfort would take precedence. Considering the schedule and the speed at which the center would start providing services, the owners concluded the facility could be designed to reflect a higher level of design and construction quality.
The oncology center was comprised of various spaces common to most medical facilities such as offices, reception area, conference rooms, waiting rooms, exam rooms, lounge and supporting facilities. The center was given an open feeling by using a clerestory and entrance curtain wall to maximize natural lighting. Innovative and attractive facades were implemented around the exterior of the building to advance the buildings aesthetics. Unique art sculptures were commissioned and located around the facility amongst the beautiful landscaping surrounding the center.
Additionally, this center included a CT SIM Room to allow for quicker patient imaging at the center and a LINAC Room to conduct proton therapy where high energy x-rays or electrons are used to combat tumors and destroy cancer cells. Specialized control rooms adjoining the respective therapy spaces were incorporated in the construction.
This article originally appeared in the Modular Advantage Magazine - Second Quarter 2019 released in May 2019.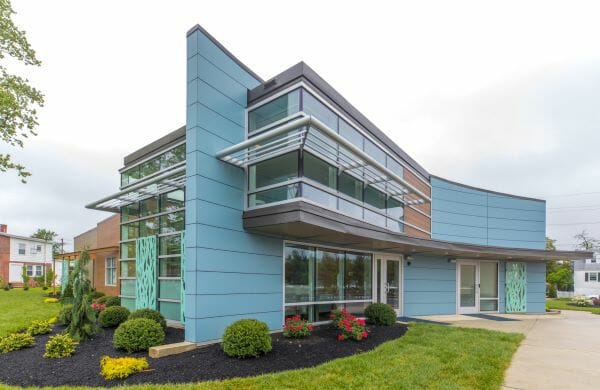 Exterior of the Inspira Oncology Center / Source: Sustainable Modular Management Inc.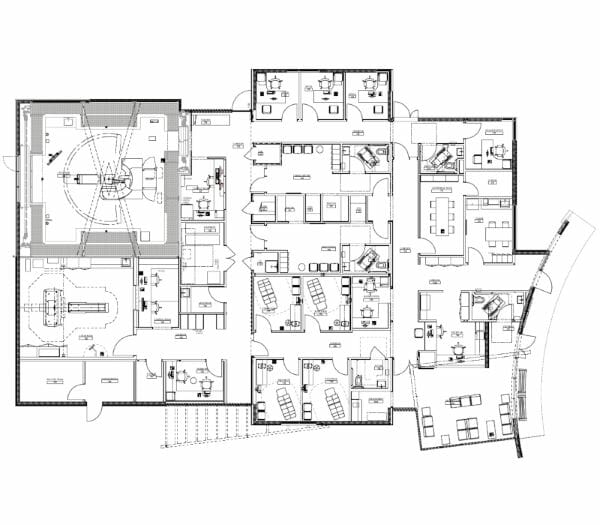 Floorplan of the Inspira Oncology Center / Source: Sustainable Modular Management Inc.
More from Modular Advantage
For this project, Forta PRO delivered 72 buildings, 144 modules, with 5,200 m2 of gross modular area. With final onsite completion in June 2023, it provides exceptional long-stay accommodation in a stunning and serene environment.