On Location with Modular Construction
The Hawaii Film Studio is a film studio known for its work on TV shows and movies such as Hawaii Five-0 and Jurassic Park. Initially, the proposed 7,000 sf office project went over budget using conventional construction, leading the Hawaii Film Studio consider modular construction. Additionally, due to tight time constraints, the general contractor, G70, informed the client that in-factory construction was the only way to meet the project's compressed timeline. The technical innovation of having the building constructed at the same time as the site was being developed was paramount to saving time and providing the facility before the start of filming the new season of Hawaii Five-0.
After looking into modular, the studio realized that WillScot's modular solution provided them with the functional facility they needed while leaving enough room in their budget to cover costs for contamination control, construction waste removal, fluid leakage from trucks and equipment rentals. Additionally, choosing modular ensured there would be minimal onsite clean up as most waste materials and hazardous fluids would be handled at the factory some 2,500 miles away at the Blazer Industries facility in Oregon.
The designers worked with the factory to address all of the technical needs of the film studio's specialized departments, including wardrobe, props, art, production, and graphics. The building was completed at the plant to save time and comply with noise requirements at the site. The building was also designed to allow future expansion, providing the ability to move buildings around and create new configurations as needs changed.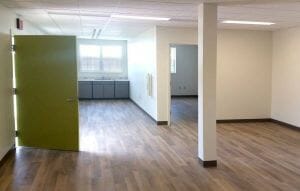 The building is located near the entrance to the historic Diamond Head State Monument. As such, the state required the office to blend with the surrounding landscape. The building was finished with earthy colors that matched the volcanic terrain.
Inside, the facility was customized with PTAC cool/heating systems to maintain humidity control and prevent damage to the film crew's wardrobe, prop production and storage. It was also outfitted with custom electrical components and lighting to support the film crew's computer and design needs.
In all, the project was completed in 275 and in time for filming the new season of Hawaii Five-0!
This article originally appeared in the Modular Advantage Magazine - Second Quarter 2019 released in May 2019.