Workforce Housing Solutions in South America: Designs, Timetables, Logistics & More w/ Tecno Fast [podcast transcript]
Workforce Housing Solutions in South America: Designs, Timetables, Logistics & More w/ Tecno Fast
Cristian Ossa, commercial manager at South America-based Tecno Fast, joins Inside Modular to talk about the role and scale of its workforce housing projects in countries across South America. Cristian also discusses the logistics and challenges inherent to remote worksite camps and about Tecno Fast's recent growth into the North American and European markets.
John McMullen 
Welcome, everyone. My name is John McMullen. I'm the Marketing Director here at MBI. Today I'm talking with Cristian Ossa, commercial manager for Tecno Fast. Cristian is here to talk about Tecno Fast's long history of workforce housing projects, and share some insights about Tecno Fast's success.
Cristian, thanks for being here.
Cristian Ossa 
Hi, John. Thank you. Thank you for letting us introduce Techo Fast to to everyone.
John McMullen 
Absolutely, absolutely. So tell me about yourself, Cristian. What's your background? And how did you come to be a Tecno Fast?
Cristian Ossa 
Well, I'm a commercial engineer. It's a kind of Business and Administration. I started working at Tecno Brazil. It's related company from Tecno Fasts. And in 2010, I started working here at Tecno Fast as deputy commercial manager. And right now I'm the commercial manager. I'm in charge of developing projects and managing the industrial fleet.
John McMullen 
Very good. Very good. So tell me about Tecno Fast itself. Where did the company start? And how's it grown over the years?
Cristian Ossa 
Well, it's a, it's a long trip. Tecno Fast was born in 1995. And the first project was a hotel. And also we built the workforce camp. Then, in 1998, we arrived to Peru. In 2001, we won our first MBI award for the hotel that we did. In 2010, we start with the leasing business business area. Well, in 2015, we start with our own hotel division. And in 2017, we built the tallest modular building in South America for Anglo American; it was a six-story building, under heavy site conditions, with a lot of snow. And then in 2019, we automated our production plant plant. And also we are generating the 80% of the energy that we use to fabricate models, here in the plant.
John McMullen 
That is quite a bit of growth indeed. So what's the size of your rental fleet now? How many beds can you offer at a time?
Cristian Ossa 
Well, if talking about the holding all the companies that are related to Tecno Fast, we have almost 450,000 square meters in the lease fleet. Eighty percent of them are for commercial feet or offices and that kind of solutions. And the other 20 20% is for our workforce housing feet. It's about 10,000 beds that we have in six or seven projects, different projects.
John McMullen 
Wow. So let's talk about workforce housing itself. How would you define workforce housing?
Cristian Ossa 
Well, first of all is important. It's a solution that is focused on the people that use these facilities. Because they spend a lot of time in there. So we focus on the solutions; they have to be comfortable. We go and allow them to have a good rest. Generally, the site conditions are very tough. So we have to develop solutions that fix up with their needs. Like, well, they are far away from home. So we have to give them the best conditions, the most important thing.
John McMullen 
So what can you tell me about the modular workforce housing projects in South America right now? How are these buildings being designed and how are they being built so that their occupants are as comfortable as they can be?
Cristian Ossa 
Okay, well, we have made a lot of workforce housing camps in Chile, Peru, Bolivia, Argentina. And what they have in common is that they are in remote places for certain times. So I think leasing their camps is a good solution for our clients. But in the other hand, we have project with different site conditions, and we have to develop them with the specialty care [based on where they are]. So every camp is a custom solution. And engineering is very important for that.
John McMullen 
Does Tecno Fast provide workforce housing for all types of work sites? Or is there a niche that you specialize in?
Cristian Ossa 
And most of projects are for mining and energy industries. Okay? This is because their their products are from far away from villages or towns. So, it fits very well for them. And of course, we have different standards. For example, we have rules with common bathrooms in the center of the building, we have rooms sharing a bathroom. And also we have private rooms with private bathrooms, it depends of what the clients need. And generally, these are [all-in-one] solutions with water tanks with sewage plants, generators, and all that things.
John McMullen 
So you're bringing in all of these materials, the water tanks, the sewage system, everything?
Cristian Ossa 
Yeah, yeah. And we have to plug all the all the buildings to these solutions we have all the utilities because they need a solution, not only a building.
John McMullen 
How long does it take to set up one of these camps? Typically, I guess it depends on the size. But do you have an average?
Cristian Ossa 
The size of course it's important.  Five or six months for 500 man camp is the average.
Related Reading:
Escondida Camp 7000, winner, 2022 Awards of Distinction
Minera Escondida's operations are located in the Atacama desert 170km southeast of Antofagasta in Chile. The camp is part of the development of the Laguna Seca Tailing Strategy project and its main objective is to fulfill the need for beds during its construction period. The challenge was to place 624 rooms in the same locations where the buildings of the previous "Camp 7000" had previously been installed and removed, reusing foundations, sanitary connections, electrical connections, accesses and sidewalks.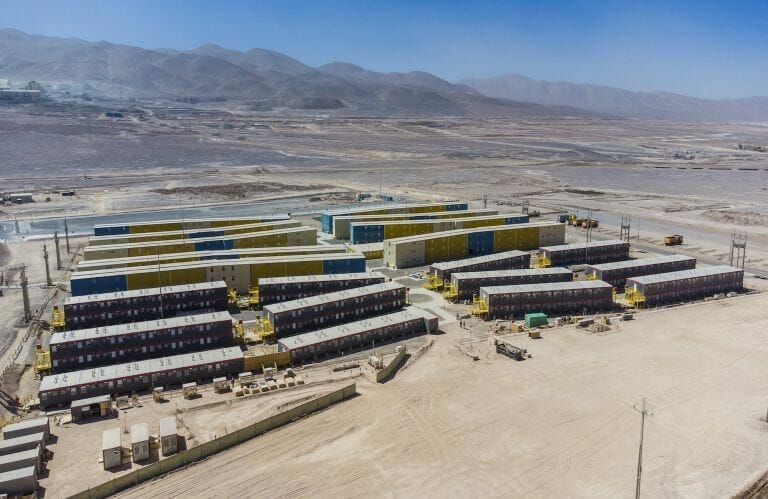 John McMullen 
Okay. I know Tecno Fast is won a lot of awards from MBI for its relocatable workforce housing projects. And most recently, I think it was last year for the Escondida Camp 7000 project. Tell me more about about that particular project. How long did it take to get those buildings up and running?
Cristian Ossa 
Well, well, that project was a big challenge, because we replaced buildings that were removed before. So we, we designed the project thinking how to reuse the foundations that were onsite, the connections that were onsite. Also, we we designed the camp in the COVID situation, so people have to sleep in personnel bedrooms, of course. That challenged us because we have different types of bedrooms and and we have to develop the specific one for them. So we had to ooptimize the model, of course, following all the regulations that are used to decide these camps. Well, for example, we decide this model that two models can go in one track. So we have fried cost efficient in terms of timings where we installed the 324 models in four months onsite.
John McMullen 
Wow. Did the terrain give you any particular challenges on that project?
Cristian Ossa 
Yeah. This was like a lesson for is was in between camp that was in use. So we have to build this without interfering with the operation of the camp. So that was a very, very big challenge.
John McMullen 
Are you entering any projects and MBI's Awards of Distinction this year?
Cristian Ossa 
Yeah, we are presenting seven projects, I think. So a couple of them's are related to workforce workforce housing solution. One of them is Rahu Iike project. It's about 1200 people in Cabo also in that case, we are operating the camp. So we are given the whole service building and operated the come to Glencoe is the is the client and the challenge there was permits. There was a very big hard work to to get them and also in terms of size, this cap is almost 15 pounds 50,000 square meter.
John McMullen 
Wow.
Cristian Ossa 
And the other project that is related for work for housing solution is Rincon. It's a little project in Argentina. This is the first stage of a big one. In four month we have to build 250-man camp the challenge here was the logistics because we were sending models from Chile and Argentina and all that it's related to that and we're in a very tight schedule, customs, import and export requirements, etc.
John McMullen 
You brought up something I actually wanted to ask you about: logistics. It seems to me that these massive camps that you guys are building must take just an incredible amount of logistical thought. How do you arrange all the trucks, the manpower, just to get the buildings from A to B?
Cristian Ossa 
Yeah, we have we have a pool of sub contracts, or they gave us that service. But yeah, like you said before, it's it's very heavy, the logistics and organization and coordination, because the models leave the our industry, leave our plant and they have to go outside and at this at the time at the moment that we are assembling, so you have to coordinate everything.
John McMullen 
Is there a typical distance that your units travel between where they start and where they ended up at a camp?
Cristian Ossa 
Distance? Well, for example, in Chile, the main projects are the north of Chile, the north of Chile. So we have almost 2000s kilometres from our plan to the site. And there's three or four days of truck. So it's it's very important to coordinate that.
John McMullen 
So tell me about some of the other challenges that techno fast is facing its workforce housing projects. Are other common problems that need to be solved, you think, or is each case sort of unique?
Cristian Ossa 
No, there are common problems for well, logistically, you already know, it's a big challenge. Also, the These camps are in remote sites. So you are far away from civilization something. So you have to build these camps, looking where you're going to feed your crew or that we're going to...everything is far. That's why, for example, some clients ask us to operate the solution because we're in the early early early stage of a project. So they needed a solution, not only the buildings, they knew the whole solution, and they asked us to operate it.
John McMullen 
How do you guys provide power? Is it generators that you bring in? Or Are you tapping into some other source?
Cristian Ossa 
Yeah. Mostly generators. Because, like I said before, when we arrive to site is there's nothing so the only way to start is with generators.
John McMullen 
Just an amazing undertaking, it seems to me to create a town essentially for hundreds or 1000s of workers out of nothing. Yeah. So switch tracks for you, just for a second. What can you tell me about Tecno Fast's recent acquisitions? I know you the company acquired Triumph Modular here in the States. What's the goal for Tecno Fast: global domination or something else?
Cristian Ossa 
Well, yeah, well, we like is that we are we recently? We have recent acquisition in US and Europe also. Okay. We have Triumpg in the US and ALCO in Barcelona, Spain. Well, this is a kind of strategy to, of course, for growth, the company. And also we're looking for options to get in these mature markets, develop our solutions, could be the rental of the leasing solutions and the sale solutions. I think they are good platforms to get it those countries or start developing them.
John McMullen 
Very good, very good. Well, speaking of being in different parts of the world are you are Tecno Fast going to be at the World of Modular conference in March next year?
Cristian Ossa 
Yes, of course, I'm looking forward to that to the convention. I think it's a really good instance to meet each other and learn a little bit more about some experience of the other companies, projects. And also it's important to know what is going on in terms of innovation or modular solutions. So I think I will be there.
John McMullen 
Well, excellent. I look forward to seeing you there. You could probably teach your own session on logistics. I have a hunch that there's a lot more that goes into it then perhaps you're even alluding to it. It's mind boggling to me. But thank you so much for your time. I really appreciate it. Cristian. I look forward to meeting you in March. And thanks again.
Cristian Ossa 
Thank you, John. Thank you very much. See you.
John McMullen 
My name is John McMullen. And this has been another episode of Inside Modular: The Podcast of Commercial Modular Construction. Until next time.