How the Industry Responded to COVID-19: Hospitals
Good Samaritan Hospital, New York
Before the pandemic reached the United States, MODLOGIQ and Axis Construction had already been working on the Good Samaritan Hospital project.
Then COVID-19 tightened its grip on New York.
"In early March, the New York governor mandated that hospitals increase their capacity by 50%," says John Buongiorno, Director of the Modular Division of the Axis Construction. "So the hospital asked us to expedite completion of the building."
Luckily, healthcare construction was deemed an essential activity in New York. So, site work could continue — with crews working overtime to increase speed. Unluckily, though, MODLOGIQ's Pennsylvania facility was shut down, along with almost everything else in the state.
"We called representatives and anyone else we thought might help get us a waiver," recalls Jim Gabriel, General Manager of MODLOGIQ. "Because we were building a hospital for New York and you can't get much more essential than that!"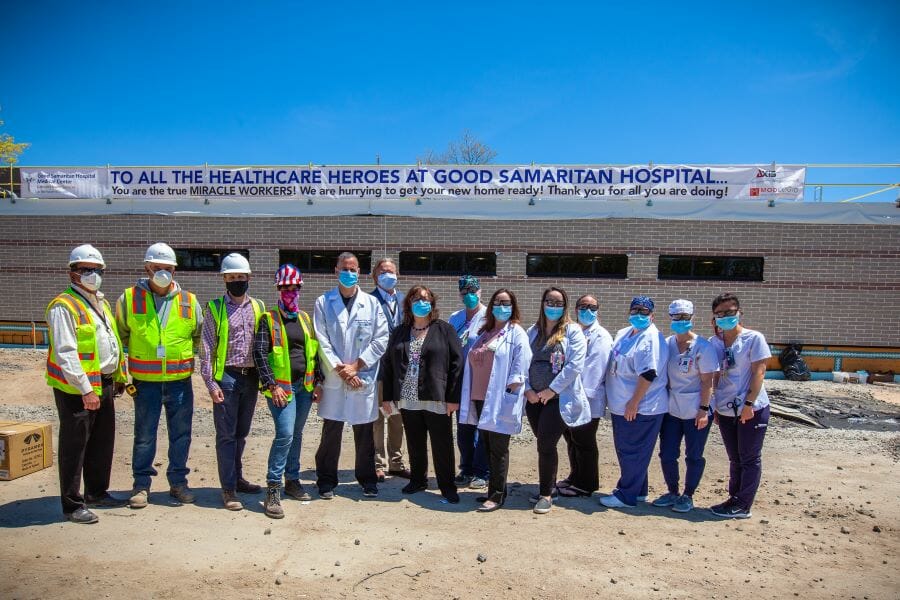 Healthcare workers stand with a team from MODLOGIQ and Axis in front of the Good Samaritan Hospital in New York.
In the end, the client wrote to Pennsylvania state agencies requesting that work on the Good Samaritan hospital building be allowed to continue. Fortunately, permission was granted and the manufacturing facility could double-up crews to compensate for lost time.
But it wasn't smooth sailing yet.
"Our site contractor had two people test positive for COVID-19," says Buongiorno. "And they'd been in contact with their staff and workers, both on our site and on others. That contractor shut his business down for 10 days. He worked nowhere. Although we completely understood the need for safety, it meant we were stuck."
Gabriel's plant was also not immune.
"One of our team started to feel unwell, and went home," says Gabriel. "He turned out to have COVID-19. So we had to shut down again and completely sanitize everything."
Despite the obstacles, they ultimately prevailed. The modules were delivered to the site well ahead of the initial schedule — much to everyone's relief.
Navicent Health Medical Center Hospital and Phoebe Putney Memorial Hospital, Georgia
BMarko Structures also delivered hospital modules — which they named "Liberty Boxes" — with speed. This small business located in Georgia, USA, prides itself on being 100% on time. They knew they could rapidly build hospital space from shipping containers.
"We put our offering online and emailed emergency management agencies on a Sunday in March," says Antony Kountouris, Chief Executive Officer of BMarko Structures. "The Georgia Governor's Office reached out to us on Wednesday, and by Monday we had a contract. We submitted the invoice; they paid the down payment the next day. It was astonishing how fast they moved. They meant business."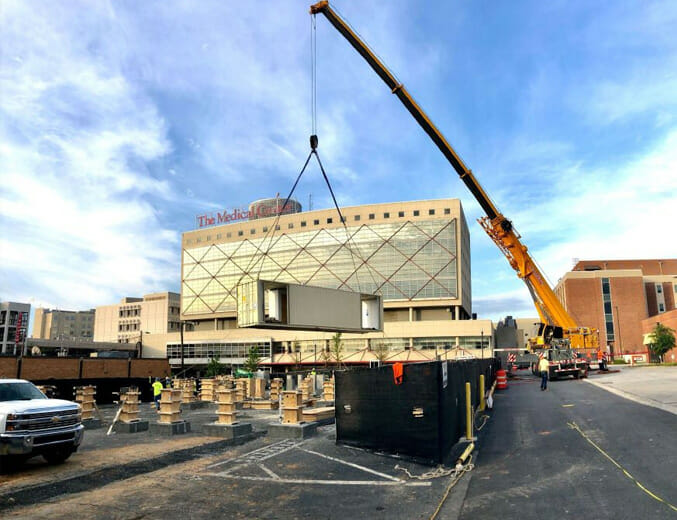 A crane lifts a Liberty Box module into position.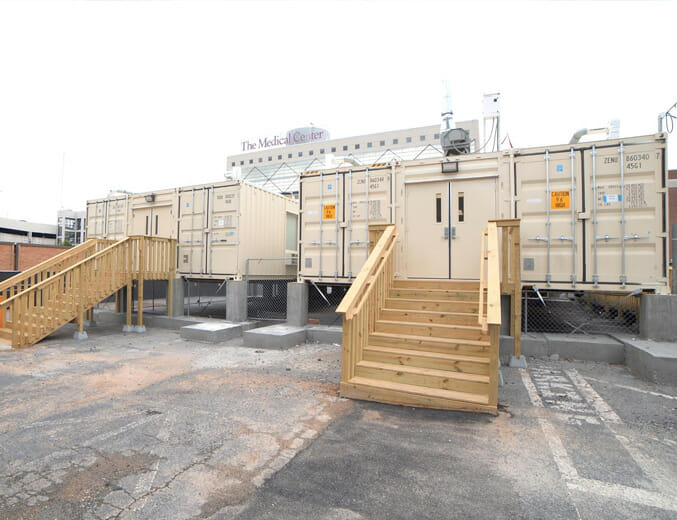 The completed Liberty Box hospital outside Navient Health Medical Center.
To build 48 patient rooms from 42 containers in under 3 weeks, BMarko Structures needed to hire lots of labor. A job ad they posted on Craigslist went viral — likely because so many people in the area were out of work. One electrical subcontractor brought a dozen electricians, but BMarko also had individual contracts with about 130 people.
"We just kept hiring people," Kountouris says. "We'd call someone on a Sunday at 8:30 in the morning. They'd ask when we needed them to start, and we'd say, 'Today. And can you bring some of this material we're missing?' Some of them were willing to play ball and they were the right people for us!"
Georgia is a top film and TV production area in the United States. But because of the pandemic, "Film set crews were sitting on their couches, out of work," Kountouris says. That talent was available for BMarko to tap into. (One of the 24 welders they hired Kountouris describes as 'phenomenal'. He'd welded for Disney for a decade.)
"I might say that we needed a 100-kilowatt generator," Kountouris says. "And they'd ask when we needed it. I'd tell them we needed it now. And they say, 'OK, I'm on it!' That wasn't weird to them. In the construction industry, that's definitely weird!"
A big challenge was that they had to start building before the engineering and design work was completely finished. "That was really difficult. I don't advise it!" laughs Kountouris.
They were able to pull it off, Kountouris says, only because everyone knew how important it was. "We had no days off, some of us were putting in 17-hour days. We'd barely sleep and still had to be here at 7AM the next day."
Related Reading:
Mobile Hospitals: Lessons Learned During COVID
In this article, first published in our Jan/Feb 2022 issue of Modular Advantage, we caught up with a couple of companies — one large, one small — that responded during the first wave of the COVID pandemic in 2020. They shared their experiences manufacturing mobile hospitals during the pandemic, and how those experiences have shaped their ability to respond to future emergencies.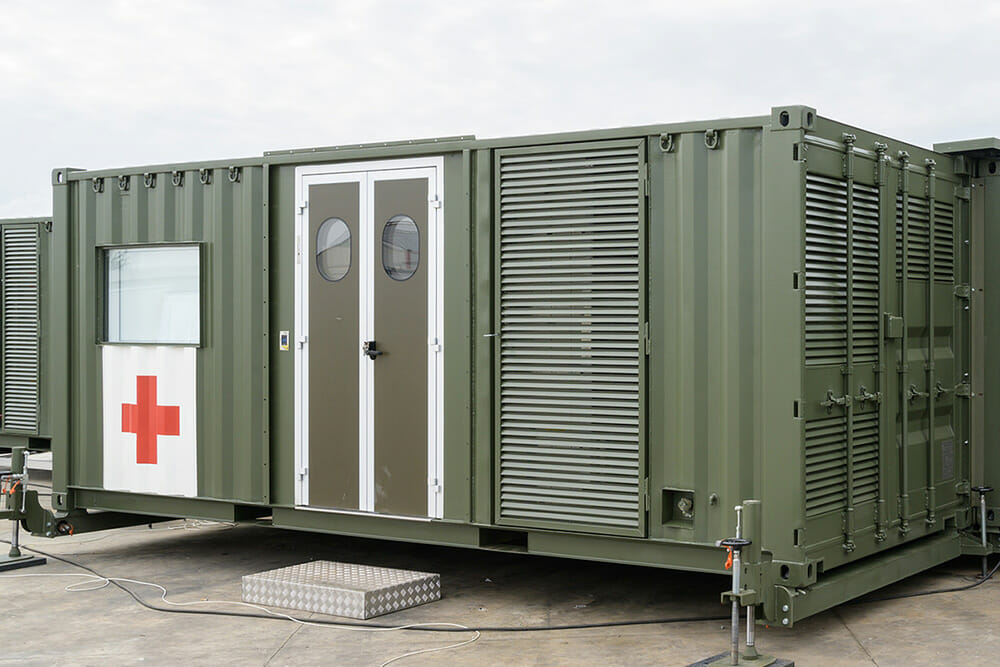 Preparing For the Next Wave in France
In March, 2020, in response to a lack of beds and intensive care units, the French Ministry of the Armed Forces issued a call for projects to address the need. They were concerned about [then] current crisis, and also about a possible second wave of COVID-19 patients.
Xavier Jaffray, the Chief Executive Officer of LECO, responded to the call. LECO has one permanent factory in the west of France. But their typical routine is to rent temporary space and hire temporary labor to manufacture modules.
"The right question is not, 'How many hospitals can you build?''' Jaffray says. "Instead, the right question is, 'How many hospitals do you need?'"
Because of this model, "The right question is not, 'How many hospitals can you build?''' Jaffray says. "Instead, the right question is, 'How many hospitals do you need?'. If you need 10 hospitals, we can rent the space and hire the workers so we can build 10 hospitals. If you need 20 hospitals, we'll build 20 hospitals."
Aiming to be in time for a second wave of COVID-19 patients, LECO began construction on two hospitals in October, 2020. They were operational 6 weeks later.
Typically, when LECO opens a factory, the first two weeks are spent training new workers. To maintain physical distancing, LECO developed an online learning platform. They're using this to quickly train the workers who will build the hospital modules. 700 people have used it and are ready to build.
A challenge LECO has faced with building hospitals quickly is currently unreliable supply chains. They've overcome this by working closely with Saint-Gobain, a multi-national company headquartered in France. A colleague at Saint-Gobain checked which materials and components were in stock. "We designed the hospitals only with components that we know [were] in stock," Jaffray says.
Field Hospitals, A Diagnostic Center, and Triage Facilities in Italy
R.I. Group is an Italian modular construction company. In March, it won a tender with the NATO Support and Procurement Agency to manufacture fully-equipped field hospitals. Delivery had been planned for early 2021, with manufacturing to begin this summer.
"However, given the current emergency, we started manufacturing in April so we can deliver the first two hospitals as soon as possible," says Giovanni Violante, Managing Director of R.I. Group.
"These field hospitals will include interconnected containerized shelters, as well as tents," says Violante. "They will have a triage area, first aid, X-ray and ultrasound laboratories, a surgical preparatory room, operation and hospitalization areas, and a pharmacy."
R.I. Group has delivered a mobile diagnostic center to one of the main COVID-19 hospitals in the Apulia region of Italy.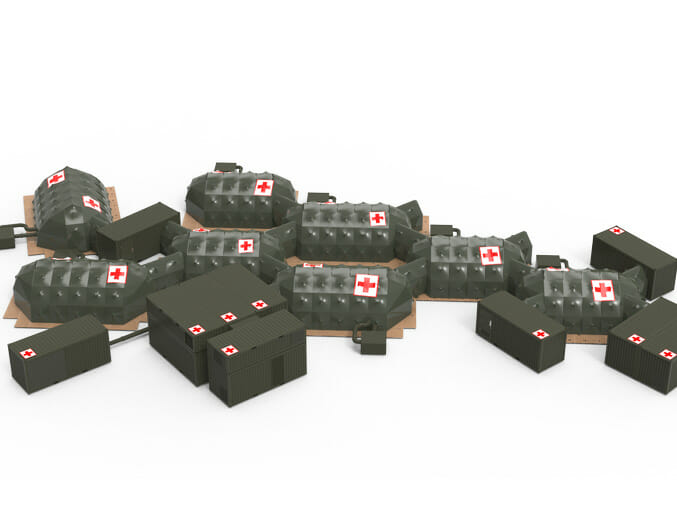 "The facility is for triage of patients who will be sent to infectious diseases wards at the hospital," explains Violante. "It consists of seven modules. One is for admissions, three for temporary hospitalization, one for medical staff, and two for technical rooms and bathrooms. It will remain at the hospital even after the pandemic emergency."
The company has also delivered modular units for triage at a hospital in Castellana Grotte, in southern Italy.
About the Author: Zena Ryder is a freelance writer, specializing in writing about construction and for construction companies. You can find her at Zena, Freelance Writer or on LinkedIn.