It's Not Just a Container: Capturing the Imagination w/ Falcon Structures [podcast transcript]
It's Not Just a Container: Capturing the Imagination w/ Falcon Structures
Stephen Shang, co-founder and CEO at Falcon Structures, joins the podcast to talk about the current uses and still-unrealized potential for shipping container-based buildings.
Stephen also speaks to the nature and importance of MBI's work in creating container-friendly building codes. Lastly, Stephen provides an overview of his work with MBI's Government Affairs Committee and its efforts to halt the expansion of the federal government's anti-industry Davis-Bacon Act.
John McMullen
Hello and welcome to Inside Modular: The Podcast of Commercial Modular Construction, brought to you by the Modular Building Institute. My name is John McMullen and I'm the Marketing Director here at MBI. Today I'm talking with Stephen Shang, founder and CEO at Falcon Structures. Stephen is here to talk about the possibilities of container-based buildings, as well as to give us an overview of his current work as the chair of MBI's Government Affairs Committee. Stephen, thanks for being here.
Stephen Shang
Thanks for having me.
John McMullen
Tell me about yourself. What's your background? What got you interested in building with containers in the first place?
Stephen Shang
Sure, I do have quite a checkered past, John. I actually was an electrical engineer in college, as probably the only one for my class who graduated who doesn't know how to jumpstart a car. From there kind of went into high finance consulting different streams like that and was chasing.com gold out in San Francisco. In 2002, I had this eureka moment where I said, You know what, I would really like to build a real business, something that you can touch, feel, kick, you know. So, we stumbled across the idea of kind of buying shipping containers, because there's so many piled up in the ports, and renting them out for portable storage. That was my first introduction to containers.
John McMullen
Well, very cool. You do have quite a checkered past. And it seems like you have evolved a bit yourself over the course of your career. So, I'm wondering about your buildings. Tell me about how they have evolved because you've been doing this for over 20 years. I have to imagine you've learned a thing or two. How have your structures and your designs evolved now that you've been working with them for so long?
Stephen Shang
Sure. So, when we first started out, it was all about this portable storage, and we even called them storage containers. Back then nobody really knew what a shipping container was. So, they all thought we were selling Tupperware or something like that, but we listened to the marketplace. As we started getting involved with renting out portable storage containers for construction sites to store electrical gear or plumbing fixtures, we listened to the customer. Then we started getting the question, can you build us jobsite offices out of these containers? We'd love to use them. They'd be ground level, highly secure. So, we know a couple guys could help us figure that out. And so, we started figuring it out. Next thing you know, we were in the kind of job site trailer business and renting out what we call ground level offices.
Now 2008 2009 hits, and I'm sure you'll remember we had the great recession. About 67% of our customers were in the construction industry. So, we had all these containers coming back off the construction sites. We're like, oh, man, what do we do now? We've personally guaranteed all these loans to build up a huge rental fleet. How do we get ourselves out of it? So again, listened to the customer. We were approached by a group in San Antonio, actually the Air Force, and they asked us, can you build us a simulated village using these shipping containers? What kind of village and they're like, we need a Middle Eastern theater. We need to really have some way to really train our troops against IEDs, improvised explosive devices. Not knowing what it was, we're like, yeah, of course we can. Next thing you know, we're in the military training business.
After four or five years, we had built probably the largest container-based city in the US. It's a simulated city of 700 shipping containers out in the middle of nowhere in New Mexico. In 2012 to 2013, for the lessons we learned in that, again listening to our customers, we started thinking. There's probably an application for container-based structures and just general industry, not just with the military, and we were starting to develop into more of a manufacturer than just a construction company. We thought, we can take a lot of those lessons that we learned and really start manufacturing these. In 2014 2015, Falcon Structures was born. From there, we've really developed how to build cost structures using containers and build them efficiently through a manufacturing mindset.
John McMullen
That's very cool. So, you've got so many things. What's the first step in making a container building? Obviously, you need a container, but what needs to be done to that raw container before construction can begin?
Stephen Shang
Yeah, so different than traditional modular. I think you're asking about what's the first step in manufacturing, not the first step in an ideation project?
John McMullen
Well, yes.
Stephen Shang
What's different about a container-based structure is you're actually starting with a container. You have the box. In a lot of modular factories that I've heard over the years, you're starting with nothing, and you're actually building the box using either timber or you're building it with steel. With us, we bought the container, it's been used for shipping and then we're starting with that. The process is different in the sense that you're not starting from scratch. So, you get a head start in that regard. At the same time, when someone builds a floor from scratch, walls from scratch, they can build in the doors and windows. We have to cut out the doors and windows and then reinforce the container structure. So, if you cut something out of a container, it has to be stronger. You have to reinforce the structure so that it doesn't kind of fall in on itself. So, the first step is really what we call our hot works. But really, it's taking the shell in to start modifying the shell.
John McMullen
What is it about a shipping container that makes it so versatile?
Stephen Shang
I think there are a couple things about it. I'll talk about three things about the shipping container that make it more versatile. One is there's something about starting with a box versus starting with a blank sheet of paper that I believe captures the human imagination. There's a book my wife bought for my kids. It's called, It's Not Just a Box. It's about this little rabbit, who finds an Amazon refrigerator box. Next thing you know, it's a racing car. It's a burning inferno. So, it's sort of starting from nothing, we're starting with a big box. It captures, I think people's imaginations. You see a lot of applications using containers.
I've been doing this for 20 years, like you said, and I'm still amazed at some of the things that come to us to this day. In the last few years, we've seen people building swimming pools in these shipping containers. They're building vertical farms to grow crops in. They're building wastewater enclosures. I mean, it's just limitless. I think it's because we all have that little rabbit inside of us. So that's the first part of it.
The second part of it is from a very practical standpoint. Containers are not as flexible in their dimensions as a traditional modular structure. Traditional modular, you can go 12 feet wide, 13 feet wide, 16 feet wide, if you want to. You can go you know, 53 feet long, 60 feet long, 35 feet long. With a container, you're stuck. You're stuck with a 20-foot container, or a 40-foot container. They're all eight feet wide and some of them are nine and a half feet tall. Some of them are eight and a half tall. You'll notice our tagline is think inside the box. We believe with these design constraints, that it forces you to be creative on how to use that space. Either through single wide or double wide and all that. But because you're limiting your design and discipline to that, what happens is you get much more creative ideas that come out of it. On top of that, what happens is, you can ship these containers anywhere you want in the world because they're shipping containers. There's an entire global infrastructure that's built around shipping these containers all over the world, by rail, by truck, by ship, even by airplane. So, that's the second reason I would say it's versatile.
The third and final reason. I don't know why this is we've been doing this for 20 years, but there are people out there who think shipping containers are cool. They're kind of cool. Some people like the industrial chic look of them. Some people think you're upcycling. I mean, there's a lot of different reasons. I'm not sure if that's going to stick. I mean, it's stuck for the last 10, 15 years. Maybe that's something that comes and goes. But because they're cool, people tend to want to embrace projects with them a lot more than just traditional construction.
John McMullen
Well, industrial chic is a thing. So, you've mentioned the possibilities, this imagination that it takes to really use these containers to their full and growing potential. What are the challenges behind really building with things? I know there must be some and maybe it's just the other side of the coin working within a confined space, working within defined parameters as opposed to having that blank sheet of paper. I was wondering if you could tell us about those challenges and maybe if there's a project that you've done that was particularly challenging, and how you got through that.
Stephen Shang
Definitely the design constraints side because that is a challenge. You have to be really clever in the way that you think about these. I would say that one of the biggest challenges compared to traditional construction or even modular construction, is we are repurposing a shipping container. If you're looking at getting involved in permanent modular construction, what's one of the things you must comply with? The building codes. In 2015, when we first went down this path, the building codes didn't know what to do about containers. You had this kind of real interest in the marketplace. You had all these different building code officials around the country. It was just this patchwork of regulations that emerged. Some of it was duplicative. Some of it was conflicting. To build a container-based structure that was building code compliant was extremely difficult.
The main reason for that was these building code officials didn't know whether or not they were safe, unlike steel that you buy from the steel yard or lumber. There was no traceability on the materials because these things are usually built overseas. The question was, well, it looks like it's strong, but how do I know that it's going to withstand these kinds of forces or that the wind is not going to blow it over? They've been across the ocean, they've been field tested, but a building code official is not going to buy that. So that was one of the big challenges that we saw in 2015 when we first joined MBI. That's when I got involved with the Government Affairs Committee.
We said, how do we get containers into the building code? There's a whole long-drawn-out process on that. It was really through those advocacy efforts that led us to only 23, where containers are now in the 2021 building code. That they are being accepted by building code officials. You see much more of a proliferation of container-based structures because these barriers have been resolved.
John McMullen
So, thanks for bringing up government affairs. I wanted to switch gears to that anyway. You've been a member for a number of years, I was wondering if you could talk about sort of the mission of that committee and why it's so important beyond just containers.
Stephen Shang
Yeah, so if you look at MBI and all the all the different facets of value that it brings its membership, I believe that government affairs is one of the things that MBI does amazingly well. What do I mean by that? MBI is the voice of the modular industry, but what is that voice being used for? Lobbying, advocacy, really protecting our market, protecting our assets, but also finding new ways to use modular. I mean, these are all those things you're interfacing directly with the government or with the building code community. Somebody needs to be that collective voice in order to do that.
A manufacturer out of Austin, Texas trying to go talk to the ICC, the International Code Council, they're not going to give me the time of day. They're not going to listen to anything I have to say because I'm this little company and they're this international organization comprised of 64,000 code officials. If you have someone like MBI come in who represents the entire Modular Building Institute and they go to the ICC and say, there's this new form of construction that's happening called modular, and it's really exciting, but right now the codes aren't written very well for it. How do we really drive adoption of that by improving the codes? Well, the ICC wants to do that, and it gets the attention of the International Code Council. Then once you've got their attention, all of a sudden, you can start having conversations with building code officials saying, here's why modular isn't scary. Here's why modular is going to help you solve affordable housing in your area. This is how it's going to help you build more schools. This is how it's going to solve Maslow's Hierarchy of Needs of just having a shelter. Then suddenly, it's awesome. That's why I got involved with the Government Affairs Committee. I just see that it opens up so many opportunities for so many different companies. It's just an exciting place to be.
John McMullen
Well, we've certainly had some success with ICC. I know we've got three standards that we've published. A new one, I think, just this year. So that's very exciting. On another note, I was wondering if you could speak to sort of the topic of the day, or the year perhaps with our Government Affairs Committee, is the Davis Bacon Act and the problems that its expansion could bring to the industry. I was wondering if you could maybe give us an update on that. How it's affecting Falcon or potentially could affect Falcon, and what it could mean for other manufacturers around the country?
Stephen Shang
Sure. Just as a recap, John, of what exactly is going on with Davis Bacon. I think before I was involved in government affairs, if you said Davis Bacon to me, I probably would have said yes, please and I'll have a side of eggs. So what Davis Bacon is, I think it's a law or an act.
John McMullen
It's an act.
Stephen Shang
The act said that if you're working on federal job sites, you have to pay your workers what's called prevailing wages. In essence, these are union wages. It was developed 100 years ago to really protect the unions from having lower cost labor from coming in and working on these federal jobs. So, a couple of years ago, when we were in San Antonio at the World of Modular, the current administration through the Department of Labor, decided to clarify the Davis Bacon rules. They say clarify and I'm saying these in quotes. I don't think the listeners can see me doing quotes, but it's clarifying quotes. What they did was they said that it's not just the work that's being done on site that needs to pay these prevailing wages. It's the work that's being done off site as well. So really putting a target straight on the modular industry.
If a modular manufacturer has to comply with those rules, if you're building something in New York and you have to pay the prevailing wages in New York and let's say you're in Arkansas, then all of a sudden, you're paying your guys in the factory a lot more than you ever imagined. Not only to mention the administrative burden of trying to balance that with everything else. Our estimation is that this really impacts our industry in a major way on a couple of fronts.
One, as far as just business, it's going to cause a lot of us not to want to work on federal jobs or it's going to make the pricing of these federal jobs increasingly difficult because we have to pay higher labor wages. I think the current estimate is that it would have a 20% hit on our industry going from about $12 billion a year to $10 billion a year. That's substantial and it's a huge chunk. Not to mention, this is the federal Davis Bacon and there are a bunch of mini Davis Bacon's that are in the different states where they mirror kind of what's happening on the federal level. Then all of a sudden, the state program is being clarified in quotes. Then they started adopting this and that starts to affect local. I don't think that $2 billion drop takes that into account. So, then you see even a bigger drop. Then it impacts the marketplace. Affordable housing becomes less affordable, schools become more expensive. So, it has this ripple effect that it really just doesn't work. What we've been working on, the Government Affairs Committee, is how to talk, how to work with the current administration and educating them that this clarification really is not beneficial for the constituents, for the citizens, but actually very detrimental on multiple levels. That's one of the things we've really been working on for the last couple of years.
John McMullen
I know MBI has done its best to sort of get the word out, we're having this conversation. I've had conversations prior with our executive director and other people about the Davis Bacon Act and its expansion. If you're a manufacturer, or if you are in the industry, if you're hearing this for the first time, what can people do to get involved if they want to oppose the expansion of the Davis Bacon act?
Stephen Shang
Yeah, definitely a great question. So, there are a couple of different ways a manufacturer can help. One is because we are all over the US. You can definitely contact your local representative, US house representative or your local senator. For the longest time this clarification was bottled up in the executive branch. Based on recent efforts, we've been able to get it to the legislative branch and the legislative branch is actually paying some attention to this. We had a couple of MBI government affairs members represent us in going to DC to talk to the different staffers that were tasked with understanding this issue. They did a great job educating them, but that's not it.
We need to educate as many representatives as we can. We need to educate as many senators as we can. Being that we're so geographically dispersed, we can actually make a difference by talking to our local guys. We are big employers in the areas where our factories are. The other way is really working with MBI with the regulatory relief fund. So, we've definitely set that up. All the members of the board have contributed to this regulatory relief fund. We've been able to use that to hire some very high-powered lobbyists in DC to help us strategize and figure out how to navigate this. That money is continuing to be spent and so contributing to that regulatory relief fund. That helps a great deal as well.
John McMullen
I think that was a great sort of Davis Bacon in a nutshell. Thank you for that. Switching gears just a little bit. You've mentioned this sort of bomb dropped at World of Modular. You've been at World of Modular for many years. This past year, just a month or so ago, it seems like so much longer than that ago, but it really wasn't it was a month. Can you tell me about your presentation? It had to do a lot with what we were talking about earlier with containers, with building codes. I was wondering if you could give us a gist of that presentation for those who may have missed it.
Stephen Shang
Sure. Just a plug for World of modular. We started going to World of Modular and I think it was like 2015 or 2016. It was at the Bellagio like it was this past year, but there were maybe 500- 600 people there. It was still a pretty small conference. There was some buzz, but it was like okay, this is nice. You spend some time around the pool and all that. This World of Modular 2023 was also at the Bellagio. It was just gangbusters. A1500 attendees record for MBI. There was no time to go sit around a pool. I mean, it was session after session, networking after networking. It was absolutely amazing. The energy and enthusiasm around the modular industry was just unbelievable. So, if you missed it, definitely try to make it next year for 2024's in Orlando. It is really quite the event.
John McMullen
I'll take the plug, thank you very much. We'll be in Orlando next year.
Stephen Shang
As far as my presentation goes, this was probably the fifth or sixth year I've given it. It was really an update on container-based structures and how to build safe container-based structures that are in compliance with the building code and all the different tools that are available out there for manufacturers and builders to use the building code to make code compliant structures. I have promised the people who have attended my presentation for the last six or seven years that next year, it'll be a little bit different, actually a lot different. It needs a refresh. We'll have new jokes; I won't be telling the same jokes over and over. It'll be some more cutting-edge stuff on container-based structures. This last presentation was really around, what's the code environment? How has it evolved? How has it embraced container-based structures?
John McMullen
Very good. Well, now that we're back on the on the container train, I have a couple more questions for you about containers. You've done a variety of projects. You mentioned earlier you built a city. You've done offices for construction sites and everything in between. Is there a potential for containers that hasn't yet been realized? Is there an idea out there that could be perfect for containers that you haven't seen done yet?
Stephen Shang
Without a doubt. I think we're just seeing the beginning of this container-based structure trend. In fact, I think we're seeing the beginning of modular as a whole. Right now, modular is only 6% of construction. That's up from two and a half percent, five, six years ago, but still growing. So, one of the things I've seen about this marketplace that's just been fascinating, is going back to that rabbit. We don't have an R&D department at Falcon where we sit around and think about, wow we could do this with a container, we can do that with a container. These ideas come from the marketplace. People come to us saying, have you ever thought about doing XYZ with a container? Fortunately for me, I have a team who is full of problem solvers. They're used to saying, let's think about that. Let's give it a try. I think there's so many uses that we have not even uncovered yet. I don't think we've seen all the ideas yet. I'm really excited about the future of this part of the industry for sure.
John McMullen
What would you tell someone who's looking to get into building with containers, who shares your enthusiasm for the industry and wants to start but really doesn't have a clue where to begin? What would you tell that person?
Stephen Shang
Yeah, so I would tell them several things. One is if you've read that Yahoo article that talks about this beautiful custom home that you can build out of $2 containers, don't believe everything you read on the internet. The cost savings aren't that dramatic. It can be good, but not necessarily. I would say first, set your expectations correctly. I would say second, there are a lot of good thinkers out there around containers, lots of good resources. Just because you can draw it on Google SketchUp, don't believe that's what you can build either.
You see a lot of container-based structures that are cantilevered in different ways, that have wide openings, and it's like, how in the world did they reinforce that? I would reach out to either a manufacturer who's been there done that or a design professional. We have quite a few members in MBI that are great design professionals that can advise as to whether or not something is practical, and whether it's constructible before you go too far down that path. Third, I would really do my due diligence on the code environment. We have made a lot of strides in that area, but just sitting down with your local building code official and saying, this is what I had in mind. What do you think and really making them included in that process. I would say those three things would be kind of the way that I would get started, just to make sure that it's worthwhile to go down this path.
John McMullen
Very good. Very good. So, what's next for you? What's next for Falcon? Are there any exciting projects on the horizon?
Stephen Shang
Yeah, we've got multiple projects on the horizon that I'm super excited about. I don't think we're going to have time to talk about all those today. Just this past year, we doubled our footprint of our manufacturing facility, continue to grow and I think it's because we're seeing the convergence of two major trends. One is the modular industry continues to grow. So, we're catching that. Then the use of containers in that part of the modular industry is awesome. We've been able to clear a lot of obstacles with building code. So, for me, what else can we do? What other projects can we take on that are fun and exciting and working with interesting people. Then on the MBI front, I'm super excited for the next several years for MBI as well. We just celebrated our 40th anniversary. Kudos to MBI. I think the next 10 years are going to be some of the most exciting years that MBI sees in its history with just the acceleration of adoption of modular construction. Also, with a lot of the technology tools that we're seeing that are coming into play, that are making them more affordable, helping people think through it better and just the sophistication of players who are in this space continues to grow at an exponential rate. So, it's just such an exciting time. I'm just really excited about what's to come.
John McMullen
Stephen, I really appreciate your time today. It's great to dive into the world of containers. Again, I think it's fascinating. I do like the industrial chic vibe. I count myself among those people who like houses designed that way. I guess I'll have to get rid of my SketchUp and it was completely empty inside. Thank you for your time today. I appreciate it. I'm looking forward to seeing you at the board retreat next week.
Stephen Shang
Thank you, John, for doing this. It's a lot of fun.
John McMullen
My name is John McMullen and this has been another episode of Inside Modular: The Podcast of Commercial Modular Construction. Until next time.
Related Reading:
Modular or Offsite Construction is About the Process First, Product Second, Project Third
Developers, often in response to RFQs or their own project needs, start with the project. What kind of building do they want to build? Accustomed to traditional construction, they hire an architect and go down the path of designing the building completely, applying for permits, and preparing to make what was designed.
For offsite and modular construction, this is wrong.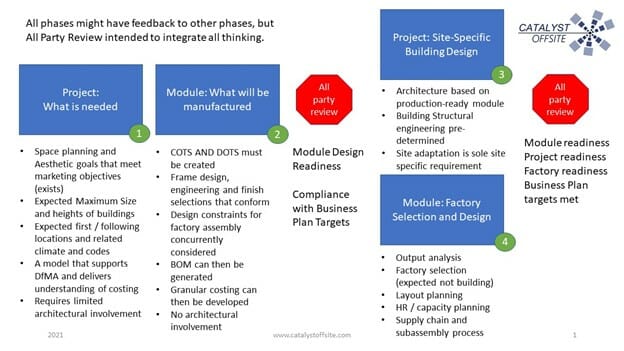 Blair Davies 
You know, I wrote some notes or what I was gonna say, but the first one is really, a little bit of a light bulb goes on, I run into some people who have gone off and tried to figure out what they need to do. And then they got kind of married to their decisions. And that's just the sign of not thinking things through and then getting a little too committed and not being objective. And so I think that's a big one.
So first of all, what the next comment would be, I've seen people regularly designing a building, and then trying to turn it into modular, so we get called, they send us drawings. We have to tell them a little bit of a "go, no go" in it. The best thing is to hear more of that what I was describing, which is the space planning how many people are going to live in this place? How much land are we going to be on? What's the layout of typical buildings, the stuff but what typically, what we're seeing developers, the first mistake is they send us a drawing. They've spent all this money designing an actual building, and then they asked to turn it into something modular.
The next thing is, the developer or builder thinks that construction costs will be lower. They're not for the first time, just think very simply, if you have module building, you're going to have two columns side by side, you're going to have two walls, one beside each other. You're going to have a ceiling and a floor, one on top of the other. So right away you're staring at twice the amount of wall and ceilings, floorspace, that kind of thing. And now, with the ability to repeat all that stuff, you're gonna have the ability to bring cost down.
Now the game is speed. So if you start thinking about what is called heads and beds, you should be able to greatly speed up the ability to earn revenue. And that far outweighs the impact on cost. And then the last thing, which is, you know, and this, I think people get this part, which is you now can do things in parallel. So you can be building stuff in factories, while sites are being prepared. I, I think that message has been fairly well communicated, it's still difficult for some people to get their head around. But that's the least worry these days.
John McMullen 
What can you tell me about the importance of communication during the project? Are there some best practices that you've learned?
Blair Davies 
You know, this also comes from the experience I had, and in other businesses. So strict project management principles, you know, hold meetings, meetings happen on time, action items are recorded, owners of those action items are recorded dates are kept if the date misses, somebody resets their day, simple, straightforward, strict project management. So discipline, keep the team's lean, and make sure they're communicating.
We work with an approach called a RACI document: Responsible, Approval, Consultant, Informed is what to call it, that's what the acronym means. And that means everybody knows who owns what and when. So those, the other things for communication is we have one central database for all information so that people can get to it one source of truth, there's not going to be two designs of people edit or change, you don't download the design, change it and put it back, everybody works with the one place, executives need to have visibility. So they need to be holding 15 minute review meetings regularly, probably more upfront and fewer down the road. But that means any types of major decisions are being made in a very transparent, apparent way.
These Stage Gate reviews that I explained, they're critical to make sure that those lean teams are making good decisions, and that is visible, so that they don't negatively affect the business plan. And lastly, and this is a real gem, you know, know what you do not know, and that's kind of a human comment. But folks get a little married to their decisions, which is what I was saying earlier, and to stay objective and to stand back and go do I really have this figured out and challenge yourselves and have other members of that team challenge to make sure that we know what we don't know, and then go find the people who understand how to how to do this transition.
John McMullen 
So you've been a part of a lot of different industries, as you were talking about at the top, you've been, you got back into the building industry and oh, five before that, you're all over the place. I was wondering if you could tell us about some lessons that you've learned, during your time in the building industry or really anywhere? Are there specific projects that you can tell us about that were particularly helpful in your understanding of the potential for modular construction?
Blair Davies 
Well claim about it all. So just take away the words and the technologies and all that stuff. Because, in fact, it's a human thing. The idea that a group of human beings should collaborate in a tight and transparent way, is how you get amazing results. And, you know, we used to talk when I was in a pretty sophisticated industry in tech, that you put all these smart people in a room, and they all take their name tags off and throw them in the corner and work for the success of the project. And, and that and also have confidence that the numbers are going to work out. In fact, that's not their problem. Somebody else is going to make sure the companies earn the profits they they deserve.
So in essence, what this industry does by putting the product in the middle and having the various people that contribute to it suppliers, customers, finance, legal distribution, site prep a factory that those folks are collaborating in a discipline project management way to have an outcome. That's and I can describe airplanes, cars, modular buildings. That's, that's what's needed and when I answered the building industry and OPI when I was kind of shocked to see it very linear, very combative. You know, "He who speaks first that is site meeting loses" kind of stuff. Now all of a sudden with modular, it drives this collaboration to such a degree that we can all be successful.
John McMullen 
So I know you are a busy guy. What does 2022 look like for you?
Blair Davies 
Well, we're seeing more and more developers and builders coming to us to help help them transition to off site construction. And every time we do that, we get better and better. We're not only doing the guidance, consulting and, and rolling up our sleeves and doing but we're also designing and building equipment to go into these factories. And every time we do one, we learned something. And we're seeing that, you know, that invitation for involvement growing quite considerably, probably outpacing the industry.
Because a lot of developers and builders are not necessarily thinking they're going to get their answer from the merchant modular builders that exist today. They want to be in this business. And they can. That's number one. Number two, you are going to see us with products and 22. For both modular builders and steel fabricators, I'll just keep that a little bit in our cards to our chest. But we will be rolling out products that help people as well. So yeah, we're very excited about 2022.
John McMullen 
Awesome. So in the meantime, until your products roll out or after, if people wanted to--I know you said you hated the word consult--but if they wanted to consult or pick your brain or get you involved in a project, what's the best way to get in touch with you?
Blair Davies 
Our website is catalystoffsite.com. And my email is Blair@catalystoffsite.com. On LinkedIn, all my contact information and phone number and so forth are on on the website. And I look forward to being a strong participant in modular building events. And you'll see me there too.
John McMullen 
Well, thank you so much, Blair. This is great, great information. I appreciate your time today. Oh, before you go, I also want to mention that this information is also now available on our website in the format in the form of an article. So thank you, Blair, for putting that together.
Blair Davies 
You're very welcome. Thank you.
John McMullen 
My name is John McMullen. And this has been another episode of Inside Modular: the Podcast of Commercial Modular Construction. Until next time.