How to Create an 11-Story Building in Just 15 Days w/ BROAD USA [podcast transcript]
How to Create an 11-Story Building in Just 15 Days w/ BROAD USA
BROAD USA's general manager Sunny Wang and director of communications Jeremy Zimman join the podcast to describe BROAD's newest project: an 11-story modular multifamily "Living Building" that was built in just 15 days and then stacked in only 29 hours. What was behind this remarkably fast turnaround? BROAD's adaptable B-CORE stainless steel building slabs.
Learn more about B-CORE—and about BROAD's commitment to environmentally-conscious business practices—in this episode of Inside Modular!
John McMullen
Hello and welcome to Inside Modular: The Podcast of Commercial Modular Construction brought to you by the Modular Building Institute.
Sponsored ad
With a compact footprint, variety of unit options and seamless system management, City Multi-Variable Refrigerant Flow Zoning Systems from Mitsubishi Electric Train HVAC US are a one-stop solution for modular projects. With efficient operation and the ability to connect to commercial ventilation equipment, third-party systems, and comprehensive control solutions, City Multi-VRF can help you meet energy and performance goals on your next project.
From off-site development to on-site assembly, you can trust our manufacturer-level support to guide you from system selection to design to startup no matter the application.
To learn more about our offerings visit Mitsubishipro.com
Welcome everyone. My name is John McMullen and I'm the Marketing Director here at MBI. Today I'm talking with Sunny Wang and Jeremy Zimman of BROAD USA. Sunny and Jeremy are here to talk about BROAD's innovative modular manufacturing methods, and how manufacturers can become more environmentally friendly.  So, let's start with you Sunny, tell me about yourself and how BROAD got started.
Sunny Wang
BROAD USA is a subsidiary of the BROAD Group, which is a private company established in 1988 by two brothers. For over 30 years, the core business is commercial air conditioning. After that, we diversified our business to modular construction. The reason is that we had grown increasingly frustrated with the building industry. Not only with the poor-quality standards, but also with the prevalent disregard for environmental production.
So, that's why since 2009, we began to produce prefab construction or the BSB [BROAD Sustainable Building] structure. So, for myself, I have been working with BROAD Group for almost 15 years. I started as a Sales Engineer, and as a General Manager. Now I serve as the General Manager of BROAD USA and was President of the BROAD group.
John McMullen
Very good. Jeremy, tell me about yourself. What's your background and how did you get involved with BROAD?
Jeremy Zimman
Well, thank you for having us today, John, it's a pleasure to be with you. I've worked in and also with China across several industries for the past 20 plus years and I've long followed BROAD. I've been fascinated with B-CORE, which is the material that the Living Building is built with stainless steel material for many years. So, when I had an opportunity to join the company a couple of years ago, it was a slam dunk; I'm Director of Communications.
John McMullen
So, let's dive right in. I've seen BROAD's name quite a bit in the news lately. In fact, I saw a video on CNN's website just last week, showing one of your recent buildings, a "Living Building", as you mentioned--it's a 10-story apartment building--and it went up in less than 29 hours, which is amazing. In fact, BROAD has a history of stacking buildings very quickly and at very low cost. So needless to say, I have lots of questions. First off, tell me more about that 10-story Living Building project.
Jeremy Zimman
So, the first Living Building was built earlier this month, and the time lapse erecting of the building was displayed in the video. So, we built 10 floors in 24 hours, and all 11 floors were completed in a little over 28 hours and that's the assembly on site. All the modules were manufactured off site in 15 days, and then assembled on site in a little over 20 hours. So, it's a 32,000 square foot building, built with B-core our stainless steel structural material, and it was delivered turnkey, including all the electrical and mechanical hv AC. We have our own BROAD outdoor ventilation systems that bring in 100% fresh air from the outside, no return or recycled air. Their electrical power and wiring, lighting all the interior fixtures was completed and ready to move in.
So, our approach to modular construction is to offload 100% of the construction off site. So, when the modulars are delivered, we just do the bolting and connect to the public utilities. While most buildings are static and built to a specific purpose and design, the Living Building is flexible. So, the floor plan, the room layout, even the number of floors can be changed after construction is completed and the building can also be repurposed.
John McMullen
That's amazing. I mean, 15 days is exceptionally fast. So that building, like all of BROAD's buildings as I understand it, are made using with are made with stainless steel. Is that correct?
Jeremy Zimman
Yes.
John McMullen
So, what's the advantage of stainless steel versus some other forms of construction steel?
Jeremy Zimman
So, the use of stainless steel was originally driven by the wishes of our Chairman, Mr. John Ye to cut greenhouse gas emissions. So, carbon steel, and even more so concrete, contributes a lot to global greenhouse emissions in their manufacture. Together carbon steel and concrete is over 15% while stainless steel, which is also recyclable with no degradation of performance; it's probably the most environmentally friendly material. Our B-CORE stainless steel is hardened through a copper braising process, which enables it to be 10-times lighter and up to 100-times stronger than carbon steel. So, we can do creative things like we can cantilever out up to 55 feet. So, it's very strong and very light. B-CORE is also 30-times more resistant to corrosion than carbon steel. So, the service life of this Living Building is virtually unlimited.
John McMullen
Tell me more about the way the modules themselves were designed. In the video I watched of the stacking process, I saw floor panels folding down and window assemblies swinging out; it was a very sophisticated design. Tell me about how that came about.
Related Reading:
B-CORE: The Modern Material from BROAD
In this article—which originally ran in the Nov/Dec 2021 issue of MBI's Modular Advantage magazine—Sunny Wang, general manager at BROAD USA, and his colleagues, Tony Sun (a structural engineer at BROAD) and Jeremy Zimman (BROAD USA's Director of Communications), share some of the details about B-CORE, a strong, lightweight stainless steel material it invested over a decade and $1.25 billion to develop..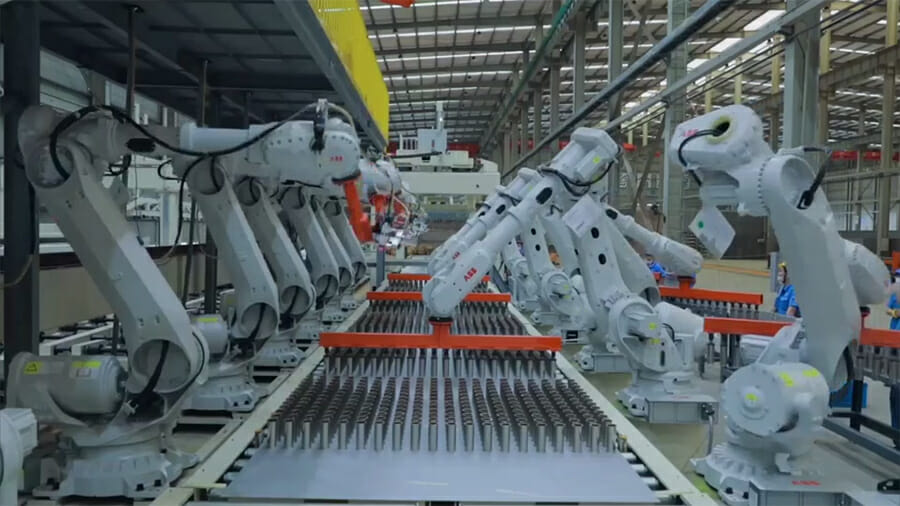 Sunny Wang     
Okay, let's jump in. For the factory-made modular construction BROAD has developed to since 2009, but the Living Building was the first stainless steel construction. The columns and beams are made of stainless-steel channels and square paths, and the floors are composed of BROAD's original standards called B-Core Slab. So, the whole building, just like Jeremy mentioned, has no concrete at all. Each model we designed for the size of the 40 feet container, which is 40 feet long, eight feet wide, and 10 feet high. So, the reason we designed this is because it can't be fitting the shipment, which is frustrating, but actually there is no container needed during shipping. It can extend about two times when unfolded outside for installation. So, it's really realizing the low cost and huge size transportation at a worldwide scale.
John McMullen
So, tell me more about B-CORE. How was it developed and how is it manufactured?
Jeremy Zimman
So, our BROAD sustainable building division, Sunny mentioned was founded in 2009. So, we have a lot of experience in prefabricated buildings. We started with carbon steel from our first factory made building, which was in 2010, until about 2017, when we unveiled B-CORE. So, our Chairman, John Ye invented not only the material, but also the ovens' kilns that we use in our braising process. So, the stainless steel, is braised at 2,012 degrees. That's what gives it the amazing properties of being very light yet very strong. These ovens went through 10 different iterations. So, there's a lot of trial and error along the way. You know, we invested over one and a quarter billion dollars over 12 years to get to where we are today with the B-CORE material in the Living Building product.
John McMullen
The B-CORE product is made up of two sheets of stainless steel with cylinders inside. Is that right?
Jeremy Zimman
Yeah, it's two stainless steel plates with stainless steel tubes in between the two plates. So, between the two plates, that's called a Slab. It's a sandwich structure, very strong, and the thickness of the plates and the slab itself might differ depending on the application if it's a floor slab, or exterior wall, for instance. Then, those stainless steel tubes, the diameter and the density might change as well. What doesn't change is it's always a sandwich structure. Regardless of where in the building is supplied.
John McMullen
So, BROAD's manufacturing facilities must be immense, especially for this last building you put up it was created from nothing in 15 days and transported on site. Can you tell me about your manufacturing facilities and the types of processes that you use?
Sunny Wang
Sure. We try to standardize from design to installation, including the production. So, in our campus, basically, and China, we try to achieve all auto streamline production mode. This is for the purpose of quality, mass production, and extremely low labor and material cost. So, all these building structures and other designs totally comply with international standards to ensure all the buildings can be officially approved in different countries. So, for the core size of the production, it's very simple and very automatic. For example, for the sheet metal process, when we do the core tube fabrication, copper foil fabrication, we use kind of rubbers, and that would form the core tube assembly slab stacked up. We use automation in an intellectual, manufacturing way. So, for sheet metal processing line, we can produce around 20 square feet per line, but we only need three technicians for each shift. So that's a very efficient production. For the hot air copper braising, which is a very unique, breakthrough technology developed by BROAD. B-CORE that's copper braising is hot air treatment. We use blowers to blow hot air into the oven at extremely high speeds and to hit the B-CORE slabs evenly. So that's why we can harden that stainless steel to B-CORE slabs. For this production, we can produce over 10,000 square feet a day, but only use one technician for one shift.
John McMullen
That's amazing. Let's switch gears for a second. I also wanted to talk to you about BROAD's commitment to the environment. As an industry, modular construction I know prides itself on creating less material waste and being more efficient. But since it started, I've read that BROAD has done a remarkable amount of work to become an environmentally friendly company. You mentioned that with talking about stainless steel, but what else can you tell me about the company itself and the efforts that it's made?
Jeremy Zimman
Well, sustainability, environmental protection, saving energy and saving materials is at the core of everything we do. So not to digress too much, but a flagship product abroad in our 33 years of operation 24 years in the US is an absorption chiller, which is a high capacity central hv AC system. So, our system is not electric, and it can be driven by waste or process heat, any kind of thermal heat. So, for customers within a cogeneration facility or micro grid, they can basically get free cooling, nonpolluting. We use a water-based refrigerant, so there's no harm to the ozone layer. So similarly, with B-CORE and Living Building, we approached it from the environmental protection aspect. Because we migrated 100% of the construction to the factory, we have virtually no construction waste. As you know, construction waste in traditional construction can be 25% or more of material that has to be hauled away, which is very expensive, time consuming and consumes landfill so it's not sustainable. The continued heavy use of concrete is not sustainable for the environment either.
John McMullen
So, what suggestions can you offer other manufacturers who are looking to become more conscious of their impact on the environment?
Sunny Wang   
Well, as Chairman of BROAD Group, you mentioned people can find a real approach to sustainable development for higher life quality and a lower impact on the environment. So that's why under the leadership of Mr. John, BROAD continues to perform its mission to put sustainability into action by replacing as many inefficient products and production process as possible. There's new technology and new ways of applying the disruptive technology which can contribute to reduced energy and resource consumption. Sometimes the perception of the modular building has changed from the cost quality to the sustainability factors. So, I hope all the circles of the modular construction take into consideration how to protect the environment, how to protect humankind's resources, and make this to be decisive factors to popularize of the modular construction.
John McMullen
So, what's next for BROAD? What are your goals in the next five years? How do you see yourselves growing? How do you hope to apply your B-CORE product?
Jeremy Zimman
That's a very good question. We recently launched the 1,000 City Strategy based on our Living Building. We will build BROAD pavilions in 1,000 cities across the world in the next eight years and 80 BROAD pavilions across the United States. So, a BROAD pavilion is a mixed-use facility, to demonstrate this new technology, and it includes public space, such as an exhibition hall, conference center, other community space, and residential and office space. So, we also want to use this platform to lure talent to join us, and to trigger developers and architects and other stakeholders to join us to enable modular construction to take up to 10% of the whole construction market. So that that's our goal.
John McMullen
Well, it sounds like B-CORE is a fantastic product. If you're hoping to lure architects and engineers over to modular, I think you've got a great piece of bait for your hook, so to speak. So, before we end, I just wanted to thank you both for recently joining the Modular Building Institute. We're excited to have you here. I expect that we will be hearing lots from BROAD in the years ahead.
Jeremy Zimman
Well, thank you again for having us today, John. We're excited and proud to be members of the Modular Building Institute and we look forward to deep engagement with MBI and all of its members.
John McMullen
I hope so, thanks again and congrats again on a great project and for sharing your experiences with us. I appreciate it. My name is John McMullen, and this has been another episode of Inside Modular: The Podcast of Commercial Modular Construction. Until next time.