How Owner/Developers Can Best Get Started with Modular Construction w/ R & S Tavares Associates [podcast transcript]
How Owner/Developers Can Best Get Started with Modular Construction w/ R & S Tavares Associates
In this episode, Pedro Tavares and Anthony Gude of R & S Tavares Associates share best practices for owner/developers looking to incorporate modular construction into their upcoming projects.
John McMullen
Hello and welcome to Inside Modular: The Podcast of Commercial Modular Construction brought to you by the Modular Building Institute.
Sponsored ad
With a compact footprint, variety of unit options and seamless system management, City Multi-Variable Refrigerant Flow Zoning Systems from Mitsubishi Electric Train HVAC US are a one-stop solution for modular projects. With efficient operation and the ability to connect to commercial ventilation equipment, third-party systems, and comprehensive control solutions, City Multi-VRF can help you meet energy and performance goals on your next project.
From off-site development to on-site assembly, you can trust our manufacturer-level support to guide you from system selection to design to startup no matter the application.
To learn more about our offerings visit Mitsubishipro.com
Welcome everyone. My name is John McMullen and I'm the Marketing Director here at MBI. Today I'm talking with Pedro Tavares and Anthony Gude of R & S Tavares Associates. Anthony and Pedro are here to talk about how owners and developers that are new to modular construction can more easily integrate it into their project plans. Anthony and Pedro, thanks for calling in.
Pedro Tavares
Yeah, thanks for having us.
John McMullen
So, Pedro, let's dive right in. I'll start with you. Can you give me a little bit of background on your firm and tell us about yourself and your background in the industry?
Pedro Tavares
Yeah, sure. Our firm was started by my parents were Ralph and Silvana Tavares. My father's an engineer, my mother's an architect, and they moved our family from Rio de Janeiro to the New York City area, in 1987. Basically, my father was sent there to investigate real estate at the time for an employer he was working for in Rio. What he found when he came out here in 1987 was that the US was in the middle of a recession. There wasn't much going on, but he saw modular construction projects going up. He started asking some questions. He got into some job sites, made a few suggestions, and he was offered a job. So, he's been working in the modular industry since that time in 87. He and my mother went on to become a plant engineer and architect at Westchester Modular Homes around that time and worked there for several years.
My father then went on to continue working at different modular manufacturers across the country, moving my whole family from initially Connecticut to upstate New York, down to Orlando, Florida to Kansas City. We made it out to California in 1999, where he was working for a manufacturer in the Central Valley. In about 2002, he decided to start his own consulting business with my mother and that's when our nest of ours was formed. He took on a lot of the modular clientele he'd developed over the years. In 2007, we opened the office in San Diego to attract more talent. We had a hard time finding any in the Central Valley, and that's where we've been permanently stationed since my father. He currently carries a PE license in 43 states and is the chairman of the design committee of MBI. He's also a trustee of the Educational Foundation, a five-year former board member, and he served on and off the board. In 2013, he received an outstanding achievement award for contributions toward the modular industry. A number of our projects have won awards of distinction that direct recipients or affiliates, and my father contributed to the guidelines for the safe use of ISO shipping containers. And he's currently working on authoring the 2024 IBC chapters related to modular construction with that task force.
John McMullen
That's an amazing history. I didn't know Ralph started back in 1987 so that was very cool to hear. That's a great story. Thank you. Anthony, how about yourself, what's your background?
Anthony Gude
Well, I have an engineering background. I went to school in Hoboken, New Jersey, also from the New York area I suppose. I later got my MBA and started working in the New York investment team, primarily with asset managers and national general contractors. I discovered modular and really never looked back. So, I've been tracking the various team for some time and joined when I realized they had opened an office shortly thereafter.
John McMullen
Very good. So, Pedro, back to you. R & S has a long history. As a firm and as an individual, that's had considerable experience in the industry, how do you help those who are new to modular? Traditional owner developers, for example, how do you help them wrap their heads around the concept of modular construction? Why should they make that leap?
Pedro Tavares
So, for anyone that's stepping into modular for the first time we can take them by making an introduction to a vast network of manufacturers that we work with. What we think is important is when you're starting a project off in modular that you have that sort of team set from very early on, including potentially identifying manufacturer, because I think there's a lot of benefits in having a manufacturer on board when you are working within their preferences, and that particular manufacturer idiosyncrasies, for instance. In that case, you get to also take advantage of their materials that they commonly use, they have a tremendous amount of purchasing power for it. So, if you're able to work within the sort of guidelines of that manufacturer, then I think that helps push a project along a little easier on the modular side.
John McMullen
So, for the owners and developers who truly are new to modular, having the team in place is critical, of course, but I was wondering if you could describe for us some of the benefits for that owner developer, to get into modular to bring a modular project in their portfolio, what are the benefits for them?
Pedro Tavares
Well, we're big believers in modular construction. I think the US has a long way to go in sort of getting to the point where we see modular happening across the pond in Europe, Scandinavia, Japan, in those places. But we're big believers in what modular should be and what it can do. And what I think the main benefit of modular construction is, of course, the time savings. We've seen significant schedule shortenings on projects that contribute a large amount to the amount of construction financing needed, the amount of overhead that's needed on site, and a faster time to occupancy helps everyone's performance.
John McMullen
And so, Anthony, I'll turn to you. I've got sort of a follow up question based on what Pedro said, Pedro was talking about getting a team together, which is critical. What about the design process for modular? What are the unique considerations for a designer as part of that team? What should they know before starting out on their first modular project?
Related Reading:
Modular Design: The Software, The Process, The Future
In this article—which originally ran in the May/June 2021 issue of MBI's Modular Advantage magazine—Anthony Gude of R & S Tavares Associates explains the process of successful modular design and construction and gives tips for those just starting out in modular project development.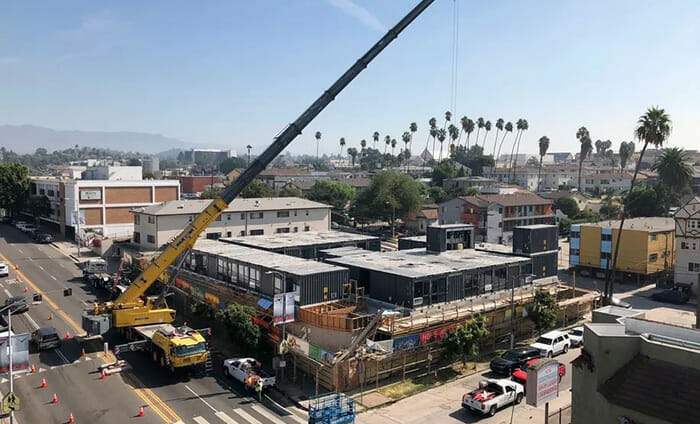 Anthony Gude
Okay, well, I can answer that in a number of ways. I guess we could say that the timelines being accelerated and the benefits of modular construction, there is a tradeoff. Teams need to work more cohesively and that ultimately, the way the constraints of fabricators work, get the front load that design process into the project workflow. So ultimately, what many designers should acknowledge early on is that the design process looks very different than that of traditional construction, maybe not in form, but in in structure, and the importance of communication across the team. So, at R & S, we've invested a lot in keeping our teams cohesive and streamline to turn around designs quickly, because ultimately, there's more of a call for speed and accuracy early on in the process. So, I would say that those are the two primary focuses that that should be brought to a designer's attention early on in the project.
John McMullen
Gotcha. Pedro…
Anthony Gude
If I could jump in with a plug real quick. One thing that's unique about us is that we have our staff right now is half architectural designers and half engineers. I think that's unique for a firm of our type catering, the modular construction, we handle, basically, every discipline in house. We'll author the A, S and P sheets on a project. We're kind of a one stop shop for anyone looking at doing a modular project.
John McMullen
Well, that's fantastic. You actually led me to my next question. We're talking about designers, and you brought up engineers. Pedro, I was wondering if you could speak to something for me. How can modular engineers—with all the variables that they juggle on any given project: materials, volatility, location, the needs of the facility, all these things—how can they best leverage the modular construction process?
Pedro Tavares
I think the best leveraging comes really from getting into the weeds with that manufacturer and seeing what they're comfortable with and what makes them sort of take a step back. If you go in with a lot of complexity that a manufacturer is not used to, you're going to wind up with scheduling problems, delays in the construction and probably a cost increase just because it's kind of strange. When we developed our first project here in San Diego, we got into development a number of years ago. It was funny because we go to manufacturer A, for instance, and say we want a level four drywall finish. And they'd say, well, that's going to be way too expensive, we're not going to be able to do that. Then we'd also tell them this was like a predominantly residential builder, manufacturer A, for instance, that I'm talking about in this case we'd say, we want our bathroom, fully tiled, floors and walls. They say, okay, that's no problem.
Manufacturer B on the other hand, it's more of a commercial modular builder, we'd say, we want that level four drywall finished, they said, no problem to that, but the tile work was a big problem for them. So, it's just kind of these tradeoffs between manufacturers and what they're used to.
John McMullen
So, let's go back to that first time, owner, developer, Anthony. The first-time owner developer, once he or she has a project in mind and has started to work on a plan, when does the full team that Pedro mentioned early on, when does that full team of GCS the manufacturers, when do they come into the picture? What's the best way for that team to communicate and coordinate?
Anthony Gude
Well, the answer to that one is simple as early and as soon as possible. We see a great benefit in those project teams that come together early. Primarily so we can sort out those tradeoffs that Pedro is referring to, for efficiencies that we can gain early in the process. And then as a team comes together, and everyone gets familiar with the needs of this unified group, then determine how you're going to translate and communicate designs and draft and how you're going to approach the project from a scheduling standpoint. So ultimately, the answer is as early as possible, and open up your options to those team members that are best suited for the project. Many want to win the business, of course, but there's a lot of different considerations from geography to finishes, as Pedro was referring to. So that's, best sorted out as early as possible.
John McMullen
And Pedro, again, for the first-time owner developer, what are some of the unique construction considerations involved in modular? What should they expect and how will it differ from their traditional still stick built projects that they've done in the past?
Pedro Tavares
I think you need to be aware that the modules themselves, they're basically limited by shipping constraints, and what we can do on the road, and perhaps at sea, or however these modules are getting to the site. There are width limitations on those and with varying widths come increased costs, because once you pass certain thresholds, there are pilot cars needed and things like that perhaps CHP, or Highway Patrol escorts, they get kind of expensive. There's also a high consideration due to shipping, getting under those overpasses and other areas like that. Once you exceed a certain height, you need to get a specific kind of special permit that also gets expensive. There's the length as well, which is kind of unlimited actually. You'll see those wind turbine blades going down the highway at times. The length isn't really much of a limitation other than it's often limited by the manufacturer's capabilities of what they can fit under their roof. I think that those are the biggest considerations when designing a modular project and exactly where those mate lines meet up, how you're doing your service crossovers with plumbing, electrical and mechanical. Yeah, those are definitely the largest considerations that need to be made on a modular project.
John McMullen
Gotcha. A question for both of you, in all your time at R & S Tavares, can you tell me about some of the lessons you've learned during your time in the industry? Are there specific projects that you can tell us about that were particularly helpful in your understanding of the potential for modular?
Pedro Tavares
One project in particular that I lost a lot of hair on was a replacement hospital in Joplin, Missouri for the hospital that got destroyed by a category five tornado a number of years ago. That project, wound up being the fastest built medical facility of its size, like in the United States. It was a rush to get that done, that area had a need for that facility and so everybody really kind of put the boots on the ground and work that out. We got that thing designed, permitted in probably a record amount of time. And it was up and running soon after, with the involvement of a couple manufacturers, Walden Structures, that's no longer a manufacturer here in California, as well as NRB, I think, worked on modules for that, and we shipped it out to Joplin, and kept that up and running.
John McMullen
So, what was the key to the getting that done so quickly?
Pedro Tavares
It was just a really integrated design team, manufacturer, ourselves and the architect. In that case, we're just in constant communication, and just sending paperwork, sending drawings back and forth, and having a good RFI process and things like that.
John McMullen
Anthony, were you going to say something earlier?
Anthony Gude
Oh, yes, I was going to have Pedro take it first with the project experience. I had a feeling you'd bring that one up. For me, being involved and sort of transitioning to a structural focused firm, for me highlighted the importance of structural value engineering, Really from being one of the primary cruxes, sort of in getting that value from your premier modular project. Before that, I was at DC firms, and there's a lot of coordination and emphasis on planning. But it wasn't until I was here, sort of as a copilot, that I really got to see firsthand how that kind of comes together. And then of course, what is the key to a great project is that integration and that cross communication across the teams. And really, there's a direct link, there's almost less of a, there's a need for that efficiency, for it all to come together. And that's primarily where firms should be investing and progressing. At RST, that's our system. And our process is to work as efficiently, quickly and effectively with clients and partners.
John McMullen
Excellent! I've got one more question. What does the rest of 2021 look like for RST? I've been talking to lots of people and their calendars are full. So, what's the year look like for you and beyond that?
Pedro Tavares
Well, just in the last few months, we made a handful of hires growing rather quickly. And yes, like much of the modular design and construction industry we're seeing quite a pickup in demand. So, we're out here meeting that demand trying to make sure we serve our clients incredibly, effectively. And yeah, so it's mostly a hire up to meet demand and streamlining those systems so we can turn around designs quickly and get these projects out the door.
John McMullen
Out of curiosity, have you noticed any trends lately in what you're designing the types of projects that that come in the door or is it a mixed bag?
Anthony Gude
Oh, boy it's mixed. Pedro, do you want to answer that one?
Pedro Tavares
Yeah, sure. It is mixed, but we're real busy on the ADU side of things right now. The state of California is really pushing the creation of those trying to meet housing demand, thinking that that might be a way to do it. So, we're doing a lot of ADUs. Container projects are still popular and keep becoming more popular so we're doing a lot of container projects. And then just multifamily. It's the same thing. The housing crisis in California, is just pushing multifamily projects. So, a lot of five over one, five over two podium projects, and big apartment projects, things like that. A lot of what we're doing right now.
John McMullen
Nice. I know MBI is involved in a lot of stuff in California and lots of states, but particularly in California, getting those projects off the ground and trying to clear some red tape. So that's great that you guys are staying busy with that.
Thank you guys so much for your time today. I think this was really great information. I think the first-time owner developer hearing this will have a much better understanding of what to expect what he's getting into. So, thanks again. This was great.
Anthony Gude
Thank you, John. Thank you for having us.
John McMullen
My name is John McMullen, and this has been another episode of Inside Modular: The Podcast of Commercial Modular Construction. Until next time.