From Stress Comes Strength: Developing the Construction Workforce of Tomorrow w/ Kevin O'Connor, Host of This Old House [podcast transcript]
From Stress Comes Strength: Developing the Construction Workforce of Tomorrow w/ Kevin O'Connor, Host of This Old House
Kevin O'Connor, longtime host of the Emmy Award-winning series This Old House, joins the podcast to share his perspective on the benefits of offsite construction practices in residential construction.
Kevin also talks about This Old House's Generation NEXT initiative, the construction industry's worker shortage, and how professionals within the industry can encourage young students and recent graduates to enter (and excel in) the trades.
John McMullen 
Hello and welcome to Inside Modular: The Podcast of Commercial Modular Construction, brought to you by the Modular Building Institute.
John McMullen
Welcome, everyone. My name is John McMullen. I'm the Marketing Director here at MBI. Today, I'm very excited to welcome Kevin O'Connor, host of the long running and Emmy Award winning television series, This Old House. Kevin is here to share his unique perspective on the advantages of off-site construction and what the industry can do to encourage and develop its next generation of workers. Kevin, thanks so much for being here.
Kevin O'Connor
I appreciate the invite John, it's my pleasure to join you.
John McMullen
So, tell me about yourself. What's your background and how did you get to become the host of This Old House?
Kevin O'Connor
My route to hosting the show is quite unconventional. My previous career was in finance. I was a commercial banker, which I started after business school. Prior to that was actually working in the legislature here in Massachusetts and the governor's office. I was always interested in construction. My father is an engineer. So, we were on his job sites growing up, making money for summer work, college breaks and stuff like that. Other construction folks in the family, I never went down that path, but I always had a passion for it.
When I first got married to my wife, Kathleen, we immediately went out and bought a two family fixer upper because it was all we could afford. We both were interested in kind of working with our hands and working on it. Having grown up as a fan of This Old House, as soon as we sort of got into this project and over our heads, we ended up for some reason writing This Old Houses' magazine. A letter looking for some information which led to them reading it, deciding to send a camera crew out and Tom Silva to our house. We filmed a little segment for what was then a brand new show for us called Ask This Old House. Out of the blue three weeks later, I got a call and they asked me if I wanted to be the host of the shows. So it was right place, right time. No desire to be on TV. I'd never done any performing or anything like that, but was such a fan of the show and the good folks who are on it that I decided, yeah, why not? If you're going to give me the opportunity to work next to Norm Abram or Tom Silva, I'll take my blue suit off. I told my boss at the bank I'll be back in about a year and gave it a go.
John McMullen
Wow, talk about serendipity. So, I'm a big fan of media. My background is design, multimedia, all that stuff and I love a good video production. If it's TV, commercial, film, whatever. I'm even more fascinated by what goes on behind the scenes, particularly This Old House. I wonder if you could tell me about how an episode of This Old House works? What aren't the viewers seeing that's critical to the finished episode that we see at home?
Kevin O'Connor
Well, I'll start with a little bit of perspective. This is primarily all I do is This Old House, Ask This Old House, but I have been on some other TV shows and seen other production to know that what we do is fairly unconventional in the TV world.
In terms of how we make it, it always starts with a walk of the job site. The job site or the project dictates the outline for the episode, for the story arc of the entire series. Producers and the folks on the show gather to talk about what needs to get done, the challenges, the material that's going to be used. That sort of creates the script if you will. It's an outline for us because we're unscripted. That sort of dictates the information that we're trying to convey.
Then on film days, it's a very lean and mean crew, we're one camera shoot. So, we have one camera operator. Nowadays we have a sound guy, but that was not always the case. Camera was doing sound as well. We are running around basically following the action. As I mentioned at the outset, we're very unconventional from other television shows out there. Primarily because of the one camera shoot. Also, we have a legacy of sort of following the action. The host walks up to the contractor, asks a couple questions, we walk around, we point, we talk and then we work. Throughout that process, the cameraman is following us. It means that it's a lightly edited show, that there are long continuous takes and that is not conventional in television at all. We've moved away from that a little bit, but the intention was to make it as real, honest and as authentic as possible.
That natural conversation, the walking and talking about the things that we're working on and then doing the work as the cameraman sort of followed silently is our Mo. We've stuck pretty closely to it over the years. So, I think people who don't understand television may not appreciate it, but it's a very simple and it's a very organic process at creating the show.
John McMullen
Well, you mentioned how you used to not have a sound guy, the sound was taken through the camera and now you have a sound guy. I was wondering if you could talk about how the show and some of the projects that you're featuring have sort of evolved over the course of the show. You've been host for a long time now. Are there other technologies other than sound that you're making use of now that weren't either available or you didn't know to use when you began?
Kevin O'Connor
Yeah, absolutely. With the first director that I had, as the creator of the show, these are stories that he shared with me. Part of the impetus for that long continuous take is because when the show started and it was on tape, the editing process was literally cutting, taping physical video film together. As we understand, he was very frustrated with that process in the edit room of having to cut and tape all this type of stuff. So, he figured if he did long continuous takes, it would save him a lot of that. So that's sort of the origin.
Flash forward to when I started early in my career, I'll give you an example. We wanted to do a scene where Kevin arrives on the job site in the pickup truck, introduces himself in the show. As he exits the truck walks up onto the jobsite, talks to one or two of the contractors, gets inside the house, gets to the back of the house, and then finishes it with a high shot. So, to do that because this is nearly 20 years ago, we built a porch off of the side of the pickup truck. A platform welded to the side of the pickup truck that the cameraman could ride alongside me. He had to stick his camera through the window because we didn't have GoPros to stick to the front windshield. He dismounts, walking backwards while I get out of the truck. We walk together, stop, see Roger Cook our landscaper at a time, to go through the building all in one continuous take. I opened the door, walk through it, hold it with a foot so that he can get through without having to hold the door. We talked to another contractor inside, exit the house through the back. We're now at four or five minutes continuous. Then the cameraman who wants to show a high wide of the house, backs himself into a scissor lift as I continue to talk and deliver my monologue. Then an operator lifts him to the second story for the final shot. That's the way we did it back then.
Nowadays, we can put GoPros into the windshield, SLRs two or three of them in the truck. Nobody has to ride alongside. We've got drones that can get those high wide shots and we will cut that scene two or three times. We won't bother to try to get through the door unobstructed in a continuous take. So, it's a big evolution. It's a lot of sort of nitty gritty, but the technology that's out there in terms of remoteness, smallness, things that fly all of that has helped us to make a better show and be able to do it a lot more easily than we used to.
John McMullen
That's fascinating hearing that history. I remember coming up when I was in college, learning about tapes and cutting and editing. That digital editing was still sort of, sort of new. Lets switch gears just a little bit. I understand that This Old House has utilized modular and offsite construction for a number of its projects over the years and that you've been able to actually tour some modular factories. I was wondering if you could describe those tours and tell me what you took away from those experiences.
Kevin O'Connor
We have done that and we have toured a lot of those facilities. I'll give you a flavor just of some of the different kinds that we have toured. It's not exclusive, but we've gone to places that are very focused, where they fabricate off site one product. So superior walls, concrete foundations, for example. Concrete poured into forms in a factory setting, rigid foam insulation and aluminum studs applied there, so that they can then be lifted onto a truck and delivered to a job site. Then they can be lowered into a foundation pit. On the job site, you could end up with a higher psi concrete making a damp proof or sometimes a waterproof concrete foundation that is put together in a day. Then you've got insulation and it's ready to board on the inside. So that's sort of a focused offsite fabrication.
In addition to that, we've gone to places where they have fabricated the entire home pre cut. Where they can make all the walls and the roof parts. They can install the windows laid flat, ship it to the job site install there. We've gone to places where they are put together and trucked in their entirety, sort of more of the mobile home sort of thing where it gets craned into place. We've done them for high end timber frames, authentic historic recreations, as well as sort of quicker, more economical fast build. So, we've had the chance to sort of see it all over the years all within the residential world I would suggest. When we say not the big commercial stuff that I think maybe more of your listeners might be used to, we keep it to residential. See a wide breadth of operations.
John McMullen
I was wondering if you could tell me maybe one or two ways that you utilize offsite construction or for the show. I imagine there must be quite a few ways on any given production to save time and save costs. I wonder if you could just give a few examples.
Kevin O'Connor
We went down to New Jersey after superstorm Sandy and we worked on three homes that were damaged. One was a cottage; it was more of a conventional renovation. Another one was sort of a home from the 80s where we lifted an entire story and were able to put helical piles underneath it. The third house was too far gone and it had to come down. So, our contractors, Early Homes, given both the labor shortage but also an acute shortage caused by all of the houses that were damaged from superstorm Sandy, went and they ended up having houses built off site and craned into place so that they were put together in about a week's time. So that's sort of one example of how we've used modular construction to accelerate the building process, but also to get us resources that we couldn't otherwise get. A home that was manufactured I believe in Pennsylvania where the resources were not interrupted in terms of manpower, as well as materials. And you couldn't find materials or manpower in the New Jersey area, because 10s of 1000s of people were doing the exact same thing at the exact same time. So that's just one example. We've done it for custom high-end homes. We've done it for parts and components for renovations and restorations and such. That's pretty much across the board.
John McMullen
Well, you mentioned the labor shortage, in particular to Sandy, but I want to put a pin in that. I want to come back to that in just a minute. You've been on more construction sites than I can probably count and seen just about every different way to build or rebuild a home. In all of these projects, and you alluded to some of these in your response just now, what's the biggest benefit to utilizing off site or modular construction from your point of view?
Kevin O'Connor
In our world, I think the single biggest benefit is time. So, we can accelerate the timeframe of a project and that's beneficial to the contractor for a variety of reasons. If the foundation can go up in a day or so then he doesn't have his crew dedicated to say three or four weeks. Or he doesn't have subcontractors building forms there for 10 days, putting them up taking them down. So, it accelerates the project. Acceleration of time for contractors who are in our business is key because it allows them to increase the workflow over the course of the year. Maybe they could complete 12 projects instead of 10, which is always good. So, time is probably the number one factor and close behind it is precision. There are things that you can do off site, you can get a higher quality, you can get a better quality on the job site. I go back to the superior walls, but it's not the only example. You can get a stiffer, more damp proof wall because of the way they cure the concrete in the factory. You can get a higher R value these types of things. So, we use it for timing certainly, but we also use it for improved quality.
John McMullen
So here's the question for you. We've talked about new technologies that you've incorporated into your show, new technologies that have been advantageous to the projects that you feature on your show. Why can't the greater construction industry sort of do the same? Why is it sort of stuck where it has been for decades upon decades?
Kevin O'Connor
Well, I think it's complicated. I certainly don't have all the answers. I thought about it a lot. In my mind in the residential construction business that we're familiar with, I would say that the number one limiting factor is the size of these companies. They tend to be very small, very geographically focused. There's a couple stats that I just keep in my mind to help paint this picture. There are roughly 600,000 construction companies in the country and a full quarter of them have one individual. It's a sole proprietor, single fabricator type of construction company obviously using subs, but think about that. If you bump that number up to 20 or fewer employees, which is kind of the definition of a small company, that percentage exceeds 90%. So, across the industry, they're very small companies focused on a very limited geographic focus and I think size limits your ability to innovate. I think size limits your ability to access resources, whether it's off-site construction, the materials you need, or the latest technology. I think it's an inhibitor to recruiting. So again, it is complicated.
I think there's more than just one thing, but I think the small size of these companies is what constrains the productivity and their ability to innovate. If I could go a little further, productivity in the construction industry as a whole is generally been flat since the end of World War Two, on a year over year basis. That's pretty damning to the industry when you think about things like agriculture or manufacturing, where their productivity has increased over 1500% by comparison. It paints a very blunt picture. If you were to take the construction industry and then start to bifurcate. What you see is that the smaller construction companies are stagnated when it comes to productivity. By comparison, the larger components of the construction industry and the industrial side, some of the larger manufacturing, you end up getting a 20 to 40% increase in productivity in construction compared to the smaller companies. I think that sort of reinforces my thinking that size is an inhibitor to these things.
John McMullen
Is there anything the industry can do about that? I know we can't tell every sole proprietor, "Hey, go hire more people, rent a section of a factory, and start automating." That's not realistic. Is there anything that the industry or the small companies within the industry can do? Whether it be commercial or residential, that they could do to increase their productivity and make use of these newer technologies that are now at our disposal?
Related Reading:
Welcoming the Industry's Rising Stars to the World of Modular
Born during a leadership discussion in the summer of 2020, Tremco's Rising Stars Program was developed to offer students and young adults interested in construction a wholistic view of the industry. Currently operating in Boston, Brooklyn, and Newark, Rising Stars has seen increasing interest, both from students and new industry partners.
With Tremco's assistance, MBI hosted over two dozen high school students from Las Vegas' East Career & Technical Academy at its 2023 World of Modular conference and tradeshow. It was certainly a "first" for MBI, and it provided the Rising Stars program its first opportunity to plug interested students directly into the industry's largest event.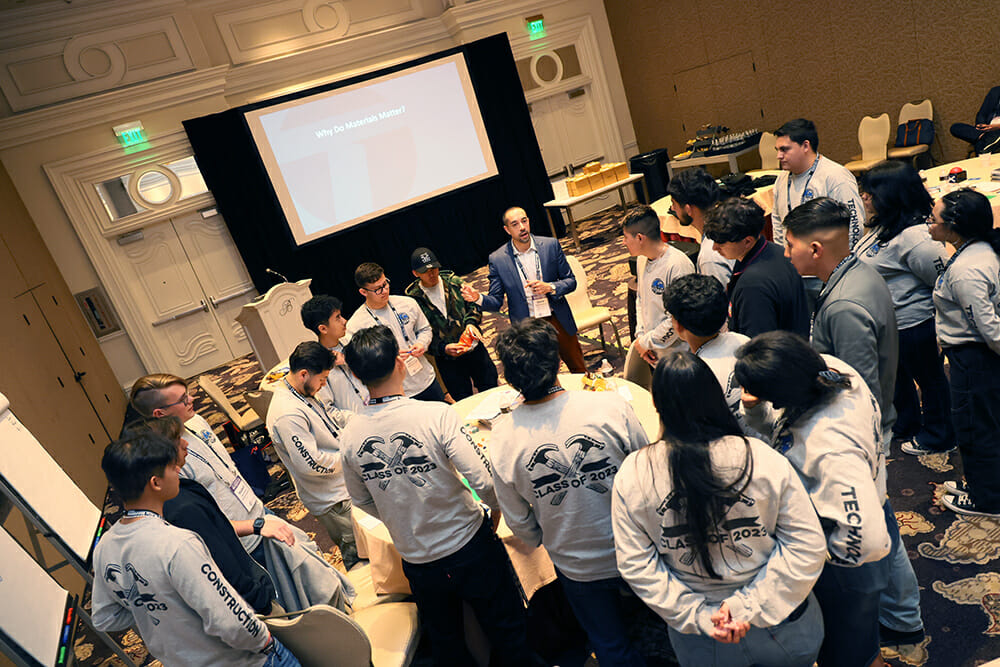 Kevin O'Connor
Well, I wouldn't dismiss growth. I do think growth is important to growing the size of the company. I have a wonderful mentor, Ted Benson from Bensonwood, who does a lot of timber framing and now off-site construction, a very high-quality home top of his trade. He and I have spoken many times, he knew he had to grow his company in terms of manpower, throughput number of jobs, so that that growth could support him creating a factory floor. Him buying top German CNC machines that get some of the work done. So, I think growth needs to be part of that equation.
To your point, a lot of people go into this because they want to be sole proprietors, or they want to run small businesses. It's a family business. I don't have any expectations that they are going to change the size of their companies just in pursuit of productivity. So, the solution for them lies in part, I think, with embracing the technology and productivity that's coming their way because of the sophistication of manufacturers. There are a lot of manufacturers who are solving the problem for the small contractors. It's a simple example, but I use it a lot. I think about the sheathing that we use on residential construction and renovation right now. The Huber products, zip sheathing where you have not just the traditional sheet of plywood, if you will. Not just a traditional sheet of sheathing, but then you have the water-resistant barrier in there, the protection against air infiltration. So, several steps have been reduced to a single step in many cases. The manufacturer is the one who innovates and brings that innovation and hopefully that productivity to the smaller contractor if they will go out and embrace those materials. Whether it is ICF forms, insulated concrete forms, that a carpenter can now put up the forum for a foundation wall. A quick pour gives them not just a foundation, but a doubly insulated wall. These types of things.
So, to me, if you can't grow, then you should reach for the products that are coming from the large manufacturers where innovation has been developed by them and embedded in these products to hopefully speed up your jobsite. We've got a company that we worked with recently that does prefabricated exterior trim. So, you literally give them your window order cut sheet. Now they have the size of every single window that you're putting into your house. What they will do is they will deliver to you the exterior trim with the head casing, side casings, sill, apron, and all that put together. It's higher quality, it's out of the right materials and more importantly, the small contractor isn't sending a laborer around the house two or three times and up and down two stories to trim out 20 or 40 windows with individual cuts. So that level of embracing innovation from fabricators I think is a great way for smaller companies to improve their productivity.
John McMullen
Excellent. Thank you. I'd love to talk to you about your experiences with construction crews and experts you've worked with around the country. I know we put a pin in that labor shortage comment you made earlier, I'm going to pull that pin right now. There have been scores of talented people that you've worked with over the years. The crews that you interview on your shows, the contractors that you talk with, it's always fascinating for me to see them work because they're so good at what they do, particularly when there's a camera on them. I see these people and they're doing a great job. There always seems to be enough people doing the jobs that you're featuring yet there seems to be some kind of disconnect within the industry. Why? I know there's an overwhelming need for more trades people in the industry at every turn. What's the disconnect in your opinion? Why are there not more people coming into the industry? Why is there such a lack of new interest in the trades and how do we change that?
Kevin O'Connor
Again, I think it's complicated. I think there are a lot of answers to the question. In my mind, it starts with money. So, across the board, at least within residential construction, entry level and mid-level wages are below the national averages. I think young people make rational decisions. When you take them as a group, they make pretty rational decisions. They look at what else is available out there and there are a lot of jobs, I'm not suggesting that they're necessarily fulfilling jobs, great jobs, or whatever. But there are a lot of jobs that provide higher pay, better benefits and, you could argue more comfortable working conditions. When you look at the list of things that folks, when surveyed, young people know they want to have meaningful work. They want good pay, that's always top of the list, but then they want meaningful work, impactful work, and they want a path to advancement. So that path to advancement requires training, exposure to technology, mentorship, all these types of things. The construction industry on the residential side, generally is low barriers to entry. There's lots of physical manual labor, that can be done by a lot of people. That low barrier to entry, I think, keeps wages down. Which is why I don't think advancing the technology or the skill level within the trade should be something that people should be threatened by. I think they can actually lift wages, but right now, they tend to be lower.
I do believe that the physical nature of the job is an inhibitor to a lot of young people. In fact, there's a list of what they want when they're looking for a job. There's also a list of what they don't want when they're looking for a job. The first thing that's typically on the don't want is hard physical labor. I think the construction industry has a pricing problem and I also think it has a work approach problem. Now that being said, I do think it's a great place for young people to go into. I think there are a lot of benefits that it can offer. It's not all about how do I make the most money. You couldn't pay me any amount of money to be a marketer or an engineer at Facebook, I just couldn't do it. It doesn't matter how sexy the job sounds, or how much money or the benefits or whatever. So, there is room for this, but I do think that the industry has got those two problems. Too low pay, too hard work, manual work mind numbing work, and I think there are ways to improve that but those are big hurdles to overcome.
I think the industry has to look inward, there is a cultural message as well. We have glorified the college education and I think that we have sort of poo pooed some of these other jobs. We've heard this argument before. I think there's a measure of truth to it, but I think it's sort of singularly dimensional. I don't think it's the only reason. I do feel like that pendulum is sort of starting to swing back another way. I do think that when there's a national discussion about whether or not we have to forgive a trillion dollars worth of college debt, it really wakes you up to the idea that says, why is there so much to begin with? I think that pendulum is swinging back. I saw a stat recently that when it comes to over the past decade, college enrollment is down 15 whereas apprenticeships at existing companies is up 50%. I think that's an indication of the pendulum sort of starting to swing. Employers realizing the college degree is not giving them everything that they need in their young people and then leaning into doing the apprenticeship so that they can train themselves, but also more young people having the courage to say, college is not for me. There's no shame in that and go into these other industries such as construction.
John McMullen
Well, that was a fascinating statistic, I hadn't seen that. Of course, you're speaking with some knowledge of this particular segment of the industry. I know that through This Old House, you have been working hard on a Generation Next initiative, which is a feature on many of the episodes. I wonder if you could talk about that program, what its goal is and what have you been able to accomplish with it?
Kevin O'Connor
Generation Next is This Old House's attempt to show the audience that going into the trades is not only a respectful and an honorable thing to do, but also can be a lucrative thing to do and a very fulfilling thing to do because it can provide you with a career. I will say that it is primarily about messaging. We are not affecting a lot of young people. What we do is we go out; we find young people who are thinking about coming into the trades and letting them be apprentices on our job sites and profile their journey on the show. We're not touching a lot of lives immediately because we only have a few apprentices who come through it every year. The messaging is important to us because we have a wide audience. We're hoping that both parents and young people see that these kids are out there not necessarily having to acquire college debt and are potentially on the path to a fulfilling and lucrative career. So, for us, it's trying to tell that story and calling attention to both the shortage of labor in the trades, but also the potential for people who think about going into it in terms of his success. We are one voice amongst many voices who have done a very good job of telling this story and delivering this message. So, it's impossible for me to gauge how successful we've been or not. We've had great feedback, nothing but positive comments. Again, I think we're just one of many voices who have been delivering this message.
John McMullen
Are there lessons that modular and offsite manufacturers can take from what you've learned? What can they be doing? What can they be doing to attract and develop new talent?
Kevin O'Connor
That's a really good question. I feel as if the folks on your side are better at it than sort of the folks on our side of the residential construction. I guess if I had to say one thing, I would call people's attention to they need to start early. Decisions are being made by these young people at a very early age. I have a high school senior right now. He's my oldest, two younger than him in middle school. The conversation about what are you going to do after graduation? It started sophomore year, maybe freshman year. That kind of thought process are you college bound? Are you trades bound? Are you some other industry bound? That's something that happens at 14 years old. They're extremely young, that process starts at a very young age.
As we've gone out and tried to look for apprentices to join us on the jobsite, the first reaction that we all have is my goodness, they're really young. They're high school, where are they going to live? Who are they going to stay with? That is when the thought process is happening, when those decisions are being made for many of these people. So, I guess that's the one sort of takeaway that that I've seen from it, which is start young. Decisions are being made at young ages. So, start young, get your message to them, make it clear, make it appealing to somebody of that age. I think it should reap some rewards for attracting folks into this industry.
John McMullen
So as a father, and I have a stepson who's a senior in high school, and as a professional in the industry, what's your pitch to young adults, to recent graduates be at high school or college who are considering their options? Why should they consider work in the trades?
Kevin O'Connor
That's a great question. A couple of things. First of all, I do believe you have to do what you like to some extent. We all have to do things we don't like. In general, we've got to be in a field that we're excited about. If working with your hands, being on a job site, or working in a field where there are tangible results that you see at the end of every day, then embrace that and know that that's sort of who you are. There are careers out there that can scratch that itch.
The second thing that I say to these folks is, to me I need to be doing things. I need to be active; I need to feel like I'm making a contribution. I believe that this industry of building, of construction, of transformation, is one of the best ways to get that done. As opposed to being in a queue, in front of a computer or these types of things. I think it needs some gussied up, but I think that's a great place to be. The biggest thing that I tell the kids is in terms of your financial security, this offers a great opportunity because you don't necessarily need to borrow money to go into debt for the higher education. You can get started right away and get ahead of other folks in terms of years on the job and earning potential. To me, the most exciting thing is that if you're good at it, in very short order, you can be your own boss. You can run the business; you can own your small contracting company at a young age. When I was at the bank, I was not going to own the bank, it was not going to happen. If you want to be an independent businessperson, if you want to own your own company, if you want to have a lot of control over your career, your earnings, who you work with, and what you do, this is a phenomenal opportunity to get all of those things done. I think that excites a lot of young people.
John McMullen
Where do you see the industry in 10 years? What are your hopes for people coming into the industry? People already in the industry? Where are we in 10 years?
Kevin O'Connor
I'm not sure we're anywhere different than where we are now. Sadly, it is a big stone to move. I am hopeful that as a whole, we raise our standards. That the level of work becomes more rewarding and impactful, less physical. That there's more comingling of physical talents as well as mental skills where we embrace technology. I think all those things will bring more people into the field, which I think can only help us. I do think that we've got some sort of systemic problems in terms of not able to build enough homes for a growing population and not being able to build enough houses in areas that are growing very fast, whether they're all moving to Denver, or the southeast, or whatever. I think those constraints have the potential for breaking some of these habits and causing this industry to embrace different types of construction. Those are the only types of construction that will be able to build quickly and in large volume and at high qualities.
So, from stress comes strength. My hope is that some of the things that are straining our industry right now will also be the things that help us to break free to become stronger, and to become better at sort of what we do in terms of productivity, in terms of wage growth. In terms of making this a more attractive industry for young people to look at.
John McMullen
Very good. Last question. What's next for you? Are there any big projects on your horizon?
Kevin O'Connor
The next thing for me is a lot of the same of what I've been doing. This Old House through and through so we'll continue making the two shows. We as a company continue to evolve. We're very pleased to announce actually today, May 25, that we're dropping a new television show. We're owned, our parent company is Roku. So we've got a beautiful show where we collaborated with a nonprofit volunteer organization called Team Rubicon. It's a veteran led organization that goes in and around the country after storms to help clean up, to rebuild, to assist our neighbors, people who have had a really bad day because their homes have been destroyed or damaged. We're releasing that series today. Personally, and our company is in the world of building but also storytelling. We're going to continue to make more shows about what we've already done, new shows like Team Rubicon and others like those where we can celebrate building people actually working, making changes and impactful things in our lives. So I think the future for me is more of what we do and make it better every year as we go forward.
John McMullen
Very exciting. Very exciting. So, if people are interested in watching Team Rubicon, where's that? Where's that found?
Kevin O'Connor
Thank you for that good point. It is streaming as of today on Roku. So, you can get the Roku box, the Roku stick. Or if you have a smart TV, you can download the app. Roku is free streaming. There's no cost so anyone can watch it. All the episodes drop and people can binge on them if they want.
John McMullen
Thank you, Kevin. I really appreciate your time. I know you're an exceptionally busy guy. I appreciate your insights and the experiences that you've shared. Thank you very much.
Kevin O'Connor
It's been my pleasure and as I said before, thank you for the invite.
John McMullen
My name is John McMullen, and this has been another episode of Inside Modular: The Podcast of Commercial Modular Construction. Until next time.