28 Pounds of Innovation: How ModCribs is Changing the Game for Modular Set Crews w/ ModCribs [podcast transcript]
28 Pounds of Innovation: How ModCribs is Changing the Game for Modular Set Crews w/ ModCribs
Scott Bridger, co-founder of ProSet Modular, introduces his newest venture: ModCribs. Nearly indestructible and only 28 pounds apiece, ModCribs modular cribbing units bring ease and efficiency to modular manufacturers and set crews. In this episode, Scott describes the evolution and benefits of product itself, shares how project stakeholders can bring them to their jobsites,  and dives into the best practices of modular set-up and onsite logistics.
John McMullen
Hello and welcome to Inside Modular: The Podcast of Commercial Modular Construction, brought to you by the Modular Building Institute.
Hello, everyone. My name is John McMullen. I'm the Marketing Director here at MBI. Today I'm happy to welcome Scott Bridger, co-founder of ProSet Modular, and now co-founder of ModCribs. Scott's here today to talk about the development of ModCribs and what the product could mean for the industry.
Scott, thanks for being here.
Scott Bridger
Thanks for having me, John. Looking forward to the conversation.
John McMullen
My pleasure, my pleasure. So, let's dive right in. As one of the leaders of ProSet for a long time now, you've pretty much seen it all when it comes to modular building modular setting. What's that process in a nutshell? Why is setting and onsite logistics so important to a modular project?
Scott Bridger
Well, kind of a big question, but a really good one. I guess I should start by prefacing my answer to say that our company, ProSet, and now ModCribs are basically focused in the modular world and what we call commercial modular, and even more specifically, multifamily, hospitality, assisted living those type of projects. So, there's kind of a big umbrella of commercial modular projects, as you well know, but that's really kind of the basis for what our activity in the industry is. So, sort of in that framework of the kinds of projects that we're referring to and that we're working on. Essentially, the logistics are fairly complicated, just simply by way of the scope and the size of a lot of these projects. So, ProSet's average installation project is around 100 modular units, typically in one building, but could be over multiple buildings.
Our projects could be anywhere from 20 or 30 modular units all the way up to 400, 500, or more modular units. So, there's a big range, but the point being, these are fairly complex projects when it comes to planning those logistics as you describe. So, the logistics associated with ProSet's scope really is kind of what we think of from the moment a modular unit leaves the factory where it was produced, until it's permanently affixed and secure to a foundation. So that's kind of the lifecycle that where we live and where these logistics kind of become critical. And we'll certainly get into how ModCribs plays a role in. It kind of starts with the order that we're going to set a building in because every modular unit has its specific space in the building, they're not interchangeable. So, we create a set order based on the crane logistics, the site conditions and all kinds of conditions, structural engineering, details, and so forth. And that order that we're going to set the building forms a whole lot of logistics of that process. It's going to tell us what order we need to receive them from either the factory or from a local staging yard, which is going to inform the order that they need to be shipped by the trucking company, which is going to be typically is going to inform the manufacturer in what order they will actually build them. So that whole process is kind of what we consider the preset logistics.
John McMullen
Can you take me through all the physical elements that are needed for a successful setting? I know there's a crane, and there's lots of trucks. But besides that, what's really needed to successfully put together a modular building?
Scott Bridger
So, the easiest way to describe that is to take it in, in sort of the journey of a modular unit, so to speak from the manufacturing facility. But before I start there, I'm going to preface this by saying most of these projects, as I've described with a fairly significant number of modular units, are going to need to have a storage yard that is either at the job site or near the job site. That's an important piece of this logistics sort of conversation because what a lot of folks that maybe haven't really dug in deep to what that process looks like, that sometimes is not an understood piece of the puzzle. So the reason that we need typically to have an onsite or near the jobsite staging yard, is because most projects are going to be too far away from the manufacturing facility to just simply take a modular unit from the factory, put it on a trailer and have a truck delivered straight to a crane and set on a on a foundation. For a few reasons that rarely works. That's what's called just in time delivery. And that's something that we really discourage because it is rarely successful. The main reason for that is that if you can imagine how long it takes to deliver a modular unit from a factory to a job site or a storage, ordinary job site, often that's going to be hundreds and hundreds of miles. And so that's going to take a day or a few days for every truck delivery.
So, if you have 100 modular units being delivered from a factory to a staging yard that's hundreds of miles away, that's probably going to be many weeks of delivery. There's kind of a slow trickle of modular units that get delivered to that storage. When ProSet or a company like ProSet starts installing a building, those modular units are going to be installed at a much faster pace. They're going to be installed at least 10 or so a day and sometimes as many as 20 a day. That's just a lot faster than the trucking process happens. So that's why there's a need for a local storage yard.
Now let's back up and let's go through this quickly from cradle to grave, so to speak from delivery to foundation. So, a modular unit is completed at a factory. Typically, the factory is going to have an exterior storage yard right there at their facility and they're going to store some of those modular units before they get shipped out to the jobsite. They're going to let the inventory of those units probably build up for a couple of reasons. It could be that the jobsite is not ready, that they want to have an efficient trucking program so that they're not waiting for modular units to be completed before they ship another one, it's a more efficient way to let some of the units get finished. So, you're going to start with some number of modular units being stored on cribs at a modular manufacturing facility in the yard, then they're going to get trucked from the yard to that local storage yard or potentially on site. On site is not common, because most job sites don't have that kind of extra lay down. So, you usually have a storage yard somewhere within hopefully a few miles of the job site. Now that the storage yard is full of all these modular units, that's when ProSet or another set company then sets up the crane at the job site and then there's a process called the local shuttle. So now we have a trucking company that's picking up those modular units from the local storage yard and delivering straight to the crane. Typically, they will be craned right off of the truck, onto the foundation structurally secured. And typically, that's about the end of our scope, then we move on to the next job. So that's kind of the path, so to speak, of a modular unit.
John McMullen
Gotcha. You mentioned this in your answers. Oh, well, let's get right to it. Tell me about cribbing. I've been to some factories, I've seen different things used as cribbing, mostly wood, but a few other materials.
Scott Bridger
Sure. I think it really starts with kind of your left to your question, what is cribbing? Why is it needed and how is it used? Then we can get into the particulars of different types of cribbing. Cribbing is essentially temporary support stands for volumetric modular units. So, let's just go through that. So, let's start with the temporary part. As I described the journey of a modular unit from factory to foundation, it's got a couple of stops along the way. The first stop is probably storage at the manufacturer's yard. It needs to be supported temporarily, whether that's for a day or a week or a month, or however long that might be. It needs to be temporarily supported before it's transported to the storage yard. Once it gets to the storage yard, it needs to be temporarily supported again. So, these modular units more often than not, are not intended to sit directly on the ground. Part of the reason for that is because there's an important component of the logistics and transportation of modular units, which is how they get placed onto and off of trailers. The standard in the industry that has become very effective and very common is for the units be transported on either hydraulic or airlift trailers that can lift up and down. That is a really important component of what cribbing is. The reason cribbing is so effective and affordable in the grand scheme of these logistics, is because cribbing and these adjustable trailers eliminates the need to load and unload modular units with a crane.
Cranes are very expensive. First, the modular unit needs to be raised up and placed onto a trailer in the factory to be pulled out of the factory. Then it needs to be supported on cribs and then that trailer will lower down and pull out from underneath the modular unit. When it's time for that modular unit to leave the factory storage yard and be transported to the job site of the local job, a trailer will then pull back under the modular unit, raise it up off of the cribs, transport it those hundreds of miles to this job site storage yard. Once again, place cribs under the modular unit, lower the trailer out from under the modular unit, and that's how it stays at storage yard. The last leg of its journey, a trailer then pulls back under the module unit at the storage yard one more time, lifts it off the cribs and delivers it to the crane.
So, if we think of it in those terms, cribbing is just a temporary support stand for modular units so that the trailers can get under the modular unit and lift and lower without needing a crane. So that's kind of the basis of why cribs are necessary. The typical trailers that we're talking about generally raise and lower from about 32 inches to 42 inches. That's kind of the range that they can lower and raise. So, we built our modcribs, most wood cribs, and other cribs in the industry are 36 inches tall, because it's kind of right in the middle. So, that's kind of in the short what a crib is in the commercial modular industry. As far as what types of cribs there are. Many of the cribs being used today and historically being used are simply made of stacks of two by fours. It is just that simple. An average wood crib is going to require twelve two by fours and about 400 nails to build the crib. The average modular unit needs eight or ten cribs to support it. So, as you can imagine, you start to do the math on one hundred modular unit job, an extraordinary number of nails and two by fours, they're heavy, they're difficult to transport and they don't hold up very long in weather. So, there's a lot of things about wood cribs that haven't been terribly efficient. The other method that we've seen, or other materials that we've seen, is really just sort of something that a few factories out there have manufactured their own cribs just for use at their factory yards and those are typically steel. We've seen a couple manufacturers that created their own steel cribs and when you're not moving cribs from job site to job site, it's not quite as critical that they'd be lightweight, stackable and easy to transport. So these steel cribs that we see some manufacturing facilities using for their own use at their yard are none of the above. They're not stackable, they're not lightweight, they're not easy to transport, and they're not affordable. But if they're a permanent solution for their factory yard, maybe those things aren't as important. Where it is important that they be lightweight, stackable, durable, efficient to move is when you're moving them from job to job around the countryside. And that's where we saw a need and we developed ModCribs.
John McMullen
So, tell me about ModCribs. How was this product developed? Obviously, you've seen a lot of different types of cribs, made of a lot of different types of materials in different ways. Did you have sort of a lightbulb moment or was this a slower sort of gestation of an idea?
Related Reading:
ModCribs Are a Better Way
Scott Bridger and Matt Mitchell, co-founders of ProSet Modular, have seen it all when it comes to modular cribbing, all the while taking notes about how to improve them. Finally, "we said, it doesn't seem like anybody's really working on a better solution," Bridger said. At that point, about four years ago, they decided to see what they could come up with. "That's when we really in earnest decided to see if we can design and manufacture something that's just better," Mitchell said.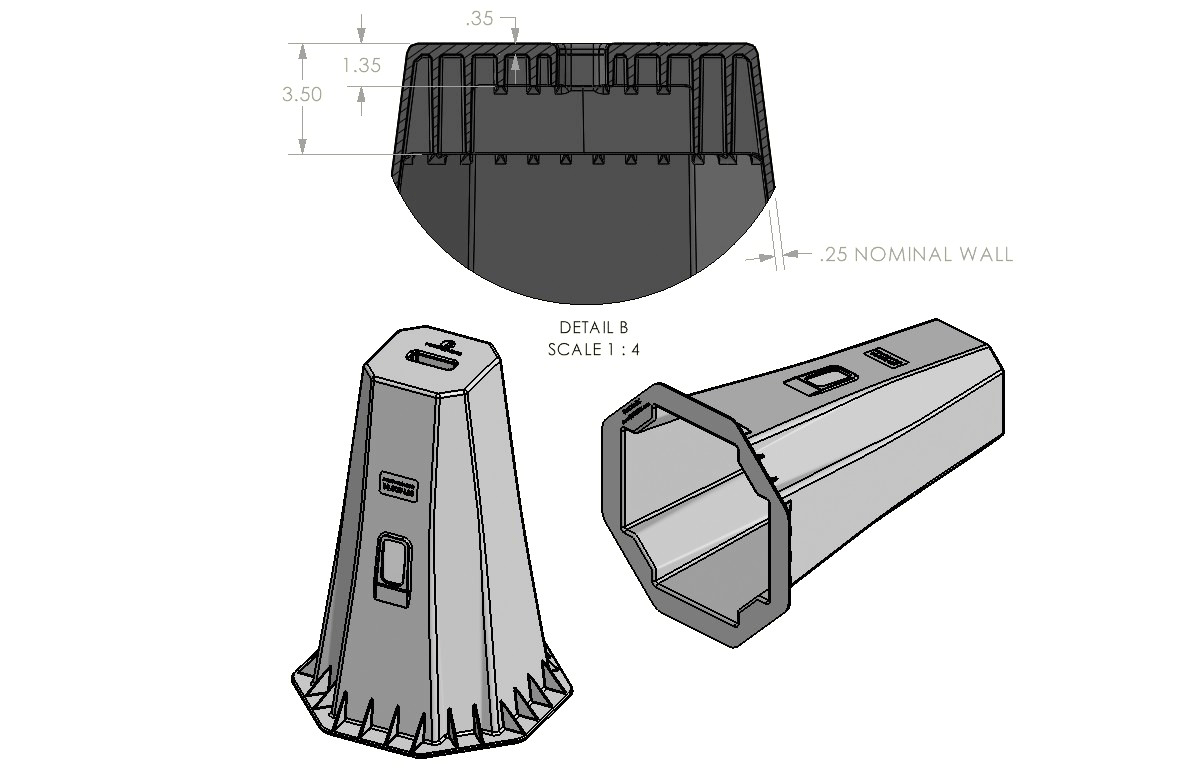 Scott Bridger
Believe it or not kind of both. I have you been in the industry for a long time and my partner Matt Mitchell has been in it for a lot longer than I have. He's been in it for three decades and I've been in it for one. Nonetheless, after having many, many conversations over the years about what a hassle wood cribs are. By say conversations I'm not talking about just internally ProSet conversations. I mean, industry wide. Cribs have been just kind of this really nagging part of the industry that in our opinion over all these years, everybody has really just kind of complained about and really not wanting to have a part of it. Cribbing isn't something that manufacturers want to have to deal with, especially the cribbing off site that's at the storage yards for the clients near the jobsite. Manufacturers don't want to have to figure out how to get heavy expensive, cumbersome wood cribs transported across the country. Then what do you do with them when they're done at that site and getting moved on to another job site or back to the factory? It's just been a hassle. Over the first six or eight years of ProSet's life starting in 2014 is kind of how the conversation went. These cribs are just kind of a hassle. Well, Matt and I had talked about it over the years and always kind of had little conversations here and there about, there's got to be a better way.
We really started paying attention and trying to see what different people were doing, different manufacturers were doing. There were slight variations of wood cribs out there. Some a little bit bigger, some a little bit smaller, some have more lumber, some have less, but more or less kind of the same. Just stacks of these two by fours, as I described. Then there were a few factories that, as I mentioned, kind of building their own steel ones. We knew about those, and we had a chance to try to lift a couple of them and we knew that they were not the answer. At one point, we were visiting a manufacturer, and this was about four years ago, and this manufacturer, I won't name names, had some cribs and wood cribbing that they were using in their facility that was so extremely cumbersome and heavy. You probably need a forklift to move one crib. Something about seeing that and neither of us said anything to the factory or to each other during that tour. When we were traveling home from that visit, we both commented on that crib. And it was just kind of that moment that we said, okay, enough' s enough, somebody's got to figure this out. So we went to work, really trying to figure out a solution. I can give you a little bit of an overview of how that line of thinking went and how the product was ultimately developed.
It wasn't very efficient than that, and very fast. We originally thought, okay, how do we set the criteria? It needs to be lightweight, it needs to be stackable, it needs to be durable, it needs to hold the weight and last a long time. Then the last one, which is also a fairly challenging criteria, is it's got to be affordable because there's a lot of them that are necessary. Wood cribs are not terribly expensive and if it's not relatively affordable, then it's probably not going to be widely accepted. So those are our main criteria. Lightweight, stackable, durable, and affordable. We set out to see what we could come up with and we initially thought that that would be aluminum, that should meet those criteria. It was great for the lightweight, stackable, durable, but when it came to the affordable part it was absolutely not there. It was just going to be way too expensive. So, we had kind of a rough design and Matt actually mocked one up out of Masonite in his garage. That's where it all started and we still have that today. I think someday that'll belong in the ModCribs Museum.
So, we thought aluminum would work, we worked with an engineer, we tried to get some pricing and we realized that was a nonstarter just because of the cost. Eventually, we had an engineer that we were working with propose the idea of structural foam, which is essentially structural plastic, which sounded a little bit odd to us because we hadn't thought of it and seemed kind of amazing that you could actually create a crib that would meet those criteria out of plastic. We went ahead and started working on that concept and it's essentially what we landed with. It's an injection molded polypropylene with some glass fiber. Fast forward to our final testing and final product, which we now have it tested wonderfully. So, it passed the load tests with flying colors. As a matter of fact, there's about a six times safety factor beyond what it's rated for. So extremely, extremely strong can hold a lot more weight than it's required. It's stackable, lightweight and actually pretty cost effective. Not a lot more expensive than a wood crib. So that's where we are today.
John McMullen
Well, that's fantastic. Scott, thank you so much. You answered so many of my questions. I was on LinkedIn the other day and I saw a comment from our friends at Stream Modular. They said ModCribs are going to change the game, which really struck me and was very exciting to see. What other feedback have you gotten from those who have used ModCribs? What's the reception been like so far?
Scott Bridger
Well, it's really fun, and it's been so positive. It's not unexpected, because to think about is ProSet and our staff have been on the frontlines of dealing with the challenges of wood cribs, as much as anybody. Our teams are out there having to muscle these heavy wood cribs around hundreds of them, maybe 1000 of them on a job. So, we know how much more user friendly and efficient ModCribs are than wood cribs. So, it's not unexpected, but it's still really fun and exciting to get those responses. Carson and the team at Stream has been very supportive, very excited about this and that. That also is not surprising because truck drivers that are doing these modular unit deliveries are also those who are going to benefit greatly from this because they are tasked with dragging these wood cribs around as well. Set crews, trucking crews, manufacturing facility employees that have to work with the wood cribs. All those folks are ecstatic about the notion of replacing wood cribs with ModCribs, especially once they get the chance to actually get their hands on a ModCrib. So, it's been really fun.
We've been kind of doing some tours around to some of the main manufacturing facilities around the country and bringing a couple of samples of the ModCribs for them to just get their hands on and see. Every time they grab them by the handle, and they pick them up, they smile. In the reality is 28 pounds, which is what these ModCribs weigh, is such a relief from the 100 plus pounds of some of these wood cribs that we've seen weigh up to 200 pounds. According to OSHA standards, that's well in excess of what any individual worker should be asked to try to try to lift. I think OSHA actually says that a single worker should not ever be asked to lift more than 50 pounds. So just the safety factor and the reduced burden on the actual people who have to handle cribs is really impactful. I think that's a lot of what Stream was commenting on in terms of being a game changer. We have a lot of factories who are really excited about replacing their wood cribs with ModCribs for that reason alone, because they really do care a lot about the wellbeing of their staff and their employees. They realize that this will take such a burden off the human burden of wood cribs. So that's been fun.
I think the other piece of the game changing comment from Carson, especially from Stream, from a trucking perspective is because ModCribs are stackable. You can transport many, many, many more ModCribs on one truckload than you can wood cribs. As a matter of fact, I think, roughly speaking, we can transport about 1200 ModCribs on one semi tractor trailer versus about 250 to 300 wood cribs. So, that reduces the truck trips. For example, if you had a 1200 crib job, which would might only be 120 modular units, that's not a huge job. That's a fairly average job. So, thinking of the volume of cribs that are required at these storage yards, it's significant. On average, say 100 or 120, modular project job, that means that delivering wood cribs to support those units is going to take four or five semi tractor trailer loads, that's a lot of expense. That's a lot of fuel, there's environmental impacts to that, a lot of time and then handling. So, imagine if you have four or five semi tractor trailers full of these heavy wood cribs, how do you offload that? You have to have a forklift. Then you have to scatter these all around this storage yard so that they're not so far away from where the truck drivers are going to be delivering the mods that the truck drivers have to drag them all over the jobs that somebody has to distribute them around this storage yard. That's a cumbersome, expensive task versus ModCribs which you can literally carry two at a time easily. So, I think those are kind of the game changers. It's really about the ease of use and transport.
John McMullen
It sounds like you're going to be making lots of friends around the industry. I feel bad for the chiropractor's because you're cutting them out of a lot of work!
Scott Bridger
I'm not going to feel bad.
John McMullen
You've been on the road with these. I've seen on LinkedIn you've been to several shows, you've been going to lots of factories. Where can someone see ModCribs next who is excited about getting up close and personal with one of these?
Scott Bridger
Well, there are a couple of ways that can be done. Obviously anybody who wants to do a little traveling is welcome to come take a look at them at one of the job sites where we have them in use. We also, as you stated, we do a lot of travel. My partner Matt and I both put on a lot of miles every year around the country. Both going to our perspective job sites and manufacturers around the country. So, we spend a lot of time visiting factories in different parts of the country. We're happy to make a visit to any factory that's really interested and we could bring some samples by. The other thing that I should point out is that, and maybe jumping ahead here if you're going to ask this question, ModCribs is a short-term rental business for ModCribs at the storage yards, as I described. That's the business is a rental company. We do, however, have a limited wholesale sales program exclusively for manufacturers to use at their factory yards. So we want factories to have the opportunity to use these at their facilities, as I described earlier, to take the burden off their employees. They're just a much more efficient option for their staff. So, we don't want to limit the factories in their ability to use them. It would not make sense for them to rent because they need them year round. So, we do have a sales program just for factories. Essentially, that's our business model is that we are renting these to developers and GCs at the temporary storage areas around the country.
John McMullen
Very good. Very good. And yes, you answered a question before I could ask, but that's all right. So, Scott, you talked about the rental aspect of your business, you talked about the sales that you offer to manufacturers. How does that work?
Scott Bridger
Thank you for that question. So, that's another kind of impetus for why Matt and I made the decision some years ago that we needed to improve and kind of help solve this challenging thing that is cribbing. It's not just that wood cribs are cumbersome, expensive, break down in the elements and so forth. It's also because cribbing is temporary. Cribbing requirement at storage yards is something that oftentimes gets missed entirely because it kind of falls through the cracks of all the different stakeholders scopes. For example, when the developer is considering all of their costs and all the contracts that they need to engage to get their building complete, they've got all these different pieces of that puzzle. They're going to contract with the manufacturer, contract with a general contractor, they're going to contract probably with a trucking company. So, in that whole process, the piece of that puzzle that is temporary cribs at a storage yard, for whatever reason, very frequently gets missed. I think this is part of the overall story of cribbing and why we started ModCribs, which is that it doesn't really fall clearly in anyone's scope.
Generally, the general contractor is typically aware or thinking about it. The manufacturer, it's kind of out of their scope because once the modular units leave their factory, their scope is pretty much done typically. Then the trucking company is going to be aware of it, but they're usually pretty late to the conversation. So, for all these reasons, oftentimes it just absolutely is missed in budget, planning, scope and who's is it. So, what ModCribs is proposing, and I think is going to successfully help alleviate that sort of missed piece of the puzzle by first of all, kind of gaining awareness in the industry about the need and the opportunity that ModCribs brings to that process. At the same time, what we're doing is creating what we kind of think of as an easy button for that developer. Ultimately, it's often the developer that kind of gets stuck with it and kind of has to figure out how to get cribs to their storage yard, oftentimes at the last minute because nobody planned for it and just kind of got missed.
Historically, we've had many projects that ProSet worked on where the general contractor is kind of having to scramble and send some carpenters out to the storage yard with a bunch of two by fours and quickly try to build 1000 of these cribs. That's not an uncommon occurrence. So, the easy button that we've created with ModCribs is that simple process of contacting ModCribs, letting us know how many modular units you need to stage, where the staging yard is, and when you need to start receiving those modular units. We will provide a quote and we'll help you figure out how many cribs you need. Our typical quote is going to be for up to 60 days because normally that's about as long as the project will need these temporary cribs. Then once the contract is executed, we'll deliver those cribs ahead of the modular units starting to arrive. As soon as the last modular unit is installed on the foundation, the client can call us and we'll come pick them up. It just really simplifies that whole process.
It also takes away from the challenge that we also see with wood cribs historically is back to that example of nobody thought of cribs and then the general contractors out there quickly building all these wood cribs. That's an expensive time-consuming process, high energy consumption kind of process, but what happens at the end of that? All the buildings are now set and I can show you countless pictures of what that storage yard looks like when the last modular unit is set. There are scattered heavy, wood cribs, all over this yard. Now, they have to be gathered up, recreated, put on a truck and hauled somewhere. Unfortunately, in many cases that process is so expensive that they never get used again. They get thrown away because it's less expensive than trying to figure out how to transport it somewhere and store them somewhere. So, taking that out of the industry's sort of inefficient and kind of challenging piece of that whole process is I think one of the big game changers that ModCribs brings.
John McMullen
Now it's really a microcosm of the whole modular building industry. If you think about it it's more efficient, more sustainable. It's faster.
Scott Bridger
You're absolutely right. The other fun thing about it is, what is modular? What is the modular industry? It's really about innovation, right? I mean as an industry; we're innovating how we build commercial buildings in the United States. ModCribs is a very low-tech product, but we'd like to think it's a bit innovative because it's responding to a need in the industry.
John McMullen
So, ModCribs aside, what other advancements or innovations do you think the industry can look forward to when it comes to setting and on-site logistics?
Scott Bridger
Oh, that's a good question. It's going to be kind of maybe an odd answer. From my perspective, as someone who's been in the installation side of things for quite some time, I think what we're seeing is more advancement in process, I would say. So, there certainly are better and better technologies and designs in terms of equipment. In fact, my partner Matt and our other owner Chris Rimes in our company, developed our custom halos. That's something that has added a lot of efficiency to our installation process because they're very flexible and adjustable. It's just a really great piece of equipment. So, those are kind of things that we're seeing some advancements in terms of equipment, and so forth on the site. I think even as our teams continuously get better and better at implementing logistics, plans, systems, and processes that allow us to install these buildings more efficiently. I think more than anything, it's just continuing to improve the process. That whole cradle logistics I described, ultimately culminates in a crane picking a modular unit up and sitting on our foundation. That's kind of the last step of that process, but the efficiency of how many modular units that crane can pick up and sit on a foundation at any given day comes down to the planning, the logistics, and the overall coordination and programming of the process. So, I guess that's where I see continuing advancements. We see real evidence of that, because we do a lot of work, looking at historical data on our projects. We are seeing significant increases in our efficiency and the number of average modular units per day that we set over two or three years ago. Those are the advancements that we're going to continue to work on.
John McMullen
Well, speaking of innovation, I'm glad you brought it up. I also want to say thank you for the interview that you gave MBI recently. ModCribs is featured in the November December issue of Modular Advantage magazine. So, thank you for your time there and thank you for the time for this interview, Scott. I really appreciate it.
Scott Bridger
Thank you, John. Appreciate you having me on the program.
John McMullen
My name is John McMullen. And this has been another episode of Inside Modular: The Podcast of Commercial Modular Construction. Until next time.