355 Sango Court Case Study
The Project
Sango Court is an affordable apartment rental development in Milpitas, CA. The 102-unit, transit-friendly location is about a half mile from the nearest BART station, and close to parks, shopping, schools, dining, and numerous employers. This made it a potential gem in a high-rent area where affordable housing is desperately needed.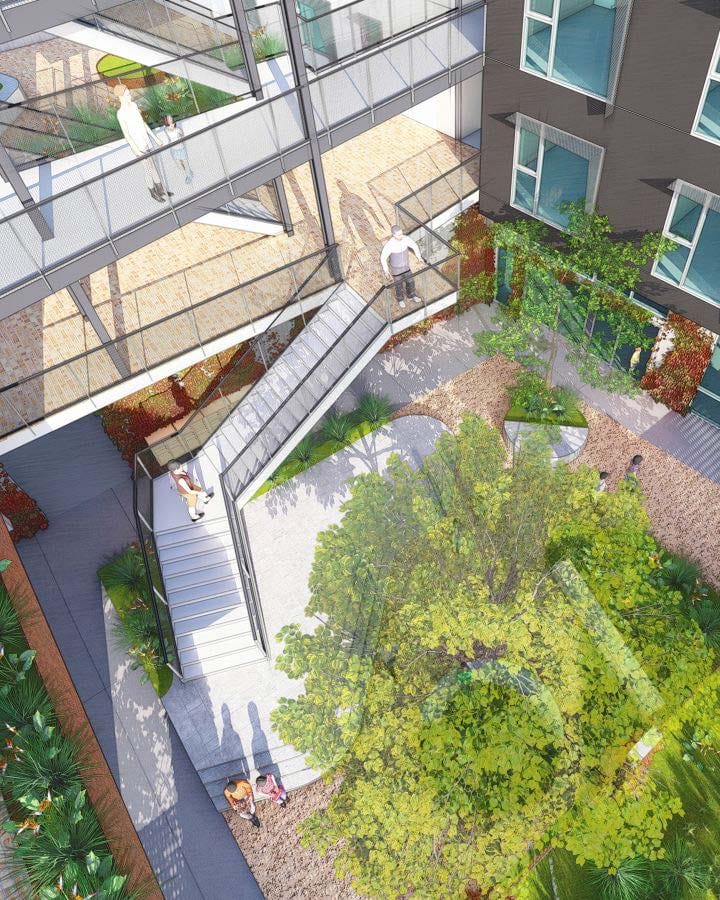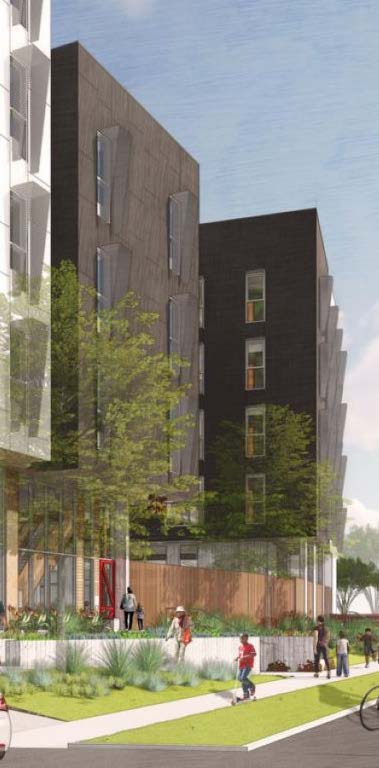 Sango Court, designed by David Baker Architects, brings a very open and livable design to its Bay Area residents.
The Challenge
Autovol, considered by many to be America's most technologically advanced multifamily modular operation, was still fairly new on the scene. Up to this point, the unique human-robot team of the three-years-young operation had built projects for just one customer. Autovol's heavily automated approach had been quickly proven by successfully completing 6 multifamily projects for TPC in just two years. Now the factory would be put to the test with its second-ever customer, one who was new to modular construction, with an already designed project, on a tight timeframe.
Mission Critical Preconstruction
Autovol had pioneered the use of automation and robotics to enhance modular construction by doing the heavy lifting and adding machine-level precision to repetitive framing tasks. The logic-intensive preconstruction method demanded of automated modular brought extra benefits to the Sango Court project. Autovol had worked side by side with preconstruction innovator Prefab Logic to create a digital twin modeling approach and a sprint process as advanced as the Autovol factory. The Prefab Logic approach is to build a project down to the finest detail as a digital twin, involving all stakeholders upfront. The data built into the digital twin drives everything in execution: robotic instruction code, clash detection programs, VR and AR 3D models for approvals and to guide tradespeople, as well as material procurement and takeoff lists. The sprint model was designed to force collaborative decision making upfront, when changes can be made digitally. This prevents changes later that can cause orders of magnitude more cost impacts and schedule delays once the physical building is being executed. Tim Mathson, Prefab Logic Operations Manager during preconstruction, said the team really leaned into this approach to solve a variety of unique aspects of the building design.
"To make sure the things being built in the factory and onsite aligned, everything had to be spot on, down to about a quarter inch," Mathson says. "A lot of things had to be coordinated very quickly on a design that had been years in the making, with a factory that had very specific requirements for robotic framing, but also very standardized design and materials approaches that optimize cost and efficiency."
Design Challenges
Some of the inventive features designed to make Sango Court unique and livable for residents posed challenges: A large laundry room requiring special venting. Large fresh air ducts in rooms. Open sloping corridors. Lack of a chase compartment for mechanical, electrical, and plumbing through corridors. An exterior facade featuring "sawtooth windows" (a feature that was removed through design revisions). These and other design elements required modeling not only for the factory build, but to guide subcontractors onsite.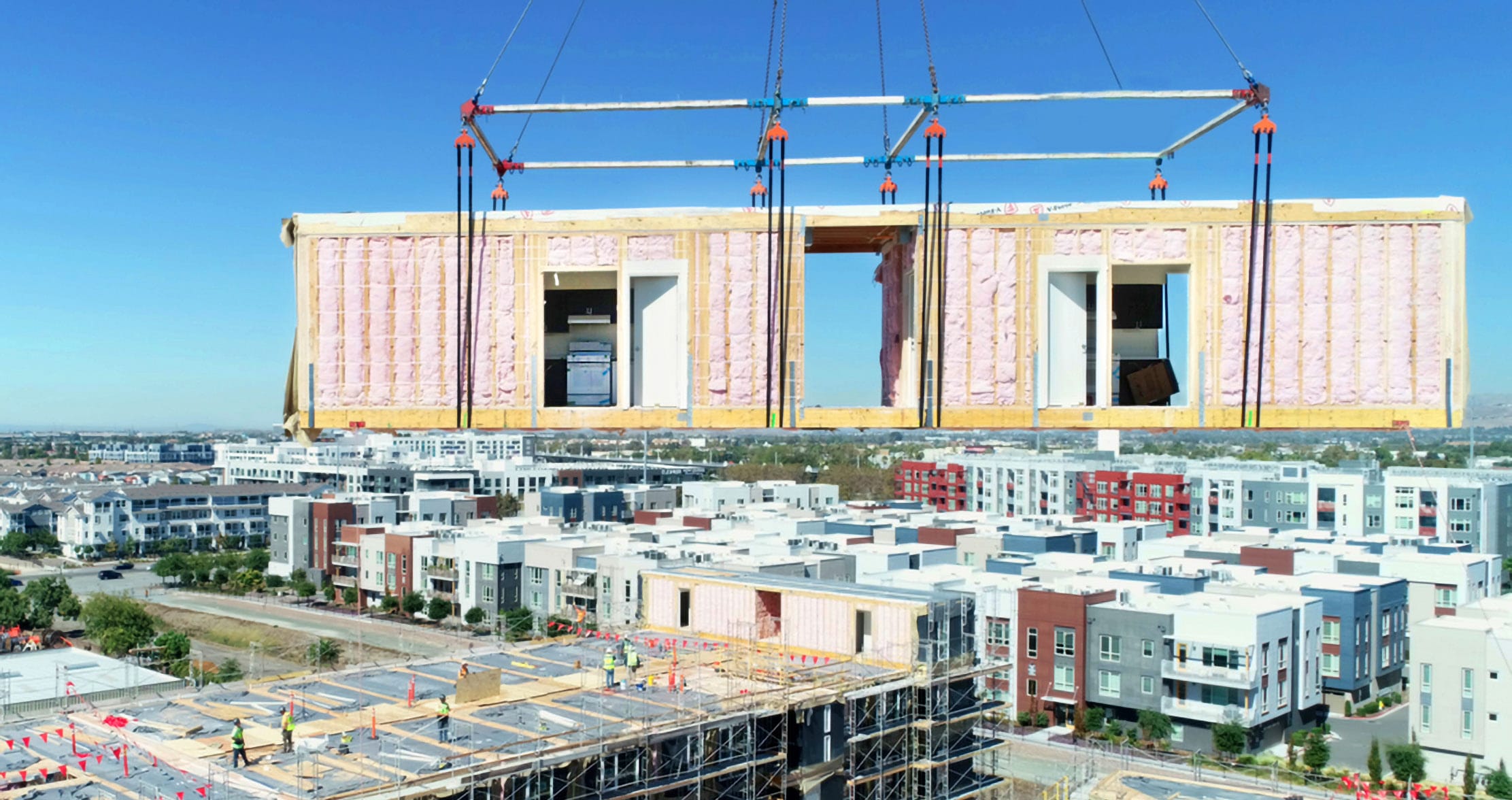 Go Time
Total time online in the factory, aside from prototyping, was about 9 weeks. During that time, all 102 units were framed, wired, plumbed, floored, insulated, and inspected. All appliances and interior finishes were completed. The project included studios, as well as 1-, 2-, and 3-bedroom units. Each module was carefully planned to be pieced together in a precise sequence onsite.
Go Inside 355 Sango Court
Click on the link below to download the in-depth interactive case study:
Check out Sango Court set highlights as well as a 3D architectural tour of the kitchen and bathroom.
More from Modular Advantage
For this project, Forta PRO delivered 72 buildings, 144 modules, with 5,200 m2 of gross modular area. With final onsite completion in June 2023, it provides exceptional long-stay accommodation in a stunning and serene environment.