Meet Issa Nesheiwat, Modular Maverick
Issa Nesheiwat is the president of Apex Modular Solutions
There was no reason to believe that Issa Nesheiwat would ever become a leader in the world of modularity. An urban upbringing in Yonkers, New York with a sudden move to rural Dutchess County in the Hudson Valley late in his high school career showed no signs of this intention. However, utilizing his over twenty years of vast business experience, that is exactly what he has done. While many modular companies act merely as glorified home dealerships with a one size fits all on the lot mentality, Nesheiwat has stepped in to change that practice.
Unknowingly, the young entrepreneur was in training for the moment when in 2023, after several years in the making, he would debut his full service Apex Modular Solutions. As early as 2003, Nesheiwat was dabbling in the world of banking as a mortgage officer. That quickly led to JP Morgan Chase sponsoring him to be licensed by the Securities and Exchange Commission as an investment banker. After rigorous testing and training he evolved into an advisor on investments such as mutual funds and variable annuities.
In 2014, Nesheiwat took his store of knowledge to begin his own real estate investment firm. He specialized in the rehabilitation of distressed properties, redeveloping homes into completely new structures, working with municipalities, building a real estate portfolio, and even dabbling into historical rehabilitation projects. Nesheiwat was even prone to joining in the hard work himself and can swing a pretty good hammer. He was so successful that in 2021 he established BridgeWoks Consulting, focusing on helping clients in creating deal structures such as affordable housing developments.
While Apex Modular Solutions is indeed the new kid on the block, Nesheiwat concedes, "It took decades for all the tools to come together." With an official ribbon cutting ceremony taking place soon and after a feature network news story on his sideline project involving reclaimed lumber from the old Tappan Zee Bridge, Nesheiwat is chomping at the bit to see just how far his project will take him.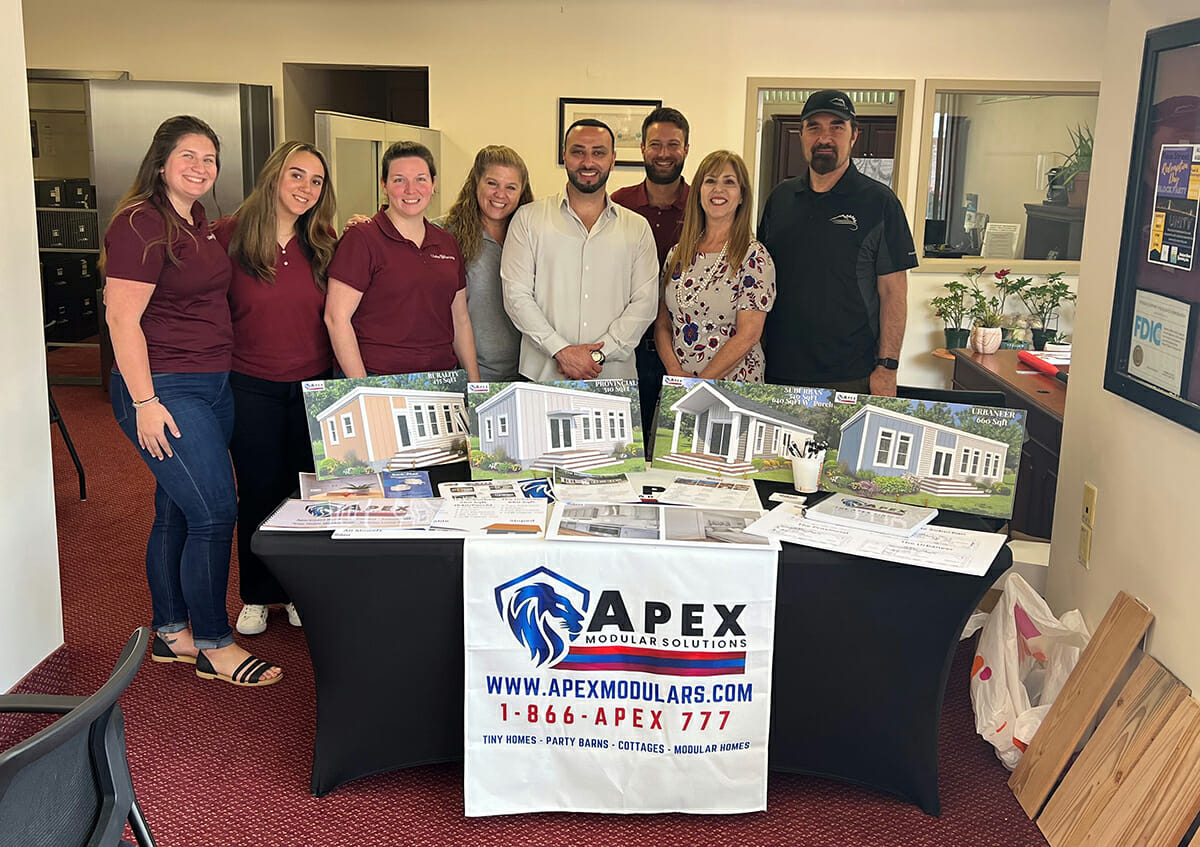 Issa Nesheiwat and Apex Modular Solutions participate in the "Tiny Home Experience" Event with Ulster Saving Bank.
Apex Modular Solutions was built on the premise that clients deserve to have all the pieces in one place for them to succeed in making their project come to life. Nesheiwat has put together a cracker jack team of experts from the real estate to the financing field that consumers can utilize just for the asking. "It's a full service operation, with no further cost added on," Nesheiwat proclaims.
Nesheiwat also has used his own skillset to design every possible sized structure from Tiny Homes to full on apartment house complexes, all featuring modular construction, to offer to his clientele whether they want to build a home, development or portfolio.
Today, Apex Is a member of the Modular Building Institute, an accredited business by the BBB, member of the Business Council Of NYS, member of the UCCC, member of the NYS Housing Association, and member of the NYSAFAH.
More from Modular Advantage
The city of Malmö in southern Sweden is set to welcome a new student housing project Unity Malmö, comprised of 5 building blocks, 450 micro-living apartments, where Forta PRO delivered 269 modules, total of 9,671.9 m2.