Everything From State-of-the-Art Mining Camps to High-End Vacation Homes
Mario Yañez is the Engineering Manager at Tecno Fast, headquartered in Chile. He explains that copper mining has been a major part of the country's economy for over a century, and that the modular construction industry has been closely tied to that industry, providing workers' accommodation.
This is where Tecno Fast has its roots. "Between 1986 and 1992 the predecessor of Tecno Fast built a lot of one-story wooden units for mining camps," Yañez says. "We started by using panelized solutions, and then turned to manufacturing complete modules in the factory." Tecno Fast was founded in 1995 and Yañez says that because of the company's experience, it was immediately awarded a huge project — a mining camp for 5000 men. "In Santiago, we fabricated 120 buildings, including a mess hall, kitchen, and gymnasium, and transported them to the mine site. It's like a small city in the Andes Mountains, 3600 meters (11,800 feet) above sea level."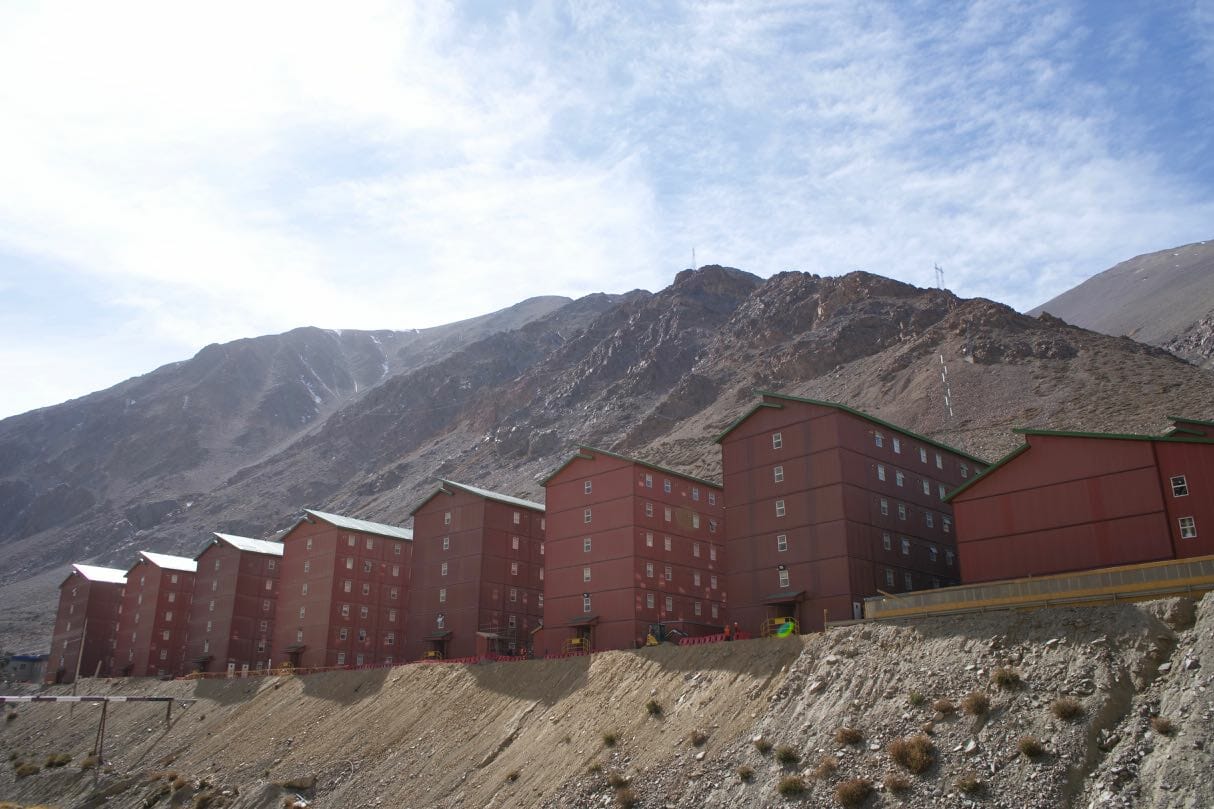 Yañez emphasizes the harsh conditions the buildings are designed to operate in. "In the winter, temperatures can get down to -35 Celsius (-31 Fahrenheit), so there must be excellent thermal wall and roof insulation for the buildings, and the water lines must be heated."
Tecno Fast followed all international codes for fire detection and suppression, and so on. "The mine is owned by a North American company, and they knew we understood and were familiar with those codes," Yañez says. "They were impressed with the final product, and by how quickly the buildings were finished." From that beginning, Tecno Fast grew in Chile, as well as in Argentina, Peru, and Colombia.
Growth and Development
Yañez explains that, although mining still accounts for about 70% of the company's revenue, there was a slow-down in mining around 2003 to 2005 that prompted the company to look seriously into other sources of income. "We had no contracts for a couple of years, so we began thinking about using modular for offices, residential housing, and industrial applications. We also started our rental business around that time."
These days, about 50% of Tecno Fast's revenue is from sales, 50% from rentals. The company rents out space for offices, schools, and hospitals, as well as for various industrial and commercial applications; it's now the biggest modular rental company in Chile, Peru, and Columbia.
Robotics
In 2017, Tecno Fast invested 7 million euros ($8.2 million) in robots for one of their plants in Chile. "The robots were fabricated especially for us. We also added automated devices that move the panels from one location to another, flip them over, and so on. The robots cut the wood and fasten the pieces together. The whole system is controlled by a 3D model in BIM software and the robot decides what order to cut the pieces, where to put the nails in, and so on," Yañez explains. "I can get a report on my phone that's up-to-date to the minute. I can see what was done this morning, what's happening in the factory right now, what's coming up on the next shift, and what the plan for tomorrow is — all in the mobile app."
"In our factories, we'll continue to move towards Industry 4.0 by introducing new technologies for our production processes, especially robotics."
The median age of the robotic system operators is 25, and they're experts in Windows and Python, Java, or another programming language. "We call them the 'new carpenters' because they're more familiar with computers than they are with a hammer." Older workers, who have worked at the company for a long time, have the opportunity to move off the fabrication line and into supervisory roles for quality control. "They have the experience to know what the product should be like at the end of each process."
Yañez explains that the first year after introducing the robots was largely focused on adapting old techniques and processes to new ones. The second year was about training and fine tuning. "But, now, we have tripled our capacity, compared to before we introduced the robots and we will be introducing a similar robotic system in our Lima plant in 2022."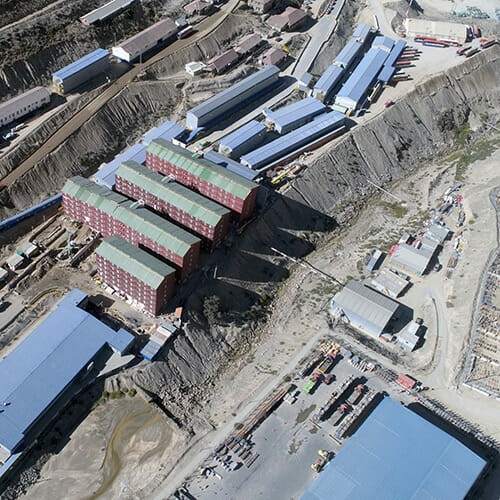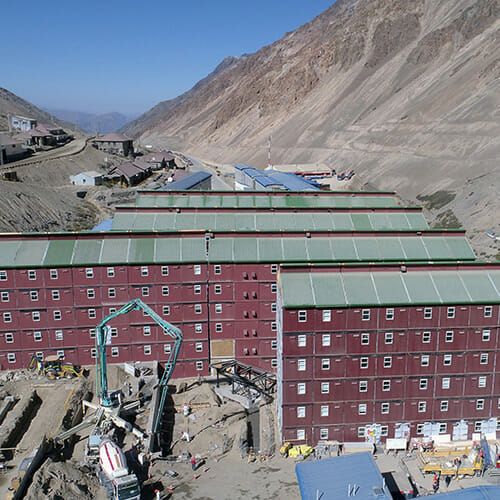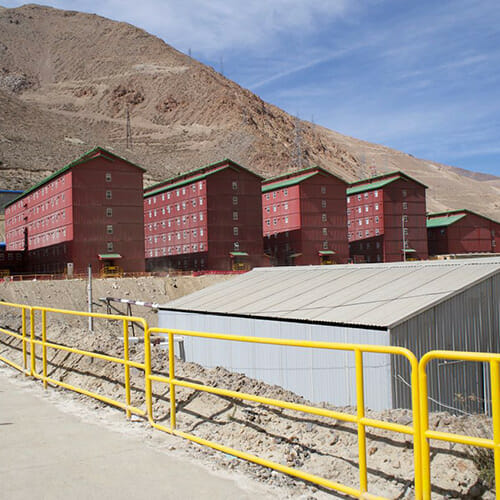 Going to Great Heights in South America
One of Tecno Fast's achievements is to have built the tallest wood-frame modular buildings in South America. They're each six stories plus a service attic, and are located at AngloAmerican's Los Bronces copper mine in Pérez Caldera in Chile. In addition to the low temperatures and heavy snow load in the Andes Mountains, the footprint of the site is very small between two high-risk avalanche paths. It's also an area of seismic activity.
Accommodating 2800 people on the small site, with only two bedrooms and a bathroom per unit, was possible only by building taller.
"So, we collaborated with the Civil Engineering Department at the Catholic University of Chile, to research whether a six-story wood modular building could withstand the site conditions," Yañez explains. "It took a year and a half to complete the analysis of the computer models of the design. We had about 300 pages in the final report showing how it was possible. But AngloAmerican wanted us to build a scale model to test it."
That's what they did. "In the huge laboratory with hydraulic systems at the university, we built a scale 1:1 model. We subjected it to the equivalent of the seismic loads of Chilean earthquakes. This took all day on Christmas Eve, 2016."
Other Projects
As well as providing accommodation on mining sites, Tecno Fast manufactured, and owns and operates two hotels close to mining operations and they're planning to install a third. The hotels cater to visitors, such as engineers or geologists, who have short-term contracts and for whom the mining company wouldn't usually provide a room. "It's also very common to train and coach miners before they start work at the mine. Last week, for example, there were 300 men who were coached at one of the mines and they all stayed in our hotel."
Tecno Fast also manufactures vacation homes. "They're beautiful homes, designed by an architect who's very famous here in Chile, Felipe Assadi," Yañez says. "Customers can choose how many modules they want and how to combine them in one or two stories."
Looking Ahead
Tecno Fast is introducing more energy-saving materials into their designs, and they have a program to reduce the carbon footprint of their manufacturing operations — including switching to using electricity from solar, wind, and hydrogen sources.
"In our factories, we'll continue to move towards Industry 4.0 by introducing new technologies for our production processes, especially robotics."
About the Author: Zena Ryder is a freelance writer, specializing in writing about construction and for construction companies. You can find her at Zena, Freelance Writer or on LinkedIn.
More from Modular Advantage
For this project, Forta PRO delivered 72 buildings, 144 modules, with 5,200 m2 of gross modular area. With final onsite completion in June 2023, it provides exceptional long-stay accommodation in a stunning and serene environment.